Fact, Fiction and Farce Heading into NFL Week 9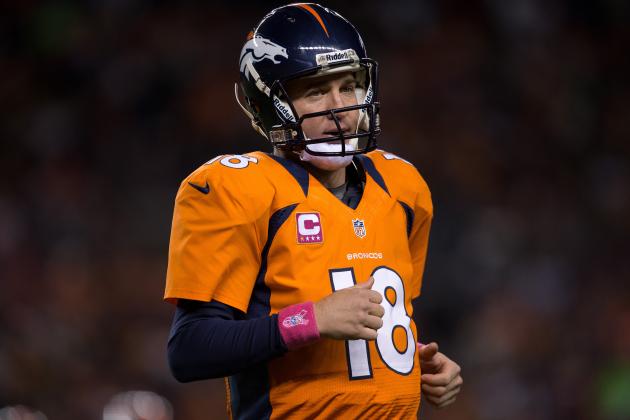 Justin Edmonds/Getty Images

Fact: For 12 teams, the NFL season is already halfway over.
Fiction: Roger Goodell will see things DeAngelo Hall's way.
Farce: The Kansas City Chiefs.
And so it will go, as we highlight fact, fiction and farce of several NFL teams heading into Week 9.
We are deep enough into this season to point out the pretenders and identify important trends that will lead to fantasy football dominance and some serious NFL knowledge.
Begin Slideshow

»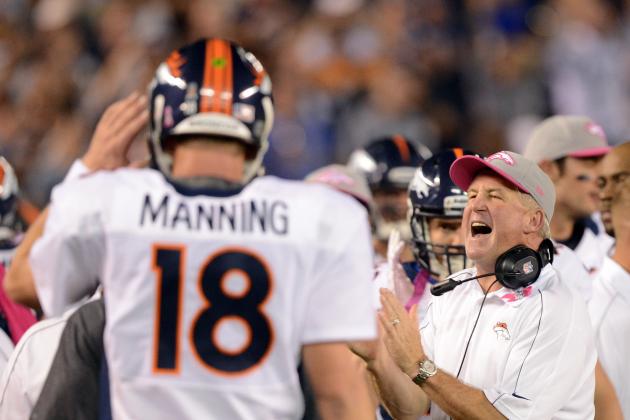 Harry How/Getty Images

Verdict: Fact
As a lifelong Raiders fan, this pains me, but the conclusion is unavoidable.
At 4-3, the Broncos have just a one-game lead over the Chargers and the Raiders. However, this race is not going to get any closer.
Peyton Manning is playing out of his mind right now. He has thrown three touchdown passes in each of his last three games, and since his three-interception performance in Atlanta in Week 2, he has thrown 14 touchdowns to just one interception.
The defense is also making strides. It is 15th in rushing yards allowed, but sixth in yards allowed per rush, and even better against the pass. The Broncos are eighth in passing yards allowed per game, but fifth in yards allowed per pass, and that number looks even better considering they have already faced a steady diet of top-tier quarterbacks.
And in that lies the real reason the Broncos are going to run away with the AFC West. They've had an incredibly difficult schedule, but they have just one team remaining this regular season that is over .500.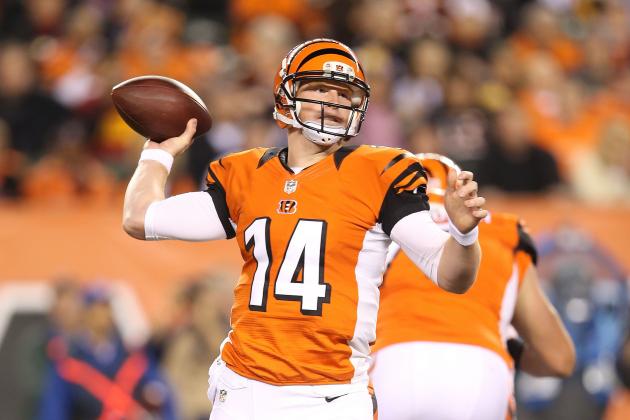 Andy Lyons/Getty Images

Verdict: Fiction
Thanks to Cam Newton flopping on his Rookie of the Year campaign both emotionally and on the field, Andy Dalton's sophomore slump is not being called to attention much beyond the Cincinnati city limits.
But Dalton is definitely slumping. The second-year quarterback has already thrown 10 interceptions, compared to just 13 all of last year. He is getting worse as the season goes on, too. He has thrown six of his 10 picks in his last three games.
Dalton's biggest problems come with decision making. He is not going through his progression and is forcing the ball into places he should not.
This is made worse by the fact that the Bengals have a terrible run game and defenses are able to focus on stopping the pass.
Still, this is the kind of thing a franchise quarterback should be able to overcome.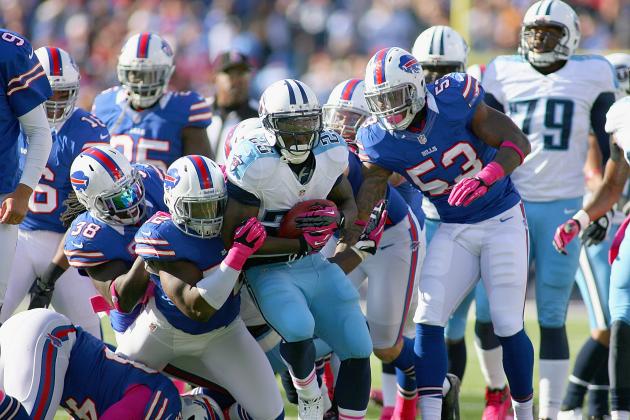 Rick Stewart/Getty Images

Verdict: Farce
This is not a revelation. The Bills have owned the bottom of the NFL's rush defense category this season, and somehow they have done the impossible and gotten worse.
The Bills are allowing 176.9 rushing yards per game on 6.0 yards per carry—both league-worsts. The latter is 0.9 yards per carry more then the league's next-worst rush defense.
But here is where it gets hard to believe. Over its last three games, Buffalo is allowing opposing rushers to gain an average of 7.3 yards per rush. That is 0.1 yards more than they are allowing per pass and they are 25th in that category!
And it's not like this has come against elite rushers. One of those three games came against the 31st-ranked rush offense of the Arizona Cardinals, and in their most recent effort they allowed the typically-MIA Chris Johnson to go for 195 rushing yards, marking one of just two games this season where he has broken the century mark.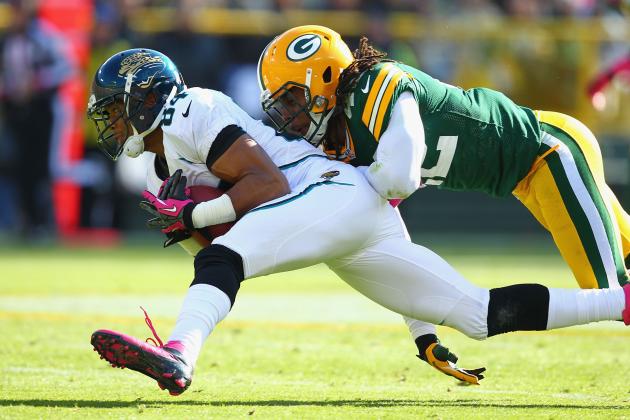 Dilip Vishwanat/Getty Images

Verdict: Fact
The Jaguars' passing offense is the worst the NFL has seen since before we all knew that JaMarcus Russell had a chronic cough.
But, at 164 passing yards per game, there is enough for at least one receiver to have a little value in the fantasy arena, and that is Cecil Shorts.
Rookie Justin Blackmon leads this team in targets, but he only has four more than Shorts, and he has less than half his yardage. Shorts has 20 catches for 400 yards, while Blackmon has only 18 for 193.
With Blackmon lacking explosiveness and a consistent ability to get open, Shorts has become the preferred target in Jacksonville.
Against the Packers last week, he had eight catches from only 12 targets for 116 yards, all of which led the Jags. He was also on the field for all but three snaps, and he was in for every single passing play.
Shorts is going to have some weeks with poor numbers, given his terrible offense, but he will see plenty of passes headed his way and is a nice option to start if he has a favorable matchup.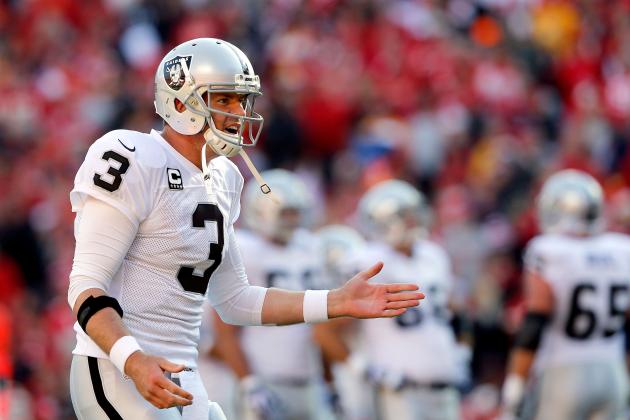 Jamie Squire/Getty Images

Verdict: Fiction
Reports of Carson Palmer's demise have been greatly exaggerated. The 32-year-old is having what may be his finest season.
He currently sits with a quarterback rating of 85.7. He is throwing for a 10th-ranked 277 passing yards per game with nine touchdowns and five interceptions.
These are not overwhelming numbers, and he posted a higher rating in his second, third and fourth year in the league, but he was working with a little more talent in the passing games in those days.
Palmer is also playing with next to no running game; the Raiders are 30th in the league in rushing yards with a terrible offensive line.
Football Outsiders has Oakland's offensive line ranked 31st, and while the team is a decent 10th in sacks allowed percentage, this is more due to going for quick-hitting passes and keeping extra men into block, which is actually another thing holding Palmer's stats back.
Palmer would love to have a late-game interception against the Falcons back, but for the most part, he is making good decisions and delivering the ball accurately. He has been the unquestioned leader of the team, and has made this offense a threat in the no huddle.
At 32 years old, Carson Palmer has proven that his career is far from over.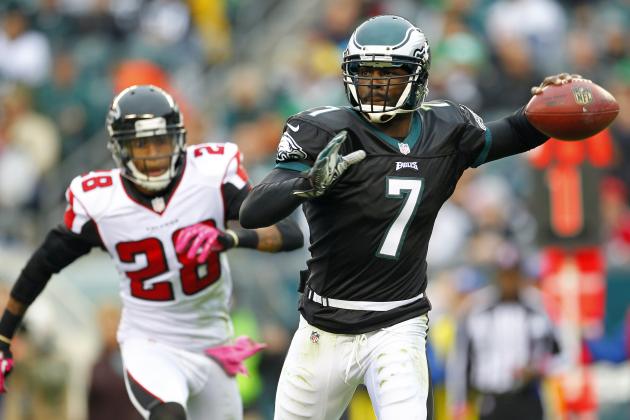 Rich Schultz/Getty Images

Verdict: Fact
If Michael Vick can't produce against the New Orleans Saints, it is time to for the Philadelphia Eagles and fantasy owners to move on.
The Saints have allowed over 300 yards passing in all but two games, and in those two games they allowed 244 to the Panthers and 237 to the Chiefs—not exactly the two most feared passing attacks in the league.
The Saints have allowed a league worst 8.7 yards per pass attempt, and that number is actually getting worse as they have allowed 9.0 yards per pass over the last three games.
Also—and this is especially important for Vick—the Saints are 31st in interceptions forced.
This is the worst pass defense in the league, and Vick needs to take advantage of that to prove he still deserves to be a starting quarterback in the NFL.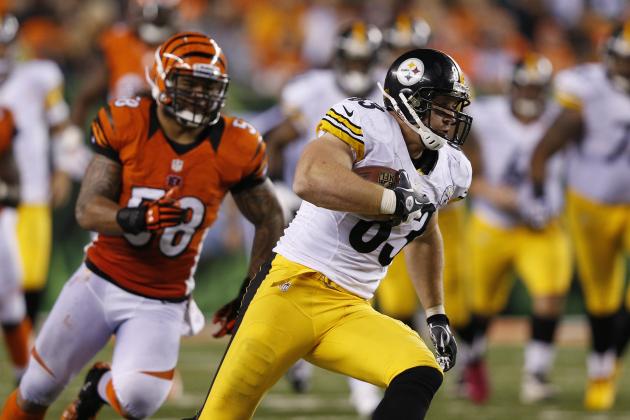 Joe Robbins/Getty Images

Verdict: Fiction
Earlier in the season, some pundits were proclaiming Pittsburgh's proud defense to be slipping. One of those pundits was me, but I have since seen the error of my ways.
This defense wasn't slipping during their early season struggles as a 1-2 team; they were simply redefining themselves.
The Steelers' defense has built its sterling reputation off a fierce defense installed by legend Dick LeBeau, making its mark with aggressive play that results in sacks and forced turnovers.
This is far from the case in 2012, as Pittsburgh is 31st in takeaways and 24th in sacks this season, but they are succeeding all the same.
In their last four, the Steelers have allowed an average of 16.5 points per game, which would be third in the NFL if it were for the season.
While they aren't getting to the quarterback as often, they are playing great pass defense. They have allowed just 5.7 yards per pass on the season, which is good for third in the NFL, and over their last three, they have allowed just 5.0 yards per pass—easily the best mark of any team over their last three games.
They are also now second in the NFL in yards allowed per game. This defense is definitely still elite.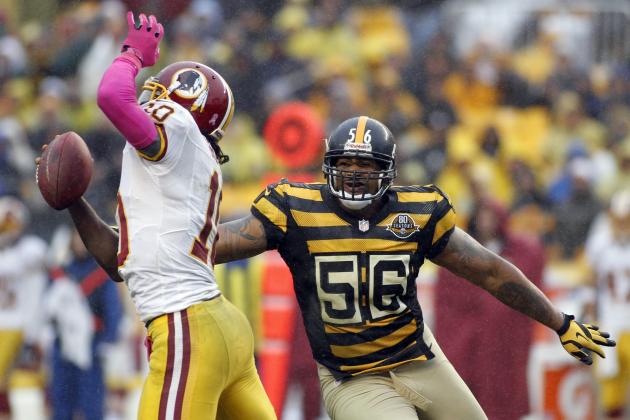 Justin K. Aller/Getty Images

Verdict: Farce
Robert Griffin III is coming off his least productive outing of the season (not counting the game he left with a concussion), and he hasn't thrown for over 300 yards since Week 4. But let's not jump to hasty conclusions on his stat line alone.
Against the Steelers, who are playing excellent pass defense, Griffin was 16-of-34 for 177 yards and a touchdown.
This combined with his decrease in yardage the last few weeks has led to many proclaiming the blueprint was out on how to slow down this multi-talented sensation.
However, what can't be found in the stat line is the fact that, as Yahoo! Sports' Doug Farrar points out, the Redskins dropped between nine and 12 passes last week. That's a touch excessive, and it would doom any QB's stat line.
There is no blueprint out there on how to stop RG3 because it is not possible to stop him with a specific gameplan. The only way to contain him is by playing great team defense.
Griffin has it all. He can read a defense, make all the throws and make them accurately. He can also tuck it and run when there is no other option. Plus, he already does all these things at, or near, an elite level.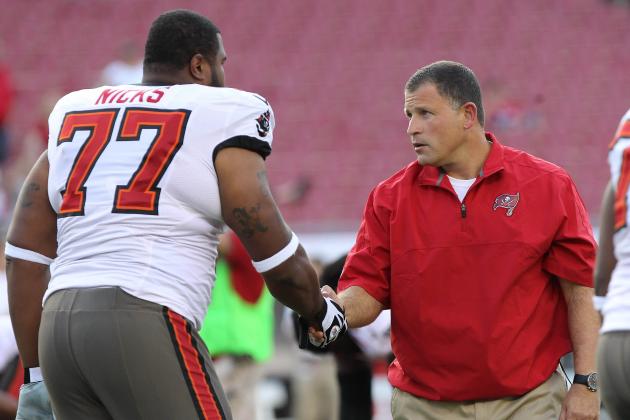 Kim Klement-US PRESSWIRE

Verdict: Fact
Losing a left guard for the season is not something one would typically point to as a tipping point to a season, but in this case, it applies.
For starters, Nicks is one of the best in the game. He excels in run and pass protection, which is why the Bucs signed him to a big-money contract this offseason.
Also, this was a place where the Buccaneers could not afford another injury. They lost their other starting guard, Davin Joseph, for the year during the preseason.
Ted Larsen is the logical replacement for Nicks, but the Bucs were so unimpressed with his play while he was filling in for Joseph that they benched him in favor of Jamon Meredith.
This injury occurs at a terrible time.
Doug Martin was turning it up on the ground and Josh Freeman was connecting for big plays in the passing game. The offensive line was a big reason for both of these resurgences.
Nicks' absence will make the whole group weaker, effectively stunting the growth of the run game and leaving Freeman vulnerable to more pressure.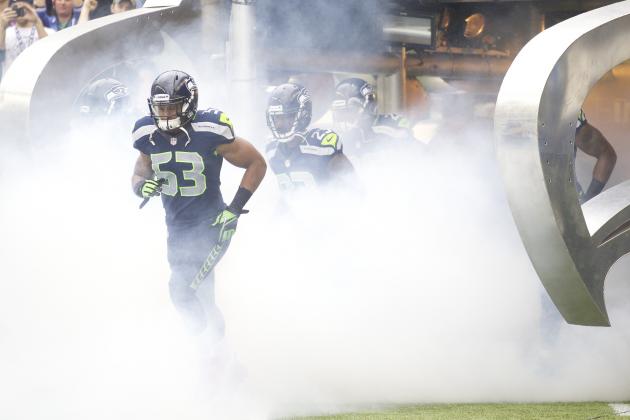 Stephen Brashear/Getty Images

Verdict: Fiction
The Seahawks are insanely predictable. With a 3-0 record at CenturyLink Field and 1-4 record away from it, it is nearly a forgone conclusion that they are going to win at home and lose on the road.
Obviously, there will be a few exceptions to this, but this is as close to a lock as you can get in the NFL.
Seattle's home wins have been impressive performances against the Cowboys, Packers and Patriots. Its road losses have included stinkers to the Cardinals, Rams and last week to the Lions.
Sure, the home win over the Packers was a sham, but they still played them well enough to be in that position and that is the kind of thing that can happen with the rabid 12th man in their corner.
The fluke of that win is negated by their lone road win over the Panthers.
In that game, the Seahawks faced certain defeat had Cam Newton hit a wide-open tight end in the end zone, on a late-game, fourth-and-goal play.
The good news for Seattle is that five of their eight remaining games come at home, which gives them an excellent chance to make the playoffs.