Week 9 Picks Against the Spread for Every NFL Game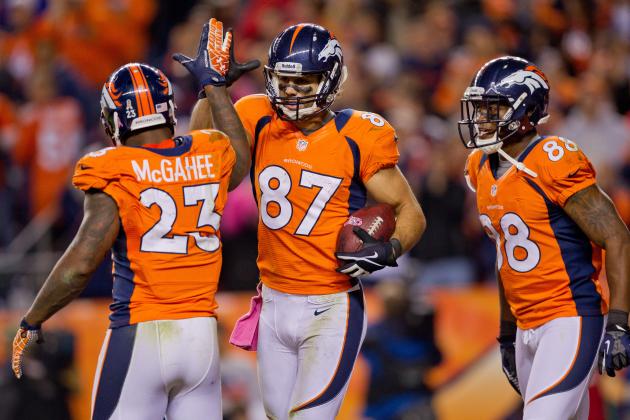 Justin Edmonds/Getty Images

That's right. I grew defiant last week, and my NFL picks against the spread followed suit.
It only took a month and a half, but I posted another non-losing record. It's apparent that I'm wearing down the defense and am no longer getting hit in the backfield.
"But who cares? You're still under .500 for the season."
I care.
And I don't care about that uneven record at the halfway mark of the season. It just provides a better setup for the comeback story.
I can't wait to option the rights to the movie.
So click through for this week's picks as I march forward with my head held high.
Last Week's Record: 7-7
Season Record: 51-64-1
All point spreads provided by www.bovada.lv and www.sportsbook.ag.
Begin Slideshow

»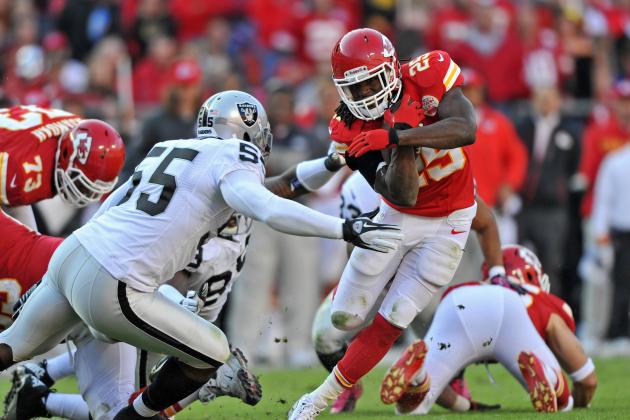 Peter Aiken/Getty Images

Nobody really wants to bet on the Kansas City Chiefs. Ever.
We're talking about a team that hasn't had a lead all season.
It's nice to be known for something.
But I can't lay nine points with the San Diego Chargers. I just can't.
The Chargers are completely discombobulated and haven't won in a month. Now Vegas wants me to lay nine with a team that just lost in Cleveland? Not a chance.
And there's some weird thought I have of Matt Cassel playing a semi-throwback game. He won't be great, but he'll be almost competent. Which is greatness in Kansas City these days.
By the way, after losing every Thursday night game, I've now won two in a row. So there's that.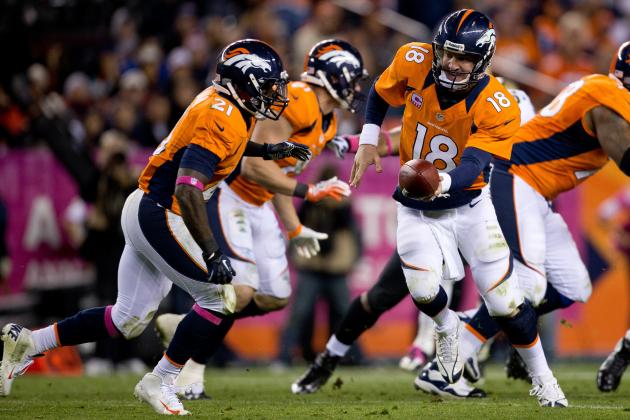 Justin Edmonds/Getty Images

Good thing I've been touting how solid this Denver Broncos team is all along. Makes this pick so much easier to defend.
There won't be any hiding here. I didn't believe in the Broncos defense, and the unit has proved me to be an arse over the past six quarters.
In my defense, they kept staking teams to double-digit leads. Most good teams don't do such things.
I digress.
Anyway, the Cincinnati Bengals are going in the opposite direction. The fact that they're coming off their bye week is concerning. I don't care. This is another team that hasn't won in a month.
The Broncos are putting an AFC West title run together, and it's time I got on board. Because it's happening whether I can understand it or not.
Also, Andy Dalton is not Drew Brees. Brees is somewhat better and was completely annihilated by Denver last week.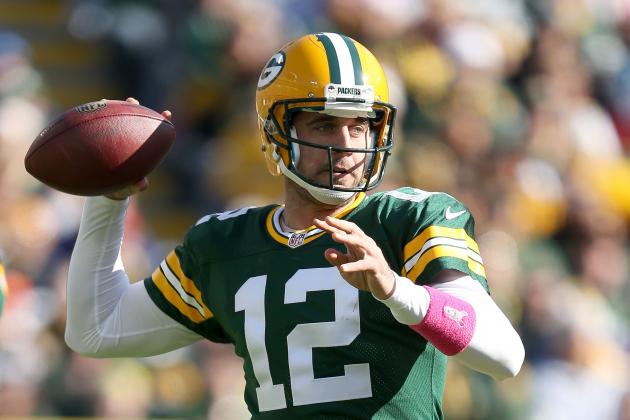 Andy Lyons/Getty Images

No team has messed with me like the Green Bay Packers—both personally as a Lions fan and professionally in these articles.
So like a girlfriend who keeps holding out hope that he's going to change, I'm going to make excuses for last week and pick them anyway.
The Packers were missing their top two wide receivers last week and still almost covered a ginormous spread. Against the free-falling Arizona Cardinals, they can get to 11 so long as Aaron Rodgers takes charge.
The Packers do not have the defense that San Francisco boasts, but there is the potential for Clay Matthews to have five sacks against the Arizona offensive line.
This pick comes with one caveat: If Jordy Nelson cannot go, I may amend this pick on Twitter. He's too important.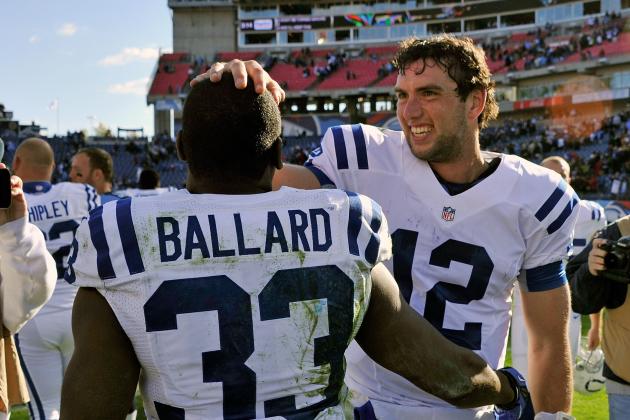 Frederick Breedon/Getty Images

There are plenty of reasons to pick the Miami Dolphins. They're hot, Ryan Tannehill has been improving and there's a possibility he plays this week.
I don't care.
Away teams are 69-49 against the spread this year.
I don't care.
The Indianapolis Colts like their dome more than most teams like their digs. Plus, the Dolphins' strength against the run will be mitigated by Andrew Luck's ability to pass against their shaky secondary.
And it seems weird that people aren't really talking about Luck much. It's all you heard in the preseason, but that focus has shifted to Robert Griffin III (which is defensible).
That chatter will refocus after this week. Plus, I get a home team with the points.
Patrick Smith/Getty Images

The Baltimore Ravens aren't dead. They have a slew of injuries and were massacred the last time they stepped on the field.
I don't care.
The Ravens have had an extra week to prepare for this. Just because the San Diego Chargers lost in Cleveland doesn't mean the Browns are good.
Terrell Suggs didn't rehab like crazy to be a part of a mediocre team. His energy will permeate throughout the franchise, and the offense will pick up on that.
And they'll be sure to give Ray Rice plenty of touches this week.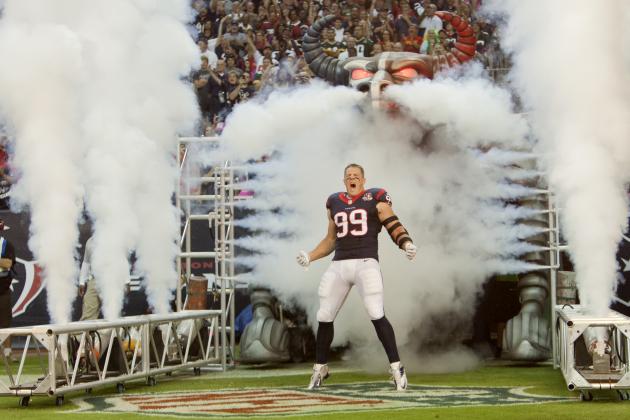 Bob Levey/Getty Images

That half-point is enticing, but this isn't the game to take it.
No teams have been involved in as many blowouts as these two teams. The Buffalo Bills have taken three whippings, while the Houston Texans have administered four.
The Mario Williams homecoming game won't provide the spark the Bills need. They look extremely moribund and will be facing the league's third-best defense.
I hate to take two large spreads. However, picking the Bills is too scary of a proposition right now.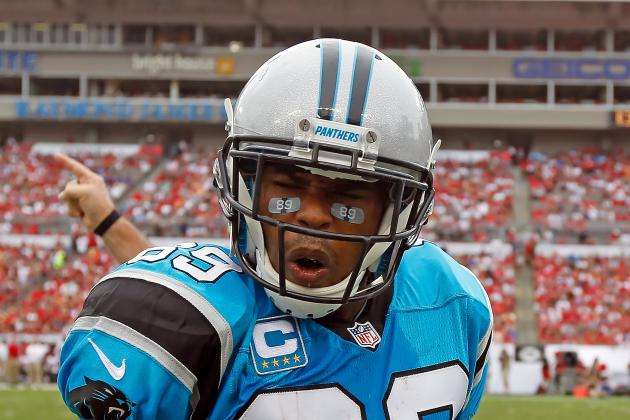 J. Meric/Getty Images

Here's the game where that half-point comes into play. I knew there was at least one somewhere.
The Carolina Panthers aren't being overvalued because they actually hung with the Chicago Bears last week. Once the Bears turned it on, the game changed.
This line has more to do with the Washington Redskins. They're extremely mediocre.
Robert Griffin III has kept many games close (except for last week), so it gives the illusion that the team is good. It isn't.
This one will go back and forth with someone winning late. That's a great recipe for taking the points.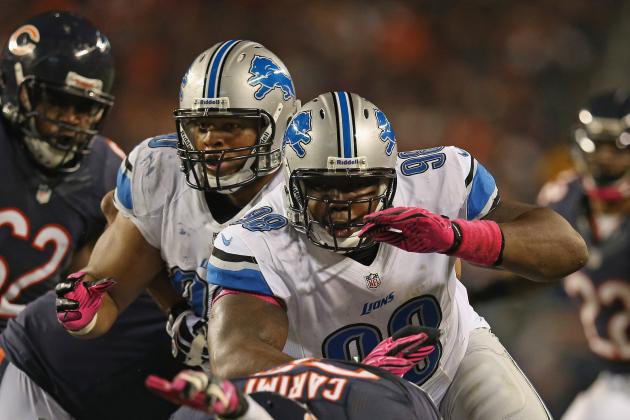 Jonathan Daniel/Getty Images

The Jacksonville Jaguars are not nine points worse than the Green Bay Packers. The Jags aren't nearly that good.
That game had a lot more to do with weird occurrences (missed field goals and Alex Green tripping) and injuries (Jordy Nelson) than Jacksonville's ability.
Are the Detroit Lions four points better than the Seattle Seahawks? Maybe.
But they are certainly four points better than the Jaguars. No team has a worse home record than Jacksonville, which makes sense since it hasn't won a single game on its own field.
Detroit has a defense, and the offense actually scored a couple points before the fourth quarter.
This one won't be going down to the wire.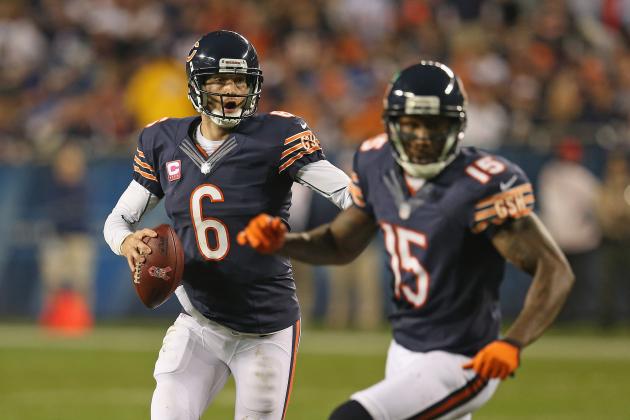 Jonathan Daniel/Getty Images

Trap game for the Chicago Bears. Maybe the Tennessee Titans are actually better than we thought.
Remember the theme? I don't care.
The Bears are more talented at every position with the exception of the offensive line, and the gap is not that small. Chicago was handed a smelling salt last week by the Panthers, giving Lovie Smith something to hold over the team's head all week.
Sorry Titans fans, the Bears are not the Bills. And you can have your four points.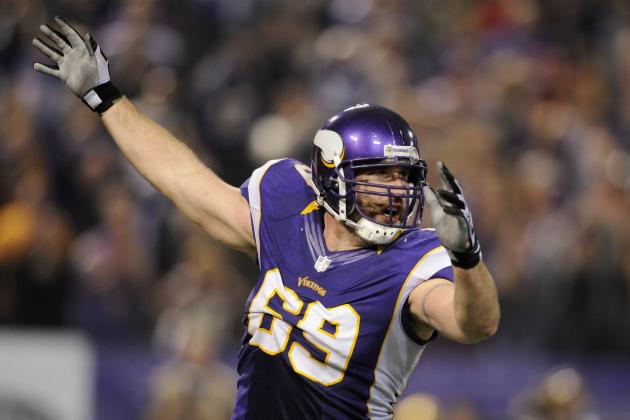 Hannah Foslien/Getty Images

Vegas doesn't really know what to do with this one; that's why it doesn't have a blowout or a very close game.
This is another good time to grab the points.
Christian Ponder has not played as well in the last four games as he did in the first four (seven interceptions versus zero), so the Minnesota Vikings should utilize handoffs to Adrian Peterson and short passes to Percy Harvin to get the offense going.
The Seattle Seahawks have had a different problem.
Russell Wilson had one of his better games last week against a better-than-you-think defense. But the Seattle defense couldn't get the stops it needed.
All in all, this one is too weird to call. Five points provides a nice cushion for sitting on the fence.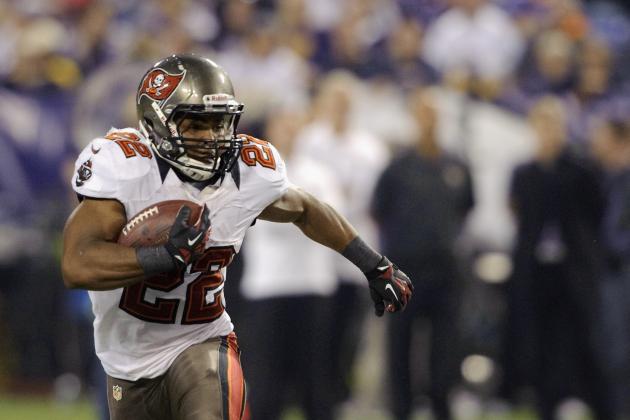 Hannah Foslien/Getty Images

Another who-the-eff-knows type of game.
Common sense seems to dictate that the Tampa Bay Buccaneers will pull off this win. They just curb-stomped the Vikings in Minnesota. Why wouldn't they be able to handle the Oakland Raiders?
Surprisingly, the Raiders are 3-4. They seem so much worse than that.
The absence of Aqib Talib (last game of suspension) will be dismissible so long as the Bucs' defensive backs and linebackers tackle decently. The Raiders do not throw a ton of passes down the field.
Although, if Eric Wright is suspended this week, a disgusting secondary becomes atrocious. The unit will be so terrible that Carson Palmer might even be able to find ways to move the ball.
But I doubt it. Plus, the Bucs offense is on a roll and playing an incredibly mediocre defense.
Points please.
Or point.
Whatever. Just give me the underdog.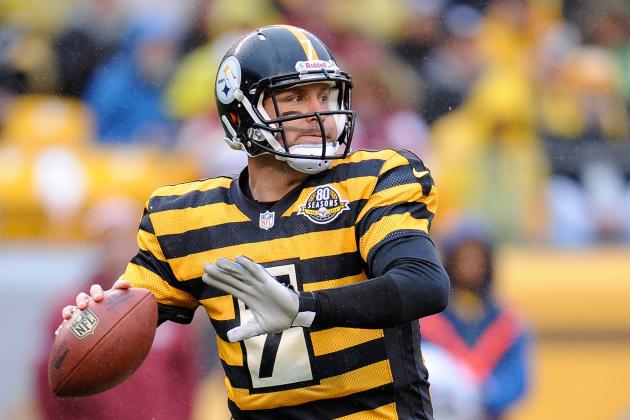 Joe Sargent/Getty Images

I'm still having nightmares about those Pittsburgh Steelers uniforms. The kid from Big Daddy has more respect for the institution of fashion.
Ben Roethlisberger is one of the best of all time when it comes to avoiding pressure and still getting a pass off. He'll need it this week.
However, if he can get the ball out, his receivers should have plenty of fun against the weak New York Giants secondary.
Will the Steelers win? I'm not willing to go that far yet.
Eli Manning is reaching John Gotti-like levels of being able to slide out of situations unscathed. Wouldn't it be just like New York to score with 37 seconds left to win the game after being beat all afternoon?
So if New York wins, that half-point could come in real handy.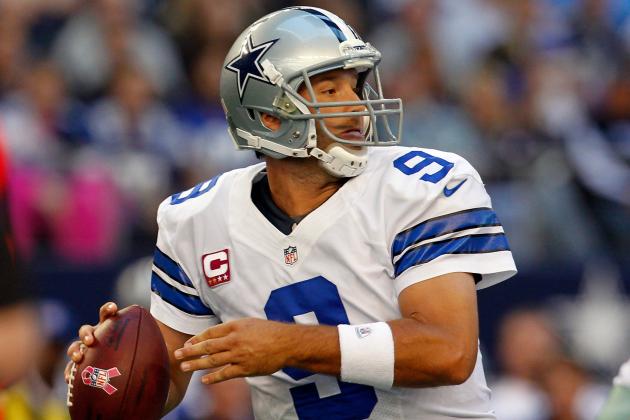 Tom Pennington/Getty Images

This seems like the perfect opportunity for an upset.
A flawed undefeated team has spent all week being told how good it is. Every power ranking has it listed as the best in the NFL.
Not that the Atlanta Falcons haven't earned that description. But that defense is not that great.
Plus, the Dallas Cowboys have plenty of talent in the secondary (third against the pass) to at least make the Falcons' stud wideouts work for their yards.
If Dez Bryant plays, the Cowboys might even win this one outright. This game has "any given Sunday" written all over it.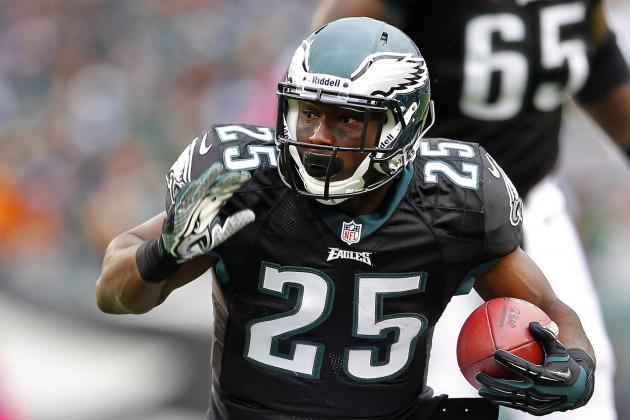 Rich Schultz/Getty Images

This isn't about going down with the ship.
This is about a half-point and one of the worst defenses in NFL history.
The New Orleans Saints are not bad on defense. That would be an insult to anybody who has ever been told they're bad at something.
The Saints rank 30th against the pass, giving up over 300 yards per game in the air. And they're just as bad against the rush (170 yards/game).
The Philadelphia Eagles have been a complete mess, but they're still only one game under .500. Considering all the doom and gloom, you would think they hadn't won a game.
I'm not saying that Andy Reid will be there next year or that the Eagles are any good. But they have LeSean McCoy, who will go absolutely nuts this week.
Running backs love it when nobody tries to tackle them.
The Eagles are employing quite a few lame ducks (coach, quarterback, etc.).
Who cares?
Give me that half-point.