NHL Lockout: Owners and Players Must Sign a New Deal Soon or It'll Be Too Late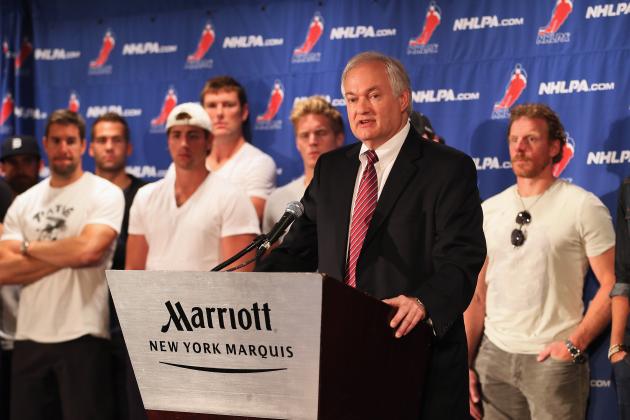 Bruce Bennett/Getty Images

The NHL season is in risk of being lost if the NHL and NHLPA can't come up with a new CBA agreement soon. Worse, both sides are standing firm on their ideas of how a new CBA agreement should be constructed.
Bitterness, and possibly even ego, have taken over the NHL lockout, both parties can't even agree on when and where to meet.
It's disappointing to see this after the NHL was showing record profits and an increasing fanbase. For a game that was growing so fast, this will surely halt and even destroy that progress.
A deal looked to be in place when the owners pitched a 50/50 split in revenue and a full 82-game season to the cautious eyes of the players. NHLPA chief Donald Fehr said that the 50/50 split in revenue was a good start, but only if all current contracts are honored in full.
Johnathan Toews of the Chicago Blackhawks was very critical of the proposed deal, saying that the NHL should of pitched that before they canceled games.
The proposed deal was taken off the table and both sides are currently stalled as optimism falls for the prospect of games being played this season.
Time is running out, both the NHL and NHLPA know they need to come up with a new CBA.
These are the five reasons why NHL owners and players must sign a new deal soon or it'll be too late.
Begin Slideshow

»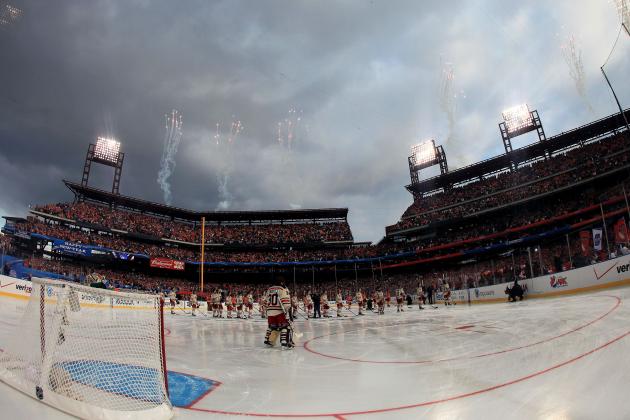 Rob Carr/Getty Images

The NHL announced that they will cancel the Winter Classic on either Thursday or Friday of this week if no deal is reached.
Considering that the two sides are stalled and not talking about a new CBA, it will take a near miracle for the Winter Classic to be saved.
NHLPA chief Donald Fehr said that the two sides have not had a negotiation since October 18. He denies that the NHLPA is not willing to talk to the NHL (via Katie Strang, ESPN):
Since the last bargaining meeting on Oct. 18, we have consistently made it clear to the League that we are ready to meet and are willing to discuss all ideas, certainly including their last proposal. The league has unfortunately continued to decline to meet. Their position makes it difficult to move the process forward, as it is obviously hard to make progress without talking.
Regardless, both sides need to get the ball rolling on negotiations. Everything that they have worked so hard for since the last NHL lockout will be lost the longer they stall on talks.
The Winter Classic may be gone, that's a reality that both sides have to live with due to increased hostility towards each other. But a season can be salvaged and games can be played.
One thing is for sure, when the Winter Classic is officially canceled, optimism that a CBA will be reached in time to save a season will plummet with players and fans alike.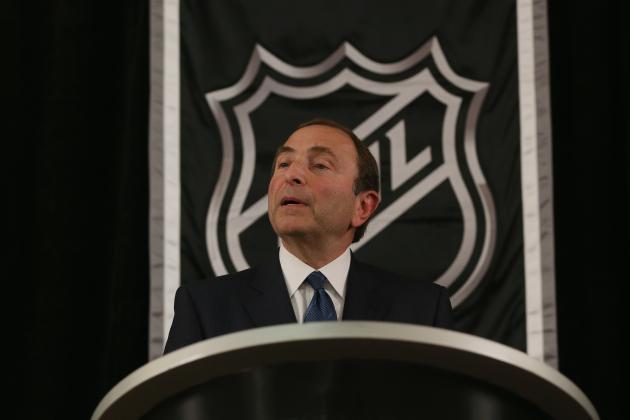 Bruce Bennett/Getty Images

With the inevitable loss of the Winter Classic, it is only fair to say that the entire NHL regular season is next in line to be cancelled.
The longer talks stall between both sides, the higher the probability that NHL hockey will be a lost cause.
If that does happen, it will be the second time in nine years that the NHL has wiped out an entire season—a track record that doesn't resonate well with fans of the game.
Players have come together and said that they will not back down like they did last time over a new CBA. Jonathan Toews has said that the players stand with one another (via the Washington Times):
As has been proven over time, they're just on a timeline and they're waiting to see how much they can squeeze us for. I don't know what's going to happen in the next week or so, but as players, we've stood up, we've stood together this whole time. We've worked very hard at trying to negotiate. That's as much as we can do at this point.
NHLPA chief Fehr says that talks of wiping out an entire season are still premature.
As a personal matter, I don't see any reason for it. But I didn't see a reason to begin to talk about a lockout last January. And I didn't see a reason to make a proposal off the bat for another 24 percent in salary reductions or any of the rest of it.
But is it really premature?
The NHL could wait at least another month to cancel the Winter Classic, but they chose not too. Instead, they hang it over the players' heads and threaten more cancellations.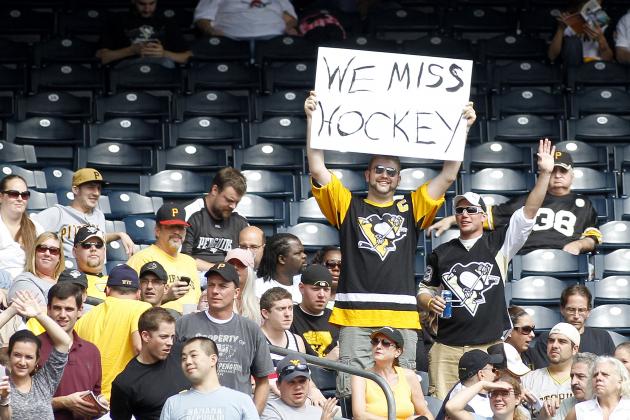 Justin K. Aller/Getty Images

NHL fans have been loyal over the past decade, dealing with two lockouts and increasing ticket prices
But with the way things are going in the fight between players and owners, will fans just walk away from the game altogether?
If anything, fans are the ones suffering most from all the fighting. Players are off to the European teams tweeting about the NHL lockout and owners are sitting back waiting for the players to fold.
The NHL was rebuilding it's model and hockey was becoming relevant again in a world of football, baseball and basketball. If the NHL comes back they may have lost a good potion of those fans that they picked up in the past seven years.
And who can blame them?
Negotiations for a new CBA agreement should have started a year ago, well before a lockout would have occurred. Both sides share responsibility for dragging their feet on this issue, and now fans will pay the price.
Regardless, whatever damage that has been done by the current lockout is done. It's time for both sides to come to terms and salvage what they have left.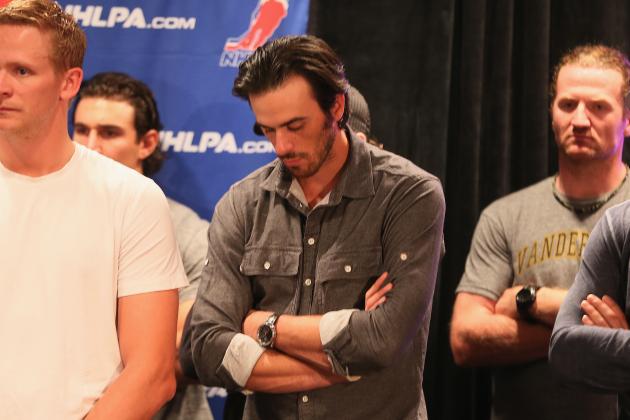 Bruce Bennett/Getty Images

Both the NHL and NHLPA are fighting over player rights and money. Both are currently losing more money due to this lockout, which begs the question "why fight over a new CBA if the biggest loss of revenue comes from locking out the NHL?"
The easy answer is that both sides have an ego, willing to protect their face and not give an inch of ground to the other side. It's a matter of pride that comes with being part of the game.
The Philadelphia Flyers will lose $14.16 million in revenue due to the canceling of November games. The Pittsburgh Penguins are due to lose $2.2 million per game.
If anyone can put their heads around that kind of money, then you realize how foolish this lockout really is to everybody involved.
Make no mistake, most of the players are millionaires and the owners are billionaires, they are not fighting over a livelihood.
Both sides have to realize that the $3.3 billion in revenue is from all the fans and sponsorships. Without hockey games being played, none of that exists.
The sad fact is both sides expect fans and sponsors to come back after they sign an agreement, whenever that will be. Maybe they will, but it will surely be at a loss, and future revenue may go down thanks to the lockout.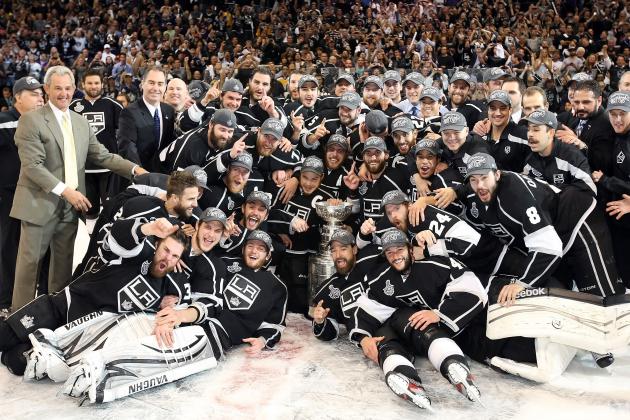 Christian Petersen/Getty Images

Athletes play because they love the game. Owners give them a stage to show off their elite skill and to fight for a championship.
As talks stall, everyone loses out.
The game of hockey is a very physical one, it takes a special type of athlete to put on the skates and chase after a puck. Their window of playing time is limited to about 15-20 years.
This is made shorter when players miss out on games, and even an entire season. It happened during the 2004-05 NHL lockout, players aged one year, and that's one year closer to retirement.
Fans lose out when their favorite player gets older and when the Stanley Cup is held back because the season was taken out. They lose out on all those memories that could of been during a 2012-13 season.
The owners lose revenue and ultimately that shrinks their business. How can it possibly help to delay CBA talks any longer?
With the prospect of an entire season gone, there are no winners, only greedy and egotistic losers. Fans sit back, lose excitement for the game of hockey and move on to something worth watching.
Follow James Maahs on Twitter for all the latest NHL news.