Liverpool vs. Swansea: 6 Things We Learned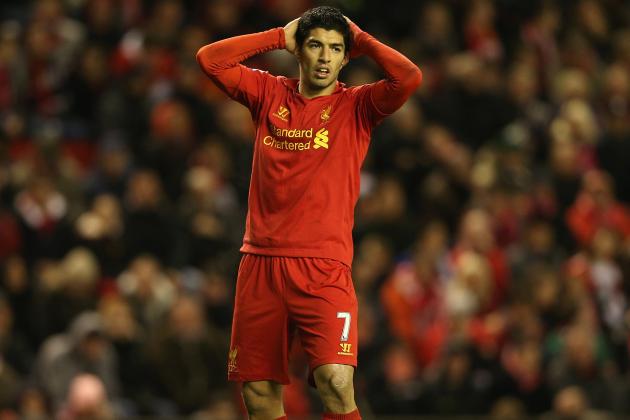 Clive Brunskill/Getty Images

Last year's League Cup winners Liverpool were knocked out of the competition at the fourth round stage by Swansea City at Anfield, with the away side triumphing 3-1 on the night.
For Reds boss Brendan Rodgers, it marked a disappointing first encounter with his former club since moving to Liverpool.
The result was poor and the performance itself not much better for large spells from Liverpool, a contrast to their recent matches in the Premier League where the Reds have gone four matches unbeaten.
As the defence of their trophy comes to an end, and Swansea progress to the quarterfinals for the first time in their history, there is plenty for Liverpool—and Rodgers in particular—to ponder.
Here are six things we learned from the Reds' League Cup exit.
Begin Slideshow

»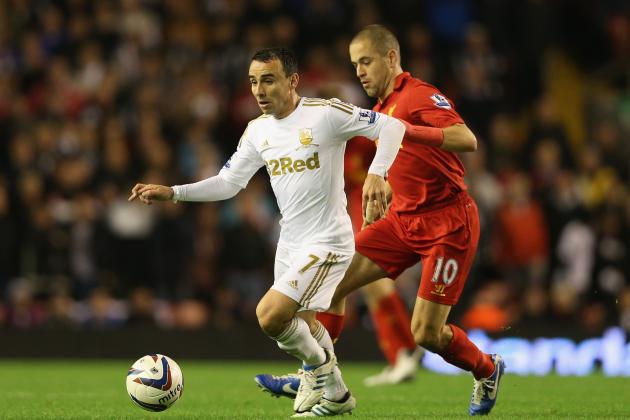 Clive Brunskill/Getty Images

Joe Cole made a return to the starting XI for Liverpool for the first time in quite some time, and utterly failed to impress
Such was Cole's lack of impact—even in his favoured central attacking role which he craves so much—was so pronounced that he was substituted at half time as Brendan Rodgers sought to swing the game back in Liverpool's favour.
Cole was replaced by Steven Gerrard at the break and showed nothing to suggest he should return to being part of the Premier League squad for the Reds.
With the team now out of the League Cup, it's not hugely likely Cole will get much more time in a Red shirt.
Shaun Botterill/Getty Images

Manchester City are out, Manchester United are out, Tottenham Hotspur are out.
Now, also, Liverpool are out.
This was a competition the Reds won last season and have won more times than any other club in history, and this season was a great opportunity to retain the cup and increase their great relationship with it.
Liverpool have let slip far too easily the chance to win more silverware, with just Arsenal and Chelsea the biggest sides left in the last eight.
It wasn't the highest priority competition the Reds are playing in, but a trophy is a trophy and everybody associated with the club should feel some amount of disappointment that the chance has gone in such poor fashion.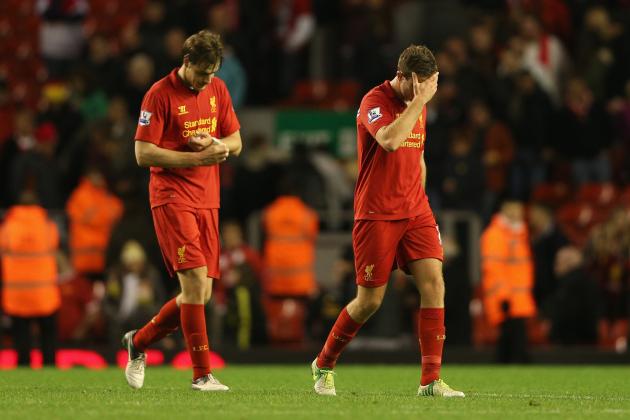 Clive Brunskill/Getty Images

Brendan Rodgers has spoken several times about the application, dedication and professionalism of Jordan Henderson, who has been on the fringes of the Liverpool team all season long. This is all very admirable and positive, but exactly where does the manager see Henderson fitting into his plans?
So far this season, the ex-Sunderland man has been used on the right and left sides of the front three, in a deep-lying midfield role, as a right wing-back and, against Swansea, at right full-back.
Henderson is young, learning the game and clearly behind the other five midfielders in preference at the moment—but after being such a regular last season, this term will really be affecting his confidence in himself.
And he's hardly the most self-confident of players to begin with.
For Henderson's sake as much as for the teams, perhaps the midfielder needs to get a run of games in his preferred role in the team—though with the club now out of a cup competition, exactly where those matches are going to come is hard to see.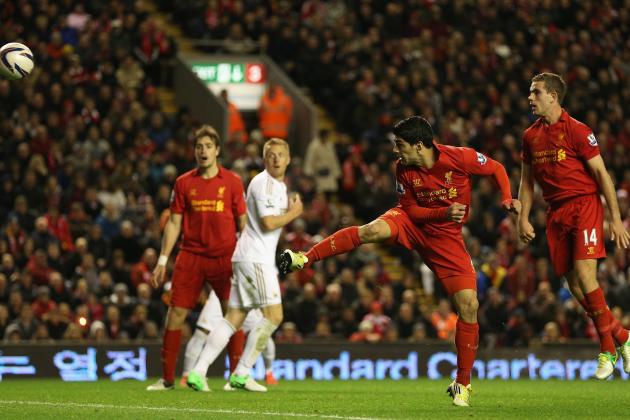 Clive Brunskill/Getty Images

Luis Suarez remains Liverpool's most potent goal threat as he added to his tally against Swansea, making it nine goals for the season in all competitions.
The Uruguayan forward headed the Reds' reply to Swansea's second goal, though it was to no avail in the end as the away team scored a third on the counter.
Suarez has been criticised in some quarters for not scoring enough goals, but although he has missed his fair share of chances the ball is certainly ending up in the back of the net on a regular enough basis at present.
With Fabio Borini still out and few other players contributing to the Reds' goalscoring, Rodgers and his team must be desperate for Suarez to continue his good form.
One major worry is his ill-discipline; one more yellow card for Suarez and he will sit out one match with a suspension. If that happens against Newcastle United at the weekend, he will miss the trip to Chelsea.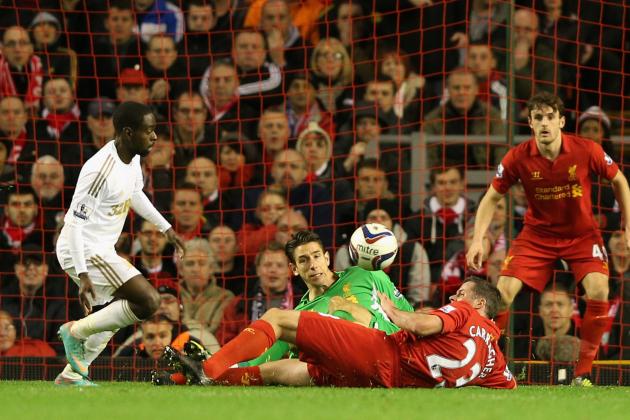 Clive Brunskill/Getty Images

With Pepe Reina continuing to be sidelined through injury, Brad Jones played his fourth successive match as Liverpool goalkeeper in the defeat to Swansea.
Jones conceded three times, but there was very little he could do about any of the goals, one off a set piece and two from counter-attacks late in the game.
Quite apart from that, Jones was, at times, a one-man barricade, stopping Swansea from scoring considerably more goals as the Reds' defence was worryingly-easily played through on several occasions.
The most memorable moment came in the final 10 minutes of the game as Jones made a triple save from a wave of Swansea attacks, before, between himself and Jamie Carragher, they blocked a fourth shot.
Whether or not it is enough to keep him his place in goal for the weekend remains to be seen. With Alexander Doni also set to return to the club, competition for the goalkeeper spot will be fierce over the course of the season.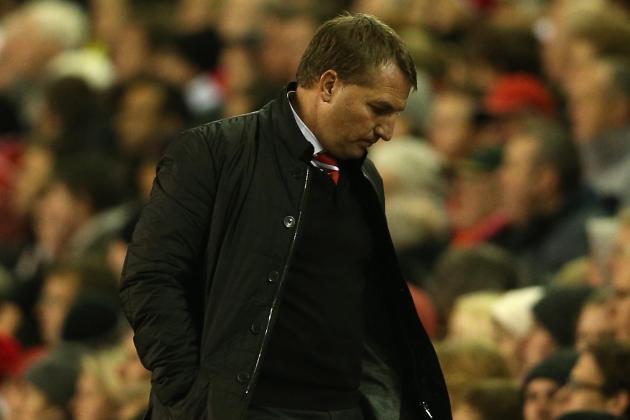 Clive Brunskill/Getty Images

Brendan Rodgers is a positive manager, but he is also a boss with a realistic amount of expectations on his team, and he could have realistically expected a win here.
A generally poor performance where his new side was largely outplayed and out-thought by his old one, then, will not appeal to his jovial nature.
Liverpool need to improve massively on performances of this standard when non-first team players come into the XI, they need to not have to call on Gerrard and Suarez all the time and they need to be able to play at a much better intensity, tempo and level of aggression when playing at home.
All these things will come with time, true, but they need to be apparent even now. The effort of some players was not up to standard and the quality of yet others was also lacking.
Rodgers can't do anything but continue with the players he has at his disposal for the next nine weeks or so, but he must be hoping that, very early in the January transfer window, he can do some business on the incoming side.
It could benefit Liverpool in the league and the FA Cup—but against Swansea, a chance for Rodgers to pick up a trophy just eight months into his Anfield reign fell by the wayside, and he knows it.
And he will be severely, and justifiably, disappointed.