Houston Rockets vs Detroit Pistons: Live Score, Results and Game Highlights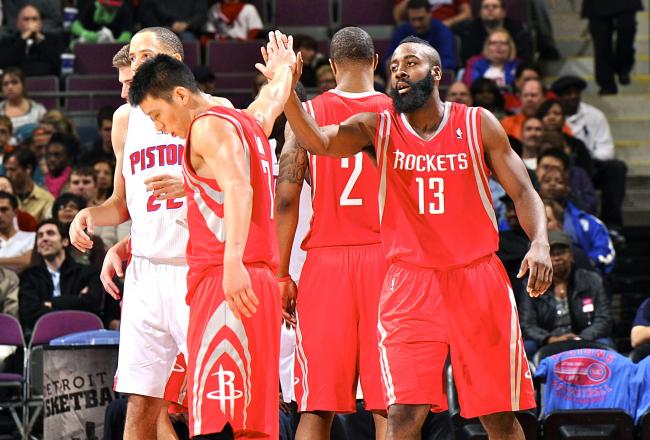 Houston's frontcourt came out and stormed to a 105-96 debut victory over the Detroit Pistons thanks to 37 points from James Harden.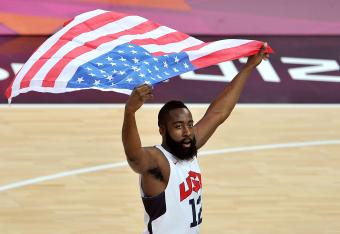 Let's take a minute to sum this one up, folks.
Houston's brand new backcourt is for real, and that's what we can say about them after just one game, after they've been on the same team for less than a week.
Beyond that, their defense is pretty bad and they can get in very stagnant stretches when they can't push the tempo.
On the other side of the court, Detroit didn't look terrible until they had to deal with Harden and Lin absolutely refusing to let this Rockets team lose.
Greg Monroe put together a nice game and they just spread the ball around well in general.
As far as the three stars to this game goes, we'll break it down as follows:
Third Star: Jason Maxiell. 10 points, eight rebounds, two blocks, lots of manly defense.
Second Star: Jeremy Lin. 12 points, eight assists, four rebounds, four steals, tempo pushing to the extreme.
First Star: James Harden. 37 points, 12 assists, six rebounds, four steals and a block. Helluva debut.
Houston's final box score:

Detroit's final box score: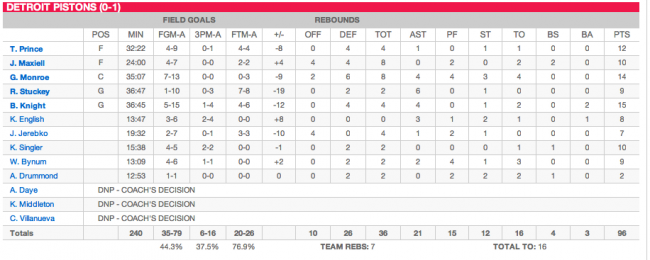 Houston wins 105-96
That's all she wrote in this one folks. Harden finishes with 37 points and 12 dimes, leading the team in a 33-15 fourth quarter over Detroit.
Rockets 105, Pistons 96 Final.
One of James Harden's eleventy trillion assists tonight:
Any time you can make Greg Smith look like a silky smooth offensive player, you know you're doing something right.
Rockets 105, Pistons 96 with 0:25 left in the fourth.
Detroit's shots have just stopped falling in this one, there's no chance of a comeback here tonight.
Asik gets fouled, knocks down a free throw and all but seals this one.
Rockets 105, Pistons 94 with 0:56 seconds left in the fourth.
I'll go on record and say that this is almost, kind of close:
Too lazy to fact check, but it feels like James Harden has eleventy trillion assists

— Ethan Strauss (@SherwoodStrauss) November 1, 2012
Rockets 104, Pistons 94 with 1:27 left in the fourth.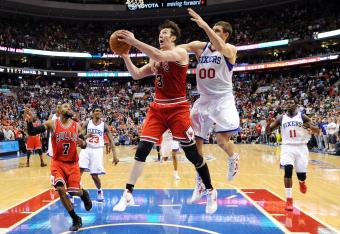 James Harden seems determined to make it seems like Omer Asik is a halfway decent offensive player.
He's doing everything but shooting the ball for him at this point.
Rockets 101, Pistons 93 with 1:54 left in the fourth.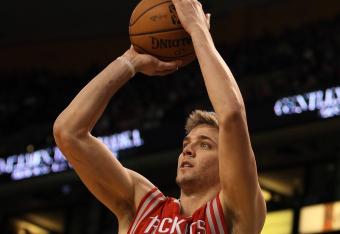 Greg Kesler just whipped out a Big Daddy Kane reference. The night is complete.
Meanwhile Chandler Parsons knocks down a few freebies to pad the lead a bit.
Rockets 99, PIstons 93 with 2:47 left in the fourth.
Here's something that definitely needs to be pondered for a bit:
Harden and Lin don't look like they'll have a problem putting up big offensive numbers. Question is can they defend the better backcourts?

— Jonathan Givony (@DraftExpress) November 1, 2012
A starting backcourt of Brandon Knight and Rodney Stuckey isn't bad, but it's not exactly the class of the NBA.
Rockets 97, Pistons 93 with 3:09 left in the fourth.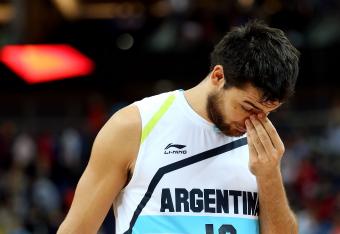 Delfino bangs home another three and Houston is starting to fold this one up and put it into the drawer.
That dime from Harden gives him 11 assists to go along with 34 points and five boards.
Rockets 97, Pistons 91 with 4:28 left in the fourth.
It's never a good sign when Tayshaun Prince is forced to shoot a jumper like Shawn Marion.
Rockets 91, Pistons 87 with 5:46 left in the fourth.
We've got a quick pause, so here's a nice time to check out the highlights from the first half of this one.
Not a bad first half and not a bad game.
Rockets 89, Pistons 87 with 6:28 left in the fourth.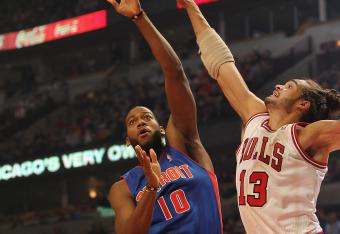 This is going to be an interesting battle between these two teams to see if Detroit's inside-outside fast-paced game can beat Houston's "get out of my way I'm driving to the hoop" fast break game.
Pistons 87, Rockets 87 with 6:34 left in the fourth.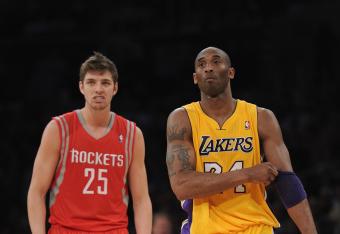 Well ladies and gents, here we go. A beautiful three from Carlos Delfino makes this a two point game.
Chandler Parsons then finishes a Jeremy Lin fast-break to tie it up.
Pistons 85, Rockets 85 with 7:18 left in the fourth.
We had a lot of people wondering whether or not Harden was worth the $80 million contract that he signed earlier today.
It's only one game, but with 34 points so far I think it's safe to say there's a chance.
Did the Rockets really give Harden $80 million? I mean... for real? $80 million? (Looks like a steal tonight.)

— Hardwood Paroxysm (@HPbasketball) November 1, 2012
At the very least they can take solace in the fact that $80 million is just three-quarters of a Joe Johnson.
Pistons 85, Rockets 80 with 8:44 left in the fourth.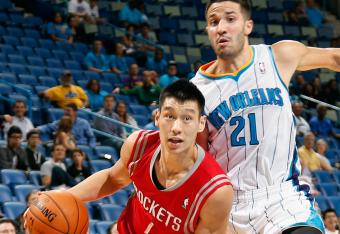 Harden's shots just won't stop falling. After a long rebound to Jeremy Lin all he's got to do is basically walk the ball over to Harden for an easy open three.
Houston might have a chance at coming back in this one if Lin and Harden stay in sync.
Pistons 83, Rockets 77 with 9:50 left in the fourth.
One of the few moments of teamwork for the Rockets in the third quarter came a few minutes in as Jeremy Lin found Harden cuting along the baseline.
Lin has been out with four fouls ever since and Houston's offense has gone stagnant.
Pistons 81, Rockets 72 with 11:17 left in the fourth.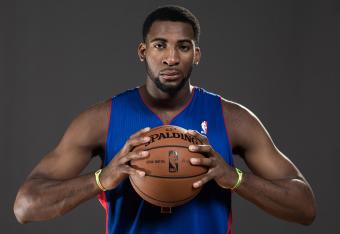 A lot of sloppiness to end the quarter for both teams.
Harden misses a few jumpers, a turnover for Detroit and a basket interference call on Andre Drummond.
Nonetheless, Detroit leads by nine points.
Detroit 81, Rockets 72 after three.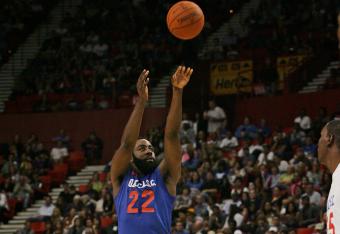 James Harden is the only thing that's really keeping Houston in this one. Aside from him, Lin, Parsons and an occasional accidental bucket from Asik, Houston's offense is nearly nonexistent.
The Beard is up to 31 points so far to go along with five boards and seven assists.
I'd say his debut has been pretty okay.
Pistons 81, Rockets 72 with 1:06 left in the third.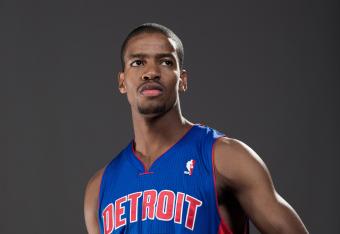 Kim English comes right out and hits two straight threes. He's stroking it well, but a lot of the credit has to go to the way he moves off the ball.
I don't want to get too far ahead of myself here, but Detroit doesn't look terrible.
Pistons 77, Rockets 69 with 2:26 left in the third.
Ethan Strauss basically gets the point across:
Tony Douglas' court vision leaves court vision to be desired

— Ethan Strauss (@SherwoodStrauss) November 1, 2012
Houston looks a lot better when the're running nonstop.
Pistons 71, Rockets 69 with 3:33 left in the third.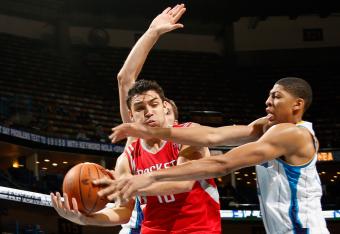 This second unit for the Rockets seems to be the exact opposite of their first unit.
The Toney Douglas-James Harden-Carlos Delfino-Greg Smith-Omer Asik combo seems to be afraid of pushing the ball, while they do nothing but push the ball when Lin and Parsons are on the floor.
I'm not going to say it's a big problem yet, but it's not a small problem.
Pistons 71, Rockets 65 with 4:21 left in the third.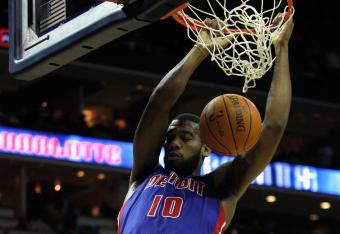 Greg Monroe is looking like he's in mid-season form and then some tonight. Dude is getting up and doing it quick.
Greg and Monroe drives and dunks on Asik. As athletic as Monroe has ever looked. And Maxiell follows with a tomahawk dunk. Pistons 9-0 run

— Dime Smash! (@DimeSmash) November 1, 2012
There's no doubt that he's going to at least make a run at an all-star spot this year.
Pistons 69, Rockets 65 with 5:13 left in the third.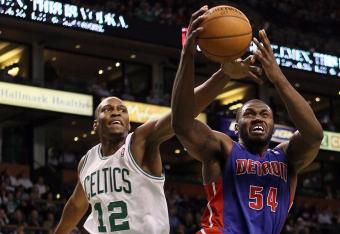 Just got the first "Deeeeeee-troiiiiiit Baaaskeeet-balllllllll" from Pistons PA guy John Mason.
Yep, basketball's back.
It seemed to wake the Pistons up too, as they've reeled off nine in a row.
Pistons 67, Rockets 65 with 6:05 left in the third.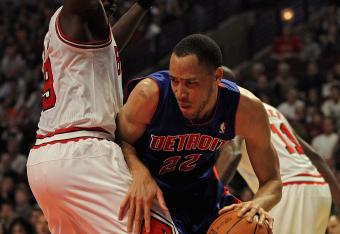 Tayshaun Prince is reminding folks that he can play a little bit of basketball here and there. Two buckets in a row to get the Pistons back into this one.
Rockets 65, Pistons 62 with 7:24 left in the third.
This article is
What is the duplicate article?
Why is this article offensive?
Where is this article plagiarized from?
Why is this article poorly edited?