L.A. Lakers vs. Portland Trail Blazers: Live Score, Results and Game Highlights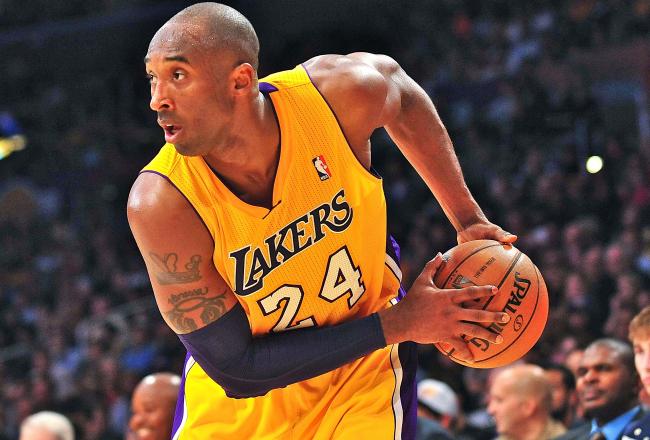 The Los Angeles Lakers drop their second game to start the season, falling to the young Portland Trail Blazers 116 to 106.
The Blazers had three players score over 20 points, led by Nicolas Batum's 26. Wesley Matthews had 22 on 7-11 shooting while dynamic rookie point guard Damian Lillard finished with 23 points and 11 assists.
The Lakers got big games from Kobe Bryant (30 points) and Dwight Howard (33 points, 14 rebounds) but they couldn't overcome the turnover issues that plagued them in the preseason. On the bright side, their free throw shooting was vastly improved from the Dallas game, as the Lakers shot 26-32 (81.2 percent).
The Lakers also lost Steve Nash to a leg contusion right before halftime. Nash tried to return after half, but was pulled for good with 10:44 left in the third quarter.
Next up for the Lakers is the Los Angeles Clippers Friday night at Staples Center in what will be a Lakers home game as they avoid to fall into a 0-3 hole.
The Lakers again come up short and start 0-2 for the second straight season. And it doesn't get any easier for the Lakers with the Clippers up next on Friday. Lots that needs to be fixed, especially on the defensive end.
When J.J. Hickson is hitting turnaround jumpers, you know it's not L.A.'s night. A long Steve Blake jumper followed by a Kobe put back brings the Lakers within twelve but it might be too little, too late.
Lakers 102, Blazers 112 with 1:14 left in the 4Q
Kobe has been all over the refs in the last couple minutes and needs to be careful since he already has one tech and can't afford to get another.
But just like against Dallas, the Lakers can't seem to get a stop late in the game and are running out of time.
Lakers 96, Blazers 110 with 2:58 left in the 4Q
A Gasol bucket on an offensive rebound and simultaneous offensive foul on Howard brings the Lakers back within 14 before a LaMarcus Aldridge jumper quiets a mini Lakers run.
L.A. has 23 (yes, twenty-three) turnovers. This is starting to resemble a preseason game, except these count.
Lakers 89, Blazers 105 with 5:47 left in the 4Q
It's not looking good for L.A., as Kobe picks up a technical after not getting a call on a driving layup attempt. Portland has all the momentum at this point.
Lakers 85, Blazers 103 with 7:50 left in the 4Q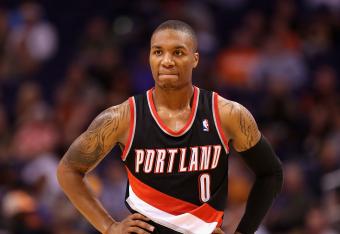 And just that fast, the Lakers are down double-digits again as the Blazers close the quarter on a 13-0 run, highlighted by a last-second Damian Lillard driving layup. This kid is really good (worth repeating).
Lakers 76, Blazers 92 end of the 3Q
Kobe gets whistled for a carry? Now there's a call you don't see every day.
In the next possession, the Blazers convert the turnover into, you know it, a three-point play.
Lakers 76, Blazers 85 1:00 left in the 3Q
Another nice post move by Dwight Howard on Blazers rookie Meyers Leonard pulls the Lakers within three and forces a Portland timeout.
Maybe Nash's injury woke the Lakers up finally. Whatever works... Dwight has 29, by the way.
Lakers 76, Blazers 79 with 3:11 left in the 3Q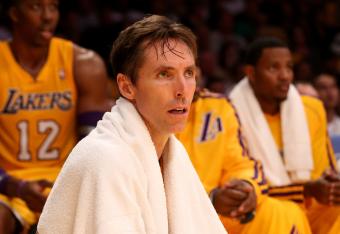 Injury update on Nash:
Steve Nash injury update: contusion of the lower left leg. He will not return tonight.

— Mike Trudell (@LakersReporter) November 1, 2012
Ouch.
J.J. Hickson is an interesting player Weird that such a solid rebounder has bounced around the league as much as he has so soon in his career. Similar to Drew Gooden.
Back to the game... Kobe hits a LONG three to bring the Lakers back within eight, followed by a sweeping hook from Dwight. A few more stops and L.A. is back in this one.
Lakers 71, Blazers 77 with 4:57 left in the 3Q
Stop me if you've heard this before... Another Lakers turnover leads to a Wesley Matthews dunk and timeout from Mike Brown. Blazers now have their biggest lead of the game at 10 points.
Lakers 64, Blazer 74 with 6:26 left in the 3Q
MWP picks up his fourth foul with 8:19 left in the third. So that's two Lakers starter that are on the sideline by the first part of the third quarter.
And J.J. Hickson is starting to hit the offensive glass with authority after going scoreless in the first half, and gets two put back layups for his efforts.
Lakers 63, Blazers 70 with 7:40 left in 3Q
Steve Nash tries to start the second half with a sleeve on his left calf, but has to come out with 10:44 left in the 3Q. He was limping pretty badly. Steve Blake in.
Lakers 57, Blazers 66 with 10:14 left in 3Q
Some halftime stats: The Lakers shot 52.9 percent from the field, 5-10 from three point range and knocked down 16-20 from the charity stripe (D. Howard 11-14).
The Blazers shot 54.5 percent, 6-12 from three and 8-8 from the FT line. The biggest difference? The Lakers turned the ball over 14 times to only seven for the Blazers.
And keep an eye on Steve Nash's knee. No alarms sounding just yet, but L.A. can ill afford to lose their legendary floor general.
Steve Nash just limped off the court, is talking to LAL trainer Gary Vitti. He bumped knees, is now walking to locker room under own power.

— Mike Trudell (@LakersReporter) November 1, 2012
Here's a nice highlight from the first half: A Dwight Howard block leads to the two-handed dunk for Kobe on the other end:
Maybe's it the defensive end the Lakers should be worrying about these days...
Haven't watched POR-LAL, but halftime score tells me the Princeton Offense ain't the problem. It's the Columbia Defense.

— Kevin Arnovitz (@kevinarnovitz) November 1, 2012
Kobe is hot from three-point range and knocks down his third triple of the quarter. But the Blazers answer back with a three of their own followed by a Lillard step back J.
Half ends with a Batum three to put the Blazers up five at the break.
Lakers 57, Blazers 62 Halftime
Steve Nash appears to have bumped his left knee with Damian Lillard and gets subbed out for Steve Blake. Uh oh...
Lakers 49, Blazers 52 with 2:18 left in the 2Q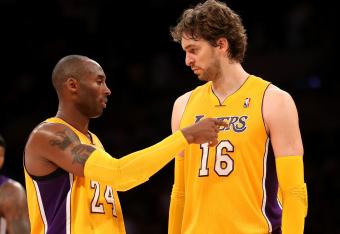 Lakers are somehow still in the game despite a world of turnovers (12 to be exact). To their credit, the Lakers are playing better than they did last night.
Lakers 45, Blazers 50 with 4:26 left in the 2Q
Kobe hits his first three of the season, followed by Metta World Peace's first as well.
Yet another Lakers turnover leads to a Blazers fast break. This is becoming a habit.
Timeout; Lakers 40, Blazers 46 with 5:51 left in the 2Q
Dwight has scored all eight Lakers second quarter points, mostly from the line. He's been there a whopping 14 times so far and made 11. That isn't a typo.
Lakers 34, Blazers 37 with 7:55 left in the 2Q
Kobe back in the game with 9:25 left in the 2Q. His statline: 2-3, four points, three rebounds, one assists.
Lakers 30, Blazers 36
The Lakers bench again comes in and gives up a quick five points to start the second quarter, which gets halted by another trip the the charity stripe for Howard.
Lakers 28, Blazers 35 with 10:00 left in the 2Q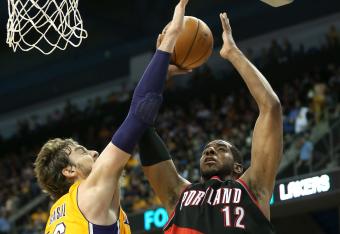 Lakers turn the ball over seven times, but are keeping it close by shooting 47 percent from the field (9-19) and eight out of twelve from the FT line.
After the first, Lakers 26, Blazers 30. Gasol with ten for the Lakers, Aldridge leading Portland with 12.
This article is
What is the duplicate article?
Why is this article offensive?
Where is this article plagiarized from?
Why is this article poorly edited?

Los Angeles Lakers: Like this team?