10 Reasons the Oakland A's Must Sign Nick Swisher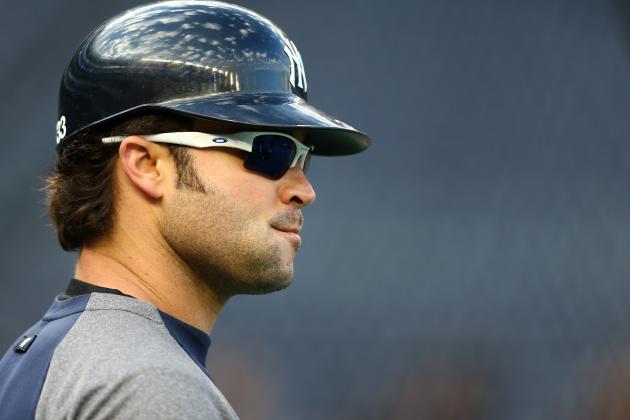 Elsa/Getty Images
Swisher's looking for his next home.
The Oakland Athletics were one game away from knocking the American League champion Detroit Tigers out of playoffs. But they lacked hitting—something Nick Swisher could effectively add to the lineup...again.
Swisher began his career in the A's organization and had a couple of solid years before he was traded to the Chicago White Sox. He eventually made his way to the New York Yankees, where he enjoyed several more successful years.
In 2013, it's hard to imagine him returning to the Big Apple, though.
So why should Oakland take a chance on a player it already had once? There are several reasons the move would be a good one. Here are 10.
Begin Slideshow

»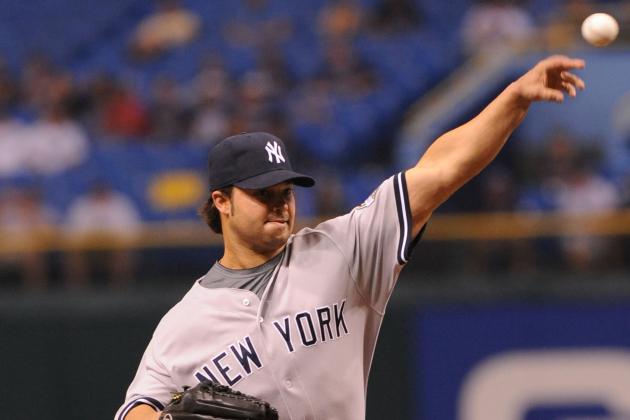 Al Messerschmidt/Getty Images
He can even pitch! But hopefully that won't be necessary.
Nick Swisher typically plays right field, but Gold Glove winner Josh Reddick plays there for the A's. In fact, with Yoenis Cespedes, Coco Crisp and Chris Young, Swisher has no shot in the outfield. Still, he's an option if there's injuries.
With Jonny Gomes more than likely on his way out, he could spend a little time at DH.
But Swisher also plays first base.
This last season, Brandon Moss and Chris Carter platooned at first. Each man struggled at times, but for the most part, they were effective.
The thing is, Swisher has shown he can do more than both. Furthermore, it's a whole lot easier on the manager and the lineup to go with one guy for the majority of the season.
Signing Swisher to play first would pave the way for this next slide.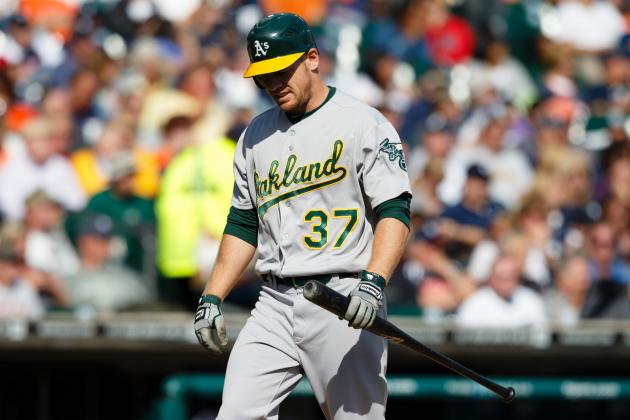 Rick Osentoski-US PRESSWIRE
It wouldn't be awful to trade Moss while he has value.
If the A's sign Nick Swisher, they'll have a stockpile of first basemen: Swisher, Brandon Moss and Chris Carter. Obviously, all three can't stay.
But as I've documented before, trading Moss makes quite a bit of sense, even without Swisher. With the free-agent addition, though, Swisher is an upgrade over Moss, and Carter can still see time.
Since Carter is younger than Moss, it wouldn't make as much sense to trade him. But that option would be in play as well.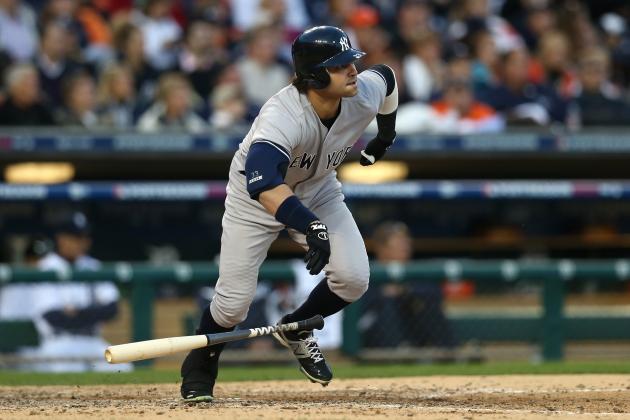 Jonathan Daniel/Getty Images
Swisher watches a hit take off.
A career .256 hitter, Swisher strung together three of his most successful years back-to-back-to-back from 2010 to 2012.
Aside from his first season, in which he played 20 games, Swisher has acquired over 100 hits every single season. His average per season is 145. He also knocks in an average of 90 runs per season as well.
More than 100 hits and just under 100 RBI—that's efficient. It's definitely something the A's could have used in the 2012 postseason.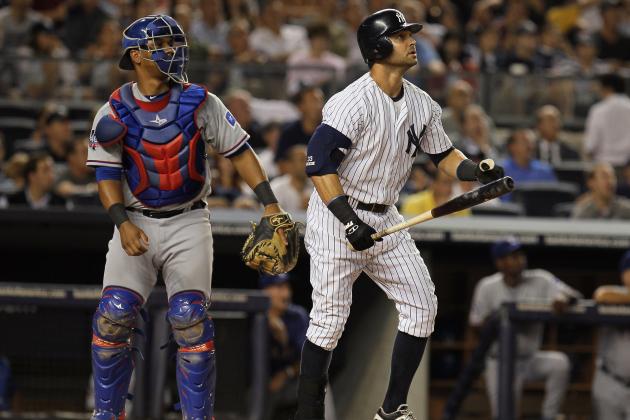 Mike Stobe/Getty Images
Going, going, gone for a Swisher home run.
Last year, the A's surprised many by hitting a ton of home runs—something they hadn't done in a long time.
In addition to hitting for respectable average, Nick Swisher has great pop too.
On average, he's good for 34 doubles and 28 home runs a season. Since 2005, he hasn't hit less than 21 home runs per year. In 2012, he hit a career-high 36 doubles.
Swisher could pull off being the No. 3 hitter in Oakland's lineup if need be. If Josh Reddick returns to the July-August 2012 version of himself and hits third, Swisher is a great option to hit fifth. He's versatile in the lineup as well.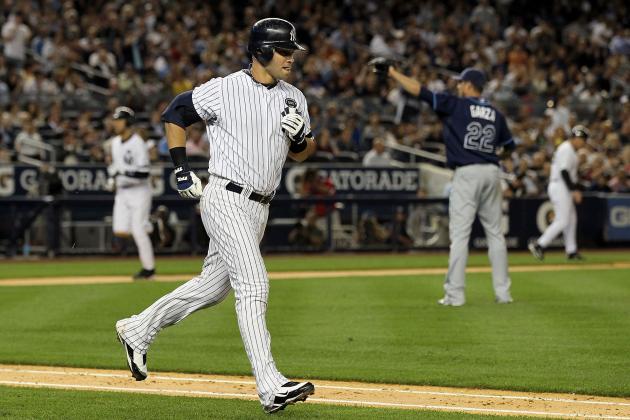 Jim McIsaac/Getty Images
Swisher takes a base on balls.
Nick Swisher is one of the original players well-documented in "moneyball." These players are typically of higher-than-expected value (diamonds in the rough), ungodly cheap and get on base efficiently (specifically by base on balls).
Nothing has changed for Swisher when it comes to the last point.
Swisher averages around 90 walks per season. In 2012, the Athletics with the most walks were Seth Smith and Jemile Weeks, both with 50. Swisher averages nearly double.
Now, of course, there has to be mention of his strikeouts.
In 2012, Swisher struck out 141 times. To put that in perspective, Andrew McCutchen, Mike Trout and Ryan Braun—three of the league's finest hitters—struck out 132, 139 and 128 times respectively.
He strikes out quite a bit, but he hits home runs and walks a ton—sounds just like an Oakland Athletic.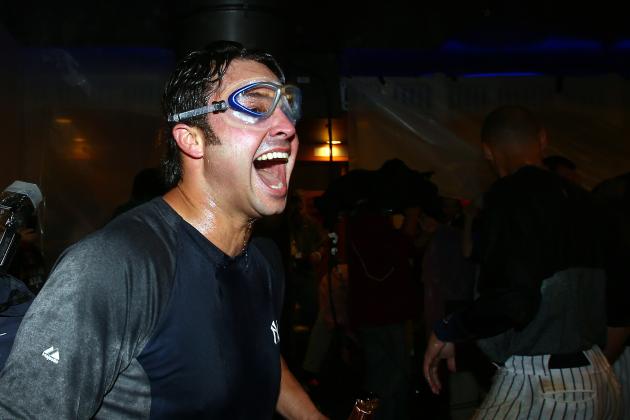 Elsa/Getty Images
Swisher's postseason face.
After nine years and 1,209 games, soon-to-be 32-year-old Nick Swisher is a veteran of the game.
Down the stretch, three of the biggest contributors to the team were Coco Crisp, Jonny Gomes and Brandon Inge. But it wasn't necessarily just their baseball talent. No, in fact, it was their leadership that pushed a roster full of incredibly young talent to the AL West crown and a postseason berth.
It seems the likelihood of Gomes and Inge returning is slim. And now, with the acquisition of Chris Young, many fans believe Crisp may be on his way out the door. Furthermore, the team may not re-sign Brandon McCarthy and Dallas Braden. Losing all five would be devastating.
Even if they do re-sign McCarthy and keep Crisp, Swisher would still be a welcome presence.
At this point, he's been in the league long enough and played in a variety of settings (Oakland, Chicago and New York) to be able to knowledge of American League pitchers and hitting technique.
He, like Crisp, Inge and Gomes, has been to the postseason as well.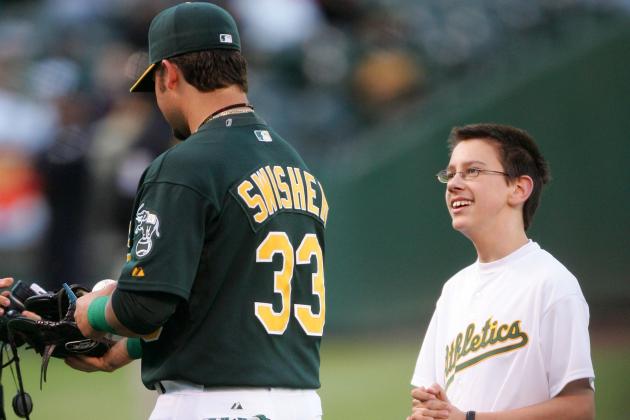 Jed Jacobsohn/Getty Images
Swisher was a beloved hero in Oakland.
Can you imagine Nick Swisher doing the Bernie Lean? It would be way too easy. And he'd be such a natural at it.
His personality would fit this team so well.
Prior to being traded to Chicago, he quickly became a fan favorite. Nothing has changed about his goofy personality, and unlike many former A's, Swisher is a guy who hardly gets booed when he returns in opposing colors. That's saying something—especially when he arrived as a New York Yankee.
Just like a Brandon Inge or Jonny Gomes last year, Swisher can help the clubhouse remain calm in trying times.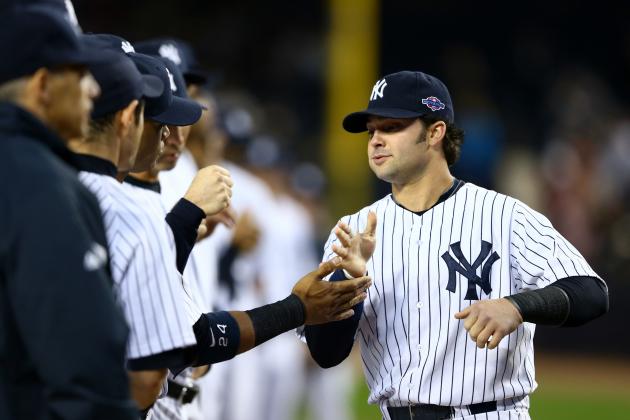 Al Bello/Getty Images
Swisher brings versatility, pop and leadership to a team.
The lineup got it done in the regular season, winning 94 games and the AL West crown. But in the postseason, there was a major lack of hitting.
In 2013, the A's will need something.
It doesn't need to be a major change, though, just a small addition here and there.
Currently, there are four men (not counting DH Seth Smith) for three outfield spots. With Josh Donaldson, Scott Sizemore and Jemile Weeks competing for third and second, those positions are locked up as well.
So, what do the A's need?
Well, they could use a catcher—a veteran who can split time almost evenly with Derek Norris (Russell Martin anyone?). If they don't re-sign Stephen Drew, Oakland needs a shortstop too. And lastly, the A's will need a first baseman of the future.
Brandon Moss might not be it. At his age, Chris Carter could be the guy, but he's been pretty underwhelming outside of 2012.
In either case, first base is an area that can improved—especially after Moss hit .133 in the postseason.
Furthermore, if the A's are looking to free agency for the guy who will take them over the hump, 2013 won't be the year they're overwhelmed with talent. The 2013 free-agent pool is weak. It might be one of the worst in a few years.
Outside of Josh Hamilton, B.J. Upton and Shane Victorino (who will command money the A's don't have), there aren't many players who are in their mid- to late-30s already with declining talent.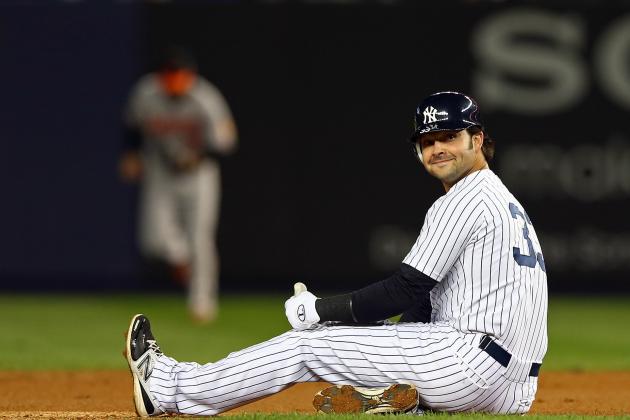 Elsa/Getty Images
He's all smiles now, but his next contract might be lower than expected.
In 2012, Nick Swisher made $10.25 million, according to Baseball-Reference.com.
Entering the 2013 season, however, he'll be 32 years old. He's not old, but for a player of his talent and at his age, the six-year, $36 million contract he signed in 2007 as a promising up-and-comer likely was his last. Realistically, who can afford to pay Swisher more than that, and who would really want to?
This isn't to say he lacks talent, though. He's got plenty of it.
Unfortunately for Swisher, many judge a story by its ending, because it's the last thing they remember. Well, the last thing that happened to Swisher before he became a free agent was a dismal postseason showing in which he hit .167 in eight games. When fans booed him, he went to the media to complain.
That may work in Oakland's favor.
Swisher should be valued somewhere between $6-$8 million and likely will only garner a two-year, maybe three-year, deal—something along the lines of, say, a two-year, $15 million deal.
The A's don't have a lot to work with financially, but they've shown they can do it (See: Cespedes, Yoenis or Crisp, Coco).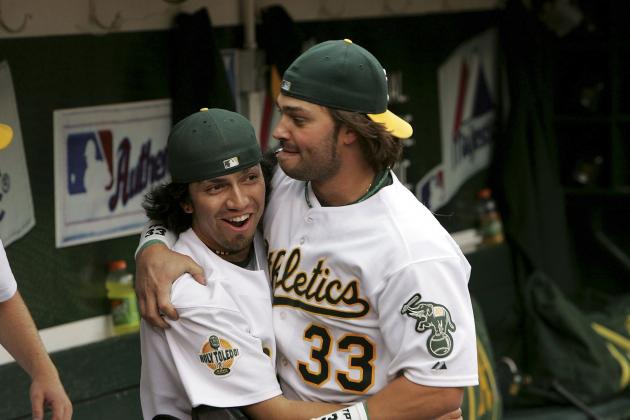 Justin Sullivan/Getty Images
He's hugged his teammates goodbye once already.
In 2009, the Oakland Athletics acquired Orlando Cabrera and Matt Holliday thinking these two would be a catalyst—key pieces to a postseason run.
Within the first few months of the season, the A's realized it wasn't working out and traded both men.
Of course it's not ideal, but it is an option.
In the offseason, less teams will likely be desperate. The best talent will be snatched up, and few organizations will dole out outrageous paychecks for lesser talent.
But the trade deadline is different.
By midseason, expectations and deficiencies are clear. Teams should be willing to take riskier chances in hopes of a spark.
It worked for the Minnesota Twins in 2009. Meanwhile, the A's didn't suffer any from a brief sign and eventual trade.