Stock Up, Stock Down for 2013 NFL Draft Prospects, NFL Week 9 Edition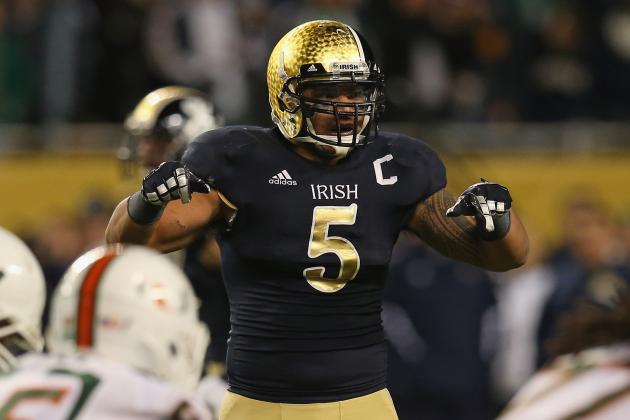 Jonathan Daniel/Getty Images

If you're a fan of one of the many NFL teams whose seasons look over heading into Week 9, don't worry, the NFL draft is coming soon enough.
As always, fans, coaches, scouts and media members are all looking ahead to what should be a loaded class of prospects entering the 2013 NFL draft. Each week we highlight five players moving up and five players moving down our weekly Big Board. This week brings some familiar names to the forefront.
Begin Slideshow

»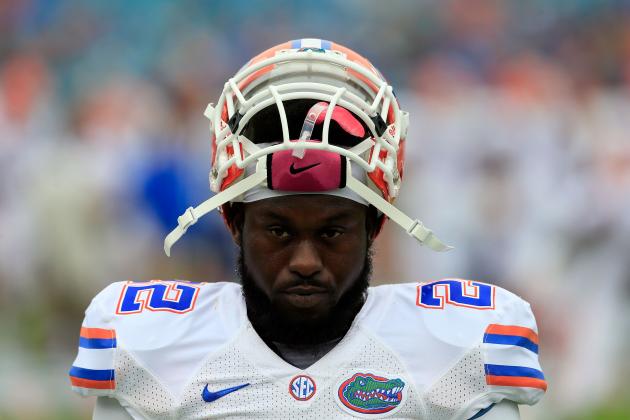 Sam Greenwood/Getty Images

Last Week: 49 | This Week: 31
In a year as loaded with top defensive prospects as ever, strong safety Matt Elam continues to move up the board.
Elam's ball-hawking ability has been on display all season, and as Florida moves through SEC play, Elam has been given more opportunities to stand out. Just a junior, Elam is one of many underclassmen who has put himself the NFL scouts' radar.
While Elam doesn't have great size (5'10", 202 lbs), he has game-changing speed and agility.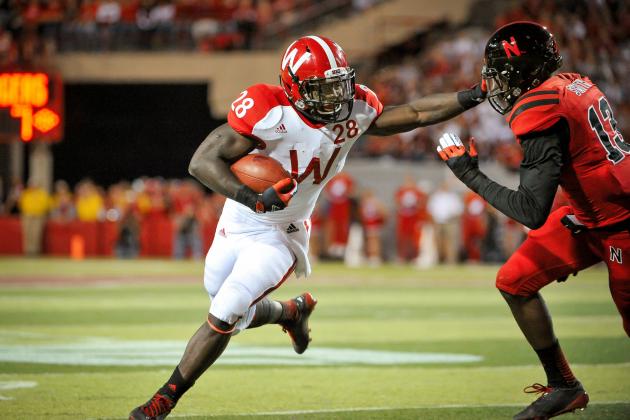 Eric Francis/Getty Images

Last Week: 124 | This Week: 140
Wisconsin running back Montee Ball has had a tough year. His NFL draft stock has too.
Ball entered the year as a third-round prospect. His lack of burst and his high number of carries at Wisconsin led to a less-than-favorable preseason evaluation of the Heisman Trophy finalist. Ball is viewed by many fans as a great running back, but there's a difference between being a great college running back and a viable NFL back.
In today's NFL, most teams rotate their backfield, which is good news for Ball. He'll get his shot in the pros—even after a tough senior season—but don't expect Ball to be drafted in the first three rounds.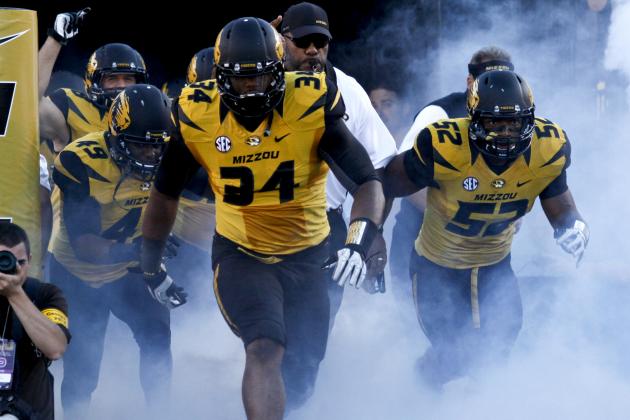 Ed Zurga/Getty Images

Last Week: 31 | This Week: 26
This past week allowed me to travel to a major college football game for the third straight week. Missouri's homecoming game against Kentucky maybe isn't the most high high-profile matchup, but the Mizzou defense is worth watching.
Defensive tackle Sheldon Richardson has stood out for much of the 2012 season, and he did so again in person. Richardson led the Missouri defense with five tackles, a forced fumble and a fumble recovery—quite impressive for a defensive tackle.
Richardson's stock has been shooting up all season, and after seeing him play in person, it's tough to see NFL teams letting him slide past the first round.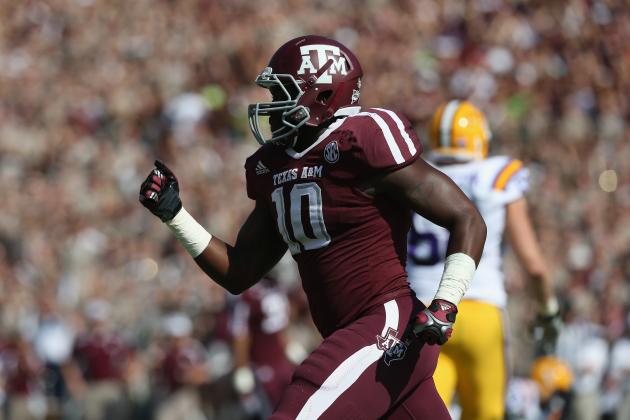 Ronald Martinez/Getty Images

Last Week: 78 | This Week: 92
While one Texas A&M defender has solidified his stock as a first-rounder, another is falling down the board.
Sean Porter was supposed to be the elite defender on this team, but it's been Damontre Moore who has dominated on the defensive side of the ball, not Porter. While a change in defensive scheme carries much of the blame, Porter's overall play hasn't lived up to his 2011 production.
NFL teams may see Porter's 2011 film and decide that he's been hurt in 2012 by a move to middle linebacker, but it's also very possible that they see his play this season and move him down their boards. That's what we've done.
Jamie Squire/Getty Images

Last Week: 20 | This Week: 12
Interior offensive linemen don't normally find themselves ranked among the top 15 players, but Chance Warmack is a unique prospect, and he's well worth the ranking.
Warmack is as polished as any offensive guard evaluated in my 10 years. Comparable in many ways to 2012 first-rounder David DeCastro, Warmack looks like an instant starter in the NFL and a long-term stud as a left or right guard.
Offensive guards are rarely drafted as high as they are ranked, so it's possible that even the No. 12-ranked player would remain available into the late first round.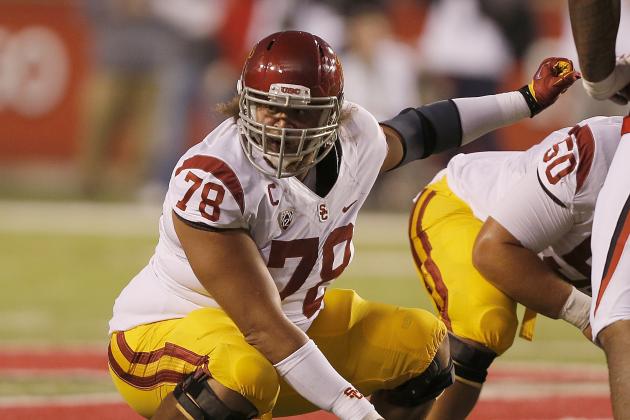 George Frey/Getty Images

Last Week: 67 | This Week: 78
Khaled Holmes is still the top center in the 2013 NFL draft class, but his stock is sliding a bit.
An injury earlier in the season had Holmes' stock in question, but after seeing USC's offensive line struggle in multiple contests, it's time to adjust rankings accordingly. That starts with Holmes.
The center is still a viable NFL starter, but he's not someone we'd recommend drafting in the first two rounds. Holmes will get his chance to stand out in a one-on-one basis at the Senior Bowl in January.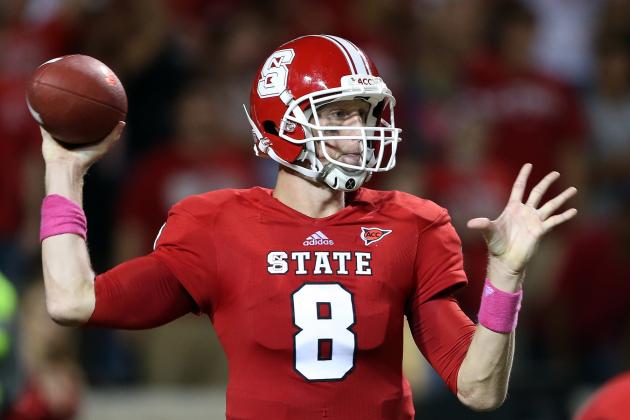 Streeter Lecka/Getty Images

Last Week: 121 | This Week: 93
As part of regular film study, I was able to catch up on Mike Glennon this week. After seeing some mentions of him as a first-round prospect, it was time to see for myself what the hype was all about.
Glennon is a good quarterback. He has the size and strength we all look for in an NFL passer. When the pocket is clean, Glennon is at a high level that would justify a high draft pick. However, when pressured, his decision-making and accuracy tend to drop off. That's a problem.
Glennon is still a very young quarterback, and he's developing on the go right now, but at midseason he doesn't look like a first- or second-rounder.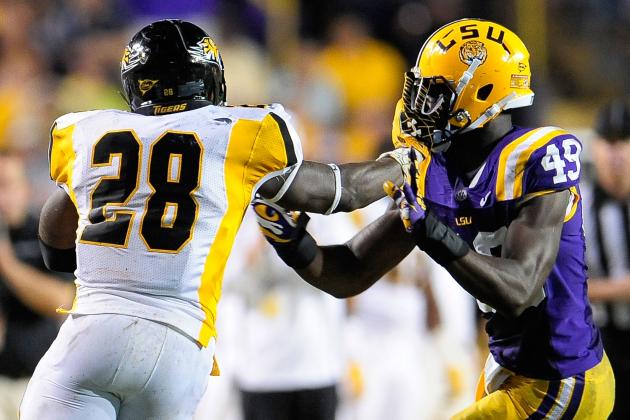 Stacy Revere/Getty Images

Last Week: 12 | This Week: 16
Barkevious Mingo's steady fall down the board continues this week. He'll have a chance to redeem himself against Alabama this weekend, but from what the game film shows so far, it's unlikely.
One-dimensional players rarely find themselves drafted early in the first round unless they've shown remarkable athletic ability—like Aldon Smith. Mingo doesn't quite show that ability, resembling Bruce Irvin more than Smith.
Mingo needs to prove to NFL scouts that his pass-rushing ability is just his most developed asset, and that in due time he'll become an all-around player.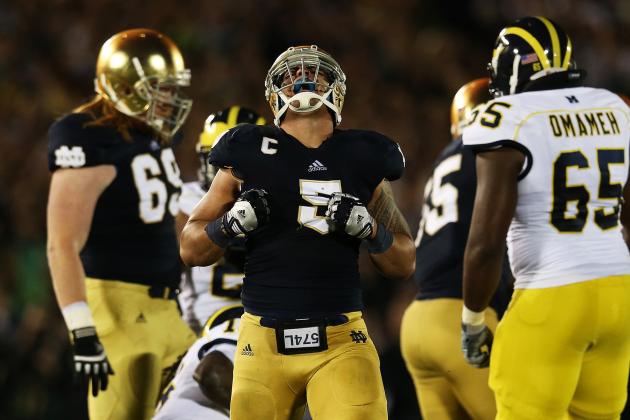 Jonathan Daniel/Getty Images

Last Week: 7 | This Week: 5
Throughout the entire season, we've referenced Manti Te'o as the best inside linebacker prospect in this year's draft class. We can drop the "inside" portion of that statement. Te'o is simply the best linebacker in the 2013 class. And he's making a strong argument as the best overall player.
Rarely is an inside linebacker such an impact in multiple phases of the game, as Te'o is also scary good in coverage. His vision, speed and instincts are all in line with players like Patrick Willis and NaVorro Bowman.
If NFL scouts see that same upside from Te'o, he'll find himself drafted very early in the first round.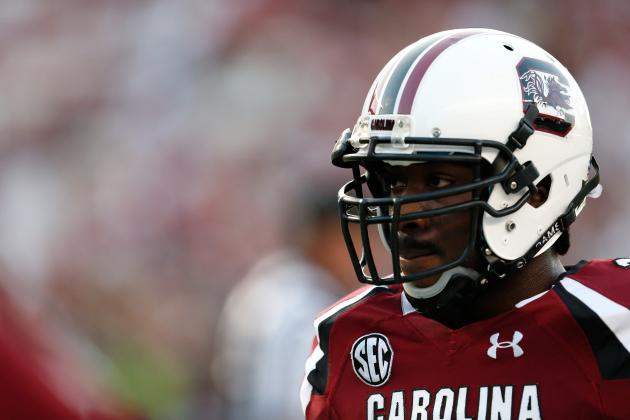 Kevin C. Cox/Getty Images

Last Week: 26 | This Week: Not Ranked
The top-ranked running back in the 2013 NFL draft class, Marcus Lattimore was on his way to a big payday in the NFL following a season-ending knee injury during the 2011 season. An all-too-familiar incident has Lattimore's future in question.
An ugly knee injury has ended Lattimore's season, which likely points to him returning to South Carolina for 2013.
Early indications are that Lattimore will return to South Carolina, although there is some precedent for entering the draft following injury. Willis McGahee did and was still drafted in the first round.
Lattimore has a tough decision to make, but for the time being he's ranked as a 2014 prospect.