Los Angeles Lakers vs. Portland Trail Blazers: Grades and Analysis for L.A.
Stephen Dunn/Getty Images
For the millions of Los Angeles Lakers fans that were hoping to see the return of Showtime, keep on dreaming. The Portland Trail Blazers came out firing with guns blazing and torched the Lakers defense for 116 points.
Considering the Lakers only came up with 106, I believe that means they lost.
Dwight Howard did all he could, putting up 33 points, 14 rebounds, five assists, one block and one steal on 15-of-19 shooting from the free-throw line. Kobe Bryant contributed to the cause, as well, as he put up 30 points of his own.
Unfortunately, Steve Nash went down with a shin injury in the opening minutes of the second half and the Lakers never looked the same. Then again, they never looked good to begin with.
The stars came out firing early, but were unable to maintain the Blazers' high-flying pace. Portland's perimeter starters all scored at least 20 points, leaving the Lakers gasping for air and wondering which way was up.
When you commit 29 turnovers and 24 personal fouls, that tends to be the result.
Steve Nash, Point Guard

Watch the Full Lakers vs Trail Blazers Highlights

Overall Grade: C
When healthy and active, Steve Nash did nothing to impress. He tallied four assists and four rebounds in 16 minutes, but appeared out of sync with virtually every player on the floor.
Nash did nothing to slow down rookie Damian Lillard and failed to exploit defensive weaknesses as we've grown accustomed to seeing. What appears to be a severe shin injury simply caps off what was a very poor performance by the two-time MVP.
Is this a matter of a poor fit in the Princeton Offense? Or is Nash simply experiencing early-season woes?
Either way, the Lakers must be concerned.
Fourth Quarter Grade: N/A
Steve Nash remains sidelined. This is a major cause for concern for the Los Angeles Lakers.
Third Quarter Grade: N/A
Steve Nash attempted to come back from his shin injury, but went back to the locker room within minutes.
Second Quarter Grade: C
Despite the statistical improvements over a night ago, Nash appears to be completely out of rhythm. He's not forcing defenses out of position and has yet to step up and find the gaps he usually manipulates.
He threw a pass away early in the second quarter. Nash displayed his frustration by honoring his soccer roots and kicking the ball.
In the final minutes of the quarter, Nash rolled his ankle. It is unclear how severe the injury is.
First Quarter Grade: B+
After tallying just four assists in the Lakers' season-opening loss to the Dallas Mavericks, Steve Nash has bounced back by posting three in the first quarter against the Blazers. Nash also picked up a steal and has done a solid job of forcing the ball out of Damian Lillard's hands early.
Well, that is until Lillard discovered how to pass himself.
Nash's first quarter stat line looks like this: no points, three assists, one rebound and one steal.
Kobe Bryant, Shooting Guard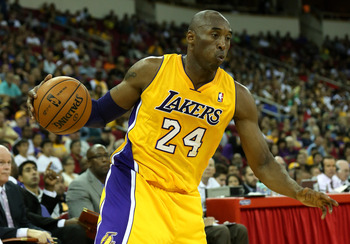 Stephen Dunn/Getty Images
Overall Grade: A-
You really can't fault Kobe Bryant for this loss, although his defense on Wesley Matthews could have been more respectful, as the former Marquette star finished the night with 22 points.
On the offensive end, however, Bryant finished the night with 30 points on 10-of-20 shooting. He made four three-pointers, grabbed six rebounds, dished out three assists and connected on 6-of-7 free throw attempts.
Considering the Lakers struggled the most when Bryant was not getting involved, his seven turnovers begin to make sense.
Despite the Lakers' steep 116-106 loss, Bryant walks away with a +/- of positive nine. He countered virtually everything the Blazers threw his way, but there just wasn't enough from the rest of his teammates.
Apparently Bryant and Dwight Howard aren't quite where he and Shaquille O'Neal were.
Fourth Quarter Grade: A
Kobe Bryant started out excellently but finished horribly. He took his eye off of a Steve Blake pass which sailed out of bounds and allowed Wesley Matthews to score at virtual will.
Worst of all, Bryant is shooting efficiently but rarely putting the ball in the air to begin with. As a result, his scoring prowess has been nullified by his making just two field goals in the second half.
23 points on 8-of-14 shooting is only impressive when you're not an all-time great.
Bryant did all he could during the first half, but it just wasn't enough. Dwight Howard was on his own in the third and fourth quarters, thus leaving the Lakers in peril as the Blazers began to heat up from beyond the arc.
Specifically players at Bryant's position, such as Matthews and Sasha Pavlovic.
Kobe's luck began to change at about the 5:00 mark, as Bryant completed an and-one to bring his total to 26 points. He also cut the Blazers' lead to 11 and worked with D-12 to flirt with cutting the lead to single-digits.
Unfortunately, it was just too little too late.
Third Quarter Grade: C
After making six of his first eight shots, Kobe Bryant has struggled to put the ball in the basket. In turn, the Lakers have not been able to keep pace with the upstart Portland Trail Blazers.
On top of struggling from the floor, Bryant has brought his totals up to five turnovers and three personal fouls. Previously performing at an unbelievably efficient level, Kobe is now appearing to be as out of rhythm as his team.
Not what the Lakers need from the glue of their roster.
Second Quarter Grade: A+
Kobe Bryant continues his hot shooting, draining a three-pointer for his seventh points of the night. Kobe would display unparalleled maturity as he passed up on a second consecutive attempt the following possession, finding Dwight Howard, who proceeded to hit Metta World Peace for an open three.
Unfortunately, Bryant has not honored Wesley Matthews' shooting ability and the former Marquette star has drained three buckets already. He's also committed three turnovers.
Bryant would respond to Matthews' sharpshooting by dropping in a second three of the quarter. Bryant would then hit a streaking layup and later drain two free throws.
If that's not enough, how about Bryant's schooling of Matthews for a third three-pointer of the half?? giving him 17 points on 6-of-8 shooting.
That means that Bryant has made 16 of his first 22 shots this season. Who besides James Harden is hotter in basketball?
First Quarter Grade: A-
Kobe Bryant missed his first shot of the game, but grabbed three rebounds in as many minutes. He is playing well within the system and appears far more inclined to see the team discover success than score his own points.
All who claim Bryant can't play unselfish basketball have been proven wrong for the fifth consecutive quarter. Kobe's quick two on the other end, meanwhile, proved that he remains a lethal scorer.
That smooth driving dunk reminds us that there is still some spring in those aging legs. Kobe has four points and three rebounds through one.
Metta World Peace, Small Forward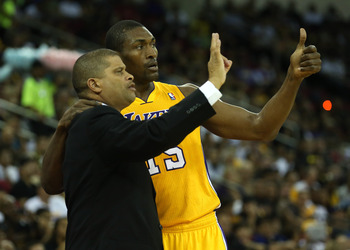 Stephen Dunn/Getty Images
Overall Grade: C-
Metta World Peace's stat line may appear as if he played efficient basketball, but he didn't. World Peace's 10 points on 4-of-5 shooting are only as impressive as his six turnovers, six personal fouls and countless blown assignments on D.
His misplaying of what proved to be the momentum-shifting three-pointer by Nicolas Batum is simply the most significant example of his shortcomings.
MWP allowed Batum to put up 26 points and score virtually at will. He failed to contribute the defensive pressure that the Lakers expect of him, which beckons the question that some fans have already begun to ask.
Do the Lakers need to go younger at small forward to win a title in 2013?
Fourth Quarter Grade: D+
What did Metta World Peace do for his stat sheet in the fourth quarter? Well, he committed a fifth foul and grabbed a rebound.
In other words, MWP was of virtually no importance to the Lakers' attempt at a comeback.
Correction: Metta World Peace was the player who allowed Nicolas Batum to end the Lakers' run with a dagger three-pointer.
Third Quarter Grade: D+
Metta World Peace has picked up eight points on a perfect 3-of-3 shooting. He also has six turnovers and four personal fouls.
MWP also happens to be the player who Nicolas Batum has torched for 23 points. MWP has earned himself a near failing grade.
Second Quarter Grade: B+
Metta World Peace bounced back from a rough opening quarter, catching and draining a three-point attempt around the mid-way point in the second. His defense also improved on Nicolas Batum, which helped the Lakers stay in this one as the Blazers began their sharpshooting.
MWP would then join a later three-point festival for his second bucket of the quarter.
First Quarter Grade: C+
Metta World Peace dropped in an early two points, but struggled to maintain the efficiency after turning the ball over twice in as many minutes. Although MWP is of extreme value on defense, which he has displayed in containing Nicolas Batum, the former Defensive Player of the Year must not commit such senseless turnovers.
He has played well, just not well enough.
Pau Gasol, Power Forward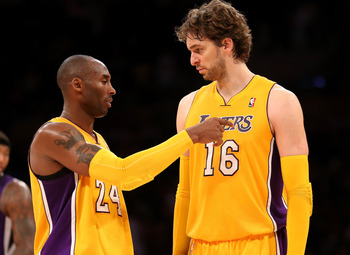 Stephen Dunn/Getty Images
Overall Grade: C+
What happened to Pau Gasol? After dropping in 10 points during the first quarter, Gasol scored just four points the rest of the way.
This came on just 6-of-13 shooting from the field. It also provided insight into what we have long feared about Gasol.
For every great performance, there will be a major letdown by Pau Gasol waiting around the corner. He is far too passive a player to lead the Lakers to a title, which is exactly why Dwight Howard was traded for in the first place.
With that being said, Gasol has proven that even his letdowns are of quality. The Spaniard finishes the game with 14 points, nine rebounds, two assists and a steal.
Unfortunately, he and the Lake Show just couldn't do enough to compete with the high-powered Portland offense.
Fourth Quarter: C
Where was Pau Gasol during the second half? Although he managed to score four points, Gasol's efforts appeared to be a matter of too little, too late.
Every time Gasol touched the ball, it appeared as if he was certain to pass. Unfortunately, Gasol was not passing for scoring opportunities.
He was simply deferring to whomever was available to bring it back out to the perimeter.
Third Quarter Grade: C-
The Los Angeles Lakers as a whole could not keep the pace with the Blazers during the opening minutes of the third quarter. At the heart of these struggles was Pau Gasol, who couldn't seem to slow down LaMarcus Aldridge or provide the necessary help defense.
Gasol hasn't scored a single point since the first quarter.
Second Quarter Grade: C+
After a monster first quarter, Pau Gasol was a virtual non-factor in the second. He didn't play poorly and actually began to slow down the red-hot LaMarcus Aldridge, which garners some deserved praise.
Gasol simply hasn't contributed in a significant enough manner to replicate his A from the first quarter.
First Quarter Grade: A
On offense, Pau Gasol started off with a bang. He hit three of his first five shots and saw his point total sit at eight after just five minutes. He also grabbed three boards and made both of his free throws.
Unfortunately for Gasol, opponent LaMarcus Aldridge matched him step for step. L.A. hit all three of his shots on Gasol and appeared to overwhelm the Spaniard with his combination of strength, athleticism and basketball prowess.
After one quarter, Gasol has a stat line of 10 points, three rebounds and one assist on 4-of-7 shooting.
Dwight Howard, Center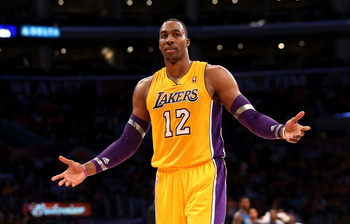 Stephen Dunn/Getty Images
Overall Grade: A+
Dwight Howard led the Los Angeles Lakers in points, rebounds, assists, blocks and steals. His stat line finished at 33 points, 14 rebounds, five assists, one block and one steal.
D-12 also shot 15-of-19 from the charity stripe and grabbed six offensive rebounds. Seriously, what more could you ask of him?
Howard looked more like he was still with the Orlando Magic than with the Lakers. His supporting cast was nonexistent outside of Kobe Bryant and a first quarter outburst from Pau Gasol.
His reserves, meanwhile, combined for just one point, four rebounds and four personal fouls. If D-12 could have played all 48 minutes, he would have.
Unfortunately, D-12 is still recovering from back surgery and finding his proper level of conditioning. Now just imagine how brilliantly he would have played at 100 percent.
Fourth Quarter Grade: A
Dwight Howard dominated the glass during the fourth quarter, even pushing the Blazers out of the paint. Unfortunately, Portland's jumpers were falling every time down, thus nullifying the presence of Howard in the paint.
No matter which way you cut it, there is no way you can place the blame on D-12 for the Lakers' loss. Not when he was scoring, rebounding and facilitating as well as any player on the floor.
Not when he played until the final buzzer.
Third Quarter Grade: A
Dwight Howard has done all he possibly can. Howard has posted 12 points and six rebounds this quarter. With his taking over on the offensive end, D-12 has kept the Lakers within striking distance.
Unfortunately, the rest of the Lakers appeared to have fallen asleep. With a 9-0 run and Howard picking up his fourth foul, it appears as if the Lake Show is in severe trouble.
A+ goes to A because of the foul.
Second Quarter Grade: A+
Dwight Howard took over the second quarter, dropping in eight quick points as the Blazers sent him to the line for 14 free throw attempts in one half. Howard would hit 11 of those attempts, which further established his dominance on offense.
This comes one nights after Howard made just 3-of-14 free throws against the Dallas Mavericks.
Howard now sits pretty with 17 points, four rebounds, three offensive boards, four assists, a blocked shot and a steal.
First Quarter Grade: A
Dwight Howard continues to amaze, putting up seven points, two rebounds, two assists and a blocked shot in the opening quarter of play. He maintained perfect balance when slashers such as Damian Lillard would attack the balance, which enabled him to alter more shots than he blocked.
D-12 may not have a phenomenal stat sheet early on, but he's playing as well as one could ask him to. Dominating without the ball in your hands is just as impressive as taking over as a scorer.
Antawn Jamison, Sixth Man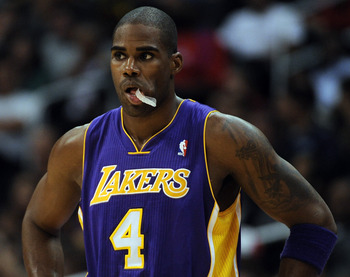 Harry How/Getty Images
Overall Grade: F
Antawn Jamison was listed as average for every quarter he played. Due to the fact that he was completely nonexistent on a night in which the Lakers needed all of the offense they could afford, however, Jamison receives a failing grade.
Some will argue that Jamison should have seen more minutes. The truth of the matter is, the 14-year veteran appeared so lost in the short periods of time he spent on the floor that it seemed ill-advised to bring him in at all.
In just 13 minutes, Jamison accumulated a +/- score of negative 21. How could you possibly condone giving him more playing time on this evening?
Fourth Quarter Grade: C
Antawn Jamison played just two fourth quarter minutes. In that time, he missed a three-point shot and that was about it.
Apologies for the brevity, but there really isn't much to speak about.
Third Quarter Grade: C-
In 11 minutes of play, Antawn Jamison has scored just two points and grabbed one rebounds. He's also struggled to contain a single player that he's defended, which suggests that the Lakers' starters are not the only players struggling to find their groove.
The 2004 Sixth Man of the Year continues to be of little value in tonight's game.
Second Quarter Grade: C
Antawn Jamison was on the floor, but you may not have noticed. He missed his only field goal attempt of the game and failed to add any other statistics.
Nothing notable just yet from the Lakers' sixth man.
First Quarter Grade: C
When you play 90 seconds of basketball, it's rather difficult to accumulate a grade. For that reason, Antawn Jamison sits at the average grade of "C."
In that time, Jamison grabbed one rebound. Props for that, eh?

Bench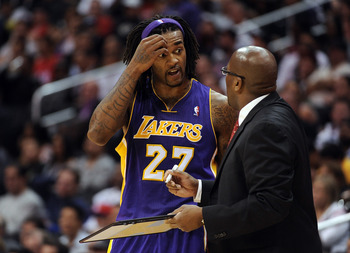 Harry How/Getty Images
Overall Grade: F
15 total points, nine personal fouls and four turnovers. What else is there to say?
Fourth Quarter Grade: D+
When Steve Blake needed to stop Damian Lillard, he couldn't. When Chris Duhon attempted to do the same, he failed too.
One way or another, the Lakers bench failed their team. Fortunately for their reputation, the starters performed just as poorly.
Third Quarter Grade: C
Props must be given to Steve Blake for coming in and replacing the injured Steve Nash. Unfortunately, Blake was a victim of a Damian Lillard-led onslaught that has some singing his praises as an early Rookie of the Year favorite.
Blake, meanwhile, simply reminded Lakers fans of how insufficiently he fills the role of starting point guard.
Blake's defense wasn't horrendous, but it certainly wasn't effective. Lillard would score at will and facilitate whenever he pleased.
Second Quarter Grade: D+
How's this for a statistic? The Los Angeles Lakers' bench has combined for six personal fouls and three turnovers in their scarce moments of playing time.
Not exactly the best numbers to post. Even with Steve Blake's two rebounds and one steal, that has to be concerning.
First Quarter Grade: C
Devin Ebanks and Jordan Hill entered the game around the mid-way mark of the first quarter. Ebanks made his first shot of the quarter, while Hill grabbed a rebound and missed both of his free throw attempts.
Nothing negatively noteworthy, but nothing too positive either. Average grade of C for the first quarter of play.
Keep Reading

Los Angeles Lakers: Like this team?