20 Coolest Places To Watch a Game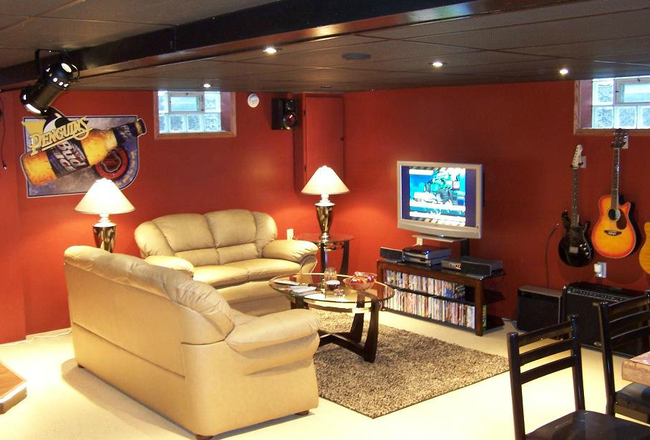 The "man cave" has sure come a long way over the last few decades. Remember when men were relegated to the garage or a barely finished basement to display their sports memorabilia collections or have the guys over for a poker night or to watch the big game on Sunday?

Well, for many men today, those days are nothing but a hazy and distant memory. The man cave has slowly evolved from a primitive but comfortable sanctuary into elaborate and often high-priced showcases of masculinity.

These retreats provide men with a haven to escape the stress of work and family life and are often a way to relive their glory days.
It seems everyone from celebrities, musicians and professional athletes to every Joe on the street has a man cave these days. And some of them are nothing short of epic.

Let's take a look at 20 man caves—listed in no particular order—that will blow your mind.
Larry the Cable Guy's Sweet Lodge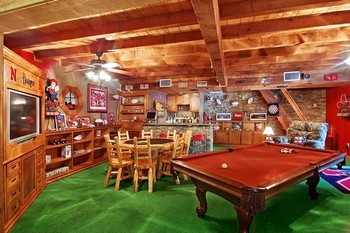 Image via Coldwell Banker
The Deets

Dan Whitney, or "Larry the Cable Guy," has built himself a pretty awesome man cave that successfully captures the look and feel of a lodge while ensuring that you're entertained by more than a fireplace.
Why You Want To Watch the Game Here

Whitney's man cave is the very definition of homey. You are certain to find plenty of cold beer and delicious snacks served in large wooden bowls.
The Wealthy Father-in-Law Experience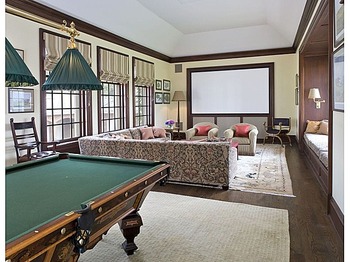 Image via Zillow.com
The Deets

This man cave in Mount Kisco, N.Y., shuns the contemporary Scandinavian aesthetics IKEA popularized; instead, it gives you the game in an environment that might just make you believe you've traveled back to 1985 and assumed the life of a wealthy heir named Chet.
Just look at that television; I bet the images are wonderfully pixelated.
Why You Want To Watch the Game Here

Did you ever want to feel like one of those people who came from "old money"? You know, with a last name like Hollingsworth and a birthright membership to the yacht club?
This man cave is the true wealthy in-law experience. Say "yes" when your new father-in-law asks if you want a Tom Collins, and tell him about all your new business ideas.
Black and Gold Fantasy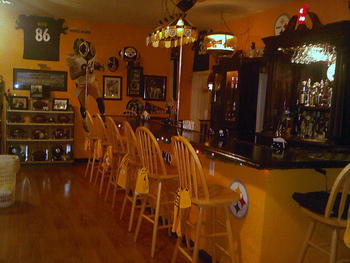 Image via Pittsburgh Post-Gazette
The Deets

A 2,500-square-foot basement completely decked out in Pittsburgh Steelers decor and memorabilia, which also has a full bar, 72-inch HD television and a top-of-the-line home theater system.
Why You Want To Watch the Game Here

Obviously, if you're a Steelers fan, George Danesky's man cave in Blue Ridge, Ga., is a veritable slice of black and gold heaven. But even the most diehard Ravens fan would have a blast watching the latest clash between the bitter NFL rivals in the splendor of Danesky's basement.

You have all the amenities of a high-end sports bar, without the crowd or outrageous beer prices.
'CAN'T WAIT' To Watch the Game with Bart Scott

Video via Animal Planet

The Deets

What doesn't New York Jets linebacker Bart Scott's man cave have? Highlights include a "4,500-pound, 500-gallon, eight-foot-long saltwater fish tank," two 50-inch flat-screen televisions, an f'ing portrait of Scott composed of LEGOs and a guitar autographed by Prince.
Why You Want To Watch the Game Here

Scott's decadent man cave was built through a joint venture of Maxim Magazine and the Animal Planet show Tanked. If you could get past surreal experience of watching a game with Scott among such luxury, you'd have quite the array of amenities at your disposal, including a kegerator.

If Mark Sanchez happens to be there, you can tell him, "It's time to put Tebow in," when he accidentally drops a cheese puff.
The Monument to Dale Earnhardt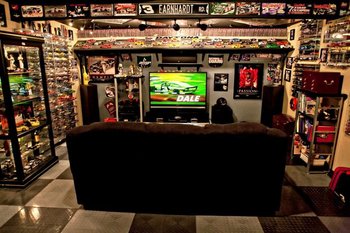 Image via www.mancavesite.org
The Deets

Robert Butterfield's NASCAR-themed man cave in Sierra Vista, Ariz., is practically a Dale Earnhardt museum. From floor to ceiling, the room is packed with memorabilia and No. 3-dedicated decor.
Why You Want To Watch the Game Here

If you're a fan of the late Dale Earnhardt and/or NASCAR, would there be any more awesome place to watch the Daytona 500, other than at the track itself? You might find the temptation to play with some of the model cars too strong to resist, but you would probably run the risk of losing the hand with a man this obsessed.
A Most Perfect Lair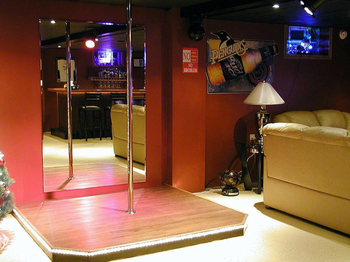 Image via www.mancavesite.org
The Deets

Need I do more than point out that this magnificent man cave features a stripper pole? If that isn't enough, you can see the elegantly styled bar in the mirror accompanying the stripper pole.
You must check out the entire gallery to fully appreciate this accomplishment.
Why You Want To Watch the Game Here

It's as if Dan Stanoszek got together a focus group of dudes between ages 21 and 35 and designed this space on their collective vision. I'm not sure how well exotic dancing and watching the game go together, but wouldn't it be fun to find out?

Besides, the stripper pole was his wife's idea. Your conscience is clear!
Who Needs NFL Red Zone?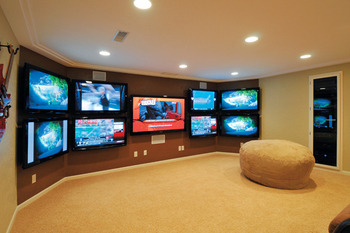 Image via Kim Wilson Photography
The Deets

The guy who built this worked closely with a home theater design company to create what's described as the "Ultimate Sports Den." It features nine—yes, nine—flat-screen televisions linked to nine different DirecTV receivers.
Why You Want To Watch the Game Here

Anyone who's ever been at the mercy of regional NFL broadcasting rights knows how frustrating it is to miss the first quarter of your team's game while Jaguars-Chiefs goes into OT. This cutting-edge man cave is a virtual sports war room.

In fact, I would half-expect to get call from NORAD at some point.
Just Don't Inhale, Fo' Shizzle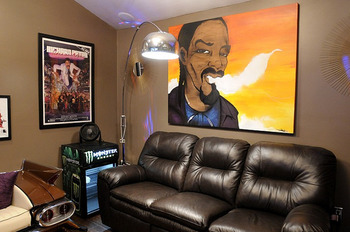 Image via DIY Network
The Deets

Welcome to Snoop Dogg's man cave, where you'll find a giant painting of the "Dogg-Father" himself, a direct phone line to Denny's and two 50-inch flat-screen televisions.
Why You Want To Watch the Game Here

Do I really need to explain why it would be cool to watch the game with Snoop Dogg? The real question is: Are you cool enough to watch it with him?
For the Bourbon Lover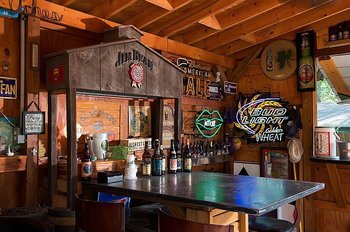 Image via David Eulitt/The Star
The Deets

Dan Uche of Kansas City, Mo., created this Jim Beam-themed outdoor man cave, which has a full bar, multiple televisions and the locally brewed Tank 7 ale on tap.
Why You Want To Watch the Game Here

Has any space ever appeared as welcoming and friendly as this wooden masterpiece? You know that if you watched the game here, you're guaranteed to eat good food, drink good bourbon and have some great conversations (and likely get wasted).
Cure for the Lockout Blues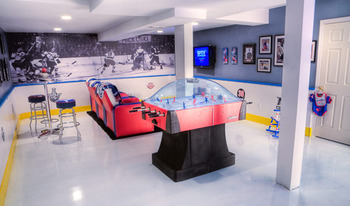 Image via awesomemancave.com
The Deets:

NHL theme. A frigg'n floor that looks like ice. And...bubble hockey.
Why You Want To Watch the Game Here

As of right now, you'll have to settle for replays of classic NHL games or minor league action, but there is no doubt that this is the perfect environment to watch hockey. And what better way to kill time during the intermissions than striking up a game of bubble hockey?
Team Getting Blown Out? No Problem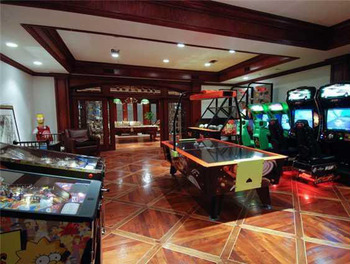 Image via deadlinenews.com
The Deets

This man cave in Westlake Village, Calif., is for those people who spent way too much money at the arcade—back when arcades still existed. This room has it all: a pool table, shoot 'em basketball games, pinball and other classic arcade games.
Why You Want To Watch the Game Here

Watching the game here would be awesome if only for the experience of being at an arcade with an infinite number of tokens. However, the truly cool element of this man cave is if your team is getting destroyed—or the game is just a snoozer—you definitely won't be bored.
Ready for World War III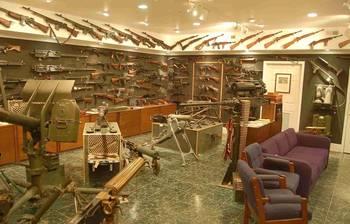 Image via halfempty.com
The Deets

This man cave is filled with guns. Lots..of..guns. I'm assuming that those chairs on the right are facing a television. But who knows; they could just be facing more guns.
Why You Want To Watch the Game Here

Okay, this man cave definitely straddles the line between cool and scary, but you know you'll probably never be in a room like this one ever again.
The Loyal Alumni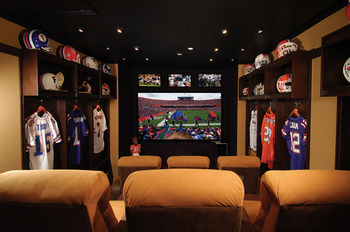 Image via Jay Miller
The Deets

This is the room of a college graduate who not only loves his team, but who has a good chunk of change to invest in making each Saturday an amazing experience. This man cave is outfitted with, "three 32-inch Sharp LCDs, a 110-inch Stewart Filmscreen fixed display, a Sharp 1080p DLP projector, 7.2-channel surround sound, a PlayStation 3, Lutron lighting and Crestron touchpanel control" (h/t ElectronicHouse.com).
Why You Want To Watch the Game Here

Considering the Tebow overexposure, it may be difficult to be in the same room featuring his jersey and an obvious fan. You should get over it though, because it would be a blast watching Florida-Florida State in this fan-friendly man cave.
Hop on a Harley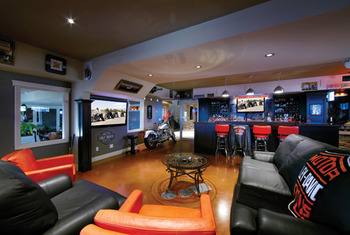 Image via Noah Fallis
The Deets

If you are a Harley-Davidson guy, this man cave has everything. If you're just a guy, this room has everything.
Why You Want To Watch the Game Here

Even if you're not into the whole Harley/motorcycle lifestyle, you have to admit this man cave is pretty sweet; you'll have a fantastic viewing experience, even if you drive a Prius. However, I'm guessing that wearing leather isn't optional.
The Man Cave with a Giant Lazy Susan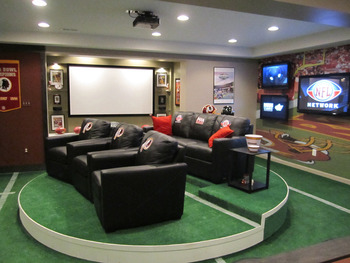 Image via www.completehydraulic.com
The Deets

Ryan and Jessica Donaldson in Sykesville, Md., won this man cave renovation courtesy of the DIY Network. Ryan is a Redskins fan, and his wife is a Ravens fan, so the room was built allow the two to rotate around like a dish of macaroni casserole on a lazy susan.
Why You Want To Watch the Game Here

I'm not sure how practical the concept of the turntable seating area is, but it's cool as a pure spectacle. I'd get it rotating for no reason at all.
The House of Pain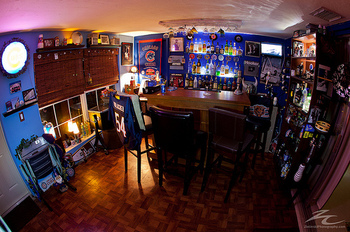 Image via ZelinskiCreative
The Deets

This is a prime example of the adorable loyalty of the long-suffering Chicago Cubs fan. A man cave tribute to their beloved team, filled with memorabilia, souvenirs and booze to kill the pain.
Why You Want To Watch the Game Here

This is a perfect spot to sit back, watch a double-header and listen to your buddy rehash the entire "Bartman" drama from his tortured perspective.
Truly DIY, Truly Cowboys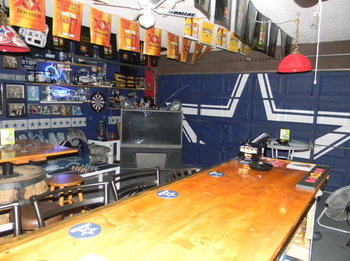 Image via Julio Renteria
The Deets

Julio Renteria is obviously a huge Dallas Cowboys fan, and his converted garage is awesomely DIY. This place has everything you could want to watch the Cowboys-Redskins game, without the awkward feeling you aren't allowed to touch anything.
Why You Want To Watch the Game Here

You know Renteria and his friends know how to have a good time, so if you spend a Sunday afternoon in his man cave, you know you will too.
The No-Frills Philly Experience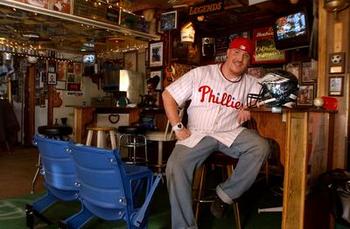 Image via Pete Picknally/PhillyBurbs
The Deets

Built with his own two hands behind his house, John McWilliams' man cave perfectly captures the spirit of Philadelphia and its fans. You have the authentic stadium seats, a bar, a humble television—this is a place for drinking and yelling.
Why You Want To Watch the Game Here

Sure, you can design a man cave equipped with the latest digital projection technology, custom leather seats and surround sound—but you can't duplicate the experience McWilliams is providing.
The American Way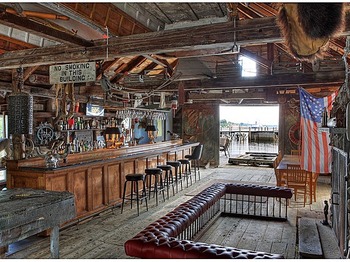 Image via The Refined Guy
The Deets

This converted boat house has that rustic American spirit that's perfectly paired with a good lager and a great game.
Why You Want To Watch the Game Here

I bet they'd know your name if you walked into this man cave. And I bet they wouldn't give darn about the mistakes you've made or the trouble you're running from.
The Elegant Superfan's Choice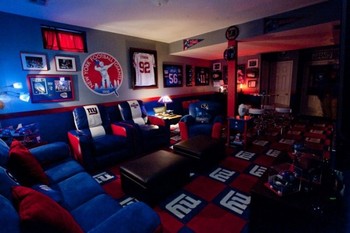 Image via Alfred Wasilewski/MANLAND
The Deets

The New York Giants superfan shows you how a man cave can be both a dedicated tribute to your beloved team and classy.
Why You Want To Watch the Game Here

Prop up your feet (if that's allowed), sip on an alcoholic beverage and wait for the jarring obscenities when things go wrong in the game.
Keep Reading