Green Bay Packers: Why the Packers Should Not Keep Greg Jennings Past 2012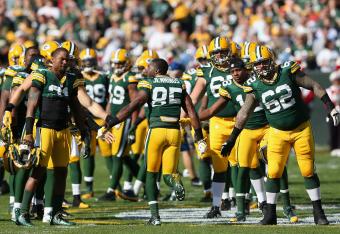 Jeff Gross/Getty Images
The Green Bay Packers could be ready to let one of the best receivers in team history walk out the door after this season.
Such a scenario is possible with Greg Jennings as the Packers must decide whether or not to keep the gifted but currently injured receiver. Jennings is only the first of many key Packers facing contract expirations over the next several seasons. Aaron Rodgers, Clay Matthews and B.J. Raji also are due for extensions in the next three years. Jordy Nelson's development into an elite receiver may also demand a contract restructuring.
At the beginning of the season, Jennings was thought to be a near lock to get an extension and remain a Packer for the foreseeable future. Now, halfway through the regular season, Jennings suddenly looks like he may be expendable and the Packers high-octane offense won't miss a beat.
This means the Packers should not hang onto Jennings past this season. There are several reasons why.
First is because he has become injury prone. He missed a good chunk of the stretch run last season, has missed five games already this season and is out for the next few weeks recovering from the aforementioned surgery on his abdomen. Packers GM Ted Thompson will not waste precious money on players to sit on the bench, let alone give a raise to the player who has missed as many games as Jennings has recently.
The Packers require their receivers to be physical to get extra yards after the catch. Jennings was terrific at this before his recent bout with injuries and if he continues to struggle to stay healthy. As he gets older, then the Packers will find it difficult to keep him.
Another reason the Packers can afford to let Jennings walk in free agency is the emergence of Randall Cobb and James Jones. Nelson was the breakout receiver of 2011 and Jones and Cobb seem to be sharing that title so far in 2012. Packer fans knew nearly immediately last year what a potential weapon Cobb could be and that potential has been realized so far this season. Cobb has been used in traditional receiver sets as well as in plays out of the backfield. The sky seems to be the limit for the versatile Cobb.
Jones has been a bigger surprise. He often is ridiculed by some Packer fans because of his tendency to drop the ball in 2010 and 2011, but Jones has been absolute money so far this season. He leads the team with seven touchdown receptions and has been able to make the clutch catch whenever the Packers have needed it. He is candidate for the Pro Bowl which shows how much he has grown the last couple years.
Money is also another reason why the Packers shouldn't keep Jennings. With both Rodgers and Matthews likely to see substantial pay increases at the time of their next extensions, the Packers likely won't have room for the kind of money Jennings likely will demand in free agency. It's hard if not impossible to argue Jennings means more to the Packers than either their star quarterback or linebacker.
Unless Jennings is either willing to remain at his current salary or take a slight cut, he likely won't be receiving his 2013 paychecks from the Packers. There is the possibility that Jennings' latest injury is hurting his free agency prospects which could lower his price and increase the odds the Packers keep him.
What should the Packers do with Greg Jennings?
It really depends on how he bounces back from the groin injury. Regardless, the Packers still will have trouble hanging onto him because of his larger body of work. The groin injury was nowhere near as severe as something like an ACL tear. Jennings is young enough that this injury should not hamper him long term.
The Packers also have the option of using the franchise tag on him, but that is never an ideal situation for a team and a receiver. When you also consider how hesitant Thompson is to use it because of the reaction it can cause, this is not likely to be a serious option for the Packers.
It's going to be a tough decision for the Packers to let Jennings go. He's one of the best receivers in team history and has been incredibly popular with the team's passionate fans. Jennings caught the pass that had Brett Favre break Dan Marino's career touchdown record. He made the clutch catch that helped the Packers put away the Steelers in Super Bowl XLV.
Unfortunately, being sentimental does not win you championships and no one knows this better than Thompson. He did what he could to keep Donald Driver this season and the receiver stayed, knowing he was in the twilight of his career.
This is not the case with Jennings. Both the wide receiver and the Packers know he has much more good football in front of him.
Sadly, thanks to the job Thompson has done stacking talent at the wide receiver position and the money situation, Jennings likely won't set foot again in Lambeau Field in a Packer uniform past this season's conclusion.
Kris Burke is a Green Bay Packers Featured Columnist for Bleacher Report and also writes for AllGreenBayPackers.com. Follow Kris on Twitter @KrisLBurke
This article is
What is the duplicate article?
Why is this article offensive?
Where is this article plagiarized from?
Why is this article poorly edited?

Green Bay Packers: Like this team?