A Much-Needed Refresher Course on How the BCS Works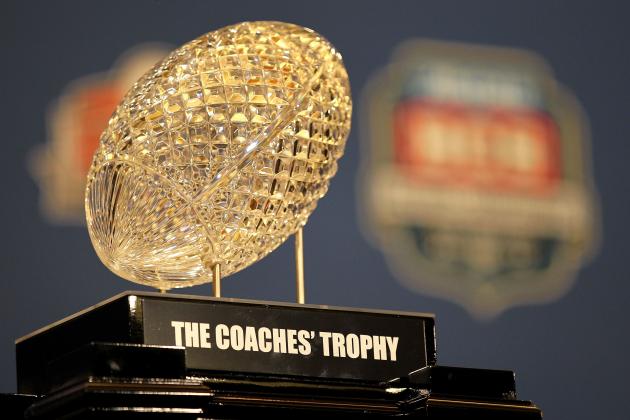 Andy Lyons/Getty Images

We're getting to the point of the season where the BCS standings are going to start to matter very soon. They don't yet—the only thing important to your team right now is still the next opponent in front of it, and that ain't about to change—but the standings are eventually going to decide who plays in the big bowls.
So now's as good a time as any to go back over what it is you're actually looking at with these BCS standings. It's easy for your eyes to just glaze over the mass of numbers next to each team as you go down the list, but it's even easier to figure out what those numbers mean if you know what you're looking at.
The math isn't even intimidating, either; it's grade-school-level arithmetic. At least it is in the BCS standings, anyway; you'll have to ask the computer poll operators about their formulas (and they won't answer you).
But back to the original point: All you need to know about the calculations of the BCS standings is what you already learned in, like, fourth grade.
So it's time to get brushed up. Let's do this.
Onward!
Begin Slideshow

»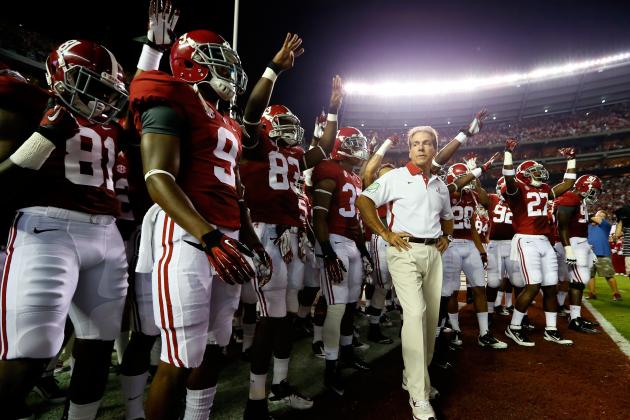 Kevin C. Cox/Getty Images

Love the Coaches Poll or hate it (or Option C: have no strong opinions about it), it's as big a portion of the BCS standings as anything else, constituting one-third of the BCS standings.
The polling is simple. A vote for No. 1 is worth 25 points, for No. 2 is 24 points, on and on down the list until No. 25, which is worth one point. There are 59 voters, so if every one of those 59 voters names your team No. 1, that's 1,475 points. Coincidentally, Alabama received every No. 1 vote this week and thus 1,475 points.
So since 1,475 points is the maximum amount you can get, everyone's point total is divided by 1,475, and the resulting number is that team's Coaches Poll factor in the BCS.
In short, it's just poll points divided by 1,475. That's it.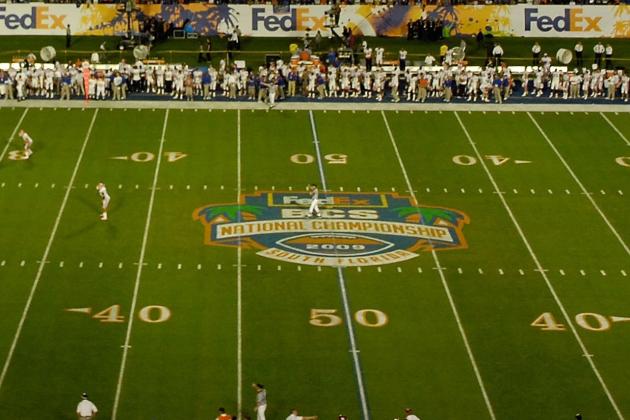 Michael Heiman/Getty Images

The second aspect of the BCS, also worth a third of the weight in voting, is the Harris Interactive Poll. Here's how the group describes itself.
The 2012 Harris Interactive College Football Poll is comprised of 115 panelists and includes former coaches, players, administrators and current and former media. Panelists are randomly drawn by Harris Interactive from among more than 300 nominations supplied by the 11 Football Bowl Subdivision (formerly Division I-A) conferences and independent institutions. The panel meets Harris Interactive criteria for sample design and is a statistically reliable representation of all 11 conferences and independent institutions.
Got all that? Great. The only difference in calculation from the USA Today Coaches Poll is that the Harris Poll uses 115 pollsters, not 59, so the maximum number of poll points is 2,875.
So for your second BCS factor, take the team's total number of Harris Poll points and divide by 2,875. That's it.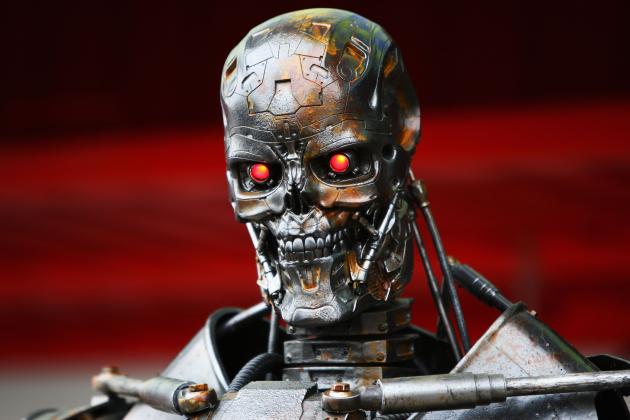 Clive Mason/Getty Images
Sorry, but this is all we can think of when it comes to putting the machines in charge.
Here's where things get a little more complicated, but not by much. There are six computer polls whose updated rankings are released every Sunday evening: the Anderson & Hester Computer Rankings, the Billingsley Report, the Colley Matrix, the Massey Ratings, the Jeff Sagarin ELO Chess ratings and the Peter Wolfe Ratings.
Their formulas are largely kept secret (exception: the Colley Matrix, which explains everything in this PDF), which is slightly troubling from a transparency perspective, but the BCS is satisfied with what the computer polls produce, so that's that.
Moreover, the threat of a "rogue computer poll" or whatever submarining a team's postseason dreams is negated by the fact that the highest and lowest computer polls for each team are thrown out, and only the middle four are used to calculate a team's overall computer ranking.
As for that ranking calculation, again, it's pretty easy. Since two polls are thrown out for every team, only four are used. Again, a No. 1 vote counts for 25 points, No. 2 counts for 24 and on down the line, like with the human polls. And since there are four polls counted, that means the maximum computer poll points is 100.
Convenient, no?
So let's look at Alabama. Richard Billingsley has the Tide ranked No. 1. That ranking is thrown out. Jeff Sagarin has 'Bama at No. 7. That's the lowest by far; it's gone too. The rest of the polls are No. 2, No. 3, No. 3 and No. 3 again. So that's 24, 23, 23 and 23 points, or 93 total.
Thus, Alabama's computer poll factor is .930. That's third-best, which is what you would expect from a team that came in third in 75 percent of its computer polls.
And that's it. That's all three factors of the BCS, all of equal weight. We're almost done.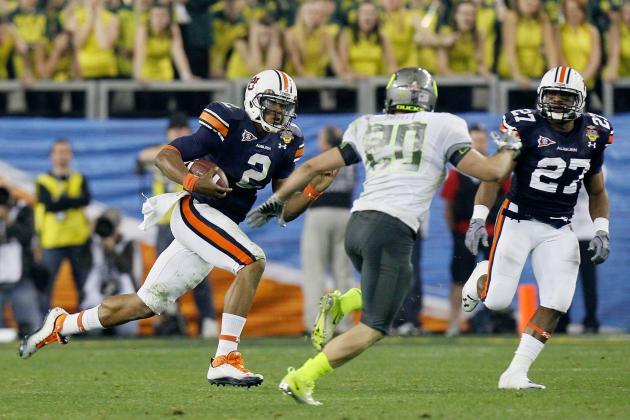 Kevin C. Cox/Getty Images

The last portion of the BCS rankings is what produces that big ugly number next to each team, but it's also the easiest to understand.
Each team has its Coaches Poll number, Harris Poll number and Computer Poll number. Each number is a percentage of the maximum number of votes in each poll, so they're all out of the same maximum (1.0000), which means they're effectively normalized.
So just add those numbers up for each team and divide by three, since they're equally weighted. That's each team's percentage of the maximum number of votes. Rank them accordingly, and voila—there's your BCS standings.
So now that we've got the "how" out of the way, let's finish with the "why" on the next slide.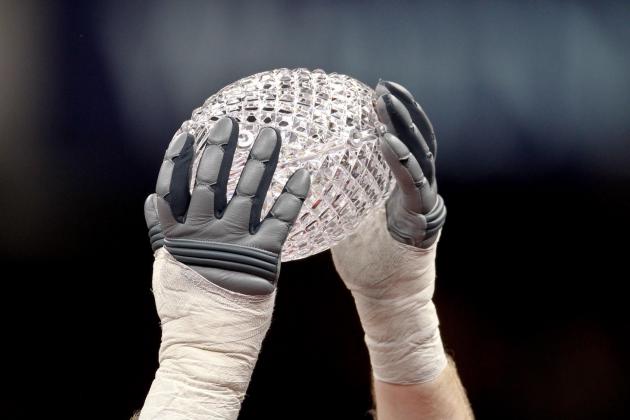 Derick E. Hingle-US PRESSWIRE

Obviously, the fact that human polls comprise two-thirds of the BCS calculation model means that the powers that be are more comfortable with the final rankings (and thusly BCS bowl berths) being determined by human opinion than by computer tabulation.
That said, there's a great deal of merit in providing some sort of check on human bias, and the computer rankings are a great way to do that. The rankings might theoretically provide a note to human voters to reconsider a team's spot in the polls, although that theory is dampened significantly by Oklahoma State's inability to make the BCS National Championship Game last year despite its computer ranking being in the Top Two every single week the BCS was calculated.
Face it: People prefer their own intuition over an oblique mathematical interpretation of data. That's why there's nothing to suggest a higher level of computer influence over the playoff selection when the college football postseason goes playoff in 2014. There'll be a committee that sees lots of data and rankings, of course, but at the end of the day, it's people calling the shots.
This is no surprise. Look at college basketball, which has its own postseason selection and roughly 30 to 35 games worth of data to produce rankings of teams. That data is used for the RPI (a ranking that, like the BCS computer polls, does not factor in score) and lots of other great computer rankings.
But again: It all comes down to a selection committee there, too.
There's no perfect way to rank teams. Not in college basketball and especially not in college football. There are just way too many teams and way too few games to go by record alone. More than that, the games are just too unpredictable and contradictory to make definitive, ironclad declarations between teams unless they're so mind-blowingly obvious that they don't need to be made in the first place.
So given that any possible way to rank these teams is going to come up woefully short in the way of objective, verifiable truth, we have to do the best we can and the BCS is as close as college football can get.
Yeah, the computers not considering points is concerning. But not all points are created equal. Some are against scrubs. Some come because of flukes or bad calls. Some come in overtime when teams are practically handed points. And some swing games and are the most important points. So there's some sense in that move.
Other than that, what is there that the BCS isn't paying attention to? That's a serious question. What's the stone left unturned in a model like this? What's the fatal flaw? What delegitimizes the operation?
Again, these aren't rhetorical questions. We'd like to know what you think about the BCS, whether the opinion is positive or negative. Comment away.