The Most Dominant Forces in Sports Right Now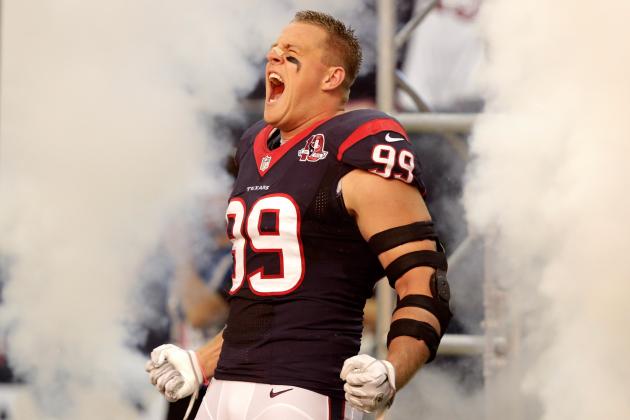 Scott Halleran/Getty Images

It's been said, every dog has its day. It's on this chosen day when a roaring dominance takes over that can't be contained. This glowing individual will own all who cross his path.
Like a lion chasing a gazelle, it's only a matter of time before nature-defined dominance falls into place. Sometimes the biggest stars in sports thrive as expected. Other times, former bench warmers or unknown regulars find a rare and powerful groove. Either way, their performances are always inspiring.
Let's take a look at the athletes currently tearing the sports world to shreds. Clear a path for Goliath; David's got no chance in these fights.
Begin Slideshow

»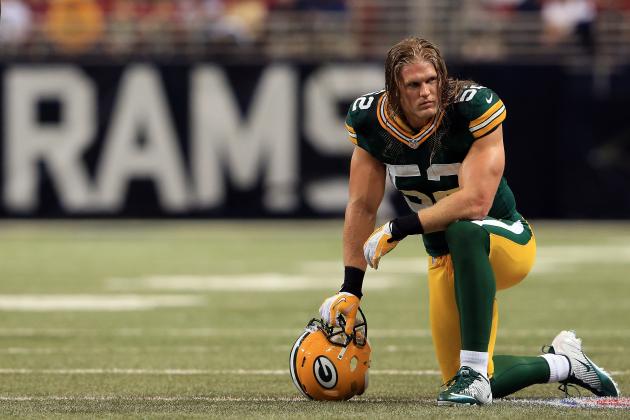 Doug Pensinger/Getty Images

With his golden mane still glistening on the sideline like nose hairs after a sneeze, menacing linebacker Clay Matthews is impossible to ignore.
But after 23.5 sacks during his first two seasons, the former USC phenom dropped off last year with only six quarterback drops. Through eight games this year, however, the Packers force is back with nine sacks.
As he continues to whip his hair back and forth, the reckless hits keep on coming. As a third-generation NFL player, dominance is in his blood.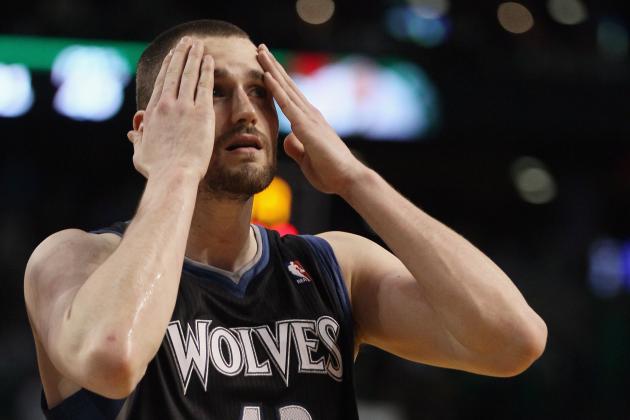 Elsa/Getty Images

In a shortened 2011-2012 NBA season, promising Minnesota forward Kevin Love quietly put together a legendary season.
Fourth in points behind the usual Durant-Bryant-James suspects with 26 per game and second in rebounds with 13.3, Love physically abused weaker opponents and finessed those attempting to out-muscle him.
And, oh yeah, he won the three-point contest.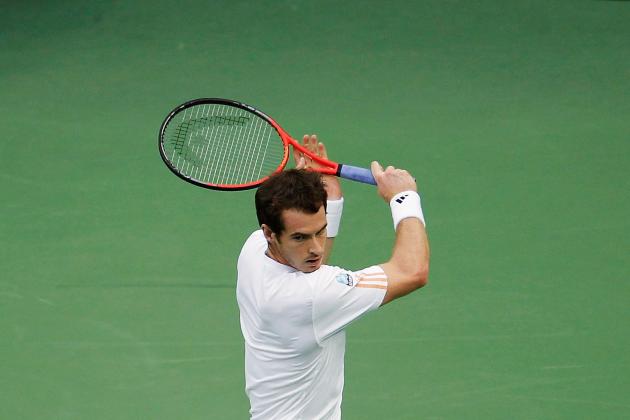 Lintao Zhang/Getty Images

What has tennis bloke Andy Murray done lately? At the 2012 Olympics, he beat Roger Federer in straight sets to win the gold medal in men's singles, becoming the first British champion in over 100 years.
Then at the 2012 U.S. Open, he defeated Novak Djokovic to become the first Brit since 1977 to win a Grand Slam singles tournament.
All this with new full-time coach and former McEnroe rival Ivan Lendl right by his side.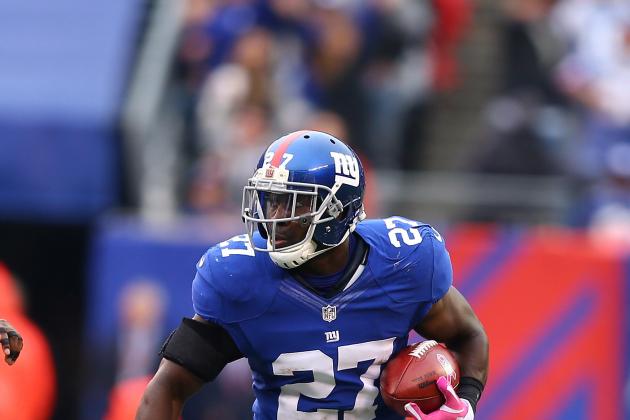 Al Bello/Getty Images

Only starting due to an injury to Kenny Phillips, safety Stevie Brown has shockingly become a turnover artist extraordinaire.
Not only does he lead the entire NFL in turnovers with seven (five interceptions and two fumble recoveries), but his turnovers have arrived at crucial moments.
Brown, a seventh-round pick of the Raiders in 2010, has somehow reinvented the term "ballhawk."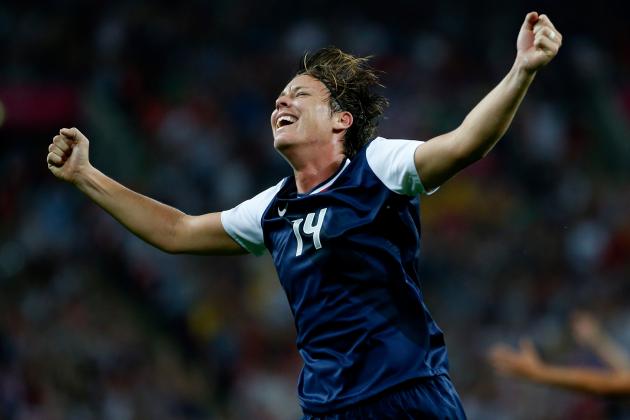 Jamie Squire/Getty Images

A five-time winner of the U.S. Soccer Athlete of the Year award and the second-highest scorer in American national team history behind Mia Hamm, bruising forward Abby Wambach has always been expected to lead her flock of footballers to the promised land.
But in London this year, the aging star taught her younger counterparts a lesson in resilience. Five goals in six games and a bulging black eye that only energized Wambach made her team's gold medal win a subtle afterthought.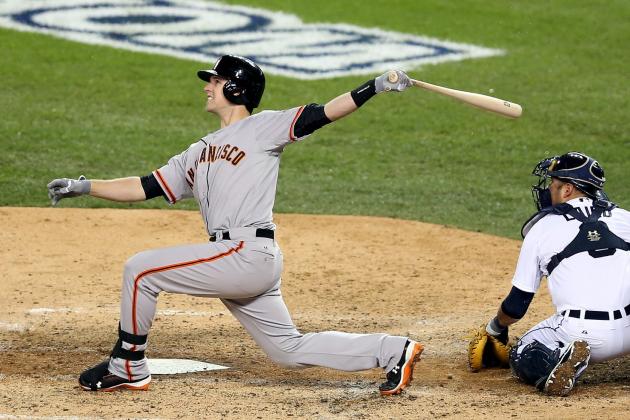 Christian Petersen/Getty Images

All Buster Posey did in his first season back from season-ending ankle surgery in 2011 was become the first catcher to lead the league in hitting since Ernie Lombardi of the Boston Braves in 1942.
The Florida State product was an integral part of the 2010 champion Giants, but became the star of this year's championship team.
A lead-changing two-run home run in Game 4 of this year's World Series against the powerful Tigers would cement his reputation as the heart and soul of San Francisco.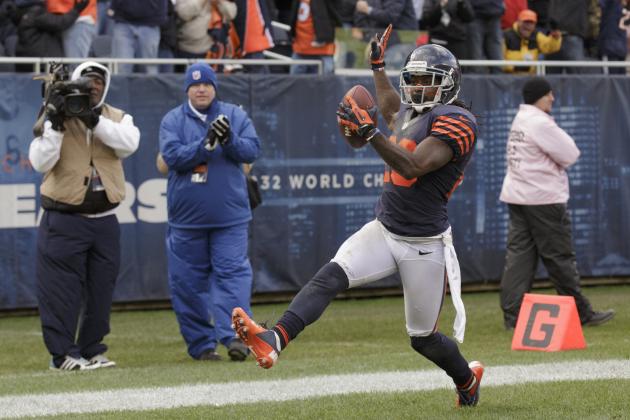 John Gress/Getty Images

With six defensive touchdowns on the season, it's no secret that Chicago's bullish defensive is stout. But the emergence of scrappy 5'8" cornerback Tim Jennings has surprised many, if not the corner himself.
"There's no reason why you can't get better if you have great players to follow," says Jennings in reference to Charles Tillman, Brian Urlacher and Lance Briggs.
With six picks in seven games, including two against Cam Newton, Jennings is quickly becoming a top priority for passing offenses.
Note: In six previous seasons, Jennings had a total of seven interceptions.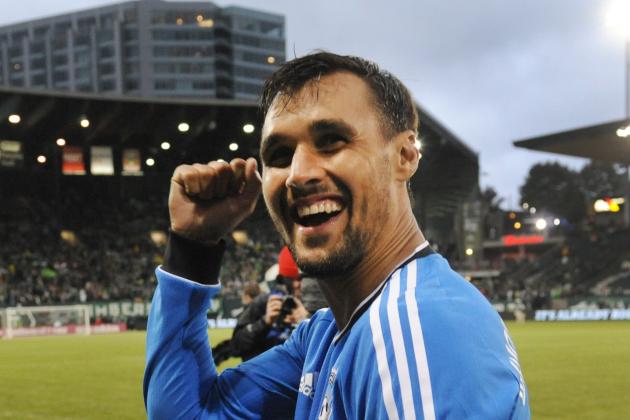 Steve Dykes/Getty Images

Behind Chris Wondolowski's brilliant touch, the San Jose Earthquakes clinched their first major trophy since their return to the Bay area in 2006, the Supporter's Shield.
His 27 goals, including two hat tricks and 11 game-winning goals, earned Wondolowski his third consecutive Golden Boot, the only player in MLS history to lead the league in scoring in three consecutive seasons.
Red Bulls forward Kenny Cooper was a distant second with 18 goals. Correction: nowhere in sight.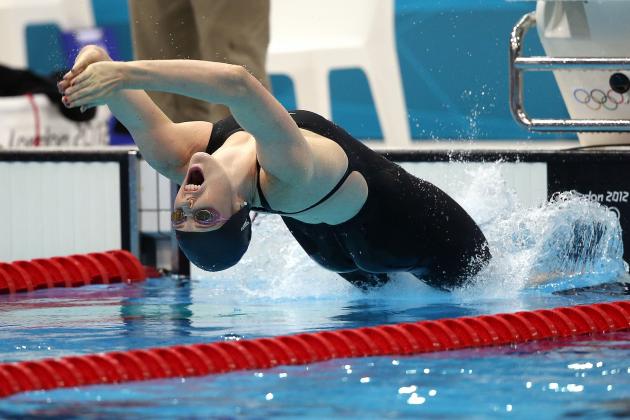 Ezra Shaw/Getty Images

After capturing four gold medals and a world record in the 200-meter backstroke at her 2012 Olympic debut, 17-year-old Missy Franklin returned to her Regis Jesuit High School in hopes of living a normal teenage life.
Considering Franklin has already refused endorsements to retain her amateur status as she prepares to swim at Cal, being "normal" might be a tough task.
Thankfully, her humble nature and confident approach keep her focused and on top of the podium.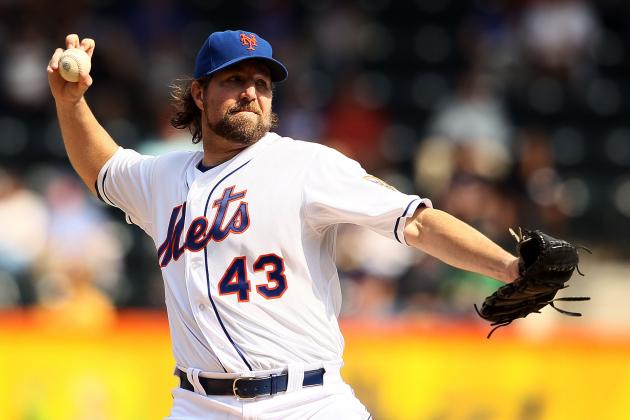 Alex Trautwig/Getty Images

Having never won more than 11 games in a season (which he did in 2010 with the Mets), journeyman R.A. Dickey was often an afterthought entering spring training.
But in 2012, Dickey essentially revolutionized the knuckleball and riveted audiences with his craft.
The seasoned vet finished the season second in wins (20) and second in ERA (2.73), a season during which he tossed 44.1 consecutive innings without an earned run.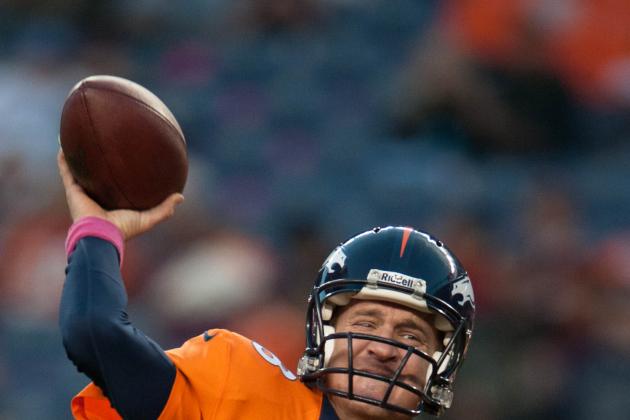 Dustin Bradford/Getty Images

Following two neck surgeries and a lost season, 36-year-old Peyton Manning was thought to be finished at the demanding quarterback position. When Colts owner Jim Irsay and the rest of the football world gave up on the legendary gunslinger, there was one man who didn't.
And you can bet Broncos owner John Elway is huddled in his press box somewhere praising the football gods, considering his 4-3 Broncos are picking up steam behind their suddenly gelled offense.
Manning, the ringleader of it all, leads the league in rating (109.0), is third in touchdowns (17) and is displaying an unexpected, ballerina-esque nimbleness.
What really stands out, however, is his nine touchdowns, only one interception and 951 yards in his last three games. The near future in Denver looks bright, if only for several more years.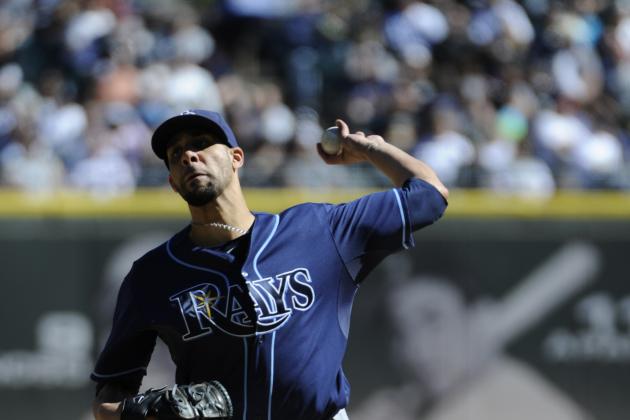 David Banks/Getty Images

Fireballing southpaw David Price, the first-overall pick of the 2007 draft, finally displayed his otherworldly prowess this year when he finished the year first in ERA (2.54) and first in wins (20, the first Rays pitcher to win that many).
Despite an effort to elude the pun, it has to be said...the price is right in Tampa.
Jim McIsaac/Getty Images

En route to winning the Conn Smythe Trophy as the MVP of the 2012 Stanley Cup Playoffs, Jonathan Quick won 16 games and allowed a shocking 1.41 goals per game.
As if 35 wins and a 1.95 GAA during the regular season weren't enough, Quick essentially carried his Kings to a title with gravity-defying saves and a playoff-record 11 consecutive road playoff wins.
He'd soon earn a comforting 10-year contract extension.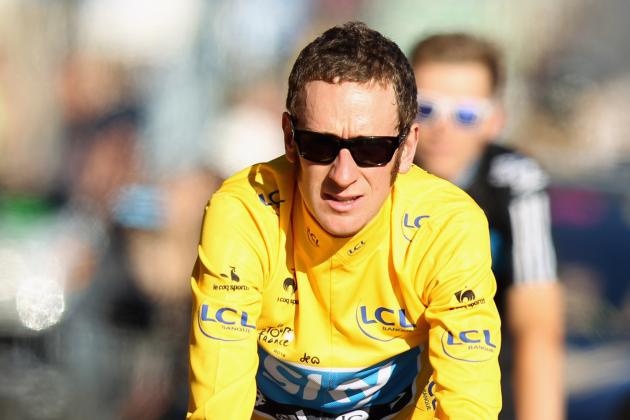 Bryn Lennon/Getty Images

The first British cyclist to win the Tour de France (2012), Britain's Bradley Wiggins has quietly become the most successful and feared rider worldwide.
To prove his Tour win was no fluke, Wiggins added a gold medal in the Olympic time trial this year, the only cyclist to win both races in the same year. Now the question remains; can he handle the fame and still thrive on the road?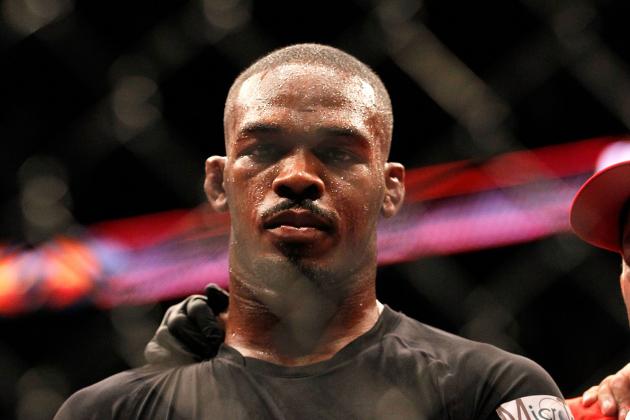 Kevin C. Cox/Getty Images

When he equaled Chuck Liddell's number of title defenses in his convincing win over Brazilian veteran Vitor Belfort, it was clear 25-year-old Jon "Bones" Jones, the youngest UFC champion ever, was far beyond the cusp of stardom.
Since being disqualified because of an illegal elbow in a 2009 fight with Matt Hamill, his only loss, Jones has roared through eight consecutive victories, with ease.
The lanky fighter displays the elite reach and vicious strikes to become the greatest force the Octagon has ever seen. Few can even hang on for dear life.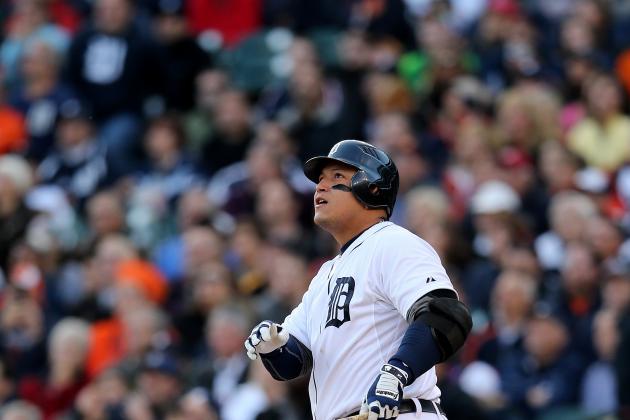 Leon Halip/Getty Images

While feared since he entered the big leagues in 2003 at the tender age of 20 with the Marlins, Miguel Cabrera truly peaked in 2012.
The first player since Carl Yastrzemski in 1967 to win the Triple Crown (he led the AL with a .330 batting average, 44 home runs and 139 RBI), Cabrera has developed into a ruthless slugger with a quiet demeanor and a sweet swing.
Nicknamed the Big Cat, baby-faced Cabrera might be the best the diamond has to offer.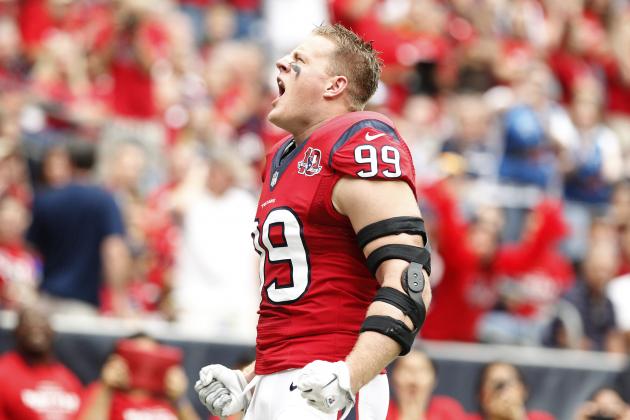 Thomas B. Shea/Getty Images

Through the motto "Dream big, work hard," former Wisconsin phenom J.J. Watt has become a hard-nosed force to be reckoned with on the professional gridiron.
The 300-pound Texan, often confused with a ravenous rhino, has secured 9.5 sacks through seven games with ease, trampling baffled offensive linemen along the way.
And when he's not enjoying a candlelight seafood dinner with opposing quarterbacks, Watt is simply swatting away every pass tossed his way.
Did we mention he eats burritos bigger than Ray Rice?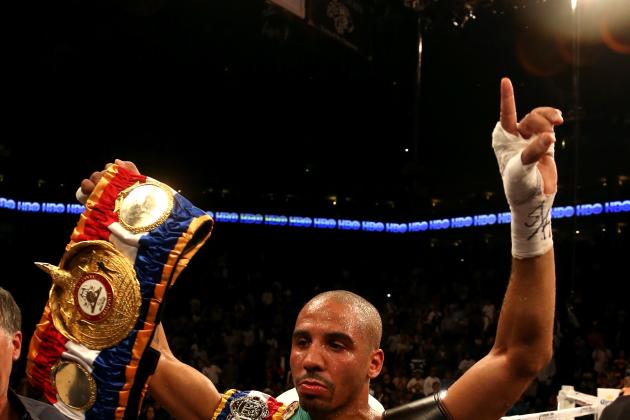 Ezra Shaw/Getty Images

With both Manny Pacquiao and Floyd Mayweather Jr. far past their primes, eyes are peeled for the next earth-shattering boxer. Cali-bred pugilist Andre Ward, dubbed the "Son of God," may just be the one.
His recent 10-round knockout of Chad Dawson, to secure a 26-0 record, sent waves of optimism throughout the boxing world. In fact, Dawson himself defined the fight with one quote.
After enduring eight straight punches from Ward in the 10th round, Dawson got on one knee and told referee Steve Smoger, "It's over, I'm finished, I'm done." Opponents beware.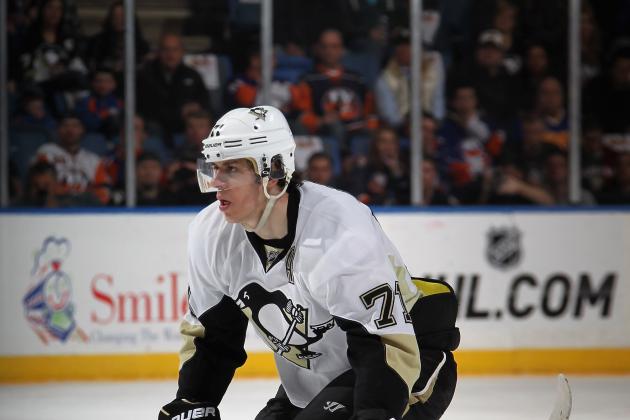 Bruce Bennett/Getty Images

With Penguin-in-crime Sidney Crosby only playing 22 games last season due to lingering concussion symptoms, the Pittsburgh franchise was counting on equally talented center Evgeni Malkin to pick up the slack.
And he did far more than that, tallying 50 goals and 59 assists for a league-leading 109 points; his 12-point margin (Steven Stamkos had 97 points) being the largest since 1999.
A Hart Memorial Trophy as the league's MVP comfortably rests atop his mahogany shelf.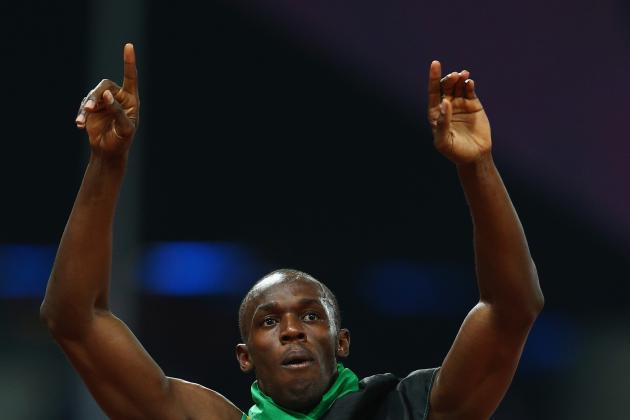 Michael Steele/Getty Images

Considered the fastest man ever to walk the Earth, Jamaican sprinter Usain Bolt remains a man on an island.
Setting records and then breaking those same records, the man referred to as Lightning Bolt recently became the first man to hold both the 100-meter and 200-meter world records since fully automatic time measurements became mandatory in 1977.
Like Odeon's sex panther cologne, Bolt was seemingly made from bits of real panther. Yet unlike the questionable scent, he wins every time.
For more reckless domination, follow me on twitter. Follow @z_pumerantz