Which Undefeated BCS Title Contender Is Most Likely to Falter Down the Stretch?
Jonathan Daniel/Getty Images
The BCS picture is beginning to take shape, with the top four teams helping to shape the future national title picture. There can't be a better advertisement for the four-team playoff system than what is happening right now.
History tells us that despite the strength these teams bring to the field consistently each week, one or two will falter down through the stretch. Each squad will face off with at least one more Top 25 team before the season ends.
The Oregon Ducks have the toughest road ahead with three strong teams left, starting with USC this coming weekend. Alabama faces the toughest opponent of any, as the Tide travel to Baton Rouge to face LSU.
And as always, upsets are due to come.
No. 1 Alabama Crimson Tide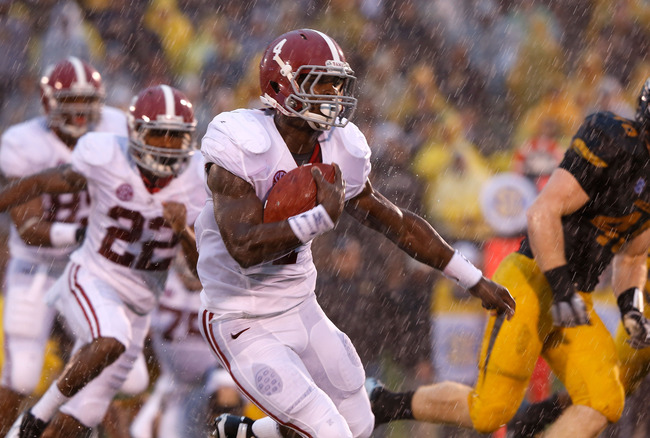 Jamie Squire/Getty Images
| | | |
| --- | --- | --- |
| | Remaining Games vs. Top 25 | |
| BCS | Opponent | Date |
| No. 5 | LSU Tigers | Nov. 3 |
| No. 16 | Texas A&M Aggies | Nov. 10 |
Alabama heads into a tough rivalry game on Saturday when the Crimson Tide take on LSU in Death Valley. This will be a tough showdown full of nasty and effective defense.
The Crimson Tide have the better offense, but their young receivers have not squared off against the type of talent LSU has in its secondary. It will be a battle from start to finish and should be a close game.
After LSU, the Tide face an explosive Texas A&M squad. One benefit is that the game does come at home, but it is right after LSU, and the Tide have had issues with prolific spread offenses in the past under Nick Saban. Think Utah in the Sugar Bowl and Auburn in 2010.
The SEC Championship Game in Atlanta comes after the regular season, but no Eastern Division team looks strong enough to beat Alabama right now. If the Tide push through the next two weeks, they will stay undefeated and drive to the national title game.
No. 2 Kansas State Wildcats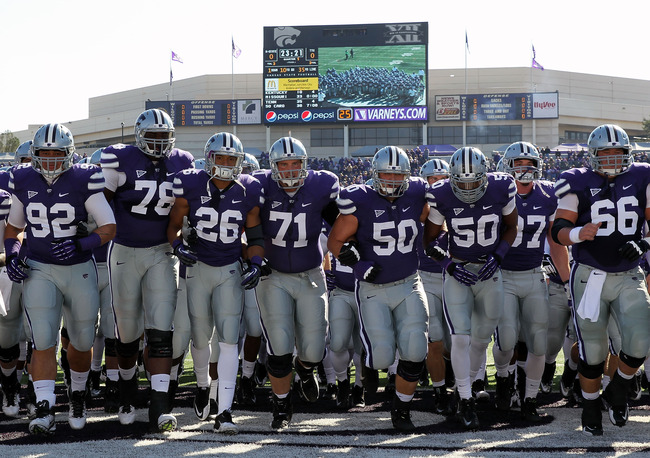 Jamie Squire/Getty Images
| | | |
| --- | --- | --- |
| | Remaining Games vs. Top 25 | |
| BCS | Opponent | Date |
| No. 24 | Oklahoma State Cowboys | Nov. 3 |
| No. 23 | Texas Longhorns | Dec. 1 |
Collin Klein is the runaway Heisman Trophy leader with his electric play, leading the Wildcats to an undefeated run and No. 2 ranking in the BCS.
His senior season has been his best one so far, and the remaining schedule is favorable for Kansas State to win out. There are two ranked games left down the stretch with Oklahoma State and Texas on the schedule.
Both games come at home and sandwich two conference road games against TCU and Baylor. The way that the Wildcats have dominated this season, it is tough to doubt them in the future. The Wildcats have had issues closing seasons strong in the past, but this team looks like a legitimate title contender.
The lack of a conference title game could hurt Kansas State if Oregon finishes undefeated.
No. 3 Notre Dame Fighting Irish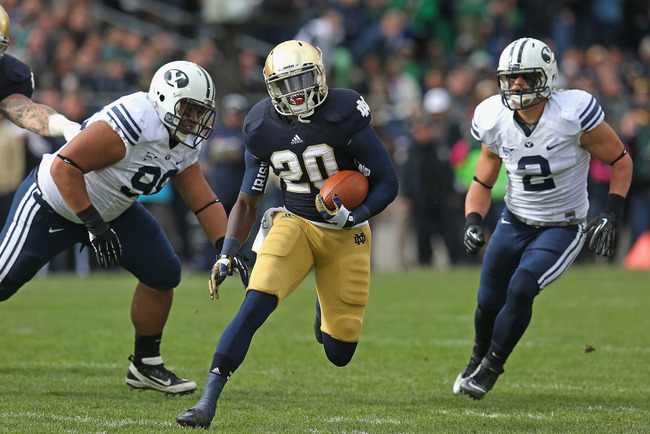 Jonathan Daniel/Getty Images
| | | |
| --- | --- | --- |
| | Remaining BCS Games | |
| BCS | Opponent | Date |
| No. 17 | USC Trojans | Nov. 24 |
The Fighting Irish have earned every bit of their No. 3 ranking, but they will have their hands full when they finish the season against USC.
The Fighting Irish have relied on their defense, but the combination of Robert Woods and Marqise Lee will give them fits in the secondary. Matt Barkley typically plays well in big games, so expect an impressive performance from the Trojan quarterback.
Games against Pitt, Boston College and Wake Forest don't look like traps, but it is impossible to predict when the next big letdown will be.
If Notre Dame could finish undefeated and face Alabama for the national title, what a game that would be, right?
No. 4 Oregon Ducks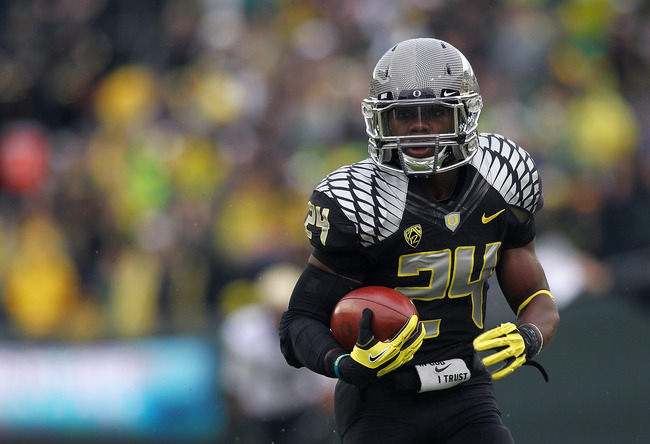 Jonathan Ferrey/Getty Images
| | | |
| --- | --- | --- |
| | Remaining BCS Games | |
| BCS | Opponent | Date |
| No. 17 | USC Trojans | Nov. 3 |
| No. 14 | Stanford Cardinal | Nov. 17 |
| No. 11 | Oregon State Beavers | Nov. 24 |
The Ducks are marching into the Coliseum this Saturday looking for a big conference win over USC. The Trojans are not going to concede the victory easily, and history suggests that this game will be close and high-scoring.
Oregon faces two more ranked teams after the Trojans and easily has the toughest schedule remaining of any title contending team.
Wins won't come easily against Stanford or Oregon State. Those games will come back to back for the Ducks to finish the season.
There will also be a Pac-12 title game at the end of the season that could bring a rematch with the Trojans. This is a tough road ahead for Oregon, a road that could lead to a loss.
Who Will Falter?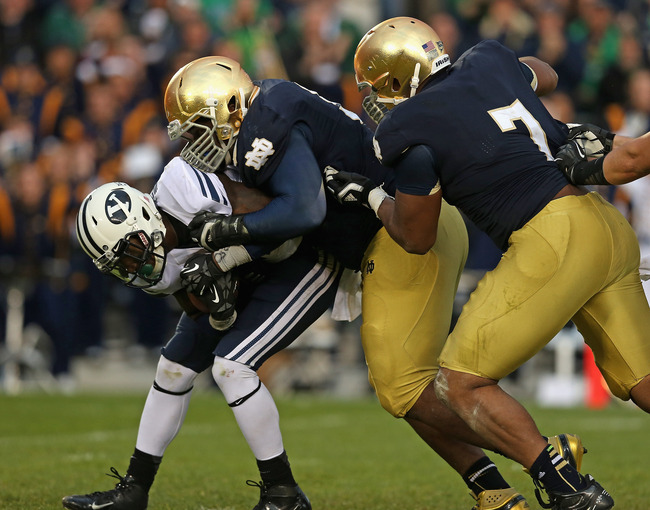 Jonathan Daniel/Getty Images
The Crimson Tide are seemingly unbeatable, and the Wildcats offense can't be sequestered.
Oregon and Notre Dame both have the feel of teams ready to be upset right now.
The Ducks have the toughest schedule left in the country, and if they are able to navigate it undefeated, they would be a near lock for the title game. Making it through the road ahead undefeated is a tall task, and I'm not sure the Ducks will be able to do it.
If a team outside of Alabama and Kansas State was to do it, however, it would be Oregon.
Notre Dame has a very easy road left, but the pressure is bound to get to Everett Golson for one game.
The Irish won't always be able to rely on turnovers to get victories. They are a very good squad and deserve their current ranking, but they are the most likely team to falter of any in the BCS title hunt.
Keep Reading