Over the course of the season the Oklahoma State Cowboys have slowly restructured themselves in an effort to truly maximize what they are getting out of their team. Gone is the opportunistic rushing attack buoyed by the Brandon Weeden to Justin Blackmon connection. In its place is a team that quietly has grown to lean on the run as their young quarterbacks try to grow up.
The emergence of the rushing attack as a true weapon for the Pokes is going to be a problem for the Kansas State Wildcats. Not because they cannot stop the run, but rather because Oklahoma State's ability to have two methods of moving the football is going to truly tax the Wildcats' defense.
Kansas State, as a football team, has a way of truly stopping one-dimensional attacks. West Virginia and Texas Tech found that out. Oklahoma, a team that quits on the run like no one's business, lost a tough one to the Wildcats. It must be stated that running the ball against Kansas State is not easy; but quitting on the run is a tremendous mistake when you're playing Kansas State.
Randle spent a lot more time blocking & taking advantage of pass defenses in 2011
As this season has played out, Joseph Randle is the player in the Big 12 who has stepped up more than I ever believed he could. Last year most of his runs were a product of teams selling out in zone or man coverage to stop Justin Blackmon and Brandon Weeden from hooking up for big chunks of yardage. It was easy for him to find space and he was largely an asset used by Mike Gundy to keep defenses honest.
Now, look at the uptick in carries for the running back through his first seven games as compared to the 2011 season.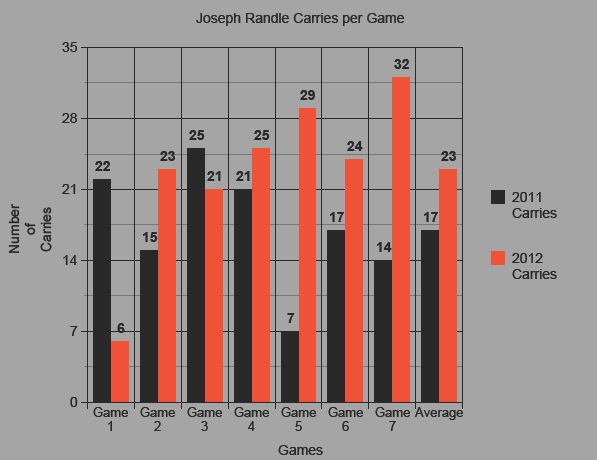 More carries means more clock time. Longer drives. More wearing down of the opponent and the rushing attack has a similar effect to last year's passing game. Teams are getting beat up by Randle on the ground, teams add an extra defender to stop the run; teams are vulnerable for pass plays. A bit different from the pass the ball and run it at opportune times to gain big yards, but it works in a very similar fashion.
While I was worried that Randle was not durable enough to become the focal point of the offense, the junior has responded in a big way.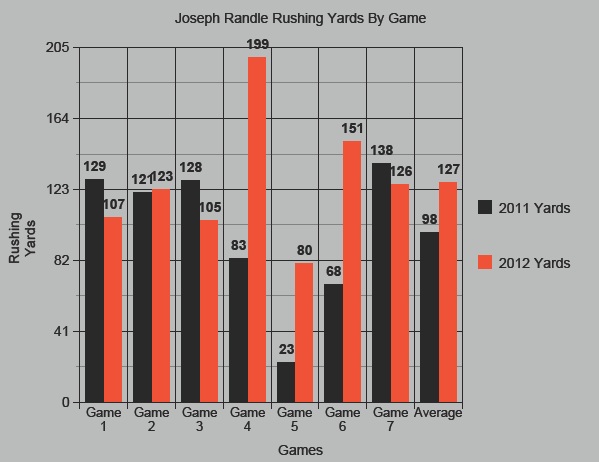 The scary thing about those numbers is not just the 200 more yards Randle has through seven games this season. No, the scariest thing is that the running back has been able to maintain his five-plus yard per carry average from 2011 to 2012. In fact, last year as a compliment he was at 5.7 per carry through seven, and now he's at 5.6 per carry as the feature back in 2012.
The Pokes have slowly, but surely, transitioned to a team that runs the ball more than passing. Part of it has to do with having youth and inexperience at the quarterback position. Part of it has to do with losing a weapon like Justin Blackmon. In the end it has set them up to be a team that will test the Wildcats' ability to defend the run and the pass this Saturday.
Wes Lunt will be doing a lot more handing off than dropping back and that is always safer. Interceptions will sink the Cowboys, eating up clock and picking up first downs on the ground could save them and make this contest a real game.