On Tuesday night, Rawlings announced Major League Baseball's 2012 Gold Glove award winners.
Nineteen players—nine from the NL and 10 from the AL—received Gold Gloves. While most of the winners seemed very deserving, as usual, there's plenty left to debate. History has proven that the award isn't purely for fielding, it's also for starpower and overall strength of resume.
But some of this year's snubs are particularly egregious. Two of the games best fielders, Mike Trout and Brendan Ryan were inexplicably ignored.
Gold Gloves aren't press awards. MLB coaches vote on the nominees. And because most fielding statistics are still imperfect, and the old school baseball world doesn't trust newer, more advanced Sabermetric measures of performance for the most part, Gold Glove Awards are subject to controversy.
It seems every year, many of the award recipients aren't actually the best fielders at their positions. Instead, the award is largely a popularity contest, with stone-handed stars like Dave Winfield (seven Gold Gloves) and Derek Jeter (five Gold Gloves) taking home hefty portions of bullion instead of fielding wizzes like Jack Wilson (zero) and Mark Ellis (zero).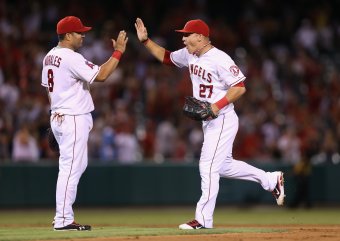 Jeff Gross/Getty Images
2012 was no different, and the American League was the worse offender of the two. Six of its 10 winners didn't lead their peers in fielding percentage. And, according to ultimate zone rating (UZR) (the stat doesn't apply to catchers or pitchers), only Mark Teixeira, Alex Gordon and Josh Reddick were the best fielders at their respective positions.
And what the heck happened in the centerfield? Did Mike Trout really not win a Gold Glove?
Trout paced center fielders in virtually every defensive performance measure last season. His 10.6 UZR was the best in the league among outfielders that played as many innings (885.2), and his 2.2 defensive WAR (dWAR explained) ranked second behind Minnesota's Denard Span. He tied Adam Jones for first among AL center fielders in total zone runs (13), but when taking his playing time in left field in to account, his TZR increase (15 total) suggests he actually had the better season.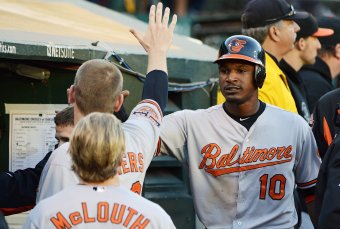 Thearon W. Henderson/Getty Images
The Sabermetrics community has yet to agree upon a method to precisely measure fielding. Each camp—whether Baseball Info Solutions, Fangraphs.com, Baseball Prospectus or Tom Tango—has its own preferred way of interpreting fielding contributions.
Regardless, research shows that UZR, defensive runs saved (DRS) and fielding runs above average (FRAA) are all pretty effective tools. Total Zone Runs (TZR) is a step behind, but it too is a useful statistic.
And Trout outperformed AL centerfielders in each category. Shouldn't that say enough? His FRAA was an unbelievable 8.6, a hefty raise over Adam Jones' 6.4, and his 10.6 UZR dwarfed Adam Jones' below-average -6.7 figure.
Trout's other defensive stats are nearly as impressive. His AL-leading 12.9 range runs (RngR) suggests he covers an inhuman amount of ground in an expansive home ballpark. And, his 2.70 range factor per nine innings is remarkable as well, especially because his pitching staff allowed the second fewest balls in play.
Adam Jones is a great player, and one of the better glove men in baseball. But with Mike Trout around, he has no business taking home a Gold Glove. dWAR may not be the end all of defensive performance measures, but it's still a very telling statistic. Jones posted a -1.3 dWAR in 2012, suggesting he was actually below replacement level in center. He also made more errors (eight) than assists (seven) and his .982 fielding percentage was actually below the league average mark (.989).
Jones did lead the league in putouts and his 2.75 range factor ranked second, but that's because he played more games than any of his peers. Plus, Orioles pitchers ranked in the bottom half of the league in balls in play, automatically increasing his range factor (putouts added to assists).
Besides, any baseball fan that watched Trout play this season could tell you he really is the best in the business. He led the Major Leagues with four home run robberies this season, and his work dominates the best defensive plays of the season highlight reel. He's the most exciting player to grace the field since a young Ken Griffey Jr., and both his stats and fielding theatrics say he deserved a Gold Glove this season.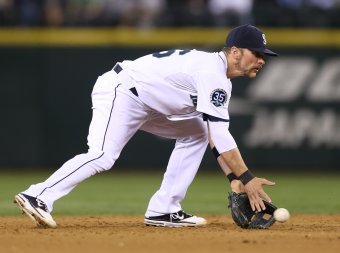 Otto Greule Jr/Getty Images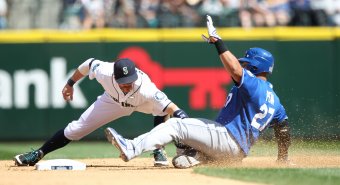 Otto Greule Jr/Getty Images
There weren't any other snubs as egregious as Trout's case, but in a fair world, Brendan Ryan would've brought home some gold as well.
The Mariners shortstop led AL shortstops with a 14.7 UZR, and his 3.6 dWAR was the best at any position. He also topped his position in defensive runs saved (27) for the second consecutive season, this time shattering the competition with nine more than the Gold Glove-winning J.J. Hardy's 18.
By pretty much any measure, Ryan deserved a Gold Glove this season. And, according to the people that know fielding best, he's hands-down the MLB's top defensive player. After awarding Ryan The 2012 Fielding Bible Award, John Dewan, the author of The Field Bible and founder of Baseball Info Solutions endorsed the shortstop's phenomenal glove work:
Brendan Ryan is the best defender in baseball. Period. Make that double period. He has saved 67 runs for his team defensively over the last three years, the highest total among all players. The next highest runs saved total is not even close (Michael Bourn, 51). Ryan led all shortstops in 2012 with 27 runs saved, led in 2011 with 18, and finished second in both 2010 and 2009 with 22 runs saved each year. Seattle recognizes the value of Ryan's defense, and that's why they keep putting him out there day after day despite his .194 batting average during the 2012 season.
In the end, Ryan didn't win a Gold Glove. Yes, this snub is criminal. But as ludicrous as it sounds, he's actually less deserving of the award than Trout is. He's the best fielder in baseball, but traditionally Gold Gloves only go to players that hit enough to warrant winning anything in the first place.
Trout led the league in offense (8.6 oWAR), and combined with his leather, his star power made him the most worthy candidate at his position. Ryan on the other hand, hit .194 and posted an unsightly .277 on-base percentage and impotent .278 slugging percentage. No matter how good a fielder he is, you can't expect him to earn even defensive recognition when he's performing that terribly at the plate.
Dewan made the same point in his own statement about Ryan's candidacy:
Glove Awards can look past Ryan's offense and base their ballot on his defense alone. This has been one of the problems with the Gold Glove voting--a certain amount of offense has always been required for what should be a defense-only award. Gold Glove voting has never allowed for a position player hitting below the Mendoza line to win a Gold Glove. Hopefully Ryan will be the first.
Outside of Ryan and Trout, the award voters were pretty on point with their choices. Now that Adrian Gonzalez got shipped to the Dodgers, Mark Teixeira is pretty clearly the undisputed king at first base. Robinson Cano had an MVP-caliber season, and his fielding was extraordinary, especially considering his strikeout-happy pitching staff gave him fewer chances to make plays than Pedroia or Ackley. Adrian Beltre is one of the best fielding third basemen in the history of the game (22.1 career dWAR).