Pinpointing the Jets Biggest Areas of Need in 2013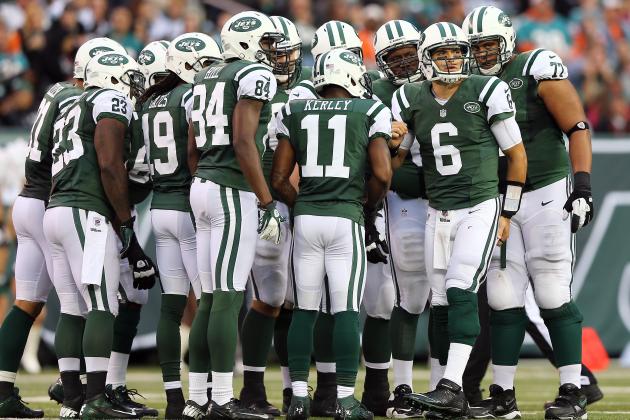 Elsa/Getty Images

Sitting at 3-5 and coming off an embarrassing blowout home loss to the Miami Dolphins, the Jets are in some real trouble as they head into their bye week.
The team has been plagued by devastating injuries and inconsistency, and Rex Ryan seems to be once again losing control of his troops.
Gang Green has more holes than swiss cheese doughnut, and a major makeover might have to take place this offseason if the team can not right the ship soon.
Here are the biggest areas of need for New York down the line into 2013.
Begin Slideshow

»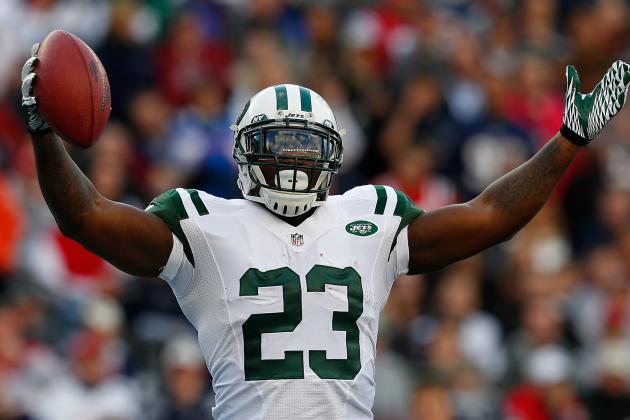 Jim Rogash/Getty Images

If the Jets want to ever truly run the "ground-and-pound" offense with success like they did at the beginning of the Rex Ryan era, they need to move on from Shonn Greene as their starting running back.
Greene, who is a free agent after this season, is simply not a starting rusher at the NFL-level. He lacks the explosiveness and vision to play every down.
If you take away his monster game against Indianapolis, the Iowa product is averaging under 3.3 yards per carry this season.
For the Jets offense to thrive, the team needs a dynamic running back who can carry the load at all times.
Greene is certainly not that, but he would be a terrific change-of-pace option, so he is worthy of sticking around next season.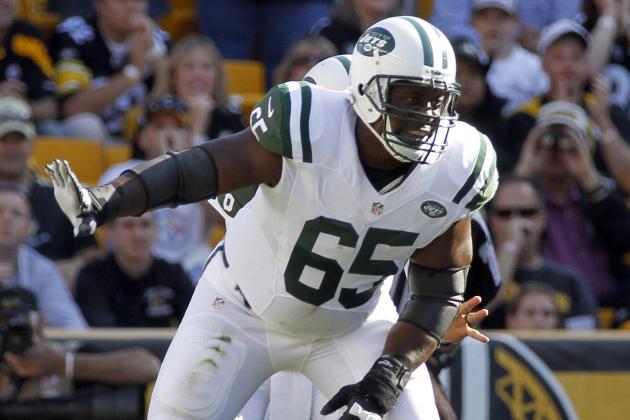 Justin K. Aller/Getty Images

The guard position is on the verge of being a mess for the Jets.
Matt Slauson is struggling in the starting role and Brandon Moore is climbing up in age.
Moore, 32, and Slauson, 26, are also both unrestricted free agents next season.
The Jets may have to completely shuffle their starting guards next season.
Gang Green does not have anyone who fits the bill of a starting offensive guard on their roster at the moment, so they must upgrade the position through free agency and the draft.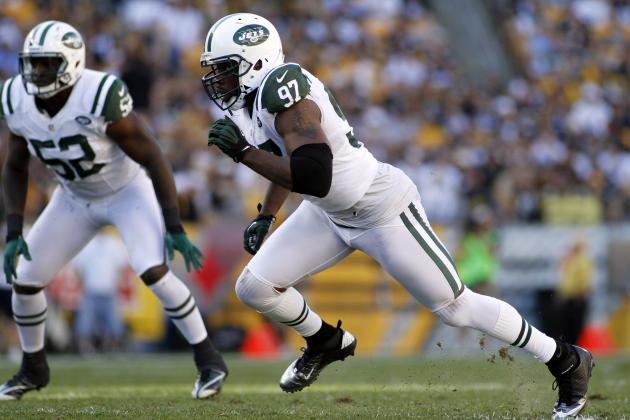 Justin K. Aller/Getty Images

Outside linebacker is the Jets' biggest area of need next year.
Bryan Thomas and Calvin Pace are currently manning the starting outside linebacker positions.
Both players have underperformed in a New York uniform, as each has failed to bring a solid pass rush to the defense.
Thomas and Pace are also both above 30, and are free agents within the next two offseasons.
Mike Tannenbaum needs to reshape this position with young, explosive athletes who can cause mayhem in the opposition's backfield.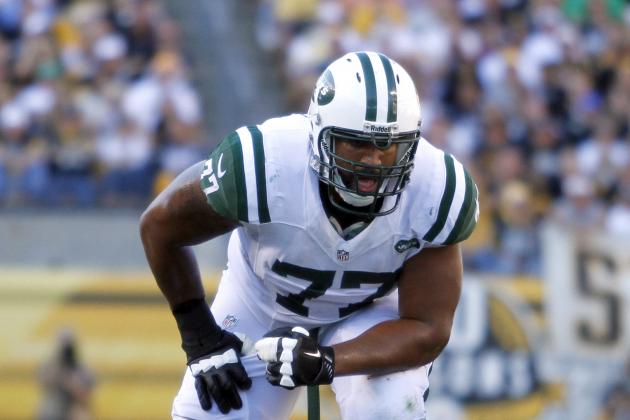 Justin K. Aller/Getty Images

Austin Howard hasn't been awful in the starting role this year, but he is definitely not the long-term solution at right tackle.
Pro Bowler D'Brickashaw Ferguson has also not be in his typical self the last year and a half, so it is also crucial that the Jets bring in a capable backup at left tackle.
If Mark Sanchez is going to have a chance of improving, Gang Green's offensive line needs to be able to keep him on his feet.
Upgrading the right tackle position this offseason is critical to the Jets' level of success on offense in 2013.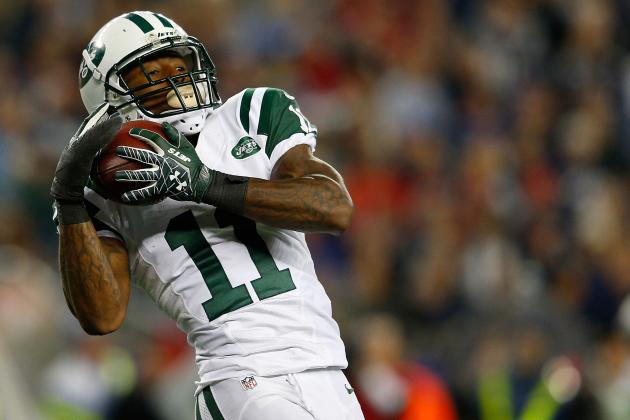 Jim Rogash/Getty Images

The wide receiving corps may be great in a couple seasons, but as of right now, it is a liability.
Jeremy Kerley and Stephen Hill both have shown promise, but they both struggle with drops and inconsistency.
Santonio Holmes can also implode at any given time.
The Jets need to bring in a a veteran wideout who can be stretch the field for Mark Sanchez next season.
Dustin Keller is also an unrestricted free agent next year, so the front office needs to decide whether they will stick with the former first-round pick in the future or move on with other options.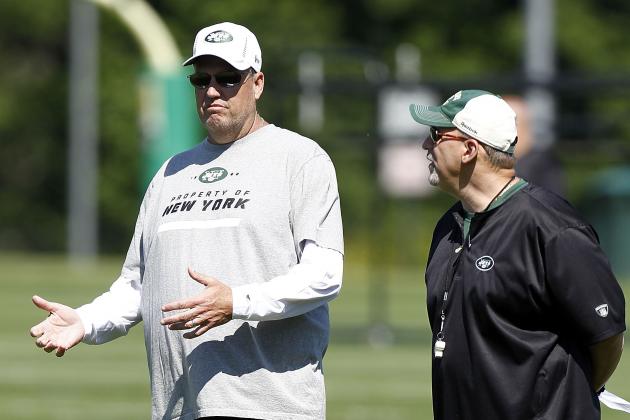 Jeff Zelevansky/Getty Images

Rex Ryan was once the talk of the town. In his first two seasons, he led the Jets to a 20-12 record and two AFC Championship appearances.
However, in the last year and a half, the head coach has gone just 11-13, with no playoff victories.
Although the talent of the roster has certainly dwindled, Ryan continues to talk big without backing it up on the field.
Rex has also lost control of his locker room at times. That never occurs with great head coaches at the helm.
Is it time to move on from Rex Ryan?
The answer could be yes if thing don't improve.
Offensive coordinator Tony Sparano has also made questionable decisions in his first year with the team.
Could he be due for an early exit?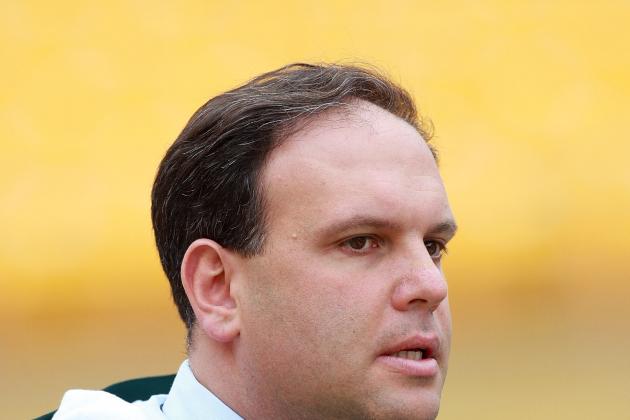 Karl Walter/Getty Images

Mike Tannenbaum was once revered as one of the finest general managers in the league.
However, the Jets' GM has made a string of awful decisions in recent years.
From a streak of worthless draft picks to handing out big contracts to underperforming veterans to trading for Tim Tebow, Tannenbaum is seemingly destroying any chance New York has of being consistently competitive.
If New York fails to make the playoffs this season, he should be the first head on the chopping block.