Breeders' Cup Predictions: Separating the Pretenders from Contenders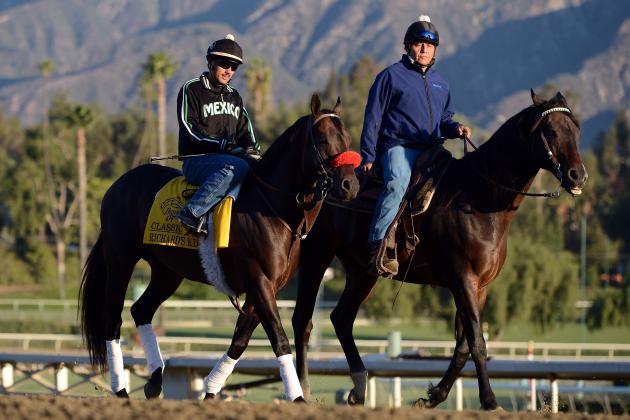 Harry How/Getty Images

The 2012 Breeders' Cup will take place at Santa Anita Park this weekend, and the Breeders' Cup Classic features a talent-heavy field filled with contenders for the championship.
There are also quite a few pretenders.
As we draw closer and closer to the race itself, it's important that we weed out the contenders from the pretenders in this field of 12. Some horses will undoubtedly impress this weekend, while others are sure to flop.
There are just a few days left before the race itself; let's take a look at six horses whose potential is up in the air.
Begin Slideshow

»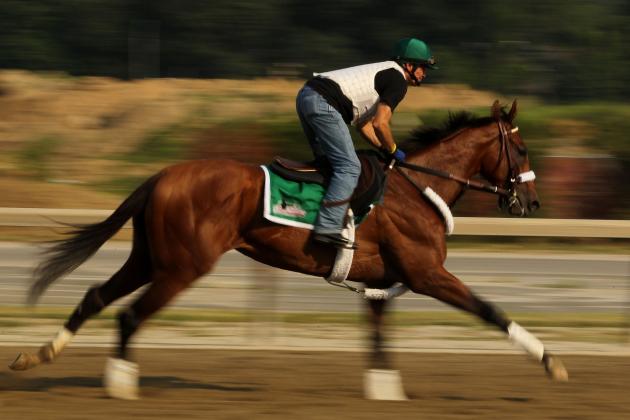 Al Bello/Getty Images

Owner: Reeves Thoroughbred Racing
Trainer: Katherine Ritvo
Jockey: Mike E. Smith
Record: 17-6-4-4
Earnings: $1,456,410
Odds (Bovada): 8-1
Mucho Macho Man is one of the question marks heading into the Breeders' Cup. He can win any race when he is doing well, but when he struggles...well, let's just say he can't.
However, he is coming from a nice break between races, which usually helps him. Couple that with the fact that he is killing it in practice, and you can see why I have him listed as a contender.
Owner Dean Reeves is absolutely in love with Mucho Macho Man, gushing over his horse (via Kentucky.com).
"He always gives you everything he's got in a race so I'm never disappointed in Macho. He's a bigger, better horse and he has matured. He had to go through all those stages so through the year we selected certain races for him because he is a June foal.

"We gave him plenty of time between races and I think he's coming into this in peak shape ready to go."
I have to agree that he appears to be peaking, and it certainly comes at the right time.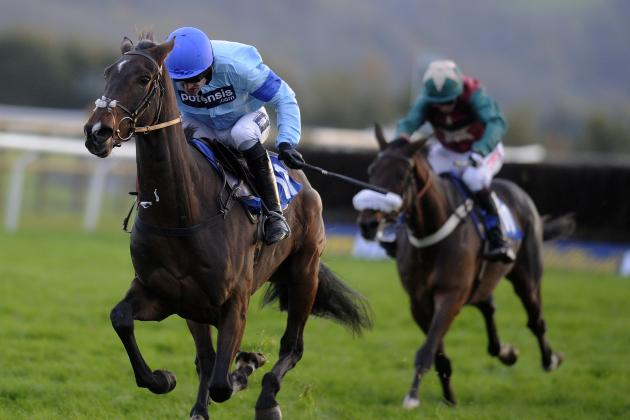 Alan Crowhurst/Getty Images

Owner: Preston Stables LLC
Trainer: William I. Mott
Jockey: Joel Rosario
Record: 19-6-4-2
Earnings: $2,042,383
Odds (Bovada): 5-1
With a Hall of Fame trainer in Bill Mott, Flat Out has a bit of an edge over most other horses in the field. However, having a great trainer isn't enough at this point.
Flat Out seems to be a Belmont Park expert, winning three times in three races there, including the last two Jockey Club Gold Cups at Belmont.
However, it was a different story here last year, as he finished fifth, and 1.5 lengths behind Game On Dude, who will likely beat Flat Out once again.
If Mott is to win for the ninth time at the Breeders' Cup, the victory will have to come from another one of his horses, namely Ron the Greek.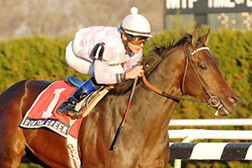 Courtesy ESPN
Owner: Brous Stable, Wachtel Stable and Jack T. Hammer
Trainer: William I. Mott
Jockey: Jose Lezcano
Record: 21-7-5-1
Earnings: $1,266,597
Odds (Bovada): 6-1
Ron the Greek has been one of the hottest horses over the last 12 months or so. He has gone 8-4-3-0 during that time, including an impressive victory over Wise Dan, making him the only one to have defeated the American horse this year.
While he didn't look quite as impressive at his last race (a sixth-place finish in the Jockey Club Gold Cup), I am confident that he will bounce back at Santa Anita Park.
In his only race on this track, he ran the 10 furlongs at a blistering speed. He should be able to take that effort and translate it into a great race this weekend.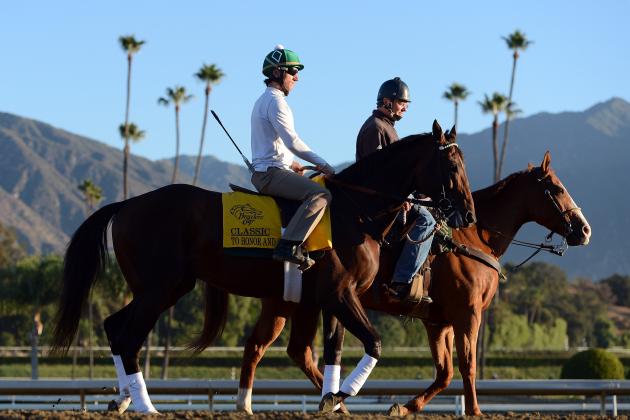 Harry How/Getty Images

Owner: Live Oak Plantation
Trainer: Thomas Albertrani
Jockey: John R. Velazquez
Record: 16-8-1-3
Earnings: $1,798,840

Odds (Bovada): 8-1
Like Mucho Macho Man, To Honor and Serve is a very streaky horse who is terribly inconsistent. However, where Mucho Macho Man is peaking at the right time, To Honor and Serve is falling apart.
While he's one of the fastest horses in the world when he is running well, in three of his five races this year, he has done terribly.
His inconsistency and the additional furlongs spell trouble for this horse, and he may be in serious trouble this weekend.
To Honor and Serve is sputtering up to the Breeders' Cup finish line, which is why I have him labeled as a pretender, as opposed to Mucho Macho Man, who is a contender.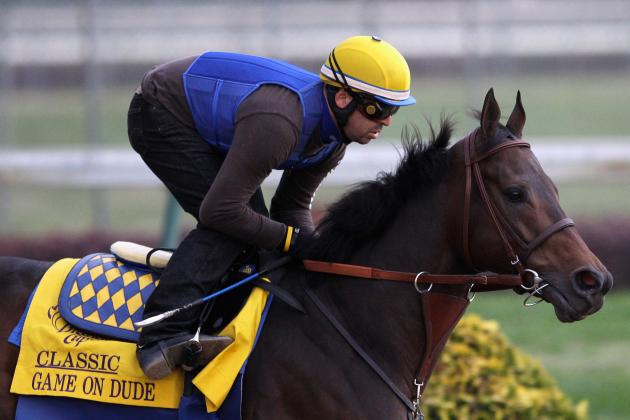 Rob Carr/Getty Images

Owner: B. Schiappa, Lanni Family Trust, Diamond Pride and Mercedes Stable
Trainer: Bob Baffert
Jockey: Rafael Bejarano

Record: 20-9-5-1
Earnings: $2,994,658
Odds (Bovada): 8-1
Game on Dude is one of the favorites in this year's race for a reason.
He's been incredible at Santa Anita, having gone unbeaten in his five starts on the track. He's also been absolutely killing it in his workouts.
Last year at this race, he held the lead for almost the entire race before being passed by Drosselmeyer right at the end. This year, he won't be giving up the lead.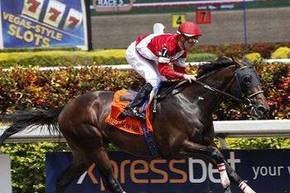 Courtesy horseracing.about.com
Owner: Janis R. Whitham
Trainer: Ian R. Wilkes
Jockey: Brian Hernandez Jr
Record: 18-7-2-1

Earnings: $981,236
Odds (Bovada): 5-1
Fort Larned is considered to be among the top horses in this year's race, but I can't see him winning it, or even coming all that close.
Fort Larned is coming off a bad race at the Jockey Club Gold Cup because he made his move too early in the race. He was eventually passed by both Flat Out and Stay Thirsty, and this was a bad sign for him.
Part of the reason he's become a favorite is that the last time he ran a bad race, he came back to win and put up an incredible time. However, he isn't working as hard as I would like to see him work right now, and I don't expect him to improve all that much this weekend.