Nebraska vs. Michigan State: Complete Game Preview
Eric Francis/Getty Images

Who: Nebraska at Michigan State
When: Saturday, 2:30 p.m. Central
Where: East Lansing, MI
Stadium: Spartan Stadium (natural grass, 75,005)
TV: ABC regional, ESPN2 nationwide
Radio: Husker Sports Network (Gary Sharp play-by-play, Matt Davison color)
Satellite Radio: SXM 1994
Internet Stream: Huskers.com
Begin Slideshow

»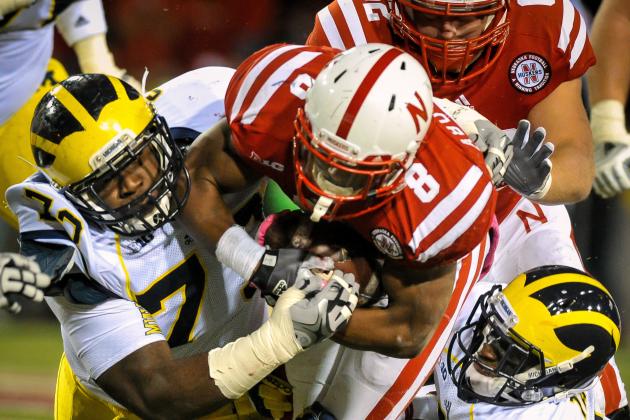 Eric Francis/Getty Images

OFFENSE
WR X – Kenny Bell, Tyler Evans
LT – Brent Qvale, Jeremiah Sirles, Brandon Thompson
LG – Seung Hoon Choi, Cole Pensick, Jake Cotton
C – Justin Jackson, Cole Pensick OR Mark Pelini
RG – Spencer Long, Broderick Nickens, Ryne Reeves
RT – Jeremiah Sirles OR Andrew Rodriguez
TE – Ben Cotton OR Kyler Reed, Jake Long OR Conor McDermott
WR Z – Quincy Enunwa, Steven Osborne
WR A – Jamal Turner, Tim Marlowe
QB – Taylor Martinez, Ron Kellogg III
IB – Rex Burkhead OR Ameer Abdullah, Braylon Heard, Imani Cross
FB – Andy Janovich OR Mike Marrow OR C.J. Zimmerer
DEFENSE
DE – Eric Martin OR Jason Ankrah
DT – Thad Randle, Kevin Williams
DT – Baker Steinkuhler, Chase Rome, Aaron Curry
DE – Cameron Meredith, Joseph Carter
BUCK – Sean Fisher, Alonzo Whaley OR Max Pirman
MIKE – Will Compton, Sean Fisher, Trevor Roach
WILL – David Santos OR Alonzo Whaley
CB – Stanley Jean-Baptiste OR Andrew Green, Antonio Bell
S – P.J. Smith, Harvey Jackson, Corey Cooper
S – Daimion Stafford, Courtney Osborne, Justin Blatchford
CB – Josh Mitchell, Mohammed Seisay, Daniel Davie
NICKEL – Ciante Evans
SPECIAL TEAMS
PK – Brett Maher, Mauro Bondi
P – Brett Maher, Mauro Bondi
LS – P.J. Mangieri, Joseph Rotherham
KO – Brett Maher, Mauro Bondi
HOLD – Jase Dean
KOR – Ameer Abdullah, Kenny Bell, Jamal Turner, Braylon Heard
PR – Ameer Abdullah, Kenny Bell, Jamal Turner
Original located here.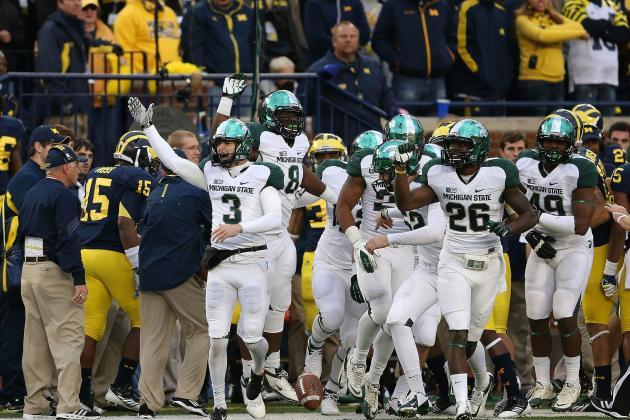 Leon Halip/Getty Images

OFFENSE
X – Aaron Burbridge, Tony Lippett
LT – Dan France, Donavon Clark
LG – Blake Treadwell, Jack Allen
C – Jack Allen, Ethan Ruhland
RG – Chris McDonald, Nate Klatt OR Connor Kruse
RT – Skyler Burkland, Michael Dennis
TE – Dion Sims, Paul Lang OR Andrew Gleichert OR Derek Hoebing
Z – Keith Mumphery, Andre Sims Jr. OR DeAnthony Arnett
F – Bennie Fowler, Macgarret Kings Jr.
QB – Andrew Maxwell, Connor Cook
FB – Lawrence Thomas, Trevon Pendleton, Niko Palazeti
TB – Le'Veon Bell, Larry Caper OR Nick Hill, Jeremy Langford
DEFENSE
DE – Marcus Rush, Shilique Calhoun, Jeremy Gainer
DT – James Kittredge, Micajah Reynolds, Tyler Hoover
NT – Anthony Rashad White, Damon Knox
DE – William Gholston, Joel Heath, Denzel Drone
STAR – Taiwan Jones OR Chris Norman, Darien Harris
MIKE – Max Bullough, Kyler Ellsworth, TyQuan Hammock
SAM – Denicos Allen, Ed Davis, Steve Gardiner
FC – Darqueze Dennard, Mitchell White
FS – Kurtis Drummond, RJ Williamson, Demetrious Cox
SS – Isaiah Lewis, Jairus Jones, Mylan Hicks
BC – Johnny Adams, Arjen Colquhoun OR Trae Waynes
SPECIAL TEAMS
KO – Kevin Muma, Dan Conroy
PK – Dan Conroy, Kevin Muma
P – Mike Sadler, Kevin Muma
SN – Taybor Pepper, Leland Ewing
HLD – Mike Sadler, Andrew Maxwell
KR – Le'Veon Bell OR Nick Hill, Larry Caper, Bennie Fowler
PR – Andre Sims Jr. OR Le'Veon Bell
Original located here.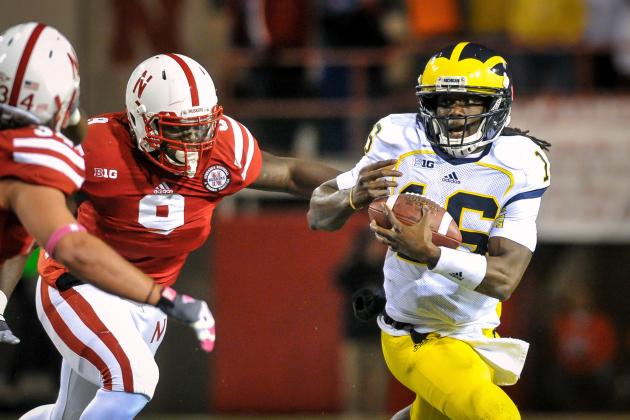 Eric Francis/Getty Images

Host Nebraska beat Michigan, 23-9.
Michigan quarterback Denard Robinson was injured late in the first half while the game was still close. He did not return.
Michigan's offense without Robinson was anemic, and Michigan's defense ultimately wore down, allowing Nebraska to pull away for a comfortable win.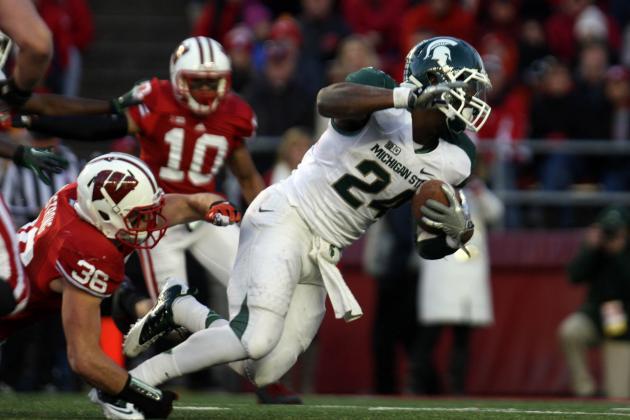 Mary Langenfeld-US PRESSWIRE

Michigan State earned a season-saving, 16-13 overtime win over Wisconsin in Madison.
Michigan State held Wisconsin to 19 yards rushing and knocked out Badgers quarterback Joel Stave for the season. The win ended the Spartans' two-game losing skid as well as breaking Wisconsin's 21-game home-winning streak.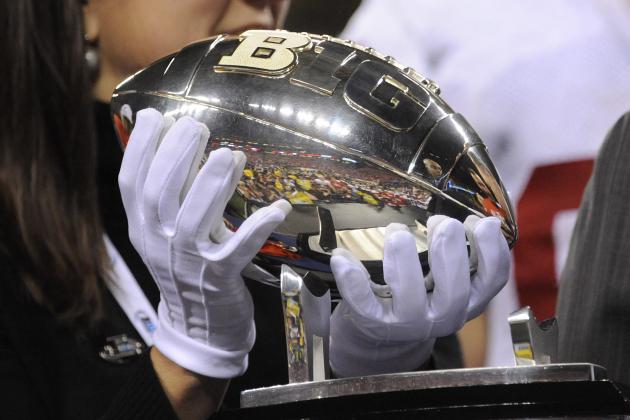 Richard Mackson-US PRESSWIRE

With the win over Michigan, Nebraska sits in first place in the Legends Division and controls its destiny. However, Nebraska is only ahead of Michigan on a tie-breaker because of its head-to-head victory over the Wolverines last week.
This means that any slip-up for NU would open the door for Michigan to take back control of the division.
Michigan State's scenarios for winning the Legends Division are a bit more complicated, but the Spartans still have a chance to defend their division title. But to do so, they absolutely must defend their home turf against Nebraska.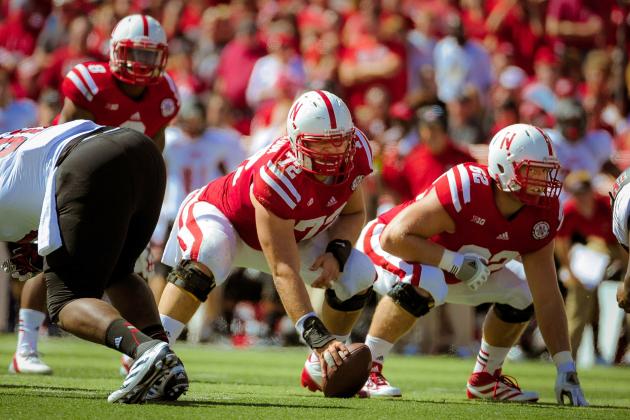 Eric Francis/Getty Images

Justin Jackson, center.
Michigan State is fifth nationally in total defense, seventh in rushing defense, 14th in pass defense, and 10th in scoring defense.
For Nebraska to be successful on offense, it will need to be at least competitive against the Spartans' ferocious defensive line. The primary responsibility for that falls on the center, senior Justin Jackson.
In previous weeks, Jackson has struggled with penalties and inaccurate snaps. A repeat of those performances in East Lansing could cost Nebraska yardage—or an offensive possession—at a pivotal moment.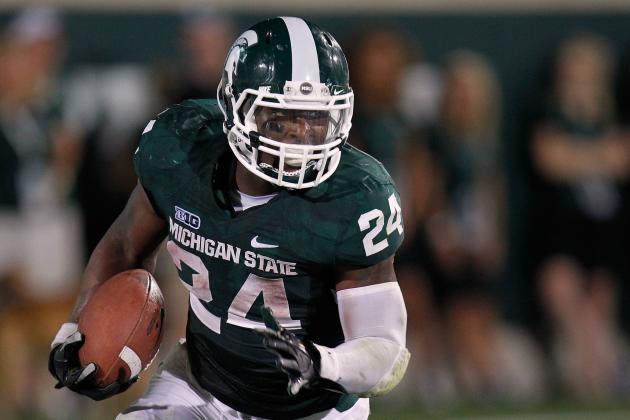 Gregory Shamus/Getty Images

Le'Veon Bell, running back.
Andrew Maxwell is, to put it charitably, a work in progress at quarterback for Michigan State. His receivers are nowhere near as talented as the group Kirk Cousins was throwing to last year. And Michigan State's offensive style is a bad matchup against Nebraska's defense.
All of this means that Bell will need a superlative performance to keep Nebraska's defense honest, allow Maxwell time to throw and keep Nebraska's offense on the sidelines.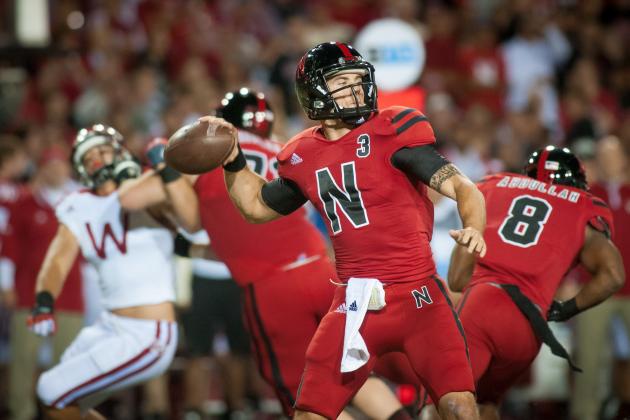 Eric Francis/Getty Images

…it can score more than 20 points. Michigan State's offense has struggled mightily this season, unable to score more than 17 points against BCS opposition not named Indiana.
The Spartans defense will be the best Nebraska faces all season, but Nebraska's defense sets up very well to stop Sparty on offense. If Nebraska can, by hook or by crook, get to 20, that should be enough for a win.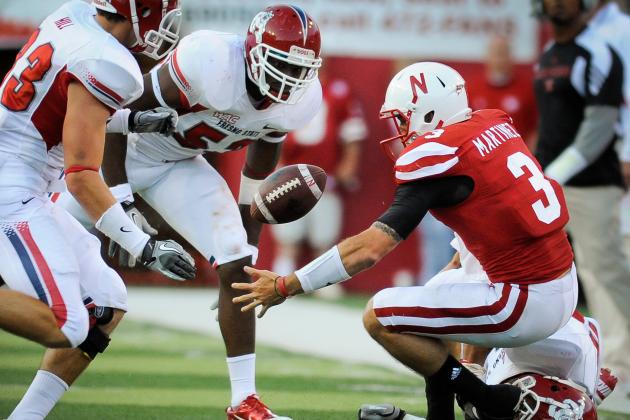 Eric Francis/Getty Images

…Nebraska turns the ball over.
The Spartans' offense this season has been anemic at best. Michigan State is ranked 64th nationally in pass offense and 89th nationally in rushing offense. Without help, it seems unlikely Michigan State will be able to move the ball.
Of course, Nebraska has been very helpful to opponents with their turnovers, gifting opponents points, field position and momentum. If Nebraska is loose with the ball in East Lansing and gives away points, Michigan State's defense is good enough to close the door.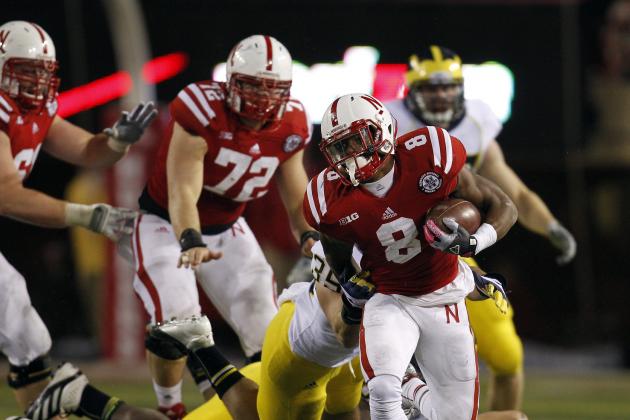 Bruce Thorson-US PRESSWIRE

In the last two weeks, Nebraska's defensive performances at Northwestern and home to Michigan have given cause for optimism to the Children of the Corn.
Michigan State's offensive struggles—combined with the bad matchup of the Spartans' offense against Nebraska's defense—suggests that points will be at a premium. Michigan State's defense is the best Nebraska will face all year, meaning that Nebraska's offense may be kept under wraps, and the game could turn into a field goal-kicking contest.
If that is the case, then the advantage goes to Brett Maher and Nebraska.
If Nebraska can avoid turnovers that lead to points for Michigan State, NU's offense should be good enough to outpace a struggling Spartan offense in what should be a low-scoring contest.
Fearless Forecast: Nebraska 16, Michigan State 9
If you'd like to contact Patrick to schedule an interview, provide feedback or get advice on which type of chocolate goes best with fresh fruit (spoiler alert: dark), then send an e-mail to patrickrunge@gmail.com.
Or, you could always...Follow @patrickrunge