Oklahoma State vs. Kansas State: Complete Game Preview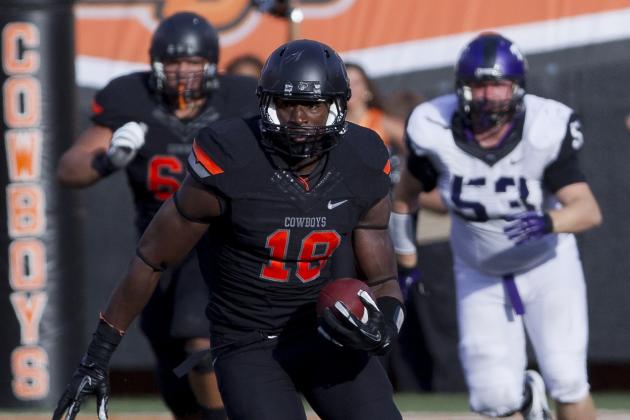 Richard Rowe-US PRESSWIRE

The Oklahoma State Cowboys will travel to Manhattan, Kansas to take on the Kansas State Wildcats this weekend in one of the biggest Big 12 matchups of the year.
For the second year in a row, the matchup between the Cowboys and Wildcats will be nationally televised on ABC and it will involve two teams that control their own destiny as far as the Big 12 title race is concerned.
The Cowboys are looking to defend last year's first ever Big 12 title, while the Wildcats are attempting to earn their first conference title in nearly a decade. The stakes are high, and the game is sure to be a great one to watch.
Begin Slideshow

»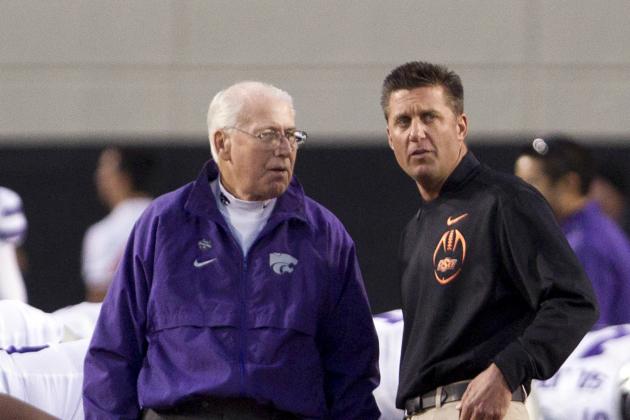 Richard Rowe-US PRESSWIRE

Who: Oklahoma State at Kansas State
When: Saturday, 7 p.m. CT
Where: Manhattan, Kansas
Stadium: Bill Snyder Family Stadium (50,000 capacity)
Series History: 36-22, Oklahoma State
TV: ABC
Radio: Cowboy Radio Network
Online Audio: OKState.TV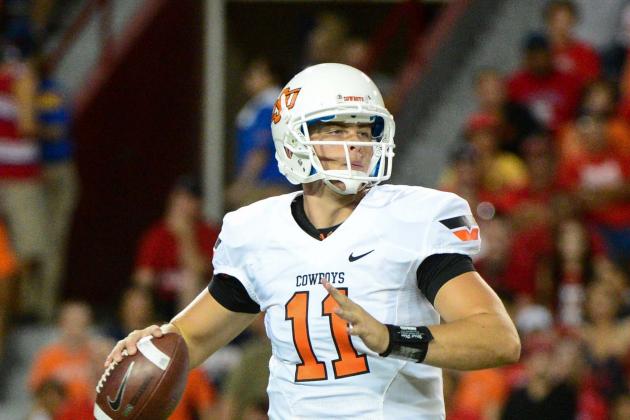 Matt Kartozian-US PRESSWIRE

Offense
Position Number Name Height Weight Class
Quarterback 11 Wes Lunt 6'4" 211 Fr.
Running Back 1 Joseph Randle 6'1" 194 Jr.
Fullback 9 Kye Staley 5'10" 236 Sr.
Wide Receiver 82 Isaiah Anderson 5'10" 175 Sr.
Wide Receiver 87 Tracy Moore 6'2" 220 Sr.
Wide Receiver 5 Josh Stewart 5'10" 170 So.
Wide Receiver 18 Blake Jackson 6'3" 238 Jr.
Offensive Tackle 71 Parker Graham 6'7" 292 Jr.
Offensive Tackle 58 Daniel Koenig 6'6" 295 So.
Offensive Guard 70 Jonathan Rush 6'4" 284 Sr.
Offensive Guard 68 Lane Taylor 6'3" 328 Sr.
Center 60 Evan Epstein 6'3" 291 Sr.
Defense
Position Number Name Height Weight Class
Defensive End 80 Cooper Bassett 6'5" 270 Sr.
Defensive End 96 Ryan Robinson 6'4" 246 Sr.
Defensive Tackle 91 James Castleman 6'2" 296 So.
Defensive Tackle 99 Calvin Barnett 6'2" 299 Jr.
Linebacker 11 Shaun Lewis 5'11" 222 Jr.
Linebacker 37 Alex Elkins 6'3" 222 Sr.
Linebacker 45 Caleb Lavey 6'3" 240 Jr.
Cornerback 19 Brodrick Brown 5'8" 185 Sr.
Cornerback 4 Justin Gilbert 6'0" 194 Jr.
Safety 7 Shamiel Gary 6'0" 205 Jr.
Safety 8 Daytawion Lowe 5'11" 198 Jr.
Special Teams
Position Number Name Height Weight Class
Punter/Kicker 13 Quinn Sharp 6'1" 205 Sr.
Punter Returner 6 David Glidden 5'7" 171 Fr.
Kick Returner 4 Justin Gilbert 6'0" 194 Jr.
Longsnapper 53 Andrew Suter 6'2" 268 Jr.
Holder 39 Wes Harlan 5'7" 178 Sr.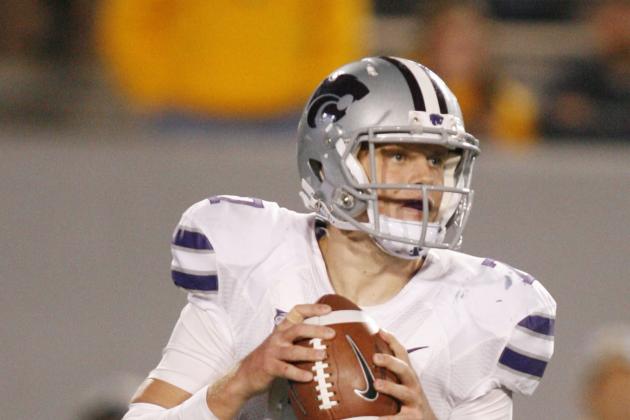 Charles LeClaire-US PRESSWIRE

Offense
Position Number Name Class
Quarterback 7 Collin Klein Sr.
Running Back 33 John Hubert Jr.
Fullback 48 Braden Wilson Sr.
Tight End 80 Travis Tannahill Sr.
Wide Receiver 16 Tyler Lockett So.
Wide Receiver 3 Chris Harper Sr.
Wide Receiver 86 Tremaine Thompson Jr.
Offensive Tackle 78 Cornelius Lucas Jr.
Offensive Tackle 73 Tavon Rooks Jr.
Offensive Guard 55 Cody Whitehair Fr.
Offensive Guard 79 Keenan Taylor Jr.
Center 66 B.J. Finney So.
Defense
Position Number Name Class
Defensive End 97 Adam Davis Sr.
Defensive End 42 Meshak Williams Sr.
Defensive Tackle 92 Vai Lutui Sr.
Defensive Tackle 71 John Sua Sr.
Linebacker 50 Tre Walker Jr.
Linebacker 2 Justin Tuggle Sr.
Linebacker 46 Arthur Brown Sr.
Cornerback 3 Allen Chapman Sr.
Cornerback 21 Nigel Malone Sr.
Free Safety 12 Tyler Zimmerman Jr.
Strong Safety 23 Jared Milo Sr.
Special Teams
Position Number Name Class
Punter/Holder 9 Ryan Doerr Sr.
Kicker 10 Anthony Cantele Sr.
Kick/Punt Returner 86 Tramaine Thompson Jr.
Longsnapper 63 Marcus Heit Jr.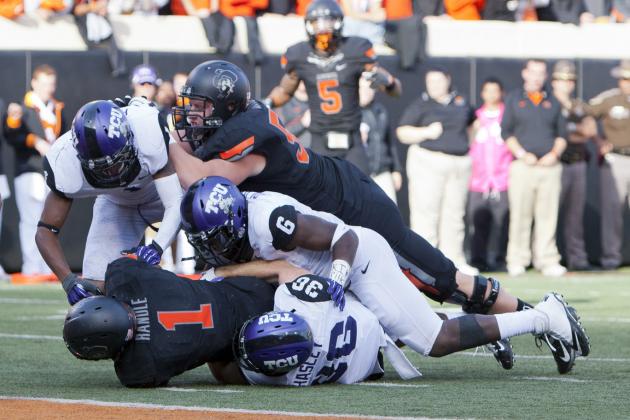 Richard Rowe-US PRESSWIRE

The Oklahoma State Cowboys got a big win last week over the TCU Horned Frogs. In his first start in six weeks, Wes Lunt led the Cowboys to a 22-point win over a very talented conference opponent.
After falling down by 14 points in the first quarter, the Cowboys made an epic comeback, outscoring TCU 36-0 throughout the rest of the game. The Oklahoma State defense held the TCU offense to just 2-of-14 on third downs and forced three turnovers.
Joseph Randle was the star of the game, rushing for 126 yards and a touchdown. Josh Stewart also had a big game, catching six passes for 120 yards.
Above all in this game, the Cowboys proved that they are a good team that is capable of playing well in every phase of the game.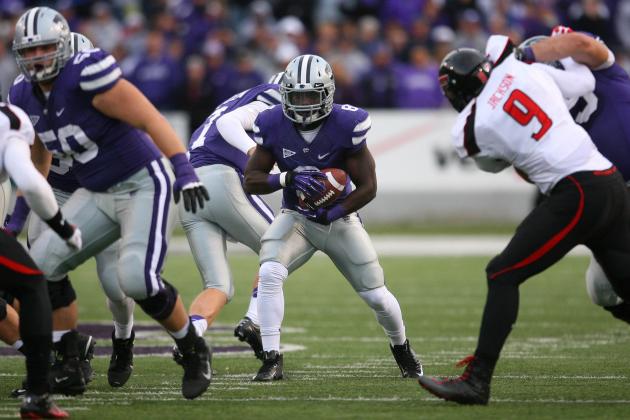 Scott Sewell-US PRESSWIRE

Many thought before last week that Texas Tech was possibly capable of knocking the Kansas State Wildcats from the ranks of the beaten. Oh, did the Wildcats ever prove those people wrong.
Kansas State beat Texas Tech by 31 points, putting up 426 yards of offense. Heisman leader Collin Klein completed 19-of-26 passes for 233 yards and two touchdowns, while also rushing for 83 yards and two more scores.
The Kansas State defense also forced three Red Raider turnovers and limited Tech quarterback Seth Doege to just 6.6 yards per pass. The Wildcats outscored the Red Raiders 42-14 in the first half.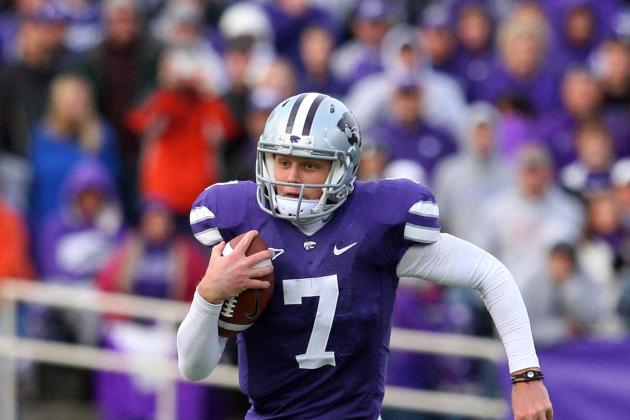 Scott Sewell-US PRESSWIRE

For Oklahoma State, this game is key for defending last season's Big 12 title. If the Cowboys win out, they will repeat as Big 12 champions. That is a tall order though, as the Cowboys play four ranked teams. Kansas State is the biggest hurdle on that list.
For the Wildcats, every game is huge from here on out. They are playing for a chance at a national championship, and even a single loss could ruin that dream. Even a conference title could be ruined by one slip-up.
This game is huge for each of these teams, especially in the conference race. Whoever wins will have the inside track towards the Big 12 title.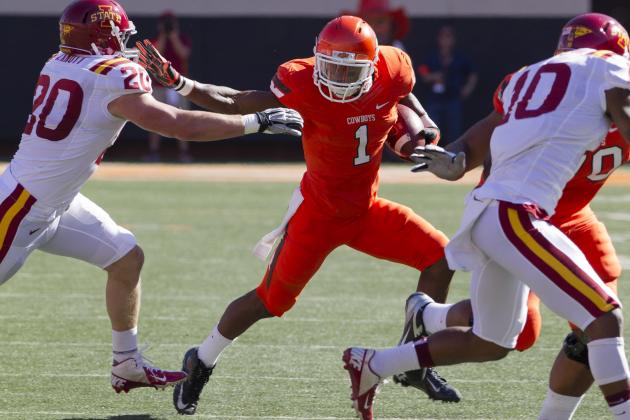 Richard Rowe-US PRESSWIRE

Joseph Randle
One of the biggest stars in the Big 12 conference, Joseph Randle is the engine that makes the Oklahoma State machine go. Randle has rushed for 891 yards and nine touchdowns this season.
He is the only player in the Big 12 to have rushed for more yards than Kansas State's John Hubert and is averaging 5.6 yards per rush. If Randle can run on Kansas State, it will greatly improve the Cowboys' chances of winning this ball game.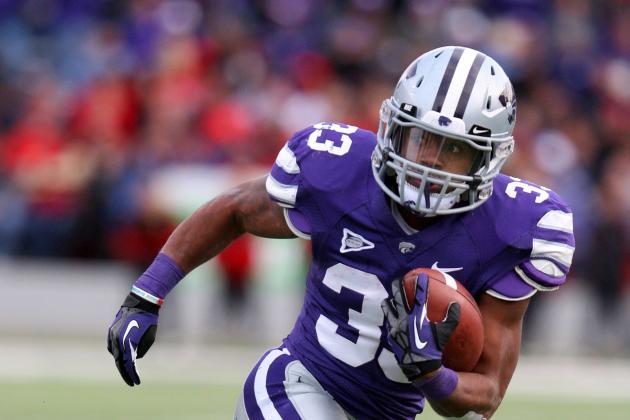 Scott Sewell-US PRESSWIRE

John Hubert
It might make more sense to put Collin Klein here, but the truth is that John Hubert is much more important for the Wildcats in this game. The Cowboys have done pretty well defending the run this season, but when they do give up big yardage on the ground, they lose.
Hubert has rushed for 722 yards and 10 touchdowns, averaging 5.6 yards per carry. If he can run on the Cowboys, the Wildcats will win the game. Moving the ball on the ground is the best way to keep Oklahoma State's offense off the field, and its defense back-pedaling.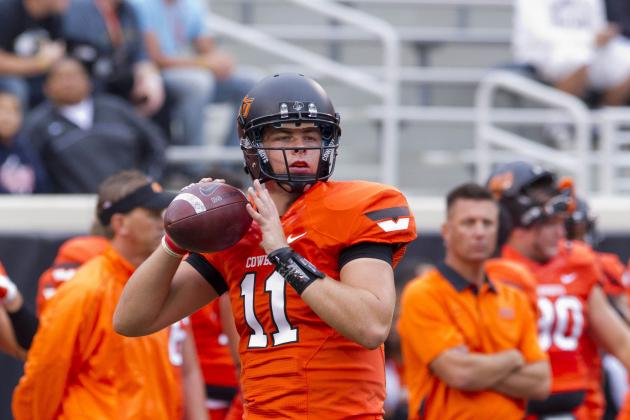 Richard Rowe-US PRESSWIRE

The Cowboys will win if they can protect Wes Lunt. Running the ball is important, and it factors into this heavily. However, if Lunt has time to sit back in the pocket and throw down field, he can pick almost any defense apart.
Lunt got hurt originally on a play where he was rushed out of the pocket and hit in the knee. The Cowboy offensive line must not let that happen against Kansas State.
Charles LeClaire-US PRESSWIRE

The Wildcats will win if they can force turnovers. Oklahoma State has shown a propensity at times this season to turn the ball over. Kansas State is all about winning the time of possession and field position battles.
If they can force turnovers, they will easily win both. Oklahoma State's offense is difficult to stop, so any time you can get them off the field early, it is a good idea.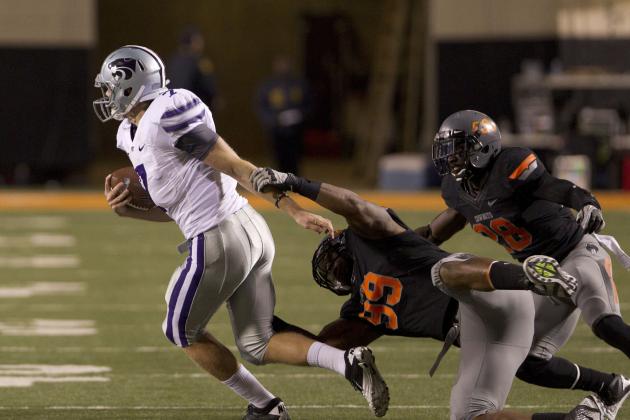 Richard Rowe-US PRESSWIRE

This game will not be the blowout that Kansas State's games against Texas Tech and West Virginia were in recent weeks. Oklahoma State is playing well right now, and the case can be made that its roster is more talented than either of those teams.
However, that does not mean the Cowboys will win. Kansas State is rolling right now, and Collin Klein nearly beat the Cowboys last year in Stillwater. His last second pass into the endzone was incomplete then, but he will not suffer a similar fate this time.
Prediction: Kansas State 31, Oklahoma State 24