San Francisco 49ers: Grading the Week 8 Win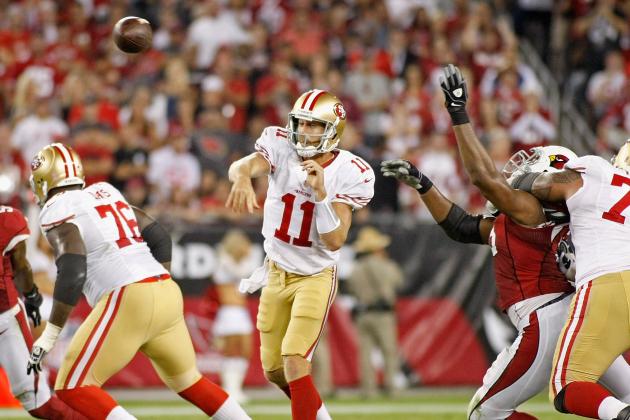 Ralph Freso/Getty Images

Well then. I think there is no questioning who the best team in the NFC West is, eh?
After absolutely dismantling their divisional foes in Arizona on Monday Night Football, the 49ers improved to 6-2 to take a convincing two-game lead in the standings.
Alex Smith looked like a man possessed, falling one completion short of breaking former Cardinal Kurt Warner's single-game completion percentage record, while racking up three touchdown passes and playing a nearly flawless overall game.
The run game did it's thing again, shredding a relatively solid defensive unit. And the 49ers' defense. Oh, that defense. Capped by a skull-crushing hit by Dashon Goldson across the middle, this was the most intimidating, complete and dominant defensive performance we've seen from San Francisco all season long.
No doubt the marks will be high this week, as the 49ers earned their way into a few days off. They will have a bye week before resuming action in Week 10.
Here is how the report card for Week 8 turned out:
Begin Slideshow

»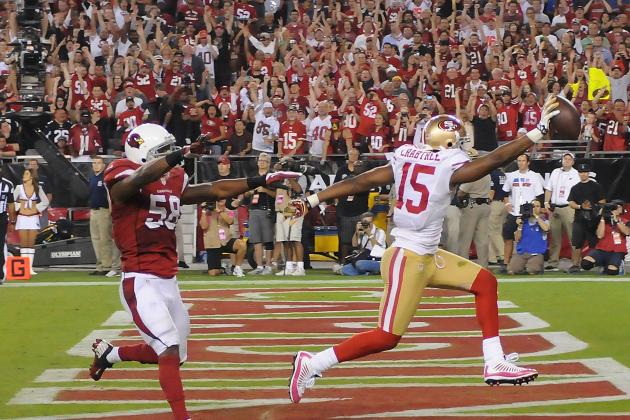 Norm Hall/Getty Images

One incomplete pass (arguably a dropped pass). One pass tipped, but still caught on a freakishly athletic play by both the Arizona linebacker and Delanie Walker. Sacked four times, but against a good pass rush. A catch-and-run touchdown by Randy Moss. Two touchdown grabs by Michael Crabtree (who made Patrick Peterson look like an absolute fool all night, by the way).
Can it get any better? Smith was nearly perfect when the ball left his hand. In a game like this, even the harshest critics of Smith had no hate to spew. His first touchdown pass to Crabtree was a bit of a bad spiral; that's all I can think of.
That being said, the ball was placed perfectly for him to catch it. Similarly, Smith put a ball right into Vernon Davis' hands on a seam route, despite Davis being closely guarded downfield.
Did I mention Moss looked like a 25-year-old Pro Bowler on his catch and run? The old guy still has some mad wheels. I know I'm waxing poetic here, but everything about the passing game looked fantastic on Monday. Good grades all around.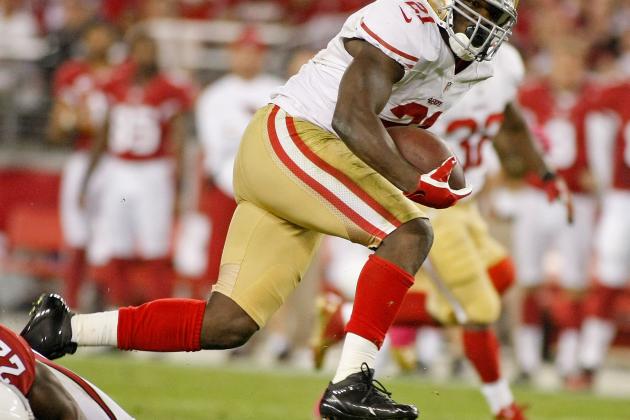 Ralph Freso/Getty Images

Frank Gore had an easy go of it in the first half, especially on the first drive. He was plowing through the Cardinals' front seven like a knife through hot butter. But you have to give credit where credit is due sometimes.
The Arizona defense really cracked down on the running game in the second half, and Gore ended up with just 55 yards total on 17 carries. Kendall Hunter pitched in for 43 yards, and the Niners finished with 113 rushing yards, well below their season average.
I'm still grading the running game pretty highly for a few reasons. First of all, the offensive line was monstrous, opening gaping holes in the first half and doing enough to move the chains in the second half. Secondly, the 49ers were basically running out the clock the entire second half.
And finally, even when the run got stuffed, the Cards' defense couldn't stop Alex Smith anyway.
No spectacular numbers from this unit but a well-played game all in all.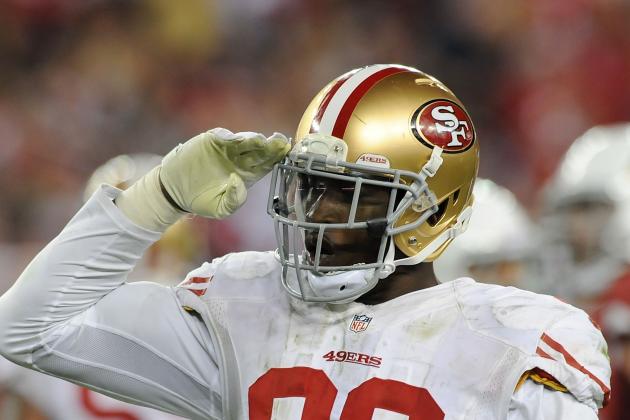 Norm Hall/Getty Images

Two A+s in one report card? You betcha!
If I could give a higher grade than this, I probably would. And any unit deserves it when they essentially had the opposing offense moving backwards the entire game.
Let this sink in for a moment: the 49ers' front seven held the Cardinals to seven yards rushing. Total. All night. Seven yards. That means when you totaled up ALL the Arizona carries, they failed to get enough yardage for a measly first down.
Patrick Willis had another great game, recording six tackles and knocking down another pass over the middle. Aldon Smith was a beast in the pass rush, getting two sacks and six total tackles. His first sack was a case of making a stutter-step swim move to the inside and blowing right by the left tackle. Impressive stuff.
NaVorro Bowman and Ahmad Brooks also recorded a sack each, giving the 49ers four on the night. Holding the running game in check was huge, because it forced a mediocre quarterback in John Skelton to throw the ball 52 times.
You'll see how that turned out for him next...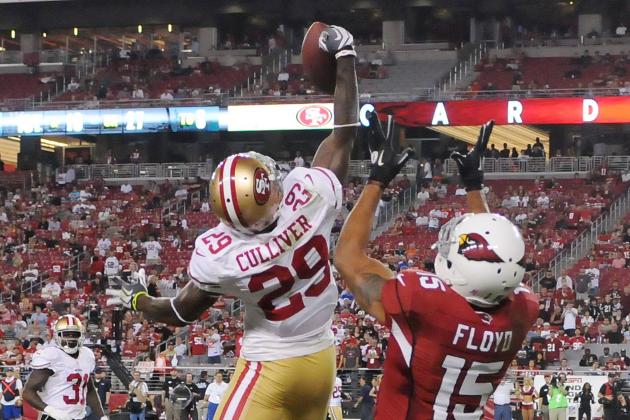 Norm Hall/Getty Images

The 49ers secondary continues to surprise me—I expected another good season, but they have been stupid good so far.
You saw the hit Goldson laid on Early Doucet in the opening slide (think he settled their beef with that hit?), indicative of the punishment this unit put on the Arizona receivers and Skelton.
Chris Culliver in particular had an amazing game, knocking down five passes in coverage, making three tackles and picking off a Hail Mary at the end of the first half. Goldson, Donte Whitner and Carlos Rogers combined for 21 tackles and were all over the field on Monday.
One small beef is that the 49ers seemed a little susceptible to the big play, even in the first half. Nothing happened, as the Cardinals were held to three points total, but give Larry Fitzgerald enough chances and he'll break a big one.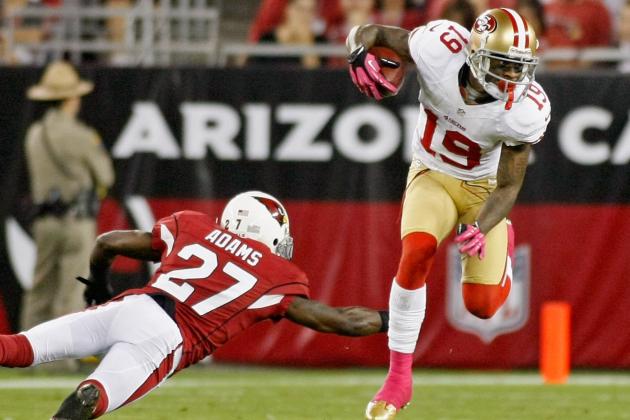 Ralph Freso/Getty Images

I wish I had more to report here, but the 49ers didn't have to contend with many special teams plays since they dominated the game so thoroughly. David Akers went 3-for-3 on extra point attempts and nailed a 43-yard field goal.
Andy Lee punted five times, landing three inside the 20 and averaging just under 49 yards per punt. Ted Ginn, Jr. had a nice 35-yard punt return and almost broke that one for a spectacular touchdown. He also returned a kickoff 31 yards, so he seems to be getting back to his normal self.
In coverage, Patrick Peterson was held in check, only returning four punts for a total of 15 yards. Great job by that coverage unit, though C.J. Spillman was the culprit of a stupid penalty in the first half when he didn't immediately come back in bounds as a gunner. He did make up for it later by making a great tackle on a Peterson return.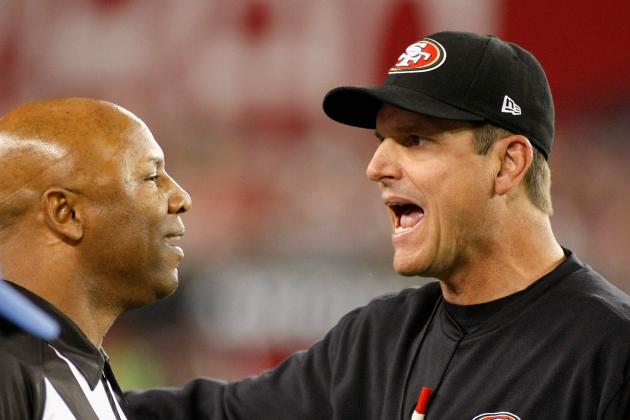 Ralph Freso/Getty Images

Let's play Good, Bad and Ugly with the coaching staff, since it's never been done before:
The Good
Well, the 49ers beat a division rival 24-3, on the road, in front of a national television audience to sail into the bye week with a ton of confidence. Both offensively and defensively, the game plans were well-written and executed.
The Bad
Why didn't Colin Kaepernick or Anthony Dixon get a little work at the end of that game? It was clear that with half of the fourth quarter left and a three-touchdown lead, the Cardinals were dead. I would have liked to have seen Kaepernick and Dixon get a few snaps in. And by the way...we could have won by more.
The Ugly
Oh, Jim. His postgame press conference was more lighthearted than usual, but his standout quote in an answer about Alex Smith's confidence is going to get him crap for weeks to come. Check it out here.
Is that really the best he could come up with?
Ralph Freso/Getty Images

There's not much left to say.
The defense, especially the front seven, was incredible. In a game in which the Cardinals wanted to make a statement with their defense, the 49ers proved they were the model unit. They shut Calais Campbell up for a while, too.
Alex Smith was spot-on all night, and any questions about his confidence should be settled. Even though the running game didn't put up huge numbers, it was effective, especially in the first half.
Special teams could not have been any better, and the coaching in general was very impressive. The 49ers again proved why they are one of the best teams in the league and should be moving their way back up the power rankings at 6-2.
Here's to hoping it continues after the bye week! Who's got it better than us?