SEC Football: What Each Coach Handed out to Halloween Trick-or-Treaters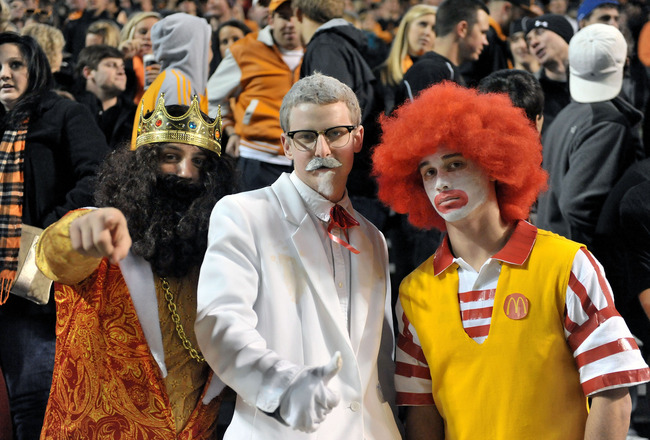 Jim Brown-US PRESSWIRE
The holiday season is upon us once again beginning with Halloween week in the SEC. Now more than halfway through the season, every program and every coach is being critically assessed with each Saturday.
The history of the storied Southeastern Conference is full of ghosts and goblins, goons and ghouls, gods and monsters.
Since Halloween is one of the most fun and interactive times of year where most anything goes, if only for one night, we thought it would be a good idea to take a glance at what the SEC coaches might be handing out to trick-or-treaters this year.
Feel free to add your suggestions in the comments section below.
Gary Pinkel: Missouri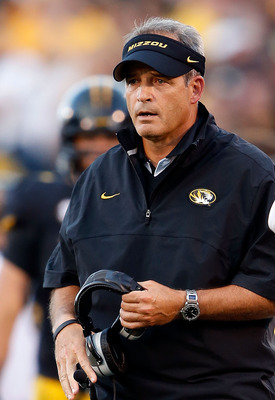 Jamie Squire/Getty Images
Candy of Choice: Snickers
When Missouri joined the SEC this summer, Pinkel and the football program brought a lot of bravado with them.
Claims that the SEC played "old man" football were quickly proven false early on when Georgia whooped up on the Tigers 41-20 in Columbia for the conference opener.
Mizzou thought that the Big 12 was equivalent to the SEC, but has quickly learned that where there is no defense and no jumbo-sized linemen, there is no success. Not in this conference, anyway.
While the Tigers had us going for a while there, most talk of Missouri these days usually ends with "snickers."
Dan Mullen: Mississippi State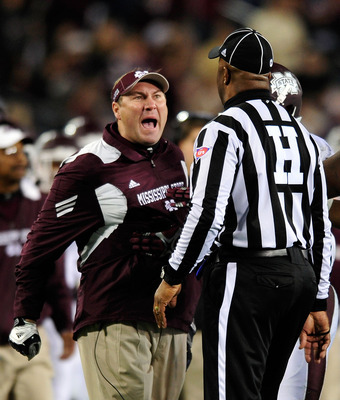 Grant Halverson/Getty Images
Candy of Choice: Blow Pops
Mullen has his Bulldogs playing with an intensity the program has not seen since the heyday of Jackie Sherrill.
Mississippi State cruised to a 7-0 start this season, earning a No. 11 ranking nationally. Unfortunately, the quality of the schedule left a lot to be desired.
While Mullen and the Bulldogs were able to "blow" through the first half of the schedule by beating up primarily on Sun Belt foes, last week's trip to Tuscaloosa was inevitable, and the Bulldog balloon "popped."
Derek Dooley: Tennessee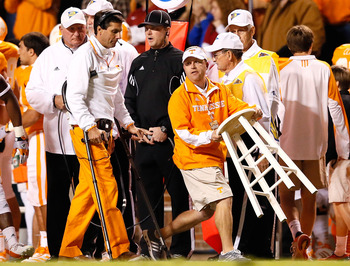 Kevin C. Cox/Getty Images
Candy of Choice: 100 Grand Bar
Dooley took on a tough situation when he replaced the boy wonder that is Lane Kiffin as the Tennessee head coach. After an impressive stint at Louisiana Tech, many thought that Dooley and his pedigree were right for the job.
Now the coach of the future is 0-15 against ranked opponents and has accomplished the unthinkable by losing to Kentucky last season.
Although the recruiting classes have been impressive, the results have not, and Dooley may well be on his way to a pink slip and a buyout. We'll start the bidding at "100 Grand."
John L. Smith: Arkansas
US PRESSWIRE
Candy of Choice: Butterscotch
It's hard to give coach Smith too hard of a time. After all, he was effectively handed his pink slip the day he signed his one-year contract. Not to mention the struggles of taking over at the last minute after the insanely poor judgment of Bobby Petrino.
Once thought to be a national title contender, the Razorbacks now find themselves lost in the college football pack after a number of humiliating defeats with a 3-5 record.
Smith, who was never really prepared to handle the rigors of the SEC, has been reduced to the creepy old man that hands out "butterscotch" to everyone at church on Sunday.
James Franklin: Vanderbilt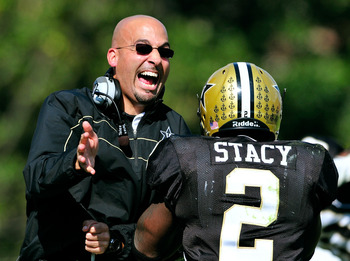 Grant Halverson/Getty Images
Candy of Choice: Pop Rocks
Franklin came to Vandy determined to change the image of the program. He wanted to build a program that could play smashmouth football with the rest of the conference, matching his peers in swagger and edge.
He may be starting to realize, though, that after an admirable fight to complete his mission, the 'Dores will always be the 'Dores and any thoughts of climbing to the top of the conference are little more than a teenage dream.
It sounded like a good idea but, like "Pop Rocks," the sizzle doesl't last for long and little substance is left.
Hugh Freeze: Ole Miss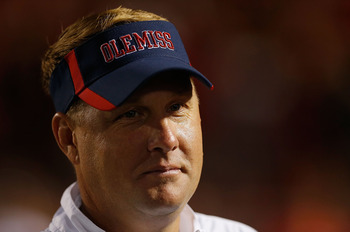 Scott Halleran/Getty Images
Candy of Choice: Candy Necklaces
Coach Freeze deserves a ton of credit for what he has done with the Rebels. He has one of the youngest teams in the country and has managed to score a 5-3 record, 2-2 in conference.
Unfortunately, it has been difficult for every coach in Oxford to maintain a run at the top of the conference. Not only does he have to compete with State and Southern Miss, the school is sandwiched between LSU on the west and both Alabama and Auburn on the east. The stronger programs that surround Ole Miss are constantly plucking away the state's best talent.
Ole Miss is left with a hard-working blue-collar team that lacks the elite caliber of player that could push the program to the next level. Like "candy necklaces," Ole Miss simply has no bling.
Joker Phillips: Kentucky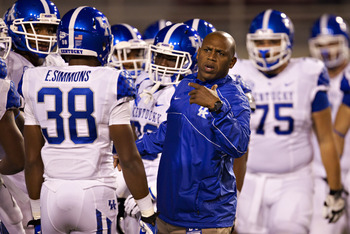 Wesley Hitt/Getty Images
Candy of Choice: Kit Kat
Affectionately nicknamed the "Kiddie Cats" due to their excessive youth, Kentucky and Phillips are struggling to stay alive these days.
Vanderbilt has passed the 'Cats and left them as the conference door mat. Just 1-8 on the season and winless in conference play, Phillips is likely going to be seeking alternative employment when the season ends.
Like is team, Phillips has failed to deliver the Wildcats the good fortune they had hoped for. Like "Kit Kats," Phillips has left his fans unfulfilled.
Kevin Sumlin: Texas A&M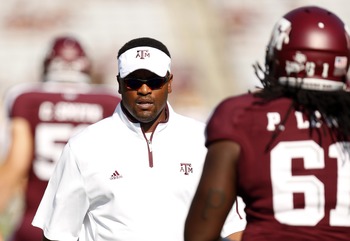 Thomas Campbell-US PRESSWIRE
Candy of Choice: Big League Chew
Sumlin, in his first year in College Station, has done what Pinkel has failed to do. Like Missouri, the Aggies are new to the conference and hoping to prove their worth in the nation's best conference.
Sumlin has done just that. With help from a freshman sensation (Johnny Manziel), the Aggies are 6-2 and have a 3-2 conference record. A&M is leaving no doubt that it belongs in the SEC.
Sumlin knew that his team would have to be tough as nails to make it in the SEC, and they have responded by taking a "big league chunk" out of the west, earning well-deserved respect in the process.
Mark Richt: Georgia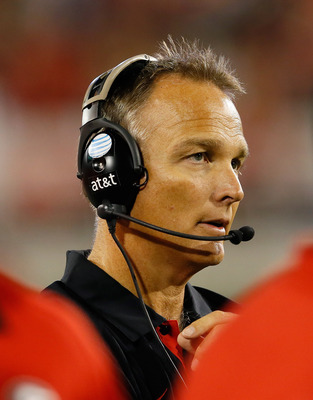 Kevin C. Cox/Getty Images
Candy of Choice: Apples
In a conference of cut-throat competition and often questionable ethics and rule-bending mastery, Richt has been the constant angel. The most tenured of current SEC coaches, Richt plays the role of the straight man among a ship of thieves.
From time to time, this has backfired on the Helen Hunt look-alike. While Richt seemingly wins 10 games every single year, his above-standard ethics may eventually be the knife that stabs him in the back.
Georgia fans are as unforgiving as any in the country and with every loss the Dawgs suffer, the talk of shipping Richt out grows.
While Richt passes out "apples" and heart-felt compliments, his counterparts are sneaking in with chocolate and sugar, winning national titles while Richt comes up just short.
Les Miles: LSU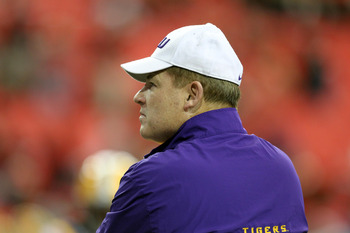 Daniel Shirey-US PRESSWIRE
Candy of Choice: Clark Bar
Les Miles is the enigma of enigmas in the college football world. With a reputation for calling plays with reckless abandon and going against the grain with each and every turn, Miles and his Tigers are consistently one of the best programs in the nation.
The funny thing about Miles is that for upwards of 10 games every season, he comes across like "Clark: Kent, meek and harmless, too self involved to be dangerous."
But when push comes to shove, "The Hat" dips into the phone booth and comes out as Superman, pulling off the miracle just when all seems lost.
He's done it time after time.
Will Muschamp: Florida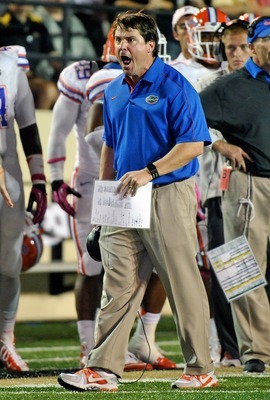 Frederick Breedon/Getty Images
Candy of Choice: Atomic Fire Balls
Muschamp took a good bit of heat in his first year at Florida. After all, following the success of Urban Meyer is a pretty tall order, especially for a first-time head coach.
But Muschamp stuck to his guns, insisting that he had it under control. Sure enough, the fiery head coach found his team ranked second in the BCS until last week's loss to Georgia.
Florida isn't quite there yet, but it is clear that Muschamp has the Gators on the right track back to Atlanta and the top of the SEC heap. With the "atomic fire ball" of intensity that follows Muschamp wherever he goes, the future at Florida is closer than it may appear.
Gene Chizik: Auburn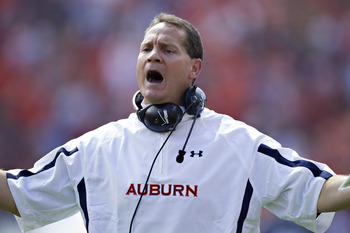 Wesley Hitt/Getty Images
Candy of Choice: Starburst
Auburn reached way outside the proverbial box when it went and got Chizik to take the reins on the plains. After a less-than-stellar tenure at Iowa State, not much was expected from the new coach.
To the surprise of many, Chizik and some kid named Newton took the Tigers to a 2010 BCS title.
Two years later, though, Newton is long gone and the Tigers are a miserable 1-7, losing more games already this season than state rival Alabama has in the last five years.
As for Chizik, his job is on the line if not already lost and his "star" has surely "burst."
Steve Spurrier: South Carolina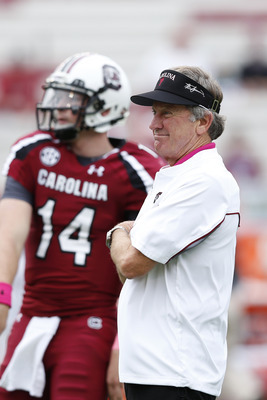 Joe Robbins/Getty Images
Candy of Choice: Lemonheads
Spurrier returned to the SEC to take on the head job at South Carolina, a program that had never had sustained success in the conference. The Gamecocks had never had sustained success in program history, for that matter.
But Spurrier has his team competing every year, and he has done it by changing his preferred fun-n-gun air attack for more of a balanced offense with a stop-gap defense.
Who knows how many years we have left with the Old Ball Coach, but the conference will miss one of its biggest characters when he is gone. In the meantime, he will pass out the most sour of sour "lemonheads," so that every kid in Columbia can have the sour-looking mug that Spurrier wears to work every day of his life.
Nick Saban: Alabama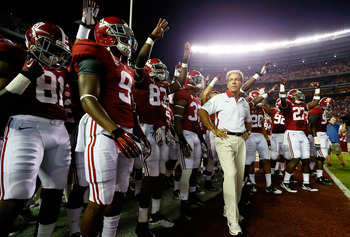 Kevin C. Cox/Getty Images
Candy of Choice: The Willy Wonka Chocolate Bar
Saban came to Alabama looking to bring the Tide back from the depths of Alabama Hell. After nearly two decades of mediocre ball and countless NCAA sanctions, Saban did not take long to right the ship.
Alabama is arguably the best program in the nation at the moment, and the days of throttling opponents each and every week have no end in sight.
Saban will be passing out the "Wonka Bars" this Halloween, seeing as he has already provided the Tide with a pair of golden tickets in the form of BCS titles and another may be just a few short months away.
Keep Reading