Dallas Mavericks vs. L.A. Lakers: Live Score, Results and Game Highlights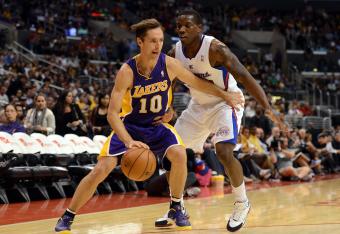 Harry How/Getty Images
The Los Angeles Lakers came out strong against the Dallas Mavericks, but their fast start quickly fell flat after the first quarter.
Dallas outran, outhustled and plain outplayed the Lakers in this one as the Lakers debut night of stars ended up looking more like a black hole than anything.
Dwight Howard fouled out in his L.A. debut while Nash started out his stint in L.A. with just three assists to his name. We'll see, moving forward, how these guys will work together to fix the obvious problems that remain.
To finalize this one, it only seems proper to give an homage to the locked out NHL naming the three stars of the game.
Third Star: Elton Brand. Stellar defense, great rebounding, a nice punking of Pau Gasol and a few good shots here and there.
Second Star: Rick Carlisle. Balancing this lineup and coming away with a win over this Lakers team without Dirk Nowitzki and Chris Kaman is a testament to Carlisle's coaching ability.
First Star: Darren Collison. I'm starting to wonder whether or not Indiana kept the wrong guard when they chose George Hill over Collison. 17 points on eight of 12 shooting is a stellar night for a guard.
The Lakers, meanwhile, have a lot of issues they're going to need to shake out moving forward.
Until next time people, have a great night.
Mavs 99, Lakers 91.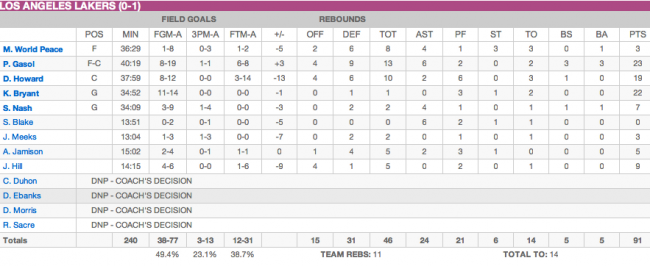 Before I leave you guys I've got to throw out the final box score from this beauty.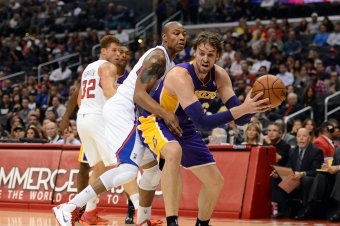 Harry How/Getty Images
Pau Gasol drains a three to end this one as Kobe Bryant storms off the court and into the locker room.
That one was quite unexpected, and a little bit ugly.
You've got to stay with the belief that this is just one game, but the Lakers just seemed to be off-balance and uncoordinated throughout the final three quarters of this one.
Mavs 99, Lakers 91 final.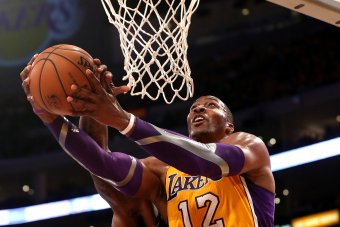 Stephen Dunn/Getty Images
Turnovers, missed free throws and finally a sixth foul from Dwight Howard, sending him from the game in his Lakers debut.
He starts his stint in L.A. with a quiet 19 points, 10 rebounds and a block.
Mavs 98, Lakers 86 with 1:10 left in the fourth.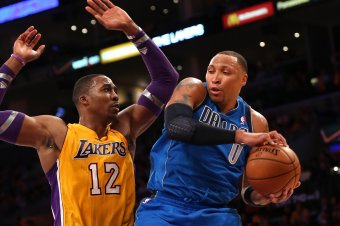 Stephen Dunn/Getty Images
"Carter for three," followed by, "An offensive rebound by Marion."
I'm having a mid-aughts nostalgiagasm. All that's missing is, "And what a dunk by McGrady!" or "Great defense from Kenyon Martin."
Mavs 96, Lakers 82 with 2:12 left in the fourth.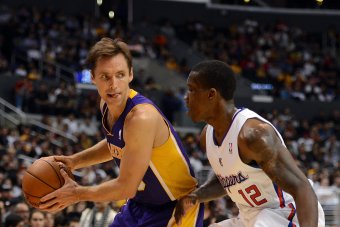 Harry How/Getty Images
If the game shakes out the rest of the way without Nash landing another dime, it'll be the first time he's played at least 30 minutes in a game and ended up with three or fewer assists since 2008.
Basically I'm trying to say that he didn't look very good here tonight, but then again, neither did the rest of Los Angeles.
Mavs 93, Lakers 80 with 4:20 left in the fourth.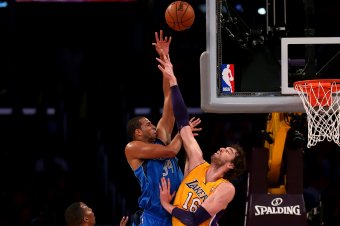 Stephen Dunn/Getty Images
It's almost as if the Lakers took this game for granted (and if it weren't obvious from the tone of that comment, I'm calling this one, game over man).
This entire game was personified in that last offensive possession for the Mavericks. Darren Collison hoisted a three from the top of the key, Dwight Howard meekly threw an arm out to "box out" Brandan Wright while Write simply slipped to Dwight's other side and tipped the offensive rebound to himself.
Los Angeles has been sluggish, lazy and almost uninterested ever since the end of the second quarter.
Mavs 90, Lakers 77 with 6:35 left in the fourth.
Check out Pau Gasol beating Eddy Curry down the court for an easy bucket from Steve Blake.
It's almost like Gasol is Usain Bolt and Curry is one of the dudes in the skeet shooting competition.
Mavs 88, Lakers 73 with 8:30 left in the fourth.
Stephen Dunn/Getty Images
This is where things are going to get interesting. Los Angeles is down by 13 points with just under nine minutes left in the game.
Is Kobe going to go into Kobe mode and try to force the Lakers back into the game or will they stick to the offense that has worked marginally at best so far?
Mavs 86, Lakers 73 with 8:50 left in the fourth.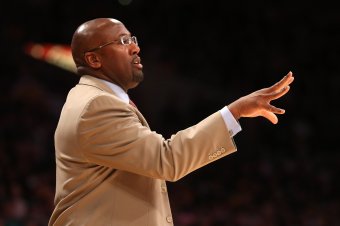 Stephen Dunn/Getty Images
There's really no doubt about it at this point, Mike Brown is the least valuable player for the Lakers tonight.
He's got absolutely no control over the offense in this game, he's not getting on anybody for jumpers that continually hit the front of the rim and his team's defense has been uninspired at best.
There's got to be a point in this game where he decides the way to win is to exploit the fact that Dallas is missing two-thirds of their starting frontcourt. It doesn't take a genius to pound the ball down into Gasol and Howard.
A handful of turnovers, missed free throws and dumb fouls means Dallas has extended this lead.
Mavs 83, Lakers 71 with 9:33 left in the fourth.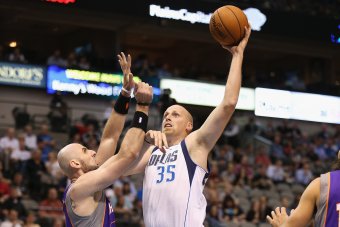 Ronald Martinez/Getty Images
The Mavs are leading this one despite only 12 combined points from their starting big men on a five of 10 shooting clip.
You've got to imagine that this team will be quite a bit better once Chris Kaman and Dirk Nowitzki come back. However, we could just be a victim of small sample sizes here.
Even still, I'm a bit more optimistic about this team than I was yesterday.
Mavs 74, Lakers 69 with 11:00 left in the fourth.
You be the judge on this one. Here's the video of the flagrant foul Dwight Howard slammed down on Elton Brand earlier in the third quarter:
It certainly looks like he was trying to tear Brand down mid-stride, but maybe he was just trying to help him with a bit of free-weight training? No? Trying to give him an early high-five for the fast-break?
Okay, I guess not.
Mavs 74, Lakers 66 at the beginning of the fourth.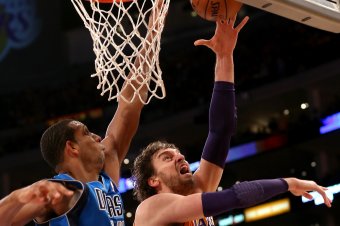 Stephen Dunn/Getty Images
Reggie Miller on the Pau Gasol fast break, "He just out-run Eddy Curry."
Now that doesn't seem like it would be too hard.
Mavs 74, Lakers 66 after three quarters.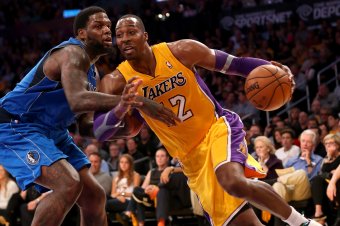 Stephen Dunn/Getty Images
Offensive foul on Eddy Curry, I think he might have tried to take a bite out of Pau Gasol.
Mavs 72, Lakers 62 with 2:00 left in the third.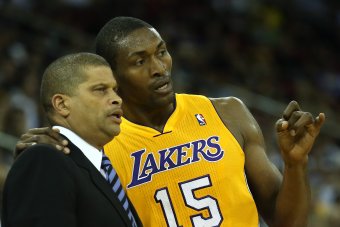 Stephen Dunn/Getty Images
Two things stick out so far with the Lakers as legitimate "problems" as they seem now.
First there's Metta World Peace. He's shot the ball four times, he should have shot the ball zero times so far. An oh-fer night so far combined with at least three dumb mistakes (as far as my count goes) have made him detrimental to the team.
Outside of Peace you've got to criticize the Lakers' free throw troubles. They've made just nine of their 20 freebies so far, seven of those 11 misses coming from Howard.
Mavs 70, Lakers 62 with 2:52 left in the third.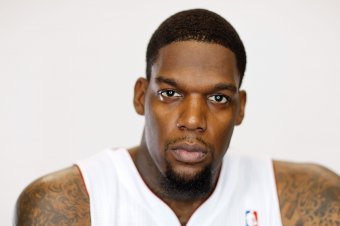 Mike Ehrmann/Getty Images
Eddy Curry mashes his way into the paint, runs over Pau Gasol and shrugs off Dwight Howard, who's hanging all over him.
This is otherwise known as a textbook two points for Curry.
Next possession gets another two for the really, really big fellow in the paint. He's back baby!
Okay, maybe not, but he does have seven points.
Mavs 68, Lakers 61 with 3:30 left in the third.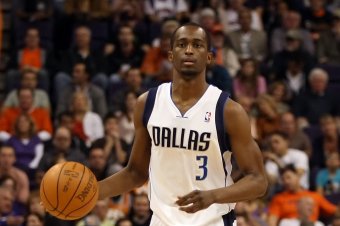 Christian Petersen/Getty Images
After news came yesterday about the Mavs cutting Delonte West, I was concerned that their bench would suffer. That hasn't been the case yet.
Maybe it's just the fact that the Lakers' bench isn't that good, or perhaps Dallas is a lot deeper than I thought.
Jae Crowder has been terrific so far in this game, as has Roddy "Buckets" Beaubois.
Mavs 64, Lakers 59 with 5:17 left in the third.
We've got a bit of Howard pounding going on for the Lakers. A few possessions in a row have led to Howard backing down in the post and hammering it home.
Of course, when he gets fouled he's absolutely useless, just two of nine so far in this one.
Mavs 64, Lakers 57.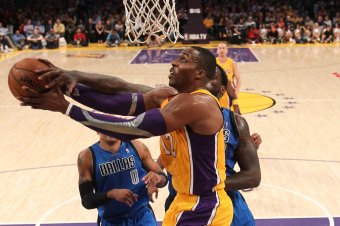 Stephen Dunn/Getty Images
Dwight Howard chases Elton Brand down on a breakaway and completely hammers him, leading to a flagrant-one.
The Lakers aren't playing a "bad" game per se, but they're definitely frustrated that they aren't dominating a Mavericks team that is this dissipated.
Mavs 62, Lakers 55 with 6:20 left in the third.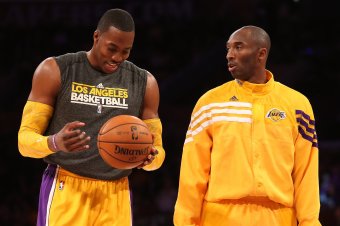 Stephen Dunn/Getty Images
Now things are starting to get a little bit interesting. Collison knocked down threes on successive possessions, leading to a patented Kobe moment.
Two possessions in a row Kobe demanded the ball, to which Nash obliged, leading to a Kobe three and a Kobe iso jumper, both falling.
What came next was interesting. Classically Kobe would demand the ball for at least three or four possessions in a row when frustrated, but Nash ran the offense leading to a missed jumper from Gasol.
Perhaps a bit of a power struggle?
Mavs 58, Lakers 53 with 7:25 left in the third.
Stephen Dunn/Getty Images
It's almost as if L.A. is running two or three interweaving offenses, rather than a "hybrid Princeton" as everyone's been touting all night long.
For a few possessions they'll run everything around, move the ball, then they'll switch it up and run a Steve Nash-Dwight Howard pick-and-roll, followed by a "get the ball to Kobe" play or two.
It hasn't worked so far, but it also hasn't not worked.
Their defense has been good enough, keeping Dallas scoreless for a few possessions then allowing a quick little burst of scoring.
Mavs 54, Lakers 49 with 9:00 left in the third.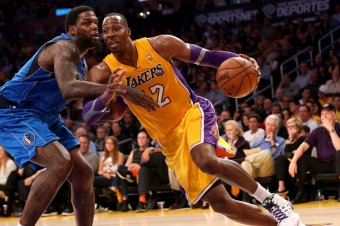 Stephen Dunn/Getty Images
So a lot of you are probably wondering what's up with the Lakers so far, right? Well, to make a long story short, they haven't done much bad, but they certainly haven't been great.
There's not really a felling of people trying to keep from stepping on each other's feet, but rather a slight lack of confidence in the offensive system so far.
It almost seems as if Kobe is constantly on the verge of going on a tear (he's made five of his six shots so far), but the offense tends to move back toward the middle. Whether that's good or bad is yet to be determined, but the score certainly tells a bit of the story.
Mavs 48, Lakers 46 at the beginning of the third.
This game will forever be known as the day I fell in love with Jae Crowder as a basketball player (I'm not ready to take that next step just yet).
The dude knows what he's got to do as a rookie to stay on the court, and by God he's staying on the court.
Eight points in 12 minutes so far and some impressive defense on a guy six inches taller than he is. Oh, and he's got an awesome "Meet Your Mavs" video. Because of that I've learned that his biggest strengths are his versatility and, "being a basketball player."
Mavs 48, Lakers 46.
Something makes me want to go put down some money on Gasol throwing an assist to Howard in every single game this season.
What are the odds that it happens? Three to one? Two to one? Even? There's got to be a place where I can find that kind of action.
Mavs 48, Lakers 46 at halftime.
This article is
What is the duplicate article?
Why is this article offensive?
Where is this article plagiarized from?
Why is this article poorly edited?

Los Angeles Lakers: Like this team?