Boston Celtics vs. Miami Heat: Postgame Grades and Analysis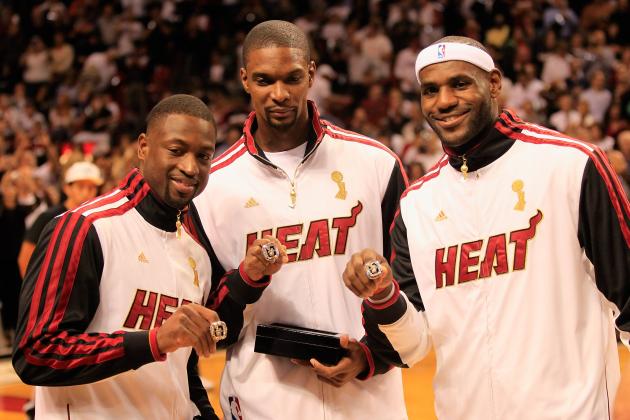 Chris Trotman/Getty Images

It's opening day of the 2012-13 NBA regular season and we've already come across a slugfest. The Miami Heat may have come out on top by the final score of 120-107, but it was simply a match of who could throw enough haymakers to knock their opponent down for the count.
The Heat were able to do so behind a stellar night from their Big Four. Dwyane Wade finished with a game-high 29 points, LeBron James posted 26 points and 10 rebounds despite missing much of the second half with cramps, Chris Bosh posted 19 points and 10 boards, and former Celtic Ray Allen torched his former team for 19 points of his own.
Even Rajon Rondo's near-triple-double and Leandro Barbosa's late-game heroics couldn't bring the Celtics back to win this one.
Rondo finished with 20 points, 13 assists and seven rebounds, while Barbosa dropped in all 16 of his points during the fourth quarter. The Celtics would use Barbosa's scoring to cut the lead from 17 to just four with 2:09 remaining.
Chris Bosh would score five of the game's final seven points and put this one out of reach, though, putting an end to the first chapter of the 2012-13 edition of the Celtics-Heat rivalry. So, who gets graded how?
Begin Slideshow

»
Rajon Rondo, BOS: A+
When a player goes off for 20 points, 13 assists and seven rebounds on 9-of-14 shooting, it's difficult to criticize their performance. When that same player scores eight points in a third quarter in which his teammates appeared lifeless, that grade continues to improve.
Unfortunately, a high grade is not enough to win a game. Remind anyone of Game 2 of the 2012 Eastern Conference finals?
Rondo was methodical with his passing, aggressive on the boards and versatile with his scoring. Rondo connected on 64.3 percent of his shots and made his jumper enough of a threat that Mario Chalmers' defense became a non-factor.
Although unable to suffice for a W, Rondo played as well as you could ask him to.
Mario Chalmers, MIA: B+
Despite the big game from his positional opponent, Mario Chalmers had quite a remarkable performance himself. The former Kansas star finished with 11 assists and three steals, also posting a plus-nine plus/minus.
He maintained his composure when Rondo began to take over, pacing the Heat offense to consistent buckets. It also appeared as if Erik Spoelstra and the Heat trusted Chalmers with the ball in his hands more than ever before. Although it's only the first game of the season, could we be witnessing the beginning of a Heat era with a point guard running the show?
Although LeBron James could put an end to such a proposal, Chalmers proved to be more than capable of running this offense to perfection.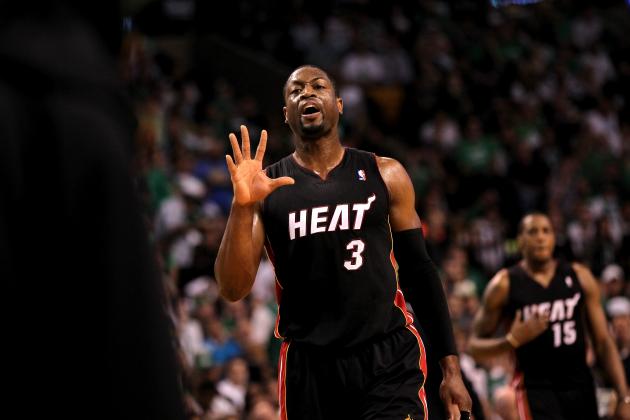 Jim Rogash/Getty Images

Dwyane Wade, MIA: A+
Ever wonder where the D-Wade of old had gone? For at least one night, it appears as if he was simply in a temporary hibernation last postseason while LeBron James etched his name in the record books as the leader of a title winner.
Wade took over from the opening tip, leading all scorers with 29 points on 10-of-22 shooting from the field and 9-of-11 from the charity stripe. Wade also dropped in nine points in the fourth, helping the Heat fend off a fierce late push from Boston.
With his game-clinching scoring and well-rounded production, Dwyane Wade officially returned to superstar status.
His final stat line appears as 29 points, four assists, three rebounds, two steals and one block. His contributions range well beyond statistics, however, as the timing of his plays are what will outweigh the numbers themselves.
Courtney Lee, BOS: C+
In his first game as the starting shooting guard for the Boston Celtics, Courtney Lee was quiet, efficient and, at times, overmatched.
As confusing as that may be to read, it was just as difficult to comprehend what was transpiring on the floor. Lee finished with 11 points on 5-of-6 shooting from the floor. He also connected on his lone three-point attempt and committed just one turnover, which signals how intelligent Lee was on the offensive end of the floor.
On defense, however, the usually stout Lee was no match for D-Wade.
Wade sliced and diced all defenders sent his way, attacking the basket and separating himself for jump shots. Lee gave a full effort, but it was clear that he simply could not slow down the former Marquette star.
At the end of the day, Celtics fans will view this as a quality start but an insufficient level of performance. For the C's to overcome the Heat this year, Lee will need to step it up on D.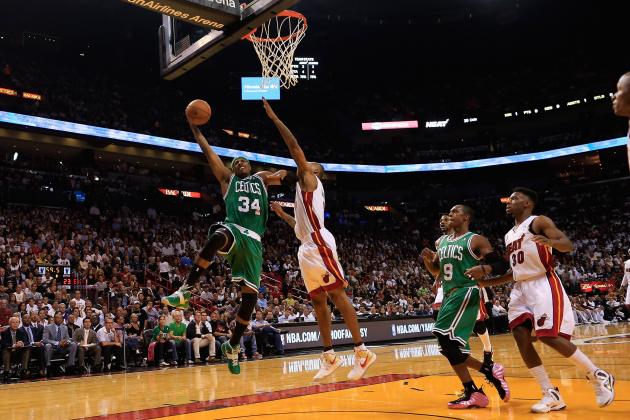 Chris Trotman/Getty Images

Paul Pierce, BOS: B+
With Shane Battier opening the game up on a high note, it was only right for Pierce to respond with a three of his own. eventually compiling eight points in the opening four minutes on perfect 3-of-3 shooting.
Pierce proceeded to make just one of his next six shots, though, which played a major role in the Celtics' inability to keep up with the Heat's three-ball onslaught.
Throughout the entirety of the game, Pierce maintained a quality pace to finish with 23 points, five rebounds, five assists and two steals, connecting on 9-of-9 free throw attempts.
Furthermore, Pierce did not commit a single turnover while being defended by the likes of LeBron James and Shane Battier. Although his 6-of-15 shooting was rather disappointing, Pierce played well on both ends and overcame first half inconsistencies to play a key role in pacing the Celtics to a comeback attempt.
If the Celtics are to pull off the W next time around, Pierce will need that three-ball magic later rather than earlier.
Shane Battier, MIA: B-
Shane Battier opened up with a bang, connecting on an early three-pointer to provide the Heat with the first points of the game. This brought back unwelcome memories for the Celtics, who were sunk by Battier's sharpshooting on more than one occasion during the 2011-12 NBA postseason.
Battier finished with six points, but, as we've all come to learn, Battier's contributions range well beyond a stat sheet. He's a master of the fundamentals and intangibles that do not show up on a stat sheet.
Elevated defensive pressure, plays on loose balls and rotational shifts to make up for out-of-position teammates will do the trick. Battier played a quality 29 minutes.
Chris Trotman/Getty Images

LeBron James, MIA: A+
Was this a statistical masterpiece from LeBron James? Despite posting 26 points and 10 rebounds in less than 30 minutes of floor time, no, it was not. Not by his standards, at least.
What this was, however, was one of the most efficient performances of James' career. He connected on 62.5 percent of his field goals, made two three-pointers and did not commit a single turnover.
Although he was not the team's lead facilitator, James took on extreme defensive pressure and faced it with confidence and composure.
With that being said, any player who manages to post 26 points and 10 rebounds deserves an A. When you consider how much every possession changed when James merely placed his hands on the ball, however, that grade instantly goes up to an A-plus.
Major props for being responsible with the ball.
Brandon Bass, BOS: B+
For all of the hot starts from forwards, Brandon Bass was disturbingly slow. Despite attempting four shots in the opening four minutes, Bass managed to make just one field-goal attempt.
Bass made his final two field goals of the first quarter to get things going, and from thereon out, Bass would contribute on both ends of the floor with efficiency and consistency. The big man would end up posting 15 points and 11 rebounds on 6-of-11 shooting.
Six of those rebounds came on the offensive end, where the Celtics were the worst team in the league in 2011-12.
Although Bass was one of many who could not slow down LeBron James, he played well enough to earn a quality grade.
Chris Trotman/Getty Images

Chris Bosh, MIA: A+
Is it possible that all three members of the Big Three had A-plus-worthy nights? When you look at Chris Bosh's production, as well as the mess he made of Kevin Garnett, the answer is yes.
Bosh had an excellent night on the offensive end of the floor. The big man finished with 19 points and 10 rebounds on 8-of-15 shooting, even grabbing two offensive boards.
On D, Bosh finished with three blocks and forced Garnett into five turnovers and four fouls.
While Bosh's performance deserves high praise, it is what he did to a master of agitation like Kevin Garnett that is so significant. Throughout their past battles, the Celtics and Heat had one positional advantage established: Kevin Garnett over Chris Bosh, regardless of where they lined up.
KG would frustrate Bosh while on defense and take him out of his element on offense. On this night, however, Bosh not only contained Garnett, but forced him into one of his worst performances in recent memory.
Now, if that doesn't deserve an A-plus, what does?
Kevin Garnett, BOS: C
When you evaluate Kevin Garnett's stat line, you may claim that his grade deserves to be higher. He finished the game with quality numbers of nine points, 12 rebounds and two blocks on 4-of-8 shooting from the floor.
Unfortunately, KG also walked away with five turnovers and four personal fouls. To say that this was the worst Garnett has ever looked may just be an accurate statement.
Although Garnett turned things around in the second half, he started the season opener horrifically. During the first quarter alone, Garnett missed consecutive shots, was called for a traveling violation and committed an offensive foul.
This set the pace for what was to come throughout the next two quarters, thus forcing head coach Doc Rivers to bench his star more than he would have liked to have.
We all know KG will turn it around. For one night, however, he appeared to have fallen from the grace of the basketball gods to become human.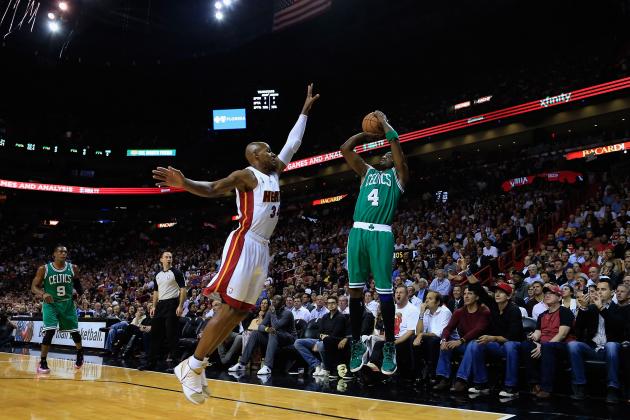 Chris Trotman/Getty Images

Miami Heat: A-
The Miami Heat starters clearly played well. The stars of this game, however, came from the second unit.
The bench combined for 32 points on 10-of-15 shooting. They also collectively made four three-pointers, matching the number that the starting lineup posted.
The star of the second unit was clearly former Boston Celtics star Ray Allen, who put up 19 points on 5-of-7 shooting. Allen was 2-of-3 from beyond the arc and 7-of-8 from the charity stripe.
With Rashard Lewis pitching in 10 points and five rebounds, the Heat solidified their offensive attack just long enough to create a margin that the Celtics could not overcome.
Boston Celtics: C+
Leandro Barbosa was phenomenal. The late offseason signing scored 16 huge points, all coming during a fourth-quarter rally which saw the Celtics close a 17-point gap to just four with 2:04 to go.
Unfortunately, the rest of the Celtics second unit was horrendous. Jason Terry, Jeff Green and Jared Sullinger combined to score 13 points on 3-of-13 shooting, allowing the Heat to capitalize on a severe drop-off in production.
After all, Barbosa's late-game heroics came when a seemingly insurmountable lead had already been established. No matter how brilliantly he played in the final frame, there is no way to make up for a near 20-point deficit when playing the Miami Heat.
The severe late-game disadvantage can be placed directly on the shoulders of Terry, Green and Sullinger.