Pinpointing Where Every NFL Coach on the Hot Seat Went Wrong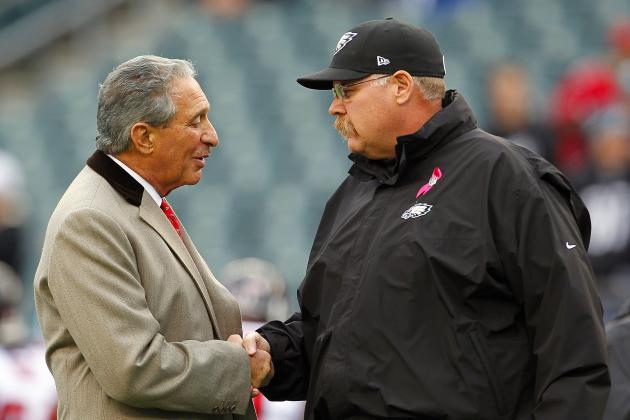 Rich Schultz/Getty Images

We are getting to the point in the NFL season when rumors start to swirl about what head coaches might get their walking papers as the year progresses. While most front offices and organizations wait until December or the end of the regular season in January, there is a precedent for coaches being fired mid-stream.
Todd Haley was a prime example of this last season.
Are Andy Reid and Norv Turner to blame for the mediocre play of their teams? Of course. Are they the primary reasons that the Philadelphia Eagles and San Diego Chargers have struggled throughout the last two seasons? Of course. Will it cost them in the long run? That remains to be seen.
Today's article is going to focus on six head coaches firmly entrenched on the hot seat and what got them in that precarious position.
Begin Slideshow

»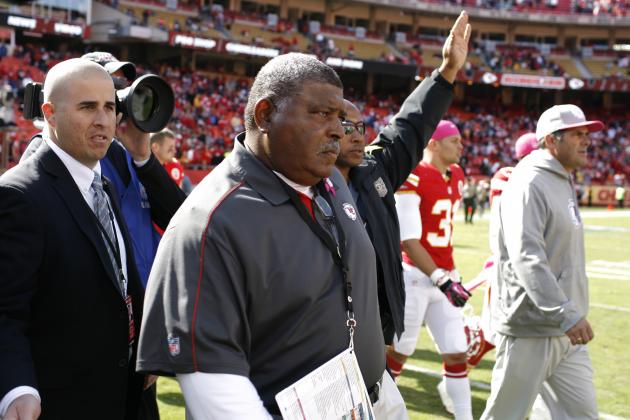 Kyle Rivas/Getty Images

From an outsiders perspective it seems that Romeo Crennel has lost his team. How else would you explain a roster this talented winning a total of one game through the first half of the season?
Of course there are indicators of failure on the football field that don't have much to do with coaching. Crennel cannot control the 29 turnovers that Kansas City has committed through eight games. He cannot magically appear on the field and force Matt Cassel to go through reads and stop holding the ball like a loaf of bread.
Heck, Crennel cannot snap his fingers and turn his quarterback into Len Dawson. Cassel has failed Crennel as much as the head coach has failed his team over the course of the first eight games.
He can, however, put his team in better situations to succeed.
His game management has struggled a great deal at times this season. How in the world does Jamaal Charles rush the ball a total of five times against the Oakland Raiders in a game that was close through the first three quarters?
Well, Crennel didn't even have an answer for that.
Charles touched the ball a total of 15 times before leaving last night's humiliating loss to the San Diego Chargers with a neck injury that doesn't appear to be too serious. Still, questions remain in regards to what Crennel knows about the Chiefs' offensive philosophy and his control over the rest of the coaching staff.
This is what worries me the most about the veteran coach. He needs to be able to understand what is happening within a game. The trends, if you will. Not having an answer to a simple question like that is unacceptable.
In the end it all comes down to wins and losses. Kansas City currently possesses the worst record in the National Football League when it has a total of seven or eight Pro Bowl caliber players.
Heck, Peter King over at CNNSI had the following to say about his visit to training camp back in August when discussing Kansas City's loss last night.
I visited 23 camps this summer. Thought the Chiefs, w/Bowe in fold, had best collection of skill players of any team I saw.
For the record, King visited the New York Giants, Detroit Lions, San Francisco 49ers and Atlanta Falcons during the summer. This just goes to show you how Kansas City has struggled putting it together with the talent that it possesses.
Crennel should absorb a majority of the blame. My projection is that he is out as the Chiefs' head coach within the next two weeks.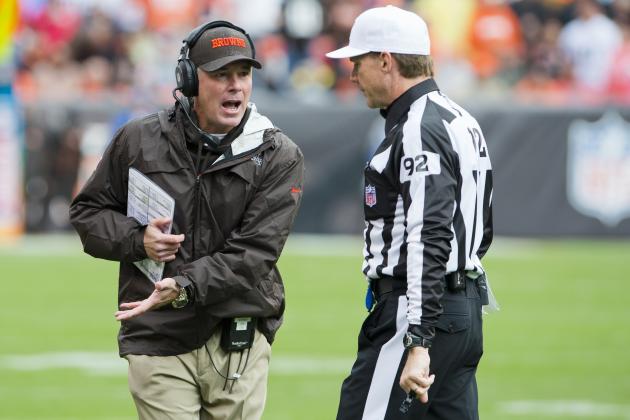 Jason Miller/Getty Images

Again, it is all about wins and losses. While the Cleveland Browns have shown a tremendous amount of improvement this season, the fact remains that they have a .250 winning percentage under Pat Shurmur in his first season and a half as their head coach.
Cleveland has lost its six games by an average of just over a touchdown. This just goes to show you how it has remained competitive on a consistent basis.
At this point it is all about getting over the moral victories and actually winning games. Though Cleveland does still have a young team, Shurmur is not putting it in position to win on a majority of its games.
He continues to struggle calling the right plays at the right time and making the right decisions. Instead, it seems that Shurmur and his staff are outcoached on a near weekly basis. This was most evident in a 17-13 loss to the Indianapolis Colts in Week 7.
The other factor here is new Browns' owner Jimmy Haslam, who might want to put his own footprint on the team. Mike Holmgren has already announced he is going to step down from the role as team president, paving the way for more changes under the new ownership group.
Former Philadelphia Eagles exec Joe Banner has also been brought on as CEO of the Browns within the last few weeks. This signaled two of the first moves by the new ownership group.
I don't blame Haslam here either. As a lifelong Pittsburgh Steelers fan he knows firsthand what it means to win consistently. Taking over a franchise and keeping the same ol' figureheads in place won't turn it around.
That last point is probably one of the primary reasons Shurmur will find himself out of a job later this year or in the offseason.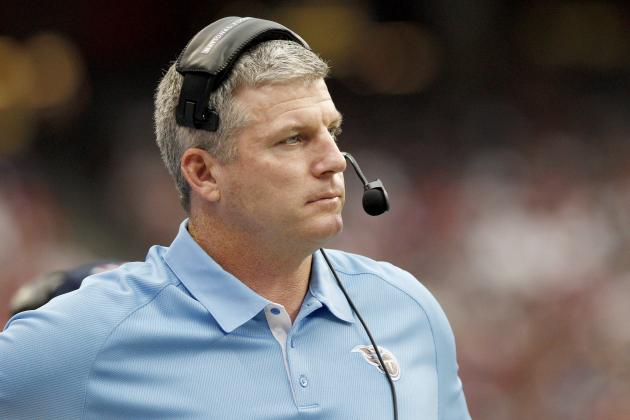 Thomas B. Shea/Getty Images

Mike Munchak has been a fixture for the Houston Oilers/Tennessee Titans franchise for the last 31 seasons, first as a Hall of Fame player, then as an assistant and now as its head coach. With that in mind, no one is immune from receiving the wrath of the fans and the organization alike.
Tennessee came into the 2012 season with expectations of earning a postseason spot after a surprising 2011 season. However, it has struggled through the first half of the season on both sides of the ball.
The Titans, who ranked eighth in scoring defense last season, are now 31st in the NFL in that category through the first eight weeks of 2012. They have given up at least 30 points in six of their eight games and a minimum of 400 yards in five different outings.
Tennessee's offense just isn't good enough to get over that type of lackluster play from the other side of the ball.
Munchak, an offensive lineman during his playing days, might be relying a great deal on defensive coordinator Jerry Grey to fix these issues on defense. Though, the buck must stop at the top and Tennessee has had one downright disgusting performance on defense.
With games remaining against the Chicago Bears, Houston Texans and Green Bay Packers, it's hard to imagine Tennessee finishing over .500 this season. If it fails to do so, there will be many calling for Munchak to be given his pink slip.
Moreover, a double-digit loss season, which Tennessee is currently on pace for, would most likely spell and end to his tenure in Nashville.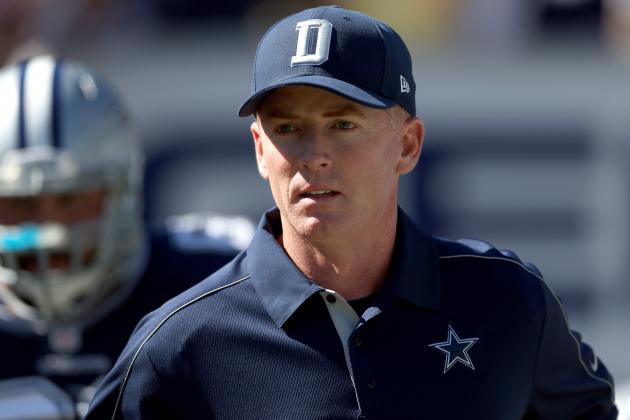 Streeter Lecka/Getty Images

When Jason Garrett's tenure began in November of 2010 following a Dallas Cowboys 45-7 loss to the Green Bay Packers, there were many who thought that his time had finally came. After all, Garrett, a long time assistant coach, had turned down a couple head coaching jobs elsewhere.
It didn't hurt that there was a train of thought that Wade Phillips, who was fired immediately after that embarrassing loss, had worn out his welcome.
Two years later Dallas is sitting at 3-4 and struggling to maintain a competitive edge against opponents when it comes to coaching.
A tenure that started out with visions of Jimmy Johnson and Barry Switzer has quickly morphed into comparisons to Dave Campo and Chan Gailey.
The reason? Fruitless play from star players and horrible coaching from the sideline. Yes, I am going to blame a lot of the Cowboys' problems on Garrett and the coaching staff, defensive coordinator Rob Ryan included.
There have been multiple times this season that the Cowboys coaching staff has been, for lack of a better word, lost.
One specific situation comes to mind.
Dallas had the ball at the New York Giants 19 yard line late in last week's loss. Instead of running the ball with one yard to go, Garrett decided to throw it three consecutive times, the end result being a turnover on downs. You need to know the specific situation. If Dallas cannot gain one yard on three tries, the team is in more trouble than we first thought.
That just isn't acceptable at this level.
Dallas expects more than mediocrity from its football team, and over the course of the last decade or so, they have not received it. Jason Garrett just might be the latest in a long line of head coaches that is unceremoniously thrown out of town.
At this point I wouldn't blame Jerry Jones for showing him the door unless the Cowboys improve drastically in the coming weeks.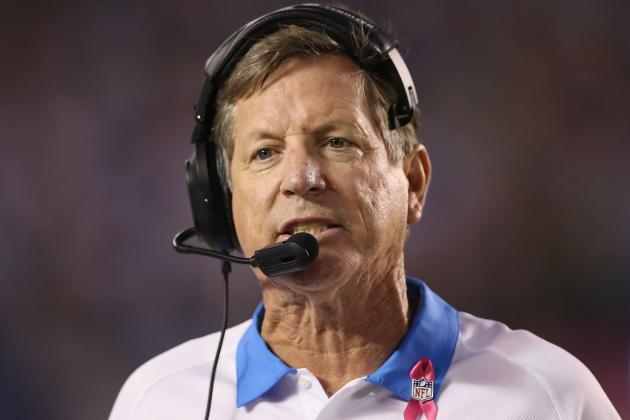 Jeff Gross/Getty Images

There is no other way to go about it, Norv Turner is firmly entrenched on the hot seat. Heck, his bottom side should have third degree burns by now. Many had figured that Turner would be out of a job following a disastrous 2011 performance that saw the San Diego Chargers finish 8-8 and miss the playoffs in a division without a team possessing a record over .500.
How does that happen when you have a myriad of different talented players on both sides of the ball? How does a team that had won 13 games just a few seasons earlier fall like this so quickly?
It goes without saying coaching is a factor here.
Following its embarrassing 7-6 loss to the lowly Cleveland Browns on Sunday, speculation started to heat up again that Turner would be ousted in short order.
San Diego then had to take on one of the worst teams in the NFL in the form of the Kansas City Chiefs last night on a short week.
What happened?
The Chargers came out firing on all cylinders, scoring an early touchdown and taking control of the game quickly. They played damn good football for four quarters against the worst team in the National Football League. In reality, it was probably San Diego's finest all-around performance of the season.
This will save Turner's job for one more week, but the hot seat isn't going away any time soon. San Diego doesn't just need to make the playoffs this season—it needs to go deep into January in order for the embattled head coach to keep his job.
I just don't see the Chargers being consistent enough to outlast the Denver Broncos and Peyton Manning in the AFC West. Another 8-8 or 9-7 season, which seems likely at this point, will end Turner's tenure in Southern California.
All the blame cannot be placed on the shoulders of Turner. When looking at player personnel moves, the lack of team chemistry and the performances we have seen over the last 40 games, it is important to take a look at San Diego general manager A.J. Smith, too.
With that in mind, Yahoo's Mike Silver brought up a great point as it relates to the Chargers prior to Thursday night.
If ever a general manager and coach should be joined at the hip, Smith and Turner are those people. The notion that Turner might get torpedoed even a day earlier than his GM is a complete injustice. If anything, I could make an argument that Smith should be the first to go, and that Turner should get another eight games to try to coach his way out of this mess.
Bravo, Mr. Silver. Yes, the head coach and general manager are "joined at the hip." If Turner is fired later in the season or in the offseason, Smith should follow suit. It is pretty obvious at this point that San Diego doesn't have a championship-level roster and that blame should go to the front office, not the head coach.
Barring dramatic improvements and a deep run into the postseason, look for San Diego to clean house in the offseason. Additionally, if the Chargers are out of the playoff race late in the season there stands a chance that both Turner and Smith will be out of jobs before the regular year ends.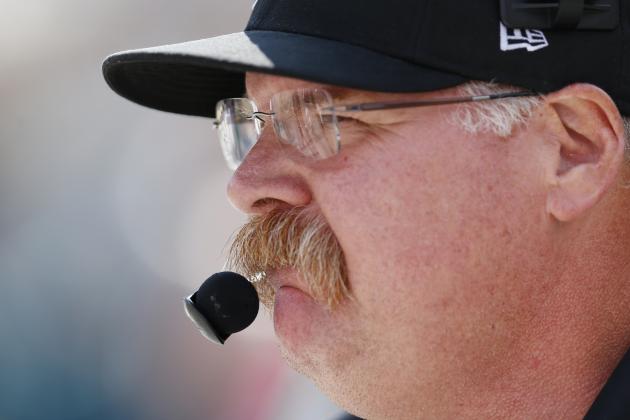 Joe Robbins/Getty Images

Let's get one thing straight. Andy Reid is the greatest thing to happen to the Philadelphia Eagles since Norm Van Brocklin led the franchise to an NFL Championship in 1960.
He took over an irrelevant NFL franchise that was coming off disastrous seasons under the "leadership" of Rich Kotite and Ray Rhodes. The Eagles—who had made the playoffs a total of 10 times from 1961-1998, a 38-year span—have earned postseason spots nine times in Reid's 13 seasons at the helm.
You simply cannot discount what he has done for this franchise.
That being said, there comes a time when all great things must end. While it would take a lot for Eagles' owner Jeffrey Laurie to fire the long time head coach, it just appears that Reid is in the midst of his final act as their head coach.
Whether it was the firing of defensive coordinator Juan Castillo or the talk of replacing Michael Vick at quarterback with rookie Nick Foles, it seems that Reid is just looking for scapegoats at this point.
While Vick will remain the starter this week against the New Orleans Saints, the simple idea that Reid was considering replacing him with a rookie should tell us exactly how much confidence the veteran head coach has in his players.
On a related note, Vick held a "player only" meeting on Thursday in order to help build a foundation of unity moving forward. This isn't uncommon for teams that are struggling, but it might show a disconnect between the players and their coaching staff.
At the very least, there could be a minimal amount of distrust here. Either way you look at it, Reid's tenure is coming to an end in Philadelphia barring a Tom Coughlin-like resurgence during the remainder of the 2012 season.
Follow me on Twitter @VincentFrankNFL
Also check out eDraft for your fantasy sports fix.