Predicting Every 2012-13 NBA Award Winner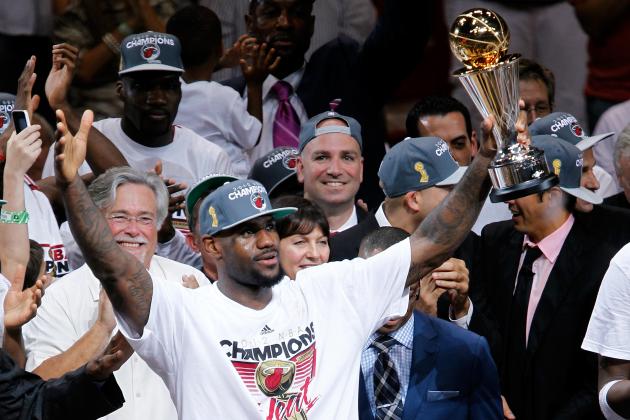 Mike Ehrmann/Getty Images

The NBA is peaking right now, and we are seeing some truly great basketball played by the most talented and physically gifted athletes in the world.
Who among them rises to the top in respective categories is a spot of debate year in and year out. Even after the season ends, these award winners are subjective to the voters.
This makes preseason predictions seem even more daunting. However, betting against your future self is always entertaining and valuable. It is a valuable test to your knowledge about the NBA when a prediction is made without the benefit of any information.
So here is our test. Who will win the individual awards of the 2012-13 NBA season?
Begin Slideshow

»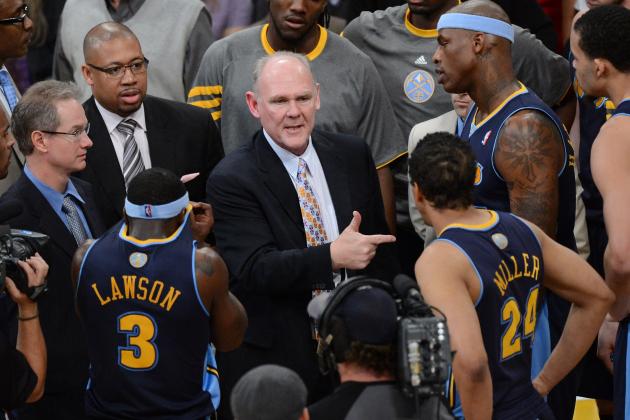 Kevork Djansezian/Getty Images

George Karl, Denver Nuggets
George Karl has always been an innovator as a head coach. His teams have always been among the most exciting to watch in basketball.
This year, the Denver Nuggets are in a great position. They are respected and known as a good team in the competitive Western Conference, but are still flying somewhat under the radar. They appear to remain a tick below the likes of Los Angeles, San Antonio and Oklahoma, which still allows them to sneak up on teams.
They had an underrated offseason, acquiring both Andre Iguodala and Anthony Randolph, while re-signing Andre Miller and Ty Lawson to an extension. They also drafted Evan Fournier and Quincy Miller in the draft.
Karl has been doing a fantastic job developing his young talent like Lawson, JaVale McGee and Kenneth Faried. The Nuggets took the Los Angeles Lakers to seven games in the opening round of the 2011-12 playoffs.
The rebuild from the Carmelo Anthony years has been impossibly fast, and the team is only getting better. This is all a credit to Karl and the system he employs, which allows young players to learn on the fly.
The Nuggets led the NBA in scoring in 2011-12 and shot a higher percentage than anyone outside of the Spurs. The Nuggets seem poised for another outstanding regular season, and with a defensive presence in the middle of the lineup in Iguodala, they have upgraded their biggest weakness.
Karl deserves this award for keeping his team competitive in the wake of Anthony's departure, but it will take a third or fourth seed for the Nuggets in order for him to get it.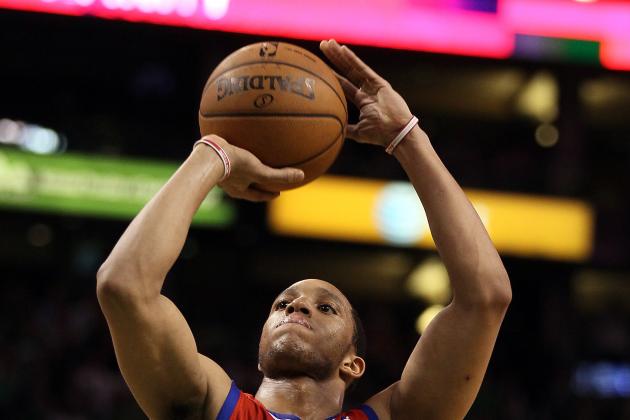 Elsa/Getty Images

Evan Turner, Philadelphia 76ers
Evan Turner's all-around potential is tantalizing. He brings a lot to the table while on the court and can fill up all different categories on a stat sheet.
After playing just 26 minutes per game in 2011-12, he is due for a serious bump in playing time with both Andre Iguodala and Lou Williams gone from the team. In those 26 minutes, Turner averaged nine points, six rebounds and three assists.
The 24-year-old is prepared to take on a much larger role for the 76ers, and those numbers are sure to skyrocket.
A lot will also hinge on his 76ers teammates. Without a healthy Andrew Bynum on the floor to draw attention, things can get very difficult for Turner.
His biggest improvements needed right now are a willingness to get to the line (under two free-throw attempts per game) and shot selection. Turner shot under 45 percent from the field and a dismal 22 percent from beyond the arc.
If Turner can become a better shooter, with a longer range, then this award is his.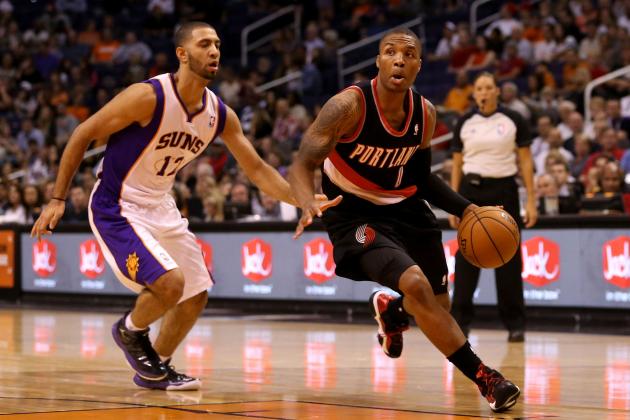 Christian Petersen/Getty Images

Damian Lillard, Portland Trail Blazers
With all due respect to Anthony Davis, this award seems to have a magnetic attraction to visible statistics. That is why the choice is Damian Lillard of Portland.
Looking at recent winners of the award, they all put up big points and solid stats across the board. Lillard is going to be in a position to put up those necessary stats with the Trail Blazers. He is their starting point guard and has some talented offensive players surrounding him. He will be among the league leaders in assists and could score nearly as much as any point guard in the league.
The common choice here will be No. 1 overall pick Anthony Davis. However, Davis is a different type of player, who won't necessarily shine on stat sheets. He'll have a few games here and there with some jarring totals, but averaging out on the season won't be anything that can surpass Lillard.
Four of the past five rookies to take home this award were guards. The one big man was Blake Griffin, who averaged 22 points and 12 rebounds over the full season. I don't think Davis is capable of that right away. Before him, Tyreke Evans and Kevin Durant were also high-scoring rookies.
The other two players were point guards Derrick Rose and Kyrie Irving last season. The string of floor generals to win the award will continue when Lillard earns it in 2012-13.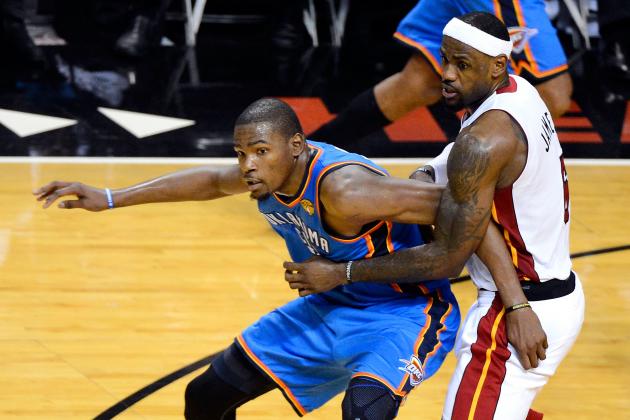 Ronald Martinez/Getty Images

Kevin Durant, Oklahoma City Thunder
One can try to talk people into Rajon Rondo or Kevin Love until they are blue in the face, but the NBA Most Valuable Player award is still a two-man race.
For me, the MVP has always hinged on the strict definition of valuable. So if you were to remove LeBron James from Miami, would they still be a playoff team? I think they would be, and a middle seed in the Eastern Conference at that.
However, removing Kevin Durant from Oklahoma City would be far more devastating. Due in part to the difficult conference, I am not sure the Thunder still make it into the postseason out west.
With the dealing of James Harden, the Thunder took a hit in the short term, without a doubt. It should open the door for the slight uptick in Durant's production that would necessitate this award.
While I don't fully buy into the theory that voters don't want to give it to the same guy over and over again, there is some truth to it. It is an undeniable human nature to do this, even subconsciously. James won seemingly every individual award possible this past year, filling his closet with NBA Championship, regular season and Finals MVP awards...and a gold medal.
Durant will lead the league in scoring for a fourth-straight season, and he will do so by a larger margin than in the past. He will also be required to improve in other areas with Harden gone, allowing him to pad numbers outside points per game.
All of these minor improvements will be enough for voters to give into their subconscious and award the trophy to Kevin Durant.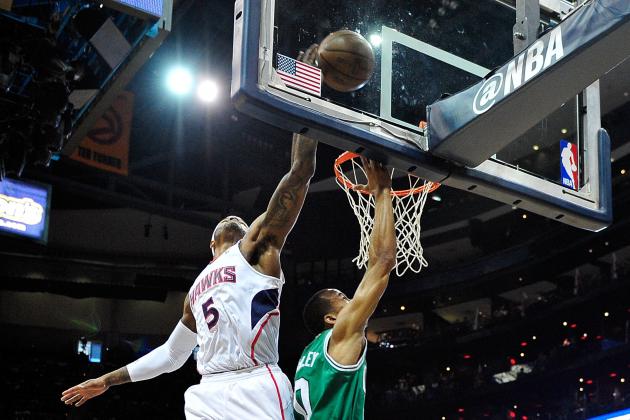 Grant Halverson/Getty Images

Josh Smith, Atlanta Hawks
Josh Smith's chance at this award has been a long time coming. He has been one of the league's premier defensive players for years and will finally get his due in 2012-13.
A lot of things are going for Smith this season. Joe Johnson is out of town, rendering him the biggest name and biggest star in Atlanta for the first time in his career. With that stardom comes much more notoriety and publicity, both good things for year-end awards voting.
Smith is also playing for a contract he believes he deserves. However, he has never made an All-Star team or an All-NBA team. This is a detriment for a player looking to get paid a large contract. A Defensive Player of the Year award will go a long way in earning Smith that much-wanted contract.
The Hawks are going to be sneaky good in 2012-13. After losing their No. 1 scoring option in the offseason, it could be seen as a down year. But Smith is still around and has a frontcourt mate in Al Horford who is just as vital to this team's success.
If the Hawks spend the season surprising people, Smith will be at the forefront of that conversation every time.
He is also a notorious stat-stuffer who doesn't just fill one defensive category, but all of them.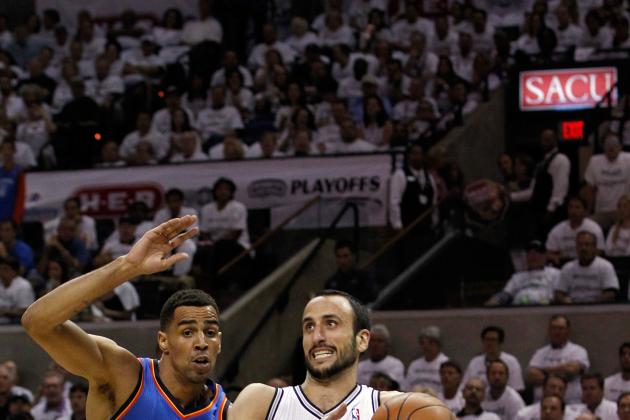 Tom Pennington/Getty Images

Manu Ginobili, San Antonio Spurs
With James Harden starting in Houston, Manu Ginobili has to be the favorite for Sixth Man of the Year.
There are more potential candidates than I can count and even more dark horses, but Ginobili makes the most sense.
The Spurs work better as a team with Ginobili coming off the bench, and it is also beneficial to their future plans. Ginobili's ability to seamlessly enter games as a reserve playing big minutes, allows the younger players like Danny Green to find their way in the NBA.
San Antonio will also be expecting improvement from Kawhi Leonard, who is a proven starter at both the small forward and shooting guard position. His steady play is what grants the Spurs the opportunity to have Ginobili off the bench.
Ginobili will see the most competition for this role from Jason Terry and Jeff Green, but being on the same team should help nullify their candidacy. Lou Williams, last season's runner-up, could and probably should see a decent amount of starts in Atlanta. The same goes for Ryan Anderson in New Orleans.
Total out-of-the-blue dark horse: Andray Blatche
Jared Wickerham/Getty Images

Guard: Rajon Rondo
The Boston Celtics are now very much Rajon Rondo's team. He will control the offense as well as contribute defensively. After the 2012-13 postseason, expectations on Rondo are higher than ever. If he lives up to them, All-NBA First Team is a given.
Guard: Chris Paul
The beauty of the All-NBA teams is not having to choose players according to specific position. Therefore, Chris Paul joins Rondo as a duo of point guards about to put together better seasons than any shooting or point guards in the league. Paul is the steadying influence on a less-than steady Clippers team. He is charged with guiding this team through the Western Conference while maintaining elite stats. That is impressive enough to warrant a spot here.
Forward: LeBron James
The best player in the world, playing the best basketball of his career. I'll spare you any more poetic waxing.
Forward: Kevin Durant
My pick for MVP obviously needs a spot on the first team. Via leading the league in scoring once again and taking on added responsibilities with the James Harden downgrade will boost him here easily.
Center: Dwight Howard
I have faith in his back holding up, and by midseason the Lakers should be cruising. Howard's worst enemy is his own mind. As long as he is happy with his situation, this spot is a lock.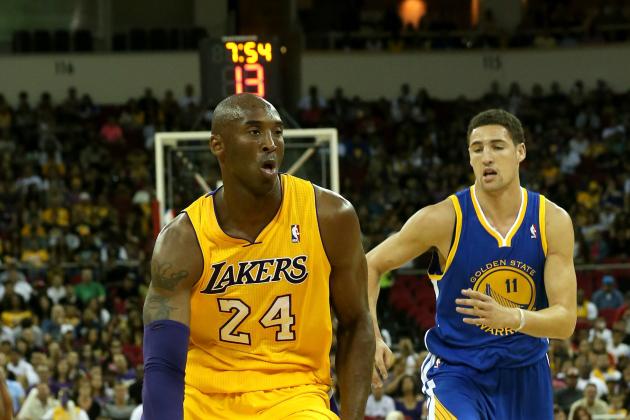 Stephen Dunn/Getty Images

Guard: Kobe Bryant
Like with Dwight, Los Angeles should really be cooking by midseason, just when these things start getting talked about. The Lakers are finishing in the top two or three in the Western Conference. With Kobe as the leading scorer as well as the vocal leader, a second-team nod is definitely on the table.
Guard: Deron Williams
I believe the NBA will show some love to their new darlings, the Brooklyn Nets. Deron Williams is more than qualified to be placed here, as he has been on this team twice before. The Nets are much improved and Williams has returned to caring about his team's play. A big season is on tap for the Brooklyn point guard.
Forward: Carmelo Anthony
Kevin Love gets shifted out of this spot for missing the first month-plus of the season. Still, I'm expecting a big year out of Carmelo Anthony, who gets to start the season without Amar'e Stoudemire. Anthony has his coach now and is acclimated to the New York area. He also has a fresh new rival in Brooklyn that is sure to add motivation.
Forward: Josh Smith
My Defensive Player of the Year should also perform well enough offensively to earn a spot on the second team. Smith, as I detailed previously, has an opportunity to be the star in Atlanta and will take full advantage of it in his contract season.
Center: DeMarcus Cousins
Cousins dramatically increased his production as an NBA sophomore. Now it is time to take the step to superstardom. If he can get his shooting percentage a hair closer to 50, then he will have no trouble averaging 20-to-22 points per game. If he can grab 10-to-12 rebounds a night as well, there won't be two centers better than him in the NBA.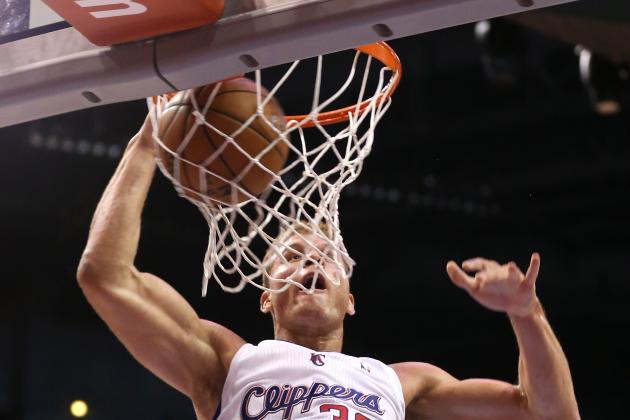 Stephen Dunn/Getty Images

Guard: Kyrie Irving
Kyrie Irving is supposed to make the leap this season, and I think seeing that earns him enough votes over a frustrating Russell Westbrook season and Tony Parker.
Guard: Dwyane Wade
Wade will be playing on the best team in the Eastern Conference, and perhaps the NBA, while putting up his usual totals. He also looks to be 100-percent healthy after last year's troublesome knee.
Forward: Blake Griffin
Though I believe they are slightly hollow, nobody else in the NBA can rack up the glory stats like Blake Griffin. Those numbers staring you in the face make it hard to pass him over.
Forward: Kevin Love
The injury drops him from second team to third team, but he will return—and when he does, he shouldn't be any worse for wear.
Center: Al Jefferson
This spot is a total pick 'em. I don't have faith in Andrew Bynum and Philadelphia to have a good enough season to warrant a lock here. I put Bynum right up with Kevin Garnett, Al Jefferson, Tim Duncan and Andrew Bogut.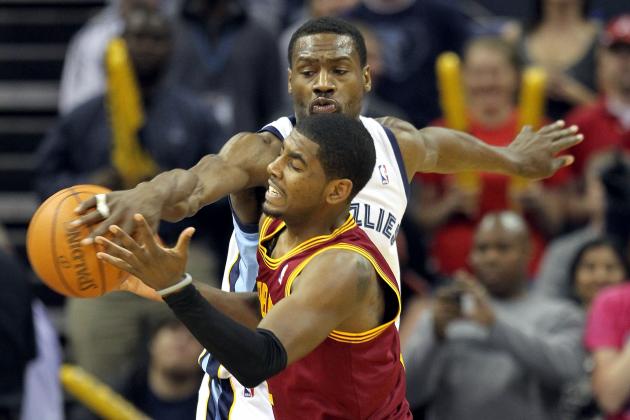 Andy Lyons/Getty Images

Guard: Tony Allen
The NBA's premier perimeter defender will earn this spot with relative ease.
Guard: Andre Iguodala
I like Andre Iguodala in 2012-13. He has been dealt to one of the worst defenses in the NBA, but his ability to transform a team by shutting out a singular opponent is unmatched by any other guards in the league.
Forward: Josh Smith
Naturally, my pick for Defensive Player of the Year earns a spot on the All-Defense First Team.
Forward: LeBron James
LeBron is the best defender in the league, capable of guarding as many positions as he is. Depending on the game or series, he can take point guard or centers, and anyone in between.
Center: Dwight Howard
The defensive presence in the middle that Dwight Howard gives Los Angeles is immense. He will be racking up blocks protecting the rim for Steve Nash, and having a seven-footer next to him won't hurt either.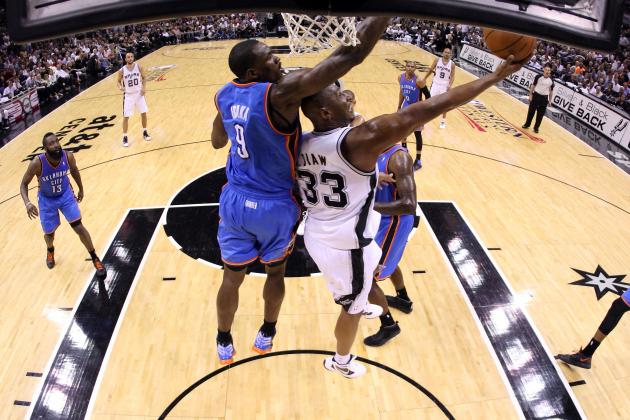 Ronald Martinez/Getty Images

Guard: Chris Paul and Rajon Rondo
Both Rajon Rondo and Chris Paul did not earn their All-NBA First Team spots for solely offense. Both are elite defenders as well. If fully healthy for a full season, I would consider Iman Shumpert and Avery Bradley for these spots.
Forward: Serge Ibaka
Ibaka is an elite shot-blocker who protects the rim better than almost anyone in the NBA. In Oklahoma City, that is a necessity.
Forward: Luol Deng
If the Bulls are going to remain competitive with Derrick Rose out, it is going to be because of their defense. Therefore, Luol Deng will be having a monster year defensively for Tom Thibodeau.
Center: Kevin Garnett
Boston has the potential to be the league's best defensive team, a distinction it has been in the running for since Kevin Garnett donned a green jersey. His move to center complicates this spot, but he should beat out Tyson Chandler and others for the distinction.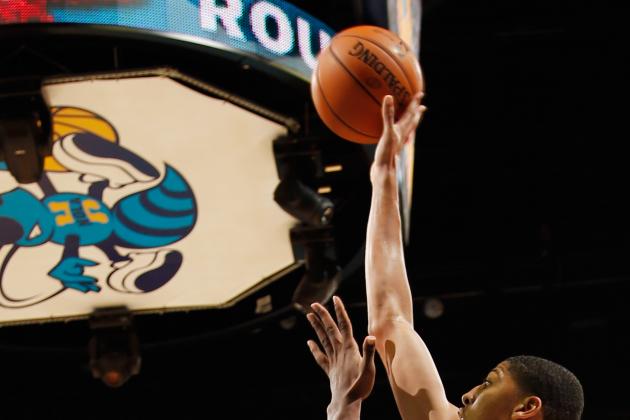 Chris Graythen/Getty Images

Damian Lillard
My pick for Rookie of the Year is a member of the All-Rookie First Team.
Anthony Davis
The No. 1 overall pick may lose out on Rookie of the Year, but he is a no-doubter here.
Bradley Beal
He will have a hard time until John Wall returns, but no other guard can take this spot from him.
Michael Kidd-Gilchrist
If the Bobcats become an exciting team to watch because they are actually competitive in games, huge credit goes to Kidd-Gilchrist.
Harrison Barnes
It was good news when Harrison Barnes was named a starter for Golden State. Starting spots on teams with playoff potential as a rookie are rare.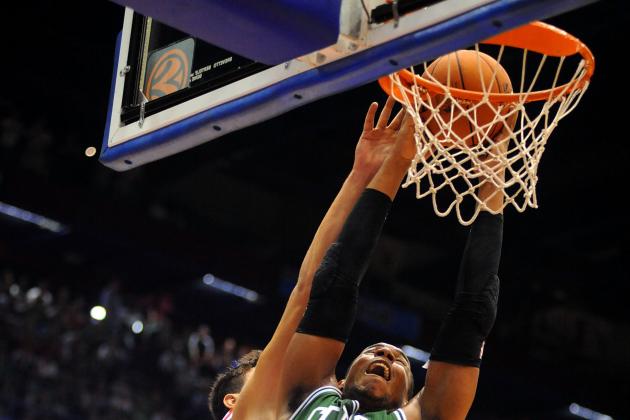 Roberto Serra/Iguana Press/Getty Images

Jonas Valanciunas
Same that went for Harrison Barnes goes for Jonas Valanciunas. He will be starting on a Toronto team that I like for the No. 8 seed in the Eastern Conference.
Jared Sullinger
Despite what he showed in the Celtics opener against Miami, I am still very high on Jared Sullinger's rookie year.
Andrew Nicholson
Always like rookies who will be given opportunities to fail and fail until they do succeed. For Nicholson, the failing should work its way out early, and he'll be a valuable rookie in no time.
Andre Drummond
Everything Andre Drummond has shown thus far in preseason has impressed. He'll be paired up with a good player of similar traits in Greg Monroe and be given every chance to succeed in Detroit.
Jae Crowder
A bit of a sleeper here, but the Mavericks are high on him, and he will get serious playing time on a team with an odd feel to it.