Pittsburgh Steelers Progress Report: Where Do Things Stand Headed into Week 9?
Use your ← → (arrow) keys to browse more stories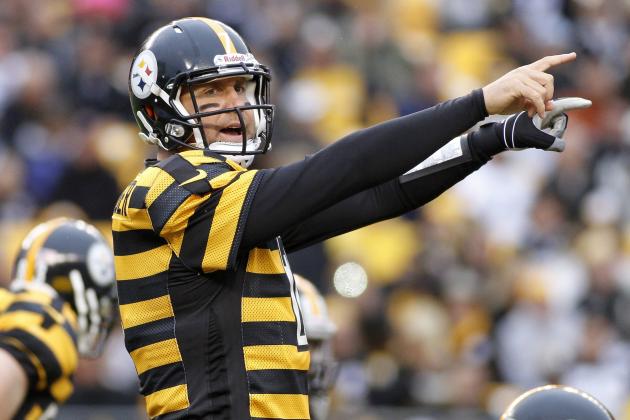 Justin K. Aller/Getty Images
After eight weeks, Ben Roethlisberger and company are headed in the right direction.
At 4-3, the Pittsburgh Steelers are edging ever closer to the top spot in the AFC North. Whether or not they reach that spot is just as much up to what they do in the coming weeks as it is what the Baltimore Ravens, who are currently No. 1, also accomplish.
With the division tightening, regardless, the Steelers' margin for error is rapidly shrinking. However, if their win over the Washington Redskins last week is any indication, they are a team on the rise, attempting to reach their peak at just the right time.
It doesn't get any easier for the Steelers—they travel to the Meadowlands this week to face the reigning Super Bowl champion New York Giants and face the Ravens twice in three weeks later in November. So the Steelers that took the field against the Redskins needs to be their standard level of play if they're to keep their heads above water and remain in the playoff hunt.
As such, let's take a look at the state of the Steelers franchise as they head into Week 9 and see what's been going well, what's been going less-than-well and how they can keep up their winning ways this Sunday.
The Good: The Run Game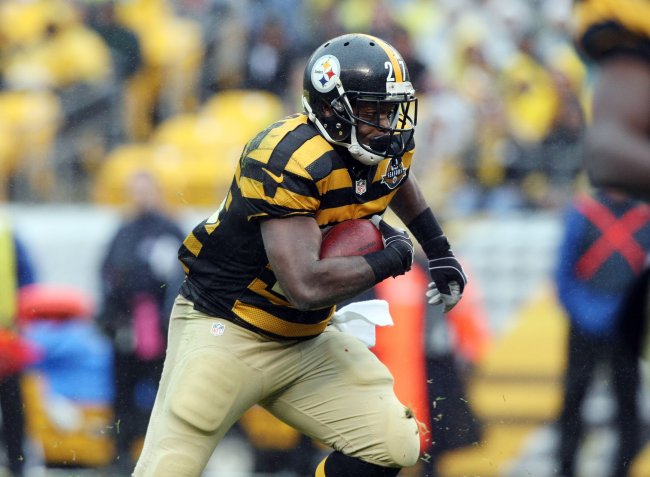 Jason Bridge-US PRESSWIRE
For the second consecutive week, Steelers running back Jonathan Dwyer rushed for over 100 yards. Though two games is a small sample size that makes it hard to definitively declare the Steelers run woes fixed, it's absolutely a good start.
Out of seemingly nowhere, Dwyer is now averaging 5.2 yards per carry. He had 122 yards on 17 carries in Week 7 against the Cincinnati Bengals and another 107 yards on 17 more carries last week against the Washington Redskins.
So what has changed? Has Dwyer just found his groove, or is there something else at play? No Steelers offensive lineman grades out positively in run blocking so far this season when the year is taken as a whole, but the addition of rookie Mike Adams at right tackle in place of the injured Marcus Gilbert points to a major reason why the run game has improved.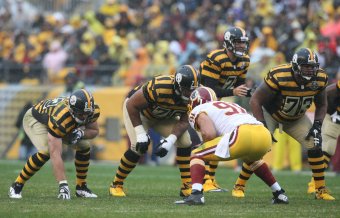 Jason Bridge-US PRESSWIRE
For the past two weeks, Adams has played every single offensive snap, and his run blocking has been his greatest strength. But that doesn't paint a complete picture. Taking a look at Dwyer's runs in Week 8, the bulk of his yardage came when running outside the left and right ends, with 35 and 34 yards respectively, followed by 21 yards between left guard and center.
In Week 7, Dwyer had more success in the middle of the line, with 40 yards coming from between left guard and center, 35 yards between center and right guard and 26 yards between right guard and right tackle. It's possible that the simple addition of Adams has made the entire line a better group when run blocking, but it also appears that everything is coming together for the Steelers' run game at the right time.
Dwyer is being used effectively and the line is breaking open holes better than they did earlier in the year, resulting in a more productive run game. The fact that the Steelers have also dedicated themselves to the run, even when they played from behind against the Bengals in Week 7, shows that their problems were likely ironing themselves out on the practice field far before we saw in-game improvements.
Whether it's Dwyer getting into a groove, the addition of Adams on the line, the rest of the line finally sharpening their run blocking skills or a combination thereof, it's been a welcome surprise that the Steelers can finally run the ball. They've jumped from the bottom of the league in rushing yards per game to 21st in just two weeks.
Another game with 100-plus yards for Dwyer and they may finally be in the top half of the league when it comes to running the ball.
The Bad: Pass Rush?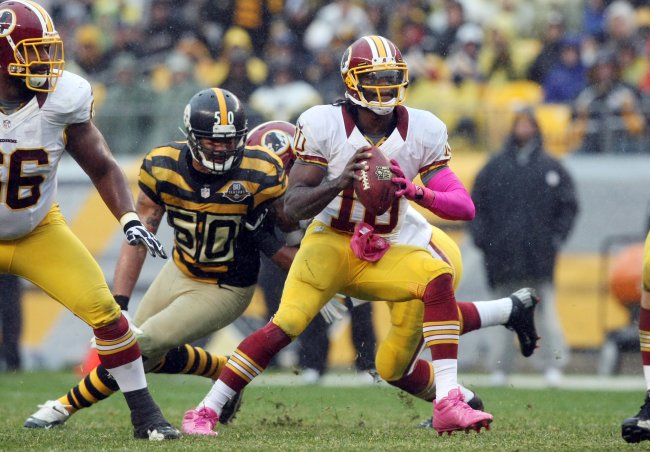 Jason Bridge-US PRESSWIRE
The Pittsburgh Steelers yet again have the top pass defense in the league, giving up just 182.6 passing yards per game. They allowed Redskins quarterback Robert Griffin III only 177 passing yards in Week 8, but sacked him just once, even though he had been sacked 16 times heading into the game.
Granted, the Steelers are doing an excellent job defending the pass, but it would be a more complete attack if they could just get their pass rush going. With 12 sacks, they are tied at 24th in the league, and no defender grades positively in the pass rush according to Pro Football Focus.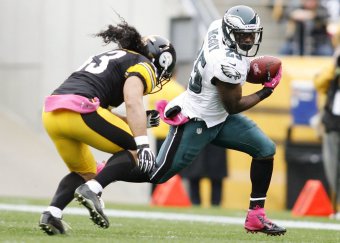 Charles LeClaire-US PRESSWIRE
Being without strong safety Troy Polamalu has shifted the Steelers' defensive focus. Without him, their many unpredictable ways to get to quarterbacks have been abridged considerably.
While they've found other ways to nullify passing games—namely by being incredibly strong in coverage and allowing few yards after the catch—the drive-killing powers of the pass rush is an important defensive component they are lacking.
The Steelers need to find ways to get their blitz game going without Polamalu. No Steelers defensive back has notched a sack yet, though they have been successful in forcing quarterbacks into bad throws by sending pressure.
Down the stretch, the Steelers face a number of tough quarterbacks, starting with Eli Manning this Sunday. They'll need to do more than just perform well in coverage in order to hold down passers of his caliber.
What's Next: The New York Giants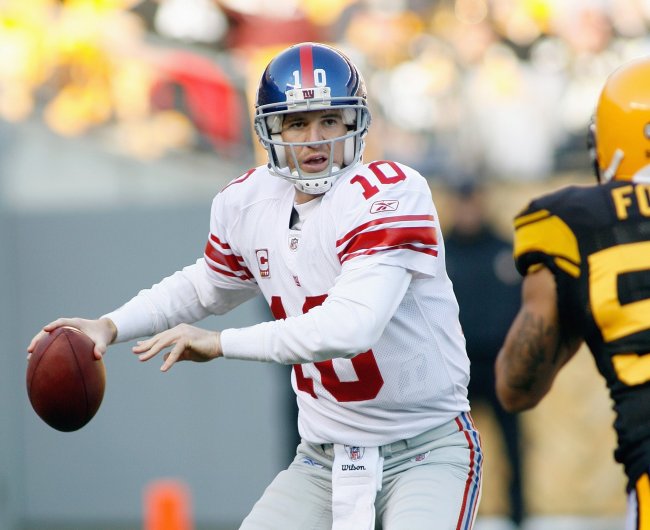 Rick Stewart/Getty Images
The main concern for the Steelers when they take on the New York Giants this Sunday is to keep their offensive mistakes to a minimum. The Giants have 16 interceptions and 12 forced fumbles on the year (with eight recoveries) and few teams are taking advantage of their opponents' mistakes than the defending Super Bowl champions.
Pittsburgh's offense is well-suited to face a defense of the Giants' caliber, however. With a more conservative passing game now that Todd Haley is calling the plays, Ben Roethlisberger has thrown just three interceptions, their running backs have fumbled only twice and their receivers three times, with only two of those five lost.
Protecting the ball will be of major concern, however. If they can do so, and keep along their low-risk, high-reward offensive path, the Steelers can certainly outscore and defeat the Giants.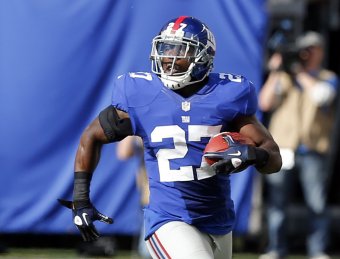 Jim O'Connor-US PRESSWIRE
On defense, the Steelers will have to force Eli Manning into mistakes of his own. Manning has been picked off eight times already, and if the Steelers can blanket his receivers and bring some pressure, he can certainly be thrown off his game and make repeated bad throws.
Ultimately, the winner of this game will be the team that is the most consistent and error-free on offense through all four quarters. If the Steelers offense can be described as anything this year, "consistent" is certainly that. It won't be easy—this is not the up-and-down Giants team of seasons past—but it's nowhere near impossible.