Ranking the Intelligence of MLB Teams by the Price of Each Win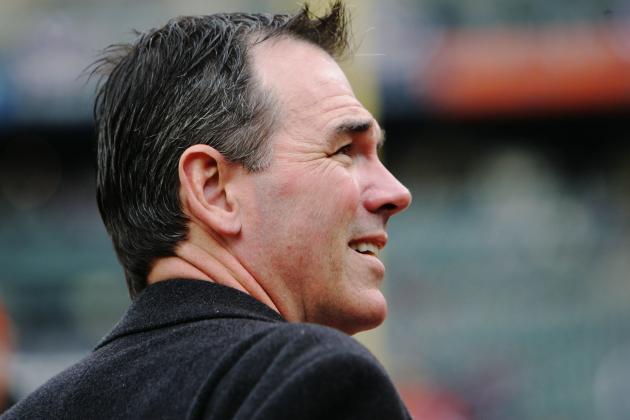 Jed Jacobsohn/Getty Images
Billy Beane knows how to win games with a low payroll.
The San Francisco Giants won the World Series, and there's no doubt that they were the better team and deserved to hoist up the Commissioner's Trophy.
Winning games is obviously the goal in Major League Baseball, but I thought it could go deeper than that. Unlike football, baseball doesn't have a salary cap, and that gives small-market teams more of a disadvantage.
So, I wanted to see how much each team paid per win in 2012. I took each team's payroll (via CBS Sports) at the beginning of the season and divided it by the number of wins it had in the regular season.
Here is the list, ranked from most expensive to least. Obviously, the lower the price, the better.
Begin Slideshow

»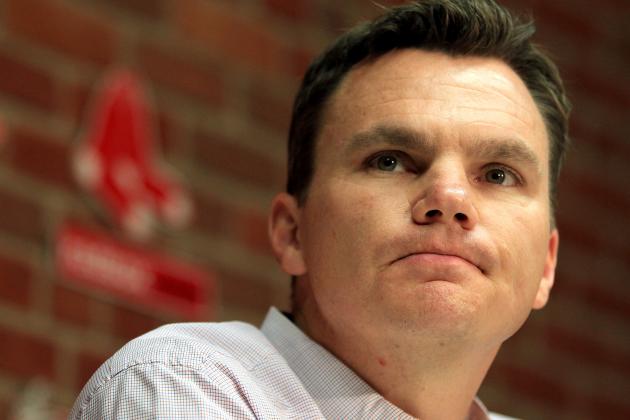 Jim Rogash/Getty Images
Ben Cherington and the Red Sox had a dismal year.
2012 Payroll: $173,186,617 (3rd)
Wins: 69 (t-24th)
Price of Each Win: $2,509,950
It was a disastrous season for the Boston Red Sox. They had high hopes for 2012, but they just never got it going.
It's never a good sign when you have the third-highest payroll and finish near the bottom in the standings.
The Sox started to rebuild when they traded Adrian Gonzalez, Carl Crawford and Josh Beckett. They were able to free up a lot of money, and they should be a big player in the offseason.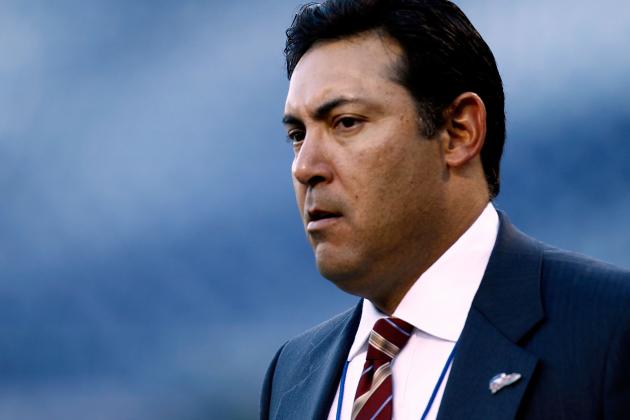 Jeff Zelevansky/Getty Images
Ruben Amaro Jr. didn't expect his Phils to tank it in '12.
2012 Payroll: $174,538,938 (2nd)
Wins: 81 (t-16th)
Price of Each Win: $2,154,801
After reaching the World Series in back-to-back seasons in 2008 and 2009, the Phillies have underachieved, especially with the type of money they have spent.
The Phillies owe $56.5 million to Cliff Lee, Roy Halladay and Cole Hamels each year. That's about one-third of the payroll to just three players.
The pitching was good, but that's only one part of the game. The Phils ranked 19th in runs scored and 15th in batting average.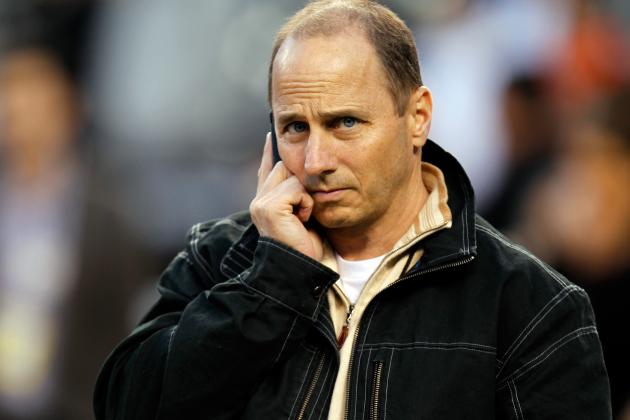 Gregory Shamus/Getty Images
By Yankee standards, Cashman failed in '12.
2012 Payroll: $197,962,289 (1st)
Wins: 95 (3rd)
Price of Each Win: $2,083,813
For the second straight year, the New York Yankees were eliminated in the postseason by the Detroit Tigers. While making the playoffs is good, New York expects more from its team.
The Yanks will continue to be successful, but is it really that hard when you have that big of a bank?
Look what happened when the Yankees missed the playoffs in 2008. They went out and bought CC Sabathia and Mark Teixeira. The result? A World Series championship the next season.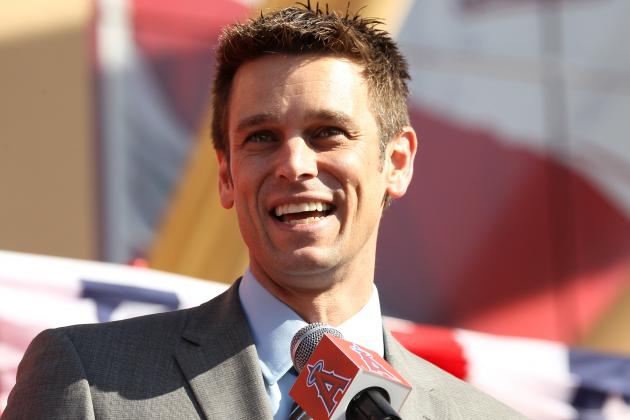 Stephen Dunn/Getty Images
Jerry Dipoto and the Angels fell short of expectations in 2012.
2012 Payroll: $154,485,166 (4th)
Wins: 89 (10th)
Price of Each Win: $1,735,788
The Angels opened up their wallets prior to the start of the 2012 season. It didn't do them much good, though, because they still failed to make the playoffs.
Albert Pujols had his worst season as a major leaguer, and C.J. Wilson went 4-5 with a 5.54 ERA in the second half of the season.
They have Mike Trout, who will be a stud for a very long time, but perhaps they're trying too hard. On the 2002 World Series-winning team, the Halos had guys like David Eckstein, Adam Kennedy, Jarrod Washburn and Ramon Ortiz.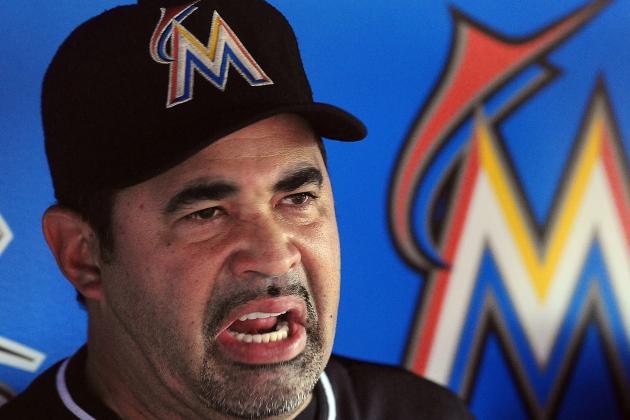 Jason Arnold/Getty Images
Ozzie Guillen got fired after a terrible season in Miami.
2012 Payroll: $118,078,000 (7th)
Wins: 69 (t-24th)
Price of Each Win: $1,711,275
The Miami Marlins had a new stadium, a new look and a new manager in 2012. For once, they finally went out and bought players in the offseason.
Too bad the new approach was just a facade.
There was turmoil in South Beach for basically the entire season. The team underachieved, traded away its franchise player in Hanley Ramirez and fired Ozzie Guillen.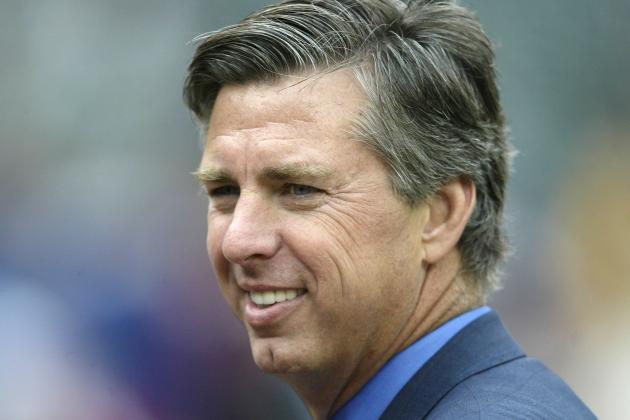 Tom Pidgeon/Getty Images
Dave Dombrowski wasn't afraid to spend money to get a good team.
2012 Payroll: $132,300,000 (5th)
Wins: 88 (t-11th)
Price of Each Win: $1,503,409
Dave Dombrowski and the Tigers got lucky to even make the postseason. If it weren't for a collapse by the White Sox (who lost 11 of their last 15 games), they would have been left out.
It's a good thing the Tigers made the playoffs, given they paid Prince Fielder $23 million and traded for Anibal Sanchez and Omar Infante at the deadline.
The Tigers ended up reaching the World Series, where many people expected them to finish, but those same people didn't expect to see them struggle during the regular season.
Jonathan Daniel/Getty Images
Theo Epstein had a lousy first season with the Cubs.
2012 Payroll: $88,197,033 (15th)
Wins: 61 (29th)
Price of Each Win: $1,445,853
Theo Epstein left one cursed team and joined another. If anyone can win a championship with the Cubs, it has to be Epstein, right?
The Cubs were terrible in 2012, but it's going to take Epstein some time to assemble the players he wants.
The Cubs might get beaten up for the next few years (unfortunately for them, the Astros leave the division), but Epstein has the tools to build for the future.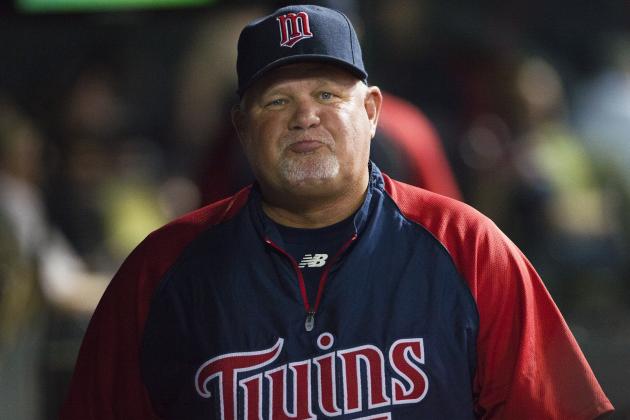 Jason Miller/Getty Images
Ron Gardenhire's Twins have been struggling.
2012 Payroll: $94,085,000 (13th)
Wins: 66 (27th)
Price of Each Win: $1,425,530
I was surprised when I saw the Twins payroll. For some reason, I just assumed that they'd be near the bottom.
But since they actually rank in the top half, that makes this season even worse.
When you think of the Twins, you think of a fundamentally sound team. But that wasn't the case in 2012. They committed the fourth-most errors in the AL and had the third-worst ERA in baseball.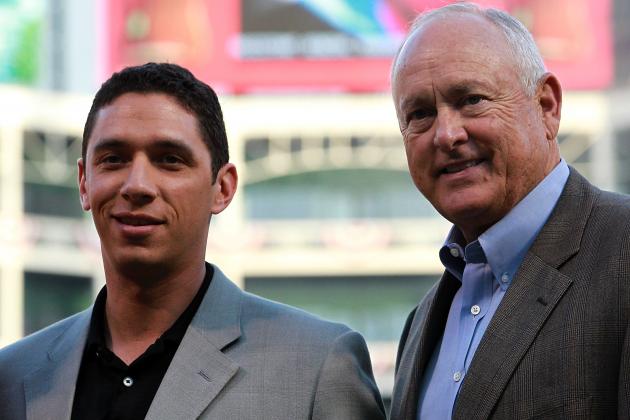 Ronald Martinez/Getty Images
Jon Daniels has found talent with a big bank behind him.
2012 Payroll: $120,510,974 (6th)
Wins: 93 (t-7th)
Price of Each Win: $1,295,816
The Texas Rangers have been one of the best teams in baseball over the last three years. They had back-to-back World Series appearances and have won a total of 279 games since 2010.
Their collapse at the end of the 2012 season will leave a bad taste in their mouths, though.
With a high payroll and a bunch of superstars, just making the postseason isn't good enough anymore for Jon Daniels and the Rangers.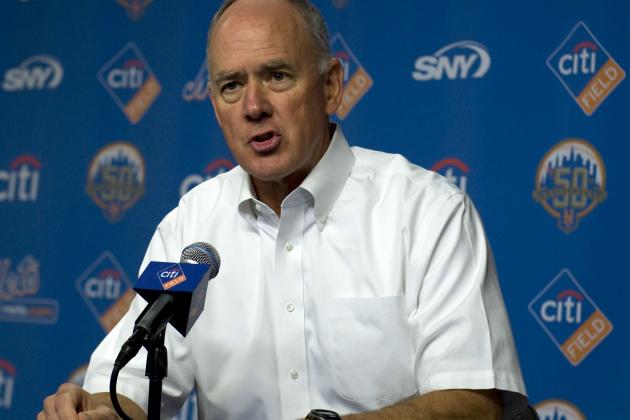 Jason Szenes/Getty Images
Sandy Alderson is trying to take his Moneyball approach to NY.
2012 Payroll: $93,353,983 (14th)
Wins: 74 (21st)
Price of Each Win: $1,261,540
Sandy Alderson was one of the key components to the "Moneyball" system in Oakland, and he's trying to bring his methods to the Big Apple.
The Mets were lousy again in 2012, but at least they were able to get more bang for their buck. In 2011, the Mets payroll was $119.65 million, and they won 77 games. That's $1.55 million for each win.
Alderson's sabermetric principles should give the Mets a better chance to win while spending less money.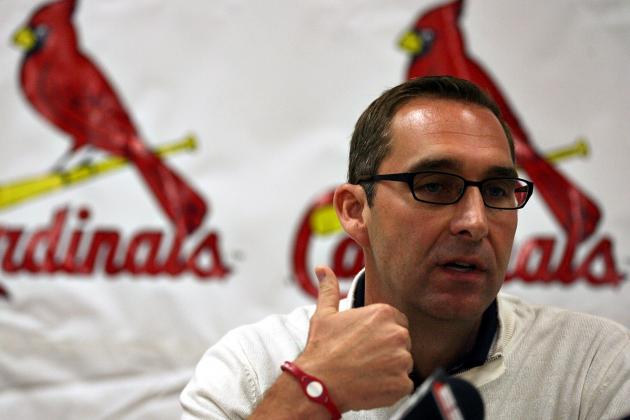 Marc Serota/Getty Images
John Mozeliak filled the void of Pujols very nicely.
2012 Payroll: $110,300,862 (9th)
Wins: 88 (t-11th)
Price of Each Win: $1,253,418
The Cardinals lost Albert Pujols to free agency and then played the regular season without Chris Carpenter and Lance Berkman because of injuries.
Even without three main components that won them the World Series in 2011, the Cardinals still got back to the 2012 NLCS.
The Cards do have a high payroll, but John Mozeliak surrounded the team with enough talent. The Carlos Beltran signing made a big impact, and the Cardinals got it together in the second half.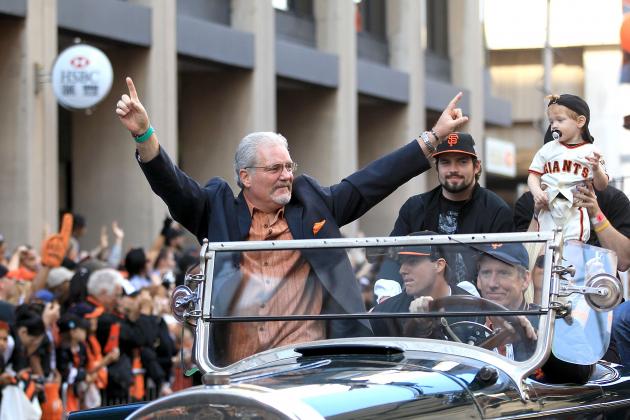 Ezra Shaw/Getty Images
Brian Sabean won his second WS in three years.
2012 Payroll: $117,620,683 (8th)
Wins: 94 (t-4th)
Price of Each Win: $1,251,283
The San Francisco Giants have won the World Series twice in the last three years. Obviously, the people in the front office know what they're doing.
The Giants have the eighth-highest payroll, but a lot of their key players are home grown.
Buster Posey, Tim Lincecum, Madison Bumgarner, Matt Cain, Pablo Sandoval, Brian Wilson and Sergio Romo were all drafted by the Giants.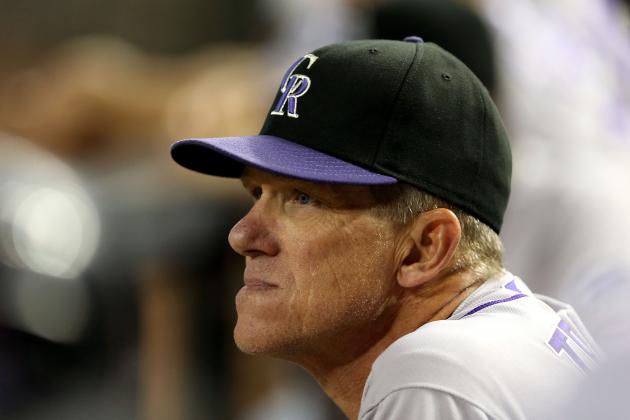 Christian Petersen/Getty Images
Jim Tracy resigned after finishing in the cellar.
2012 Payroll: $78,069,571 (22nd)
Wins: 64 (28th)
Price of Each Win: $1,219,837
The Rockies don't have a lot of money to spend, but they could have finished with more than 64 wins in 2012.
The biggest problem is that the front office became more involved in the managerial duties. Assistant GM Bill Geivett focused on roster management and pitching evaluation. Ultimately, it was Geivett who decided to incorporate the piggy-backing pitching philosophy the Rockies developed.
The Rockies were horrible in 2012, and they plan to use the same ludicrous pitching strategy again in 2013. Don't expect the Rox to climb the ladder.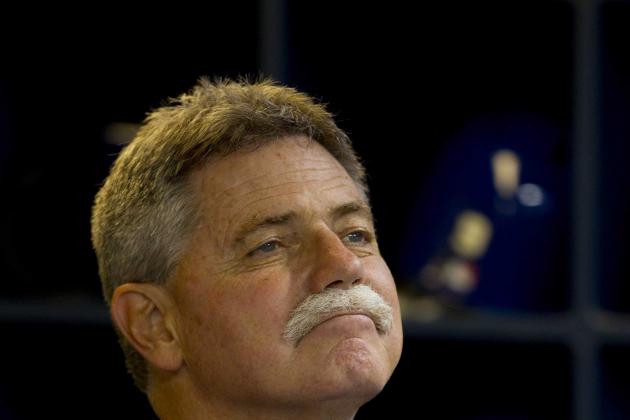 Jeff Hanisch-US PRESSWIRE
Doug Melvin did a pretty good job after giving up some stars.
2012 Payroll: $97,653,944 (10th)
Wins: 83 (15th)
Price of Each Win: $1,176,553
When the Brewers lost Prince Fielder to free agency and then traded away Zack Greinke before the deadline, they weren't supposed to be in contention.
But they were.
With few weeks left in the season, the Brewers were just a couple games back of the second wild-card spot.
Doug Melvin was able to get the Angels' top prospect, Jean Segura, in the Greinke deal. He kept his team in contention in 2012 while rebuilding for the future at the same time.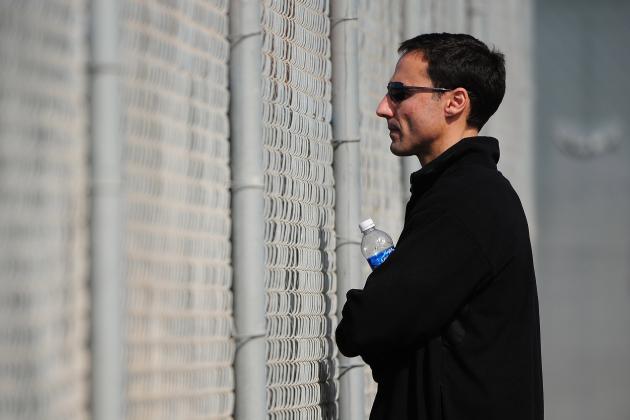 Kyle Terada-US PRESSWIRE
Chris Antonetti hopes his new manager will bring winning ways.
2012 Payroll: $78,430,300 (21st)
Wins: 68 (26th)
Price of Each Win: $1,153,386
Chris Antonetti saw his Cleveland Indians fall apart in the second half. The Tribe were 44-41 at the All-Star break and then finished the season with a 68-94 record.
It's not good to be this high on the list (No. 16) when you have a payroll in the last third.
The Indians have made plenty of mistakes, and they will count on Terry Francona to lead them out of the cellar.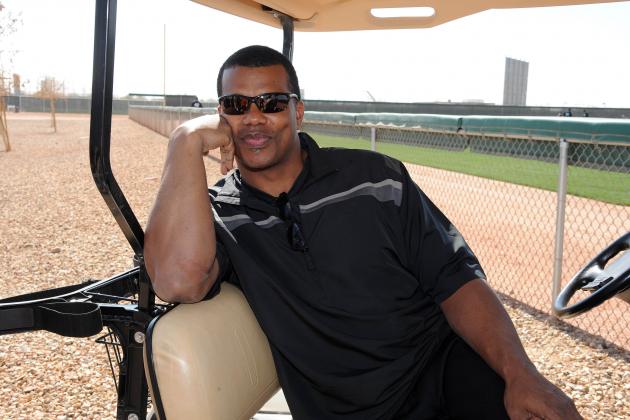 Kirby Lee-US PRESSWIRE
Ken Williams assembled a team to be in contention.
2012 Payroll: $96,919,500 (11th)
Wins: 85 (14th)
Price of Each Win: $1,140,229
The White Sox could have had a better showing on this list had they not lost 11 of their final 15 games. Even with the collapse, the Sox still had a solid, rebound season.
The Sox finally let Ozzie Guillen go, and they saw rookie manager Robin Ventura look like a vet, putting the team in contention all the way down the wire.
Ken Williams has to be excited for the 2013 season. His White Sox should be in contention again.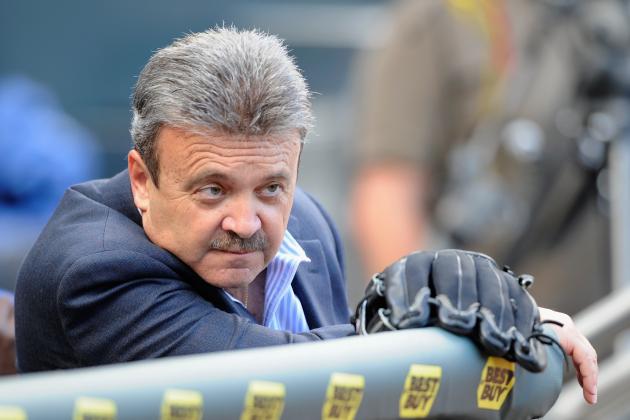 Hannah Foslien/Getty Images
Ned Colletti pulled out his checkbook for the 2013 season.
2012 Payroll: $95,143,575 (12th)
Wins: 86 (13th)
Price of Each Win: $1,106,320
The Dodgers had a payroll under $100 million at the start of the 2012, but that will be much higher at the start of next season.
After acquiring Adrian Gonzalez, Carl Crawford and Josh Beckett, Ned Colletti and the Dodgers will add an additional $260 million.
Injuries hurt the Dodgers in 2012, but if they aren't near the top next season, they will end up being like the Red Sox and Phillies.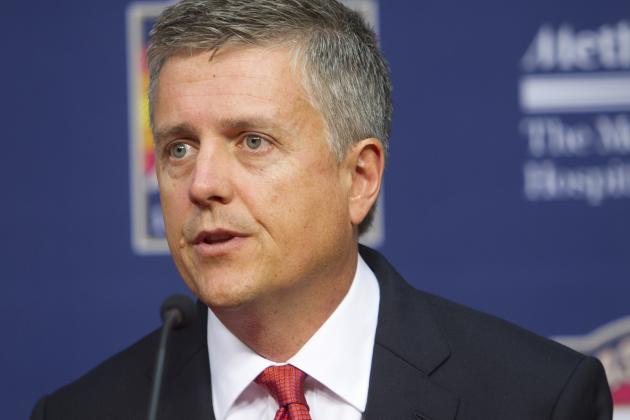 Bob Levey/Getty Images
Jeff Luhnow has a lot of rebuilding to do.
2012 Payroll: $60,651,000 (28th)
Wins: 55 (30th)
Price of Each Win: $1,102,745
With the second-lowest payroll, the Astros shouldn't be this high on the list. It just goes to show you how bad the Astros really were in 2012.
With only 55 wins, the Astros still had to dish out over $1 million per win.
Jeff Luhnow should pay attention to what the other small-market teams are doing. The team cannot blame the low payroll for finishing 26 games under .500.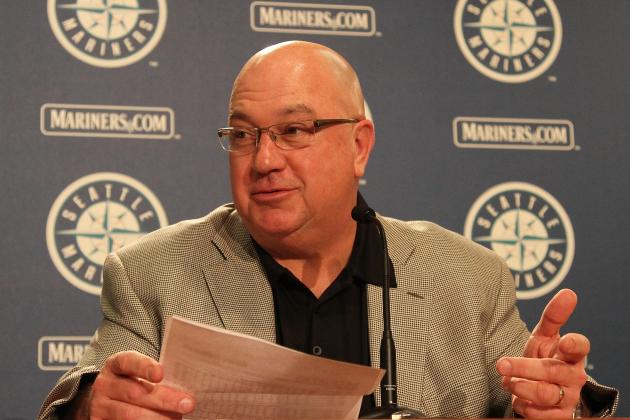 Otto Greule Jr/Getty Images
Jack Zduriencik has the Mariners going in the right direction.
2012 Payroll: $81,978,100 (18th)
Wins: 75 (20th)
Price of Each Win: $1,093,041
The Seattle Mariners have improved in each of the last three seasons. They won 61 games in 2010, 67 in 2011 and 75 in 2012.
The M's biggest problem isn't their payroll, it's their division. The AL West is loaded. The Rangers and Angels are going to be the giants, and the A's proved that they're even better.
Jack Zduriencik has done a good job getting young, talented players. Now he just has to make sure that they stick around.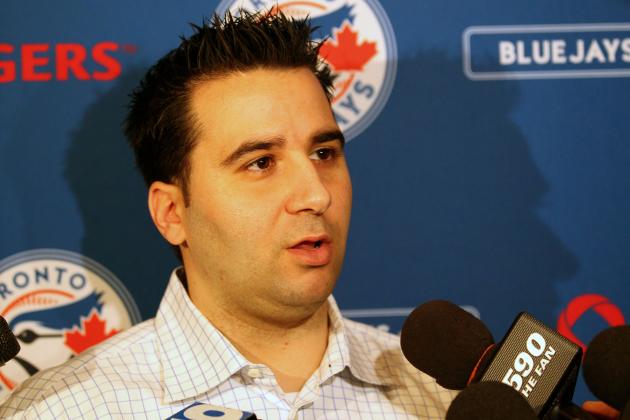 Matthew Emmons-US PRESSWIRE
Alex Anthopoulos will try to make the Jays competitive in the AL East.
2012 Payroll: $75,489,200 (23rd)
Wins: 73 (22nd)
Price of Each Win: $1,034,098
Every year it looks like the Blue Jays are going to have a breakout season. They started off looking good in 2012, but they went 30-46 in the second half.
Alex Anthopoulos has a tough task trying to compete in the AL East, but he's made a few moves that should help the team going forward.
He re-signed Edwin Encarnacion, and prospect Travis D'Arnaud is expected to be ready for MLB competition in 2012.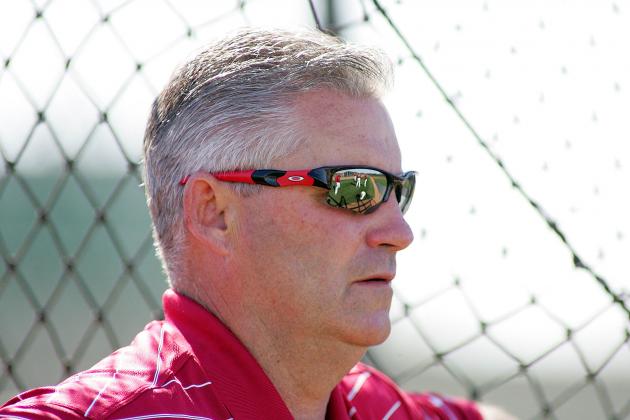 Jake Roth-US PRESSWIRE
Kevin Towers keeps his team in contention despite a low payroll.
2012 Payroll: $74,284,833 (24th)
Wins: 81 (t-16th)
Price of Each Win: $917,096
The Diamondbacks failed to make the playoffs in 2012, but they still were in contention, despite having the seventh-lowest payroll.
Kevin Towers has a solid core of young players and gave them a good manager in Kirk Gibson.
The D-Backs won the division in 2011, and if they get strong rebounds from Justin Upton and Ian Kennedy, coupled with the potential from their prospects, they should be fighting for it again in '13.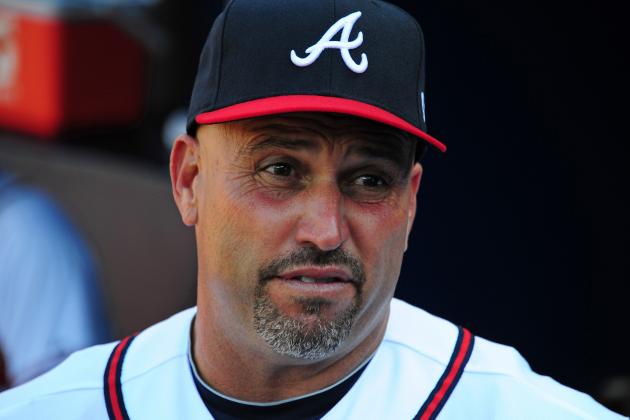 Scott Cunningham/Getty Images
Fredi Gonzalez has a solid team in the Braves.
2012 Payroll: $83,309,942 (16th)
Wins: 94 (t-4th)
Price of Each Win: $886,275
The Atlanta Braves are the first team on the list to tally 90-plus wins while having a payroll of less than $100 million.
The Braves have a balanced team, centered around youngsters Jason Heyward, Freddie Freeman, Kris Medlen and Craig Kimbrel.
Frank Wren has developed a lot of home-grown talent, which is key when you don't have the most money to spend.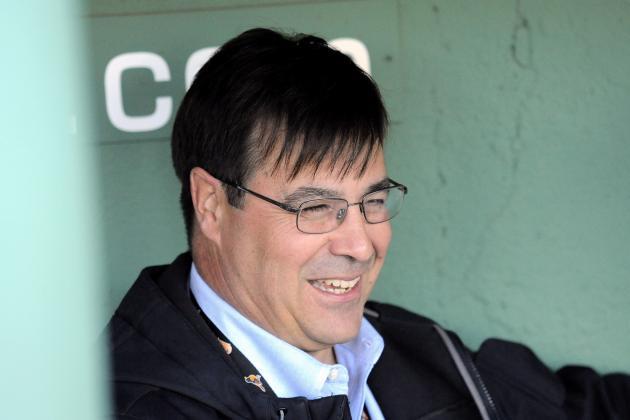 Bob DeChiara-US PRESSWIRE
Dan Duquette saw his Orioles in the playoffs for the first time since '97.
2012 Payroll: $81,428,999 (19th)
Wins: 93 (7th)
Price of Each Win: $875,580
Dan Duquette was named as the Orioles general manager in 2011, and it didn't take long for the organization to see results.
The O's made the postseason for the first time since 1997. And although they came up short in the LDS, they took the Yankees to the final game.
Having Buck Showalter as manager is key for this team. This is a talented team, and it will get even better with the maturation of both Manny Machado and Dylan Bundy.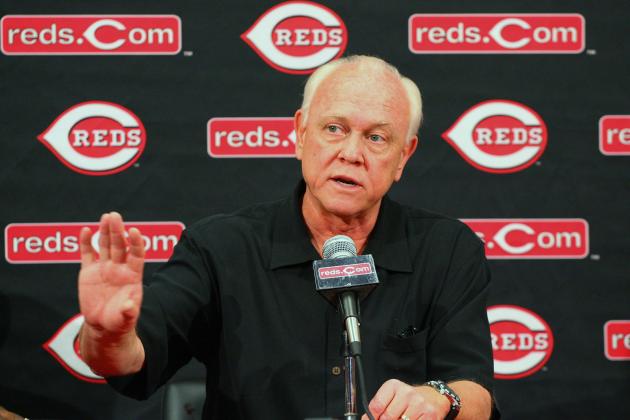 Hunter Martin/Getty Images
Walt Jocketty has assembled a very good Reds squad.
2012 Payroll: $83,309,942 (17th)
Wins: 97 (2nd)
Price of Each Win: $858,865
According to the 2013 projections of MLB Depth Charts, seven of the Reds' eight regular starters next year will be home grown.
That proves that Walt Jocketty knows exactly what he's doing.
The Reds choked away a 2-0 lead in the NLDS, but don't expect them to have a hangover. They'll be right in the mix again in 2013.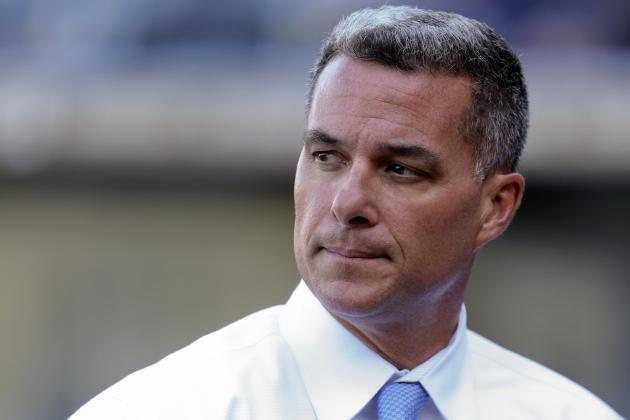 Ed Zurga/Getty Images
Dayton Moore has a great crop of young players.
2012 Payroll: $60,916,225 (27th)
Wins: 72 (23rd)
Price of Each Win: $846,058
The Royals had a bad 2012 season, but with the talent they have coming up, they could be a .500 team very soon.
The Royals have done very well at the draft over the last few years. They have four first-round picks in their starting lineup: Alex Gordon, Billy Butler, Mike Moustakas and Eric Hosmer.
Pitching will be a problem for the Royals, but they have prospects Jake Odorizzi and Mike Montgomery developing into front-line pitchers.
Patrick McDermott/Getty Images
Mike Rizzo has made DC enthusiastic about the Nats.
2012 Payroll: $81,336,143 (20th)
Wins: 98 (1st)
Price of Each Win: $829,960
Mike Rizzo took a team with the 10th-lowest payroll and made it the No. 1 team in baseball.
After finishing in the cellar year after year, the Nationals needed to be smart when it came to drafting. Their intelligence in the draft room became obvious this season.
Bryce Harper and Stephen Strasburg are the standout picks, but it's players like Danny Espinosa, Ian Desmond and Jordan Zimmermann who made the Nats a force in 2012.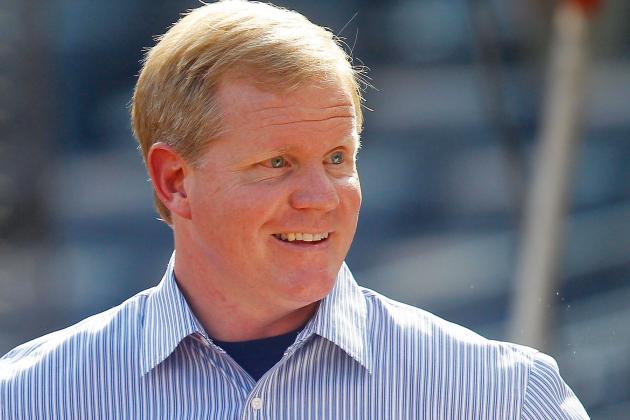 Jared Wickerham/Getty Images
Neal Huntington has relied on his home-grown talent.
2012 Payroll: $63,431,999 (26th)
Wins: 79 (18th)
Price of Each Win: $802,936
The Pirates have been the laughing stock of the MLB for the last two decades, but the tides will be changing very soon.
Neal Huntington has prospects that are poised to be stars. Andrew McCutchen is the face of the franchise, but guys like Starling Marte, Gerrit Cole and Jameson Taillon will be household names.
It's been a very rough stretch for the Pirates, but they are very close to making the playoffs.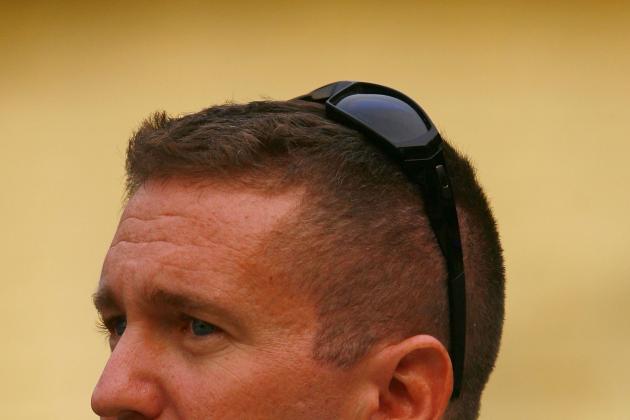 Jeff Gross/Getty Images
Josh Byrnes had the lowest payroll to work with in '12.
2012 Payroll: $55,244,700 (30th)
Wins: 76 (19th)
Price of Each Win: $726,903
The Padres really turned it around in the second half. They were 34-53 before the All-Star break but went 42-33 after the Midsummer Classic.
Josh Byrnes had the lowest payroll in the MLB to work with, and he assembled a team to win 76 games. While a 76-86 is nothing to brag about, the Padres did better than some big-market teams.
The Padres are negotiating to get new ownership, which includes golfer Phil Mickelson, so we'll see if they are willing to shell out more money.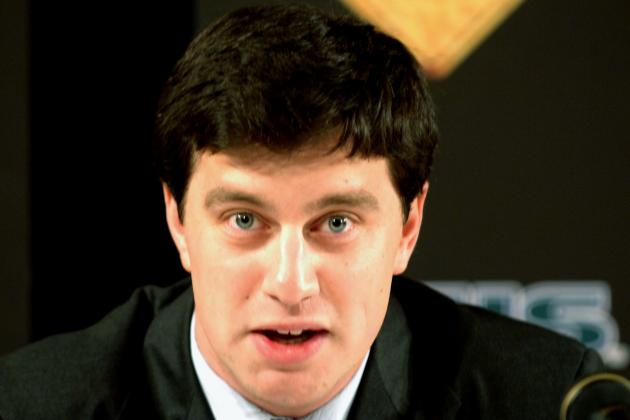 A. Messerschmidt/Getty Images
Andrew Friedman has shown he can win with hardly any money.
2012 Payroll: $64,173,500 (25th)
Wins: 90 (9th)
Price of Each Win: $713,038
Andrew Friedman has been assigned a difficult task: putting out a winning team with very little capital.
Despite having an average payroll of less than $60 million since 2008, the Rays have averaged 91.6 wins and a second-place finish in the AL East.
It's amazing what the Rays have been able to do. They have an excellent manager in Joe Maddon, and you shouldn't expect them to go away any time soon.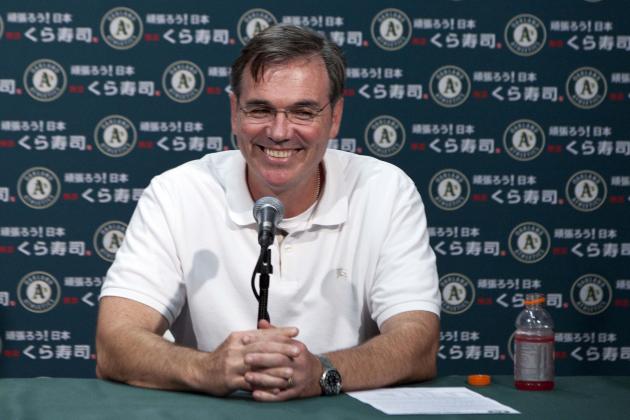 Jason O. Watson-US PRESSWIRE
Billy Beane did it again in 2012: winning with a low payroll.
2012 Payroll: $55,372,500 (29th)
Wins: 94 (t-4th)
Price of Each Win: $589,069
Billy Beane is arguably the most popular general manager, but there's a good reason why: He knows how to win with no money.
Thanks to the book and movie Moneyball, we all got an inside look at how Beane operates within a low-budget organization.
Beane is a genius. He took a team with the second-lowest payroll and won the AL West title. Beane and the A's have become a model of how to win as a small-market team.