College Football: Ranking the Top 5 Defenses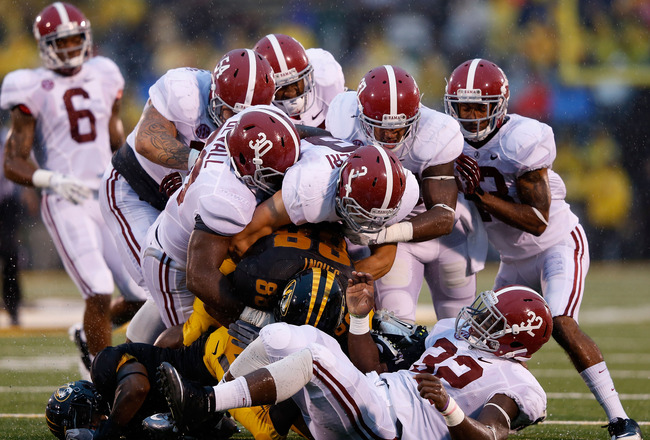 Which team has the best defense in college football this year?
Jamie Squire/Getty Images
The goal of any football game is simple: outscore the other team. Many teams try to do so with high-powered offenses, and most of those teams are unsuccessful.
The best way to outscore the other team is by stopping the other team from scoring at all. Those are the teams that you consistently see atop the BCS rankings and the teams that end up playing in the championship game come January.
The SEC has generally dominated defense, and they still do for the most part, but other teams have pushed their way into the top defense discussion.
Here is a list of the nation's top five defenses.
5. Notre Dame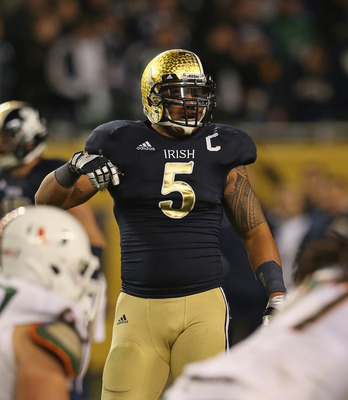 Notre Dame is back this season led by their defense and linebacker Manti Te'o.
Jonathan Daniel/Getty Images
Notre Dame is finally back this season after a long hiatus in which one of the most successful programs in college football history was uncharacteristically average.
Led by future NFL early-round pick Manti Te'o, the Fighting Irish are second in the country in scoring defense and allow only 9.88 points per game. They rank 11th in total defense and fourth in red-zone defense.
They have won numerous defensive struggles this season, including games against Michigan (13-6), Purdue (20-17), Stanford (20-13 OT) and BYU (17-14).
4. LSU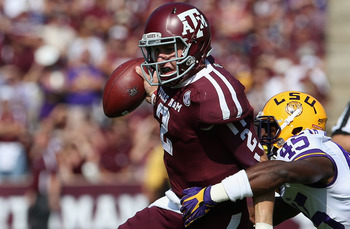 LSU is continuing its trend from last season, when it had one of the most dominant defenses in college football en route to a national championship game berth.
Ronald Martinez/Getty Images
Even without playmaking safety Tyrann "Honey Badger" Mathieu, LSU is still a dominant defense this season. It allows 14.63 points per game and is third in the FBS in total defense.
Les Miles puts a lot of emphasis on defense and especially on aggressive defense. It comes as no surprise that LSU ranks fifth in tackles for a loss, with a total of 65 in eight games.
LSU hasn't had any big performances of note, but its matchup against top-ranked Alabama this weekend will surely be a true test of how good its defense really is.
3. Florida State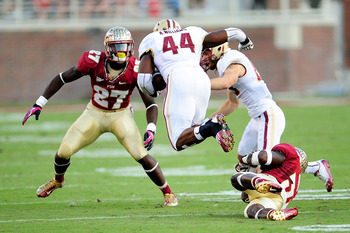 The Seminoles aren't letting many opponents by these days.
Stacy Revere/Getty Images
Florida State has pushed Florida for the title of best team in the state. Although it plays in the drastically less competitive ACC as opposed to the SEC, Florida State has still been exceptional this season.
It's second in total defense, allowing merely 227 yards per game. That's not easy when you are playing against high-powered offenses such as Clemson. It also ranks third in scoring defense, allowing only 12 points per game and third in rushing defense, allowing just under 79 yards per game on the ground.
This is a dark-horse BCS team that SEC teams should be wary of come bowl season.
2. Florida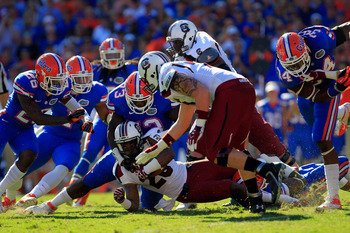 The Gators have stifled opponents with their defense this season.
Chris Trotman/Getty Images
Florida is also back, ranking among the nation's elite for the first time since Urban Meyer and Tim Tebow were at the helm. They have moved out of the way for Alabama and LSU in the SEC in recent years.
Now, Florida is one of the top teams in the country and mostly because of its defense. It ranks sixth in total defense, allowing only 280 yards per game and fourth in rushing defense allowing only 12.75 points per game.
Florida has held some of the SEC's most feared teams to very few points, allowing only six points against LSU and 11 against South Carolina.
1. Alabama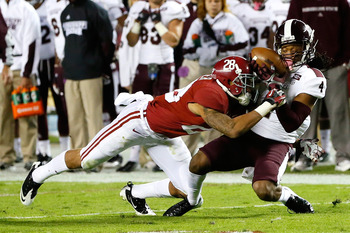 Alabama's No. 1 ranking in the BCS is largely attributable to their defense
Kevin C. Cox/Getty Images
No surprise here. Alabama is the best team in the country and often looks unbeatable, mostly because no matter how well teams contain the Crimson Tide offense, they cannot score on the defense.
Alabama ranks first in almost every major defensive category. It allows the least points per game (8.13), the least total yards per game (203.13 yards) and the least rushing and passing yards per game. It also leads the league in red-zone defense, allowing only 48 points in the red zone in eight games (six points per game in the red zone).
Alabama has not allowed more than 14 points in any game this season and has allowed double-digit points in only four out of the eight games it has played while also recording two shutouts in a row against Western Kentucky and Arkansas.
This is the most dominant defense in the country, and Nick Saban and his Crimson Tide look to be on the way to another national championship.
Keep Reading