Boston Celtics vs. Miami Heat: Live Score, Results and Game Highlights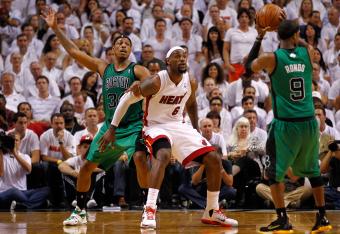 Mike Ehrmann/Getty Images
Boston Celtics vs. Miami Heat. LeBron James vs. Paul Pierce. Ray Allen vs. Boston's "New Big Three".
Bonehead play by Rajon Rondo. You know what that means. It's officially basketball season!
I wonder if Ray Allen misses dealing with that in the locker room and on the court?
Miami Heat 120 Boston Celtics 107
Looks like this year, the Heat are going to dominate with offense, not defense.
Miami Heat 118 Boston Celtics 107 courtesy of a huge final stretch by Bosh. Kudos to you Bosh.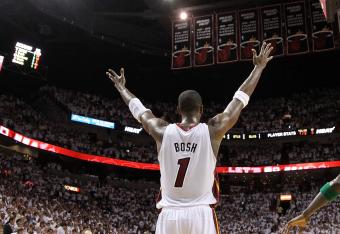 Chris Bosh picks it up right when the Heat need him to ...
Well played "big man", well played. Racks up four straight points.
Miami Heat 115 Boston Celtics 107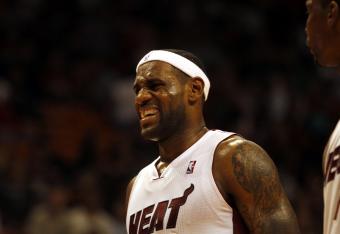 Just like that ... It's a game.
Time for LeBron "The cramp machine" James to get back into the game.
Miami Heat 111 Boston Celtics 105
While the Heat are dominating, the bigger issue is that Chris Bosh is getting pushed around big time by Kevin Garnett.
If Bosh gets pushed around by a guy Garnett's size, then think what will happen when he goes up against bigger, stronger centers. Could be an issue for the Heat this year.
Miami Heat 111 Boston Celtics 103
25th straight regular-season game for Rondo with 10+ assists.He's only the 3rd to do it (John Stockton, Magic Johnson and Kevin Porter)

— Sean Grande (@SeanGrandePBP) October 31, 2012
LeBron is reportedly struggling with leg cramps. Apparently he hasn't drunk any gatorade since his epic cramp game against the Thunder last year.
Looks like Dwyane Wade's knee isn't going to hold him back this year.
Miami Heat 105 Boston Celtics 91
Two things are clear watching this game:
1. The Miami Heat are the BEST team in the Eastern Conference
2. Lebron James' new shoes aren't holding him back.
Miami Heat 100 Boston Celtics 89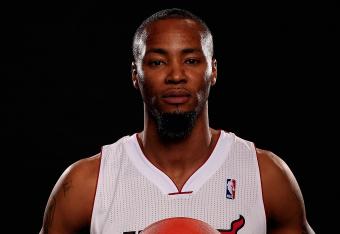 There's the Rashard Lewis of the past few years! Putting up a nice, smooth, silky AIR BALL!
Answers with a three ball, but still, I won't forget that air ball Rashard.
Miami Heat 100 Boston Celtics 85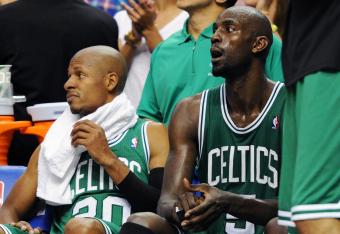 Ray Allen takes it to Kevin Garnett. Maybe that's why KG lost Allen's number.
Miami Heat 97 Boston Celtics 80
Rashard Lewis hasn't missed a shot as a member of the Miami Heat yet ... Three of Three.
Come on Rashard. Don't shoot again, ever.
Miami Heat 93 Boston Celtics 76 at the end of the 3rd quarter.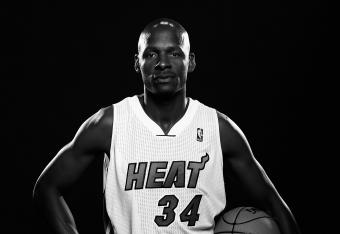 Ray Allen is definitely making the Celtics wish he was still wearing green—15 points on 6-9 shooting. Phew.
Miami Heat 89 Boston Celtics 76
Mike Miller sighting ... Reportedly sent in for LeBron James, who's going to the locker room. Should we be worried?
Miami Heat 85 Boston Celtics 74
Paul Pierce and Rajon Rondo can be a very dangerous duo this year. Just need to figure out how fit everyone else into that mix.
Side Note—Chris Bosh at the center position isn't looking as magical as Heat fans had hopes so far.
Miami Heat 81 Boston Celtics 74
What would we do without such in-depth analysis?
LeBron James already has a double-double. Just passed the halfway mark in the third quarter, he has 24 and 10.

— Tom Haberstroh (@tomhaberstroh) October 31, 2012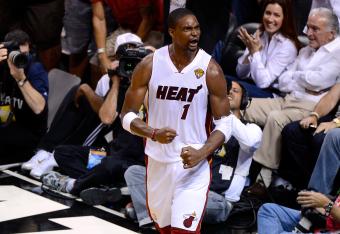 So far, the "non-factor of the night award" goes to ...
Chris Bosh—six points on three of eight shooting.
Kevin Garnett with the "i didn't foul you" hard foul. That should be outlawed just like flopping.
Miami Heat 75 Boston Celtics 65
LeBron James knocks down another three ball. Gives him 22 on the night. Pierce with 21.
Paul Pierce is doing a great acting job tonight. At least in the second half.
He's getting the calls, just like he always does. Rajon Rondo and Pierce keeping the Cs in this one.
Miami Heat 69 Boston Celtics 63
The Celtics are using Jason Terry very sparingly tonight ... Only has 11 minutes tonight. Must have something special planned for him ...
Miami Heat 67 Boston Celtics 56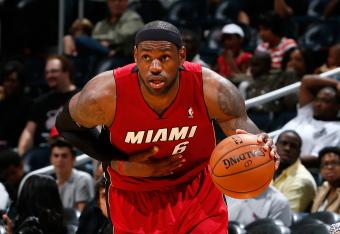 LeBron James shooting 100 percent from beyond-the-arc tonight, which means he's yet to miss a three ball for the year.
Bet that lasts for another few games, seeing the disciplined way he's playing the game.
Miami Heat 65 Boston Celtics 56
Can someone explain to me how LeBron is mic'd up during the game? If you're watching NBA on TNT, WHICH YOU SHOULD, you know what I'm talking about.
I'm imagining him running down the court with a big mic attached to his shorts.
Miami Heat 62 Boston Celtics 54
Would've loved to see "Andy" go for the triple double

The national eyes may be on last yrs ECF rematch on TNT, but Andy Varejao had an incredible opener vs. Washington. 9 pts 23 reb 9 ast 2 blk

— NBA Fantasy (@NBAFantasy) October 31, 2012
If you're not following the rest of the NBA:
Cleveland Cavaliers 94 Washington Wizards 84 — Cavs get the first win of the 2012-13 NBA season.
Bradley Beal ends his first NBA game with eight points on two of eight shooting. Less than ideal there.
This article is
What is the duplicate article?
Why is this article offensive?
Where is this article plagiarized from?
Why is this article poorly edited?