Ivy League Football: Week 8 Conference Power Rankings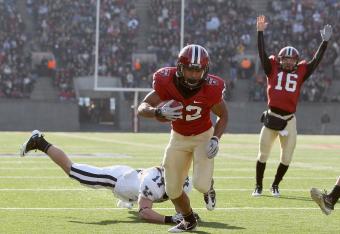 Elsa/Getty Images
While Ivy League football continues to throw erratic curve balls at football fans, things have become incredibly interesting as we approach the final few games of conference play. No one can predict who, at the end of the day, will be holding the Ivy League trophy.
Here are the Week 8 Conference Power Rankings:
1. Harvard (6-1, 3-1) (Last Week's Ranking: 2)
The loss to Princeton looks more and more like a fourth-quarter fallout from the Crimson than anything else now. They handled Dartmouth as if it were simply business as usual in a 31-14 win. It seems improbable that they intend to make any more mistakes down the line.
2. Princeton (4-3, 3-1) (Last Week's Ranking: 1)
Their lead in the Ivy League was short-lived. The comeback against Harvard was incredible, but Princeton could not keep the miracle going against another strong competitor, Cornell, this weekend. Jeff Mathews absolutely had a field day against their secondary leading the Big Red to victory.
3. Penn (3-4, 3-1) (Last Week's Ranking: 5)
The Quakers are currently running the leaders of the Ivy League, but could have head off this wolf pack if they did not have the embarrassing fall to Yale earlier in the year. Beating Brown 21-14 was no small feat and puts Penn in a good position going forward, but dates against Cornell, Harvard and Princeton lie ahead.
Which team will win the Ivy League title?
4. Cornell (4-4, 2-2) (Last Week's Ranking: 4)
Defeating Princeton proved that the Big Red are still in the race in the Ivy League. With Jeff Matthews under center, they can steal beat almost every team in the conference. It leaves one to wonder how good Cornell could have been if they had a defense.
5. Brown (4-3, 1-3) (Last Week's Ranking: 3)
Brown has just not had good luck in Ivy League play. They are clearly better one of the better teams in the conference, but they just cannot seem to close out any games. Hopefully after having already played all of the top four teams in the conference, the Bears can turn things around in the final three games.
6. Dartmouth (4-3, 2-2) (Last Week's Ranking: 6)
Playing Harvard during Homecoming is definitely rough. But the Big Green held their own, only falling 31-14, which they can feel okay about. But in these final three games, Dartmouth will have to be extraordinary if they want to end up above .500 in conference play.
7. Columbia (2-5, 1-3) (Last Week's Ranking: 8)
Well, the Lions did it. They got their first conference win and that is a success whatever way you look at it, even if it did come against Yale. Now, the Lions will look to gain that second win in their remaining three games, which will be incredibly difficult considering that Columbia will take on Harvard, Cornell and Brown, the latter whom they upset last year.
8. Yale (2-5, 1-3) (Last Week's Ranking: 7)
Yale had their sights on a second conference win, but a Columbia rally crushed those aspirations. Now, Yale looks ahead at their schedule with a sinking feeling, especially as "The Game" against Harvard looks more and more like an impending blowout.

This article is
What is the duplicate article?
Why is this article offensive?
Where is this article plagiarized from?
Why is this article poorly edited?