The Top 10 Most Brutal Fights in the Mexico vs. Puerto Rico Boxing Rivalry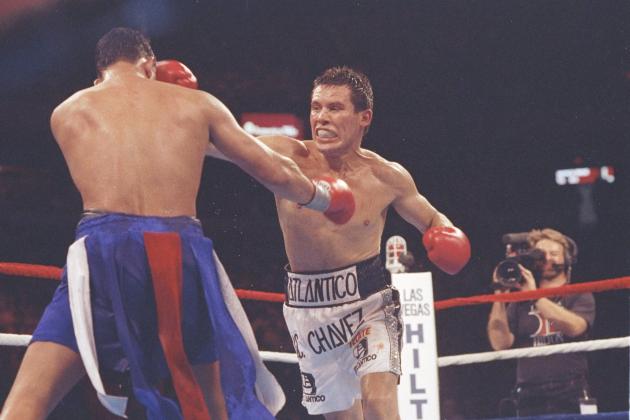 Holly Stein/Getty Images
Chavez vs Camacho was one of the best in this historic rivalry.
Mexico and Puerto Rico.
Both are known for their proud fighting traditions, producing many great fighters and world champions.
They are also known for their historic, blood-and-guts rivalry.
With that in mind we rank, in no particular order, the 10 most brutal Mexico vs. Puerto Rico fights in boxing history.
Begin Slideshow

»
Wilfredo Gomez and Carlos Zarate battled for the super-bantamweight championship on October 28, 1978 in Puerto Rico.
The two men entered the ring with what The Ring Magazine called the highest combined-knockout percentage of any two fighters in history. Gomez (21-0-1, 21 KO) and Zarate (52-0, 51 KO) were both undefeated and had combined to knockout 72 of their 73 opponents.
Yikes. Hope you weren't expecting this one to go the distance.
The result was no different from what many expected. Gomez was dominant, flooring Zarate four times en route to a corner stoppage in the fifth round.
The win set off jubilant celebrations in Puerto Rico.
When it comes to Mexican fighters, there are simply none better than Julio Cesar Chavez. And he was never better than on this night.
On September 12, 1992 Chavez defended his WBC title against the WBO junior welterweight champion from Puerto Rico, Hector "Macho" Camacho.
Both men were brash and predicted spectacular victory. But for Chavez it wasn't just bluster.
Chavez entered the ring undefeated at 81-0, while Camacho was 41-1 and held notable victories over Greg Haugen, Vinny Pazienza and Ray Mancini.
Chavez was simply dominant on this night, punishing Camacho to the body early and winning virtually every round.
In fact, he did win every round on one judge's card, winning by scores of 120-107, 119-110 and 117-111.
At the time of this fight Wilfredo Gomez had held the WBC 122-pound title for more than four years.
He was undefeated at 32-0-1, and had already knocked out one stiff Mexican challenger in Carlos Zarate, three years earlier.
Salvador Sanchez (40-1-1 30 KO) by this time had already developed a reputation as a big-fight type of boxer. He held wins over Danny Lopez, Ruben Castillo and Juan LaPorte.
The fight was highly anticipated, and Gomez entered as the betting favorite.
Sanchez set the tone early, dropping Gomez with a beautiful combination midway through the first round. It would later turn out that Gomez suffered a broken cheekbone in the round and seemed completely out of the fight.
He rebounded in the next few rounds and was much more competitive, but Sanchez systematically rearranged his facial features. The seventh round between these two was one of the best in boxing history, with both men landing devastating shots.
Gomez finally succumbed in Round 8, being dropped by a vicious seven-punch combination. Despite his face and eyes being an absolute mess, he rose by the count of eight, but the referee stepped in, ending the punishment.
It was one of the most brutal fights in the history of boxing.
You should be noticing a trend by this point. Win or lose, Wilfredo Gomez was a beast in the ring.
His fight with Mexican warrior Lupe Pintor was no different than his prior battles with Carlos Zarate or Salvador Sanchez. It was a war.
Gomez entered the fight having won all 37 of his fights by knockout and held the all-time record for consecutive title-defenses won by knockout at 16.
Pintor was the reigning WBC bantamweight champion, who had recently moved up and challenged Gomez for his title.
Gomez started the fight strong, and by the start of the third round it appeared he would cruise to a dominant victory. Pintor, however, made a strong comeback in Round 3, as the two exchanged huge combinations.
Both guys were unleashing huge shots, but Pintor's had a bit more steam, and this got him back in the fight. The third round would be named by The Ring Magazine as 1982's Round of the Year.
The fight turned into a war of attrition from that point onwards, with Gomez's face, as was customary, swelling badly under the weight of Pintor's heavy shots.
Gomez would not be denied, though, and his legendary heart and determination carried him through yet another brutal war. He finally solved the problem of Lupe Pintor in the 14th round, dropping him to the mat.
While the Mexican rose to his feet, you could see in his eyes that his will was sapped. Gomez remained aggressive, finally landing a devastating hook that dropped Pintor again and forced the referee to stop the fight.
It was a war, and one of Gomez's defining moments as a professional fighter.
Julio Cesar Chavez entered the fight with a perfect 56-0 record as the reigning WBC super-featherweight champion. He moved up in 1987 to junior lightweight, challenging the Puerto Rican WBA champion Edwin Rosario.
The fight was notable for it's pre-fight buildup, including a press conference in which the two men nearly came to blows, and Rosario promised to send Chavez back to Mexico in a coffin.
It didn't quite turn out that way in the ring. Chavez was stronger and faster. He beat Rosario up in brutal fashion over 11 very one-sided rounds.
It was so ugly that The Ring Magazine described it:
"A description of the fight reads like a police account of a street beating."
Rosario tried, but he was just outgunned by a Chavez with something to prove.
Few people remember how fearsome a fighter Luis Ramon "Yory Boy" Campas was in his prime.
In 1994, when he stepped into the ring with Puerto Rican welterweight champion Felix Trinidad, Campas was already drawing comparisons to the already-legendary Julio Cesar Chavez.
At the time, the comparisons seemed perfectly justified.
Campas was 56-0 with 50 knockouts, and had devastating power. Despite Trinidad's reputation as one of the top young fighters in the sport, the fight was considered 50/50 by most observers heading into the bout.
And Campas looked like he was going to live up to that reputation, dropping Trinidad in the second round. Campas pressed his advantage and badly hurt Trinidad again in the third round, before getting hit by a low blow, stopping the action.
This gave Trinidad crucial seconds to recover from being hurt, something that would become a trend in his career. Soon after time-in was called, Campas again shook Trinidad with a huge uppercut, and again the Puerto Rican went low, drawing a point deduction.
Trinidad now became much more aggressive on the inside, but Campas continued working the body.
The end came suddenly in the fourth round, after a furious exchange, Trinidad opened up and landed a punch that snapped Campas' head so far back it looked like it would detach from his body.
It was a spectacular and brutal ending to a great fight.
In retrospect, Antonio Margarito's stunning and brutal 11th-round TKO of Miguel Cotto in 2008 is one of the most controversial fights in boxing history.
It has since been called into question, after Margaritio was found to have loaded hand wraps heading into a fight with Shane Mosley.
Many have speculated, including Cotto, that he cheated on this night as well.
Throughout his career, Margarito was known as a slow-starter, and this fight was no different. Cotto won the early rounds with effective boxing and movement that made Margarito miss a lot of his shots.
But the Tijuana Tornado was known as a high-activity pressure fighter, who would often throw over 100 punches a round for the entire duration of a fight, and that was what he continued to do. He didn't get frustrated, and continued pressuring Cotto.
The fight turned around in the seventh round, when Margarito hurt Cotto with uppercuts, busting up his nose and mouth. The damage now began accumulating, and Cotto clearly seemed hurt when each blow landed.
The punishment finally became too much, as Cotto was forced to take a knee twice in the 11th round after receiving vicious beatings, prompting his corner to stop the fight.
At the time it was the biggest win of Margarito's career, but one which has now come into question.
Edwin Rosario faced Mexico's Jose Luis Ramirez for the vacant WBC lightweight championship after Alexis Arguello moved up in weight.
It was a highly competitive bout, with Rosario dominating the early rounds and Ramirez coming on late.
The fight was very close and hard fought on both sides.
Rosario clearly won most, if not all of the first seven rounds, but faded badly down the stretch. This gave Ramirez opportunities to score points and close the gap.
But it wasn't enough, as Rosario would win by unanimous decision and three 115-113 scorecards.
Ramirez would win the rematch by knockout.
This rematch was pure revenge. Nothing more, nothing less.
Just revenge.
Miguel Cotto had been stopped by Antonio Margarito three years earlier, a fight which in retrospect has become highly questionable. Margaritio, in his next fight against Shane Mosley, was discovered to be wrapping loaded hands.
The plaster-like substance would have hardened as the fight went on and added great force to his punches.
This led many to speculate that Margarito, who had rearranged Cotto's face in their first fight, had also cheated to beat the Puerto Rican star.
The rematch in December of 2011 was really pointless, other than Cotto's desire to right what he felt was a wrong perpetrated against him.
Margaritio came into the fight as a villain straight out of a Hollywood movie, fighting Cotto in New York's Madison Square Garden in front of an extremely hostile crowd.
We'll never know whether Margarito did indeed cheat in their first fight, but Cotto beat him up just the same in the rematch.
He badly hurt Margarito's previously injured eye, swelling it nearly shut and forcing the doctor to advise referee Steve Smoger to halt the contest after the ninth round.
This one was a major upset.
Most figured that Mexican warrior Jorge Arce was done as a top-level fighter when he stepped into the ring to challenge WBO super-bantamweight champion Wilfredo Vazquez Jr. in 2011.
Vazquez was undefeated and on the rise, while Arce, most felt, had just been through too many wars.
But that's why fights happen in the ring and not on paper.
Arce, as it turned out, was far from done, engaging in a war with Vazquez from the opening bell to the end of the fight. Vazquez dropped Arce in the fourth round, but the Mexican rose and didn't change his style one bit.
Each round was full of dramatic exchanges, with both guys laying out some serious leather.
As the fight went on, it appeared that Arce was more comfortable with the blistering pace, as Vazquez began to tire. He looked particularly spent after the eleventh round.
Arce, sensing an opening, went for broke at the start of the final round. He pinned Vazquez against the rope and threw everything at him, including the kitchen sink and at least one or two plates, forcing a corner stoppage.