Notre Dame: 5 Things That Must Happen for Manti Te'o to Win the Heisman Trophy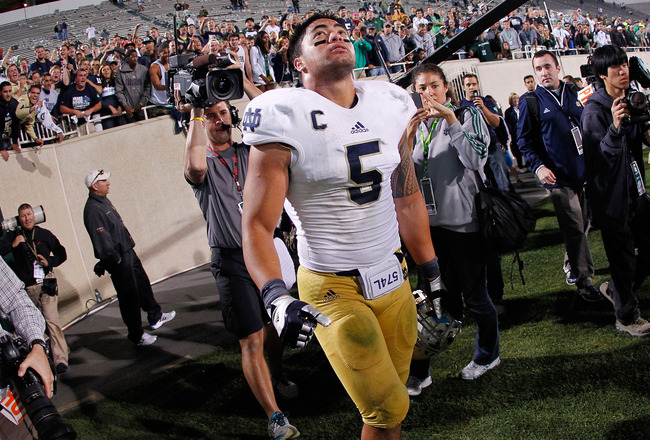 Gregory Shamus/Getty Images
Manti Te'o has been one of the most inspirational and resounding figures in all of sports this fall as he has excelled in the face of adversity for his upstart Notre Dame Fighting Irish.
Despite losing both his grandmother and girlfriend within 24 hours of each other in the week before the September 15th Michigan State game, Te'o has emerged as one of the most feared defensive forces of the last decade. His emotional play has acted as a catalyst for the entire Notre Dame team, leading them to an 8-0 record and number three BCS Ranking.
Due to his exceptional play, Te'o has become a real contender to be only the second true defensive player to win the Heisman Trophy. Yet before Te'o can add this glorious honor to his resume, five things must occur.
Kansas State Must Lose Twice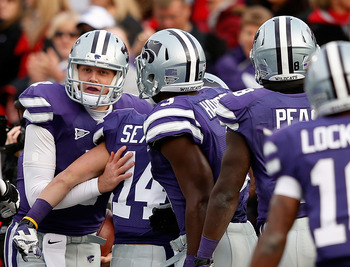 Jamie Squire/Getty Images
No matter how well Te'o plays the rest of the way, it is going to be difficult for him to pass Collin Klein.
The Kansas State signal caller is having as good a season as any dual threat quarterback in history. Klein has tallied 28 total touchdowns and 2,264 total yards through just eight games, all wins.
In order for Te'o to surpass Klein, it's most likely going to require Kansas State to lose twice. Fortunately for Te'o and Notre Dame, Kansas State still has to play Texas and Oklahoma State—both ranked opponents. With two games left against ranked opponents and a matchup versus TCU on the road, Kansas State losing twice is definitely a possibility.
Notre Dame's Defense Must Continue to Dominate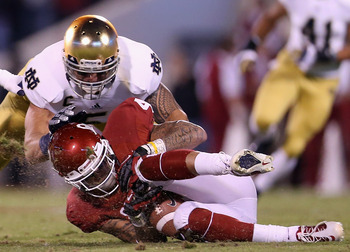 Ronald Martinez/Getty Images
Aside from Alabama, Notre Dame's defense is putting together as good a 2012 campaign as any school in the country. The Fighting Irish rank 2nd nationally in points against, 11th in total yards and 9th in rushing yards allowed.
Te'o's main claim for the Heisman is that he is the most dominant defensive player in the country on one of the nation's most dominant defenses. It is absolutely crucial for Te'o's Heisman hopes that Notre Dame's defense keeps up this stellar play over its remaining four games.
Players like Bennett Jackson, Zeke Motta, and Stephon Tuitt will have to continue their outstanding play for Te'o to remain in the Heisman hunt.
He Must Finish Top 20 in the Nation in Tackles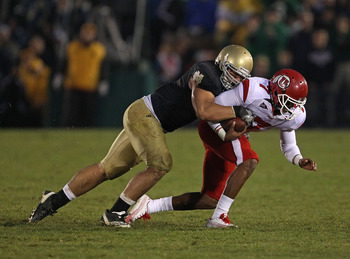 Jonathan Daniel/Getty Images
In the information age of sports, statistics often play a larger role than they sometimes deserve. Knowing this, Manti Te'o will have to finish with exceptional numbers in several statistical categories in order to win the Heisman Trophy.
While Te'o does have five interceptions, which ranks fourth in all of FBS, tackles is the statistic usually most associated with great inside linebackers.Te'o currently has 80 total tackles on the season, which is good enough for 19th in the nation.
Even though tackles might not be the best indicator of Te'o's full impact on the game and his importance to Notre Dame's defense, he must rank in the Top 20 nationally at season's end to have a legitimate claim at the Heisman Trophy.
A Dark Horse Candidate Cannot Emerge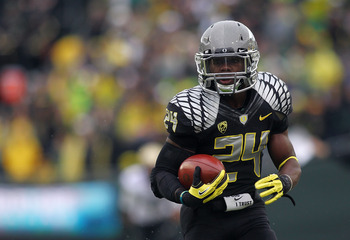 Jonathan Ferrey/Getty Images
For one reason or another, the Heisman voters truly adore offensive players. It is not by coincidence that a defensive player has not won the award since Charles Woodson in 1997. There is still a chance that an offensive player not named Collin Klein could step up during the last part of the season and make a strong case for the award.
Possible players who could make this type of run at the Heisman are Oregon running back Kenjon Barner and Alabama quarterback A.J. McCarron. Barner has put up video game like numbers for the Ducks so far, recording 974 rushing yards on only 141 carries. On the other side of the country, McCarron has been a steady producer for Alabama, throwing for 18 touchdowns with zero interceptions.
If either of these players step up in big games this late in the season, they could pose a real threat to both Manti Te'o and Collin Klein's Heisman chances.
Notre Dame Must Finish Undefeated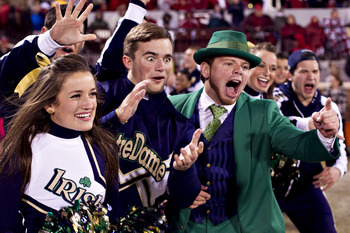 Wesley Hitt/Getty Images
For Te'o to win the Heisman Trophy, it is imperative that Notre Dame runs the table the rest of the way and earns a bid to the National Championship Game. With the next three games against opponents who do not hold records above .500 (Pittsburgh, Boston College, and Wake Forest), surviving the next three weeks should not be an issue.
The November 24th matchup with USC is different issue. While USC has underachieved this year, they still feature one of the nation's most explosive offenses with Matt Barkley and Marquise Lee leading the way. The game will also be played at the Coliseum, where USC has not trailed all year and is averaging a whopping 42 points per game. However, if Notre Dame can turn in another complete performance like they did versus Oklahoma, I predict the Fighting Irish will find themselves victorious in Los Angeles and looking at a trip to their first BCS Championship Game.
Keep Reading

Notre Dame Football: Like this team?