Why Leighton Baines Is the Most Effective Full-Back in the Premier League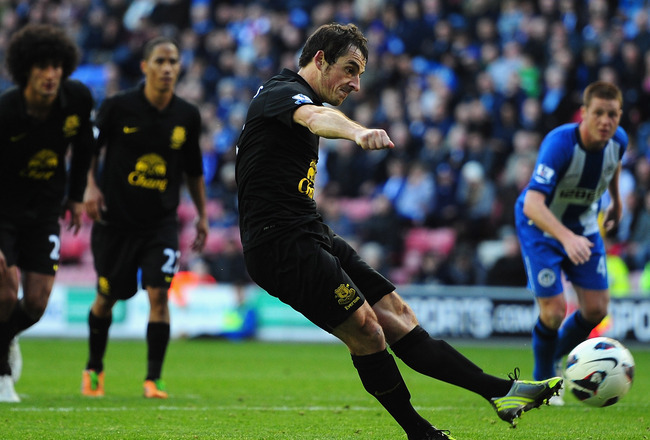 Stu Forster/Getty Images
Leighton Baines is the most effective modern full-back in the English Premier League.
His performances are easy on the eye and the statistics back his contributions, so Everton have done incredibly well to fend off interest from bigger clubs over the past few seasons.
When the former Wigan left-sider was called up by Roy Hodgson to the England squad, many believed he should have usurped Ashley Cole permanently on the depth chart.
What Makes the Perfect Full-Back?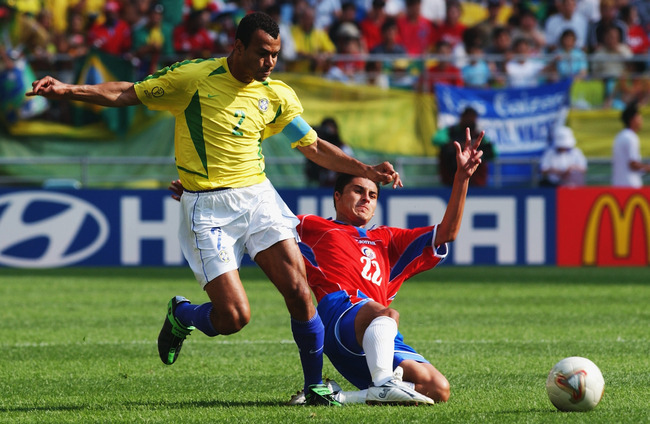 Shaun Botterill/Getty Images
The full-back's role in world football is changing. It's far from the purely defensive position it was 15 years ago, but doesn't quite equate to the traditional role of the wing-back.
Of course, we see bucked trends. Rafael plays right-back but doesn't have a clue how to defend, while Jose Mourino's Chelsea utilised some of the most unambitious full-backs football has ever seen.
Essentially, the modern version needs to have the defensive characteristics of Paolo Maldini combined with the attacking potency of Cafu.
It's an exhausting position that requires a diverse set of skills, so who perfects the cocktail in today's English Premier League?
Defensive Contribution
Dean Mouhtaropoulos/Getty Images
While this may not be the first priority of Rafael, Kyle Walker or Glen Johnson, Leighton Baines does make a concerted effort to defend his side of the pitch.
He's not as compromising as Branislav Ivanovic in the tackle, but he knows his responsibilities and doesn't shirk them and leave his left-sided centre-back in bags of trouble all game long.
His statistics are solid, putting in 1.7 tackles, 1.7 interceptions and 1.9 clearances per game. Everton are in form too, so the defence hasn't come under intense enough pressure to make these figures eye-popping like Chico Flores'.
Attacking Potency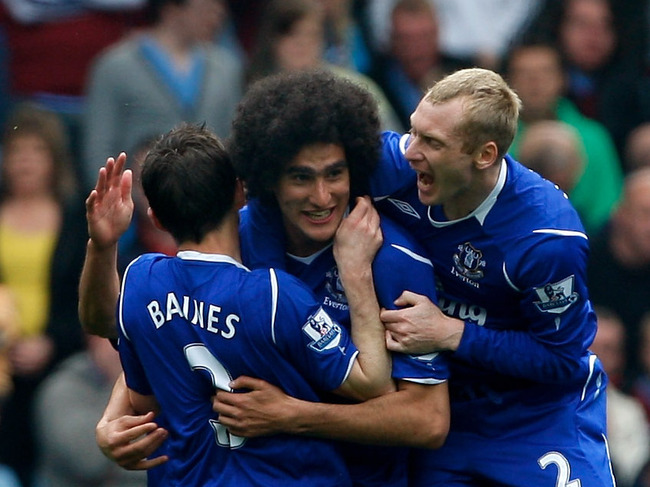 Stu Forster/Getty Images
Leighton Baines is a true wide player who sticks to the touchline, overlaps well and provides service to his big strikers.
He leads the English Premier League with 4.3 key passes per game (bettering Santiago Cazorla, David Silva and Juan Mata et al.), while he leads all of Europe with four accurate crosses per game.
He has got two assists and two goals so far this season, and you can bet Marouane Fellaini and Nikica Jelavic thank him every day for his incredible deliveries.
Wing Cohesion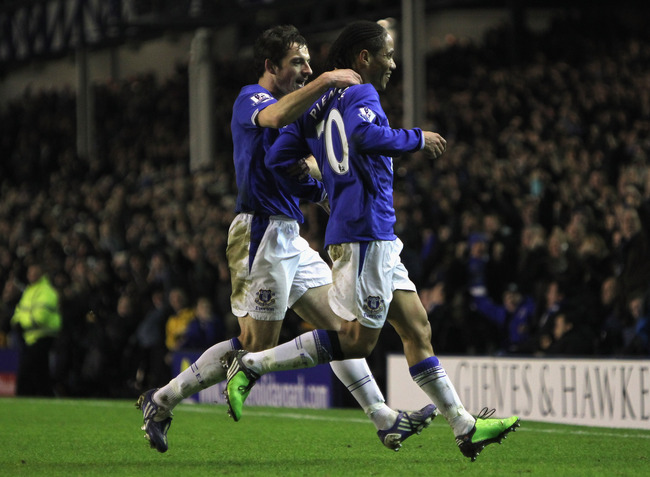 Alex Livesey/Getty Images
With the modern game a literal playground for partnerships to come together and exert significant influence in teams, a full-back's cohesion with his winger is very important.
Leighton Baines' combination play with Steven Pienaar has helped David Moyes sculpt what is arguably the best left-sided duo in the English Premier League right now.
He even showed his underlying class by combining just as effectively with Kevin Mirallas in the Merseyside derby this weekend.
Set Piece Magic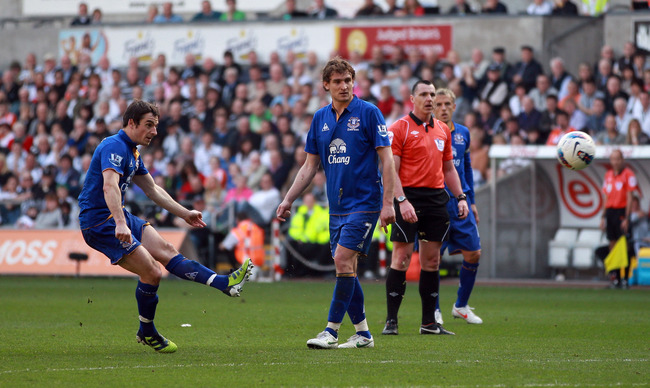 Richard Heathcote/Getty Images
Being an expert at set pieces isn't a requirement for a top-class full-back, but it certainly helps.
Some of the most famous names in the game are remembered so fondly due to their prowess over a dead ball, and while Leighton Baines is no Roberto Carlos, he's still very effective.
His wand of a left foot has been unsung for years at Goodison Park and his ruthlessness from the penalty spot should never be forgotten.
Statistics via WhoScored?
Keep Reading

Everton: Like this team?