WWE Raw: 5 Talking Points from Monday Night's Show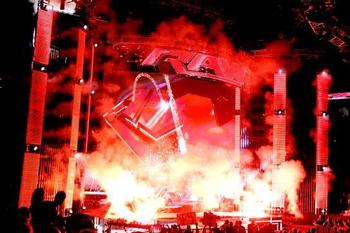 Photo courtesy of WWE.com
Just 24 hours after Hell in a Cell, WWE Raw pushed on with business as usual, wasting no time in laying the foundations for the upcoming Survivor Series pay-per-view in just three weeks time.
But as well as outlining future plans, Raw also made time to address some of the more striking issues to come from Hell in a Cell, most notably involving the finish to the WWE Championship match between CM Punk and Ryback.
With so much going on at such a busy point in the company calendar, there was plenty to talk about after Raw went off the air.
Once again, I bring you five of the key talking points to emanate from the show, assessing the extent to which they could affect the WWE's future developments.
What Was Brad Maddox's Motivation?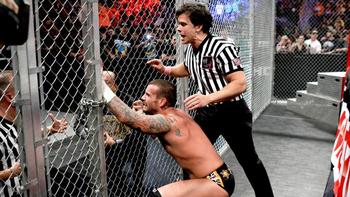 Photo courtesy of WWE.com
The show opened with a decent segment involving CM Punk, in which the reigning, defending WWE Champion categorically denied any involvement in influencing the officiating of Sunday night's main event against Ryback.
Obviously the big question here is whether Punk is telling the truth.
There was conviction in his words but he is after all the "Devil himself," so the whole thing could simply be a ruse regardless of Punk's declaration of innocence.
A more likely, and possibly obvious, explanation would be that Paul Heyman is behind the screwjob finish, as he has frequently been seen politicizing and conniving backstage with various WWE authority figures for a number of weeks now.
Another slightly more far-fetched theory being postulated is that Cena was actually the man to pay off Maddox, which would certainly be a fascinating development but at the same time a highly unlikely one.
With no clear-cut answers being provided on Raw, expect this one to remain a mystery for a few more weeks perhaps, where it may finally be revealed as part of much bigger plan.
Ryback Looked Impressive
Photo courtesy of WWE.com
There were certainly questions regarding Ryback's role in the aftermath of Hell in a Cell.
Would the defeated challenger simply slip out of the main event picture? Or is Ryback here to stay amongst the big guns of the WWE?
Based on Raw's evidence, it would appear that the latter is a more probable outcome.
Ryback emerged at the end of the Punk/Mick Foley segment, forcing the WWE Champion to flee from the ring, before orchestrating a raucous chorus of "Feed Me More" from the animated Charlotte, NC crowd that almost drowned out the Big Hungry's entrance music.
He then cut a very rare promo, short but sweet, revealing that he will not necessarily be allowing Punk to escape his intentions that easily.
Concluding with an emphatic "Feed Me Punk" chant, Ryback really looked the part on Raw in my opinion.
He was assured and confident, and despite coming in for a rough time from some critics, myself included, I think Ryback is finally proving himself capable of holding his own in the main event scene.
Vickie Guerrero's Evidence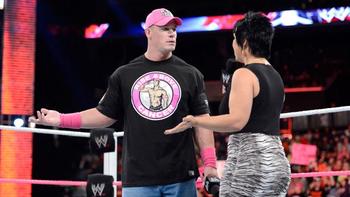 Photo courtesy of WWE.com
A lot of people are fairly uninterested in this storyline, but I can see the potential and have been keen to give it a chance.
Unfortunately though, the in-ring segment between Vickie Guerrero and John Cena didn't quite deliver as I had hoped it would.
Much of Vickie's evidence was inconclusive as it was merely footage from recent episodes of Raw that the world has already seen.
There was of course the revelation that AJ seemingly entered an elevator with Cena, but that was hardly the game-changing event that many had hoped for.
Furthermore, it all seems a little too similar to the AJ Styles affair angle that TNA ran with during the recent summer months, and no one likes a copycat.
Time still remains for this one to be turned around, and the fact that AJ is receiving such attention makes me hopeful that there could yet be big implications from a potential AJ/Cena alliance.
But what started out as an intriguing storyline with an abundance of possibility now seems to be no more than a way to facilitate a Cena vs. Dolph Ziggler feud for Survivor Series.
I hope I'm wrong, but seeing another, more shady side to Cena just appears far too unrealistic.
Big Show vs. Sheamus Again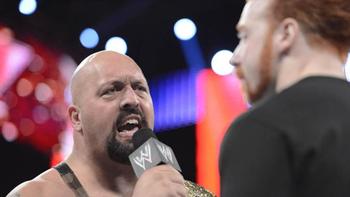 Photo courtesy of WWE.com
Sheamus all but confirmed a rematch with Show for the World Heavyweight Title at Survivor Series, and after their showdown at Hell in a Cell, I find myself quite satisfied with this news.
Furthermore, the resultant promo delivered by the Great White on Raw suggested that this time round we will be seeing the brutal, aggressive fighter in Sheamus rather than the insufferable grinning babyface who nearly ruined the build to their Hell in a Cell contest.
His witty punning of Big Show's "Ginger Snap" remark resulted in another impressive White Noise being delivered to the giant, as this feud looks to build on Sunday's good work in the coming weeks.
This development also throws into doubt the belief that Big Show was no more than a transitional champion, paving the way for perhaps Wade Barrett of Dolph Ziggler to take the belt.
The prolonging of his rivalry with Sheamus, rather than engaging in a feud with a new adversary, suggests that Big Show's presence in the SmackDown main event scene could be more lasting than first expected.
And if he keeps up the good work, there's nothing wrong with that in my book.
Team Punk vs. Team Foley Announced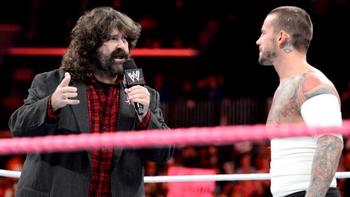 Photo courtesy of WWE.com
The biggest talking point from the night related to the Survivor Series main event.
As a fan of survivor Series 2001, I'm all for the return of the traditional five-on-five elimination match, though I can't help but feel slightly disappointed with this year's edition.
The combatants are simply an assembly of four key feuds from Hell in a Cell in what is coming across as a rather lazy booking from Creative.
Of course, given the limited time-scale of just three weeks with which to operate, there wasn't much else that the Creative team could do, but I can't help but feel they missed out on a chance to exploit the numerous contacts of Paul Heyman here.
Survivor Series is one of the top four WWE PPVs, so it would have made sense to give it a monumental storyline; I'm talking a team of Heyman, Punk, Brock Lesnar, Big Show, etc.
Not necessarily the new NWO as many people have speculated, but simply a stable of "Paul Heyman Guys" who would, on paper at least, be a truly unstoppable force.
There remains time for such developments, or even interference at the PPV from a certain former UFC heavyweight champion, but for the time being it would appear that Survivor Series is suffering from the comparatively shorter build-time than that of its previous PPV.
But concentrating on the positives, at least the WWE has honored tradition with a match of this nature, something which it should of course be given props for.
Conclusion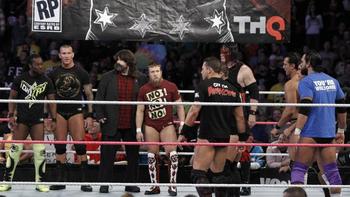 Photo courtesy of WWE.com
All in all, I was pleased with Raw this week, despite some parts of the article suggesting otherwise.
Sure, it would have been nice to see some issues handled differently, but at the end of the day we have gained a PPV main event, a solid World Heavyweight Title feud and a somewhat unpredictable AJ/Cena storyline from what was an entertaining episode of Monday Night Raw.
With such a short time period with which to create hype for Survivor Series, expect an added importance placed on SmackDown this week, with more rivalries to potentially be developed as we head towards November's big PPV event.
So make sure you check out my five talking points for SmackDown at the end of this week, but until then feel free to comment below with your thoughts on Raw as well as the issues discussed in the article.
Keep Reading