Heart-wrenching defeats last week leave both the Arizona State Sun Devils and 11th-ranked Oregon State Beavers desperately needing a win on Saturday to keep their Pac-12 championship hopes alive.
Obviously, it was the formerly undefeated Beavers' loss last week to Washington that sent shock waves throughout the conference. With the team's one loss coming in conference play, Oregon State now has its back against the wall in the ultra-competitive Pac-12 North.
Hoping to continue the Beavers' downfall is an Arizona State team barely hanging on the fringes of conference relevancy. Losers of two straight games, a third consecutive defeat would send the Sun Devils scrambling to even get their coveted sixth win of the season down the stretch.
With a ton of uncertainty for both sides coming into this contest, here is a look at everything you need to know about Saturday's clash of Pac-12 foes.
When: Saturday, Nov. 3 at 10:35 p.m. ET
Where: Reser Stadium in Corvallis, Ore.
Watch: ESPN2
Listen: Sun Devils Radio Network, Beavers Radio Network
Stream: WatchESPN
Betting Line: Oregon State (-4.5), according to Vegas Insider
Arizona State Injuries (via USA Today)
OL Andrew Sampson, Ankle, Questionable
DT William Sutton, Knee, Questionable
CB Rashad Wadood, Shoulder, Out for Season
LB Carlos Mendoza, Shoulder, Out for Season
Oregon State Injuries (via USA Today)
No major injuries to report at this time.
Top 25/BCS Implications
After the Beavers' loss last week, their dreams of a Pac-12 title and BCS bowl berth are hanging in the balance with every snap.
Which team will win on Saturday?
One more loss, whether it is this week against Arizona State or in either of their upcoming games, will ostensibly end any chance that Mike Riley's team can win the North division.
Meanwhile, despite already having two losses in the conference, the Sun Devils are still hanging around in the South division.
Last week's two-point loss to UCLA certainly didn't help, but tilts against Arizona and reeling USC remain on the schedule. That means there is still an outside shot the Sun Devils can run the table and end up in the conference championship game.
Regardless, one team's dreams for BCS bowl glory will end Saturday night.
What They're Saying
Losers of two straight games and barely grasping onto their Pac-12 championship dreams, it would be understandable for pessimism to creep in with Arizona State.
Nonetheless, head coach Todd Graham seemed far more optimistic than you would expect, according to AZCentral.com's Doug Haller:
At the end of the day, we've lost to two pretty good football teams. We didn't play very well. We made a lot of mental mistakes, but we had a chance to win (Saturday). But the good thing is we're still alive. All we can focus on is beating Oregon State. It's obviously a big challenge going on the road, but our guys are going to battle.
Meanwhile, the disappointment was far more apparent for Oregon State. By all accounts, the Beavers lost a game they should have won, mostly due to quarterback Sean Mannion coming back too soon.
With an easy scapegoat (Mannion or the coaching staff) and frustration undoubtedly boundless, it would have been understandable for some regrettable quotes to leak.
Fortunately, the team seemed to take last Saturday's loss with the utmost maturity, exemplified by a quote here from cornerback Jordan Poyer, per The Oregonian's Lindsay Schnell:
We win together and we lose together. We've got to stick together. We're a family, and we have to learn from it. We're more resilient than people think, and we've proven that all year. Obviously this loss hurts, but I think we're mature enough to learn from it.
Arizona State Player to Watch: QB Taylor Kelly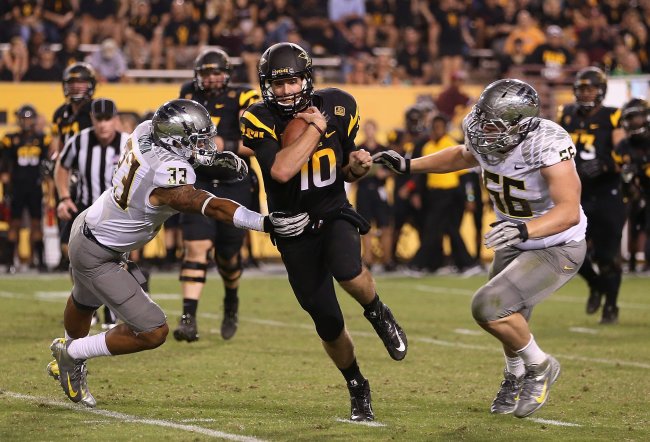 Christian Petersen/Getty Images
The sophomore dual-threat has been nothing short of sensational for most of the season, and has mostly done so far under the national radar.
Completing 67.7 percent of his passes and having a 19-5 touchdown-to-interception ratio, Kelly has actually been the conference's most efficient passer in 2012.
However, Kelly still has struggled against tougher defenses this season. Losses to Missouri and Oregon are responsible for four of his five interceptions on the year, along with two of his worst games in terms of completion percentage.
Considering the strength of the Beavers' defense this season, the Sun Devils still have to be least a little concerned.
Luckily, if there is an exploitable deficiency for the Oregon State defense, it's against the pass. Kelly will need to find those holes and make the most of them for Arizona State to have a shot on the road.
Oregon State Player to Watch: QB Cody Vaz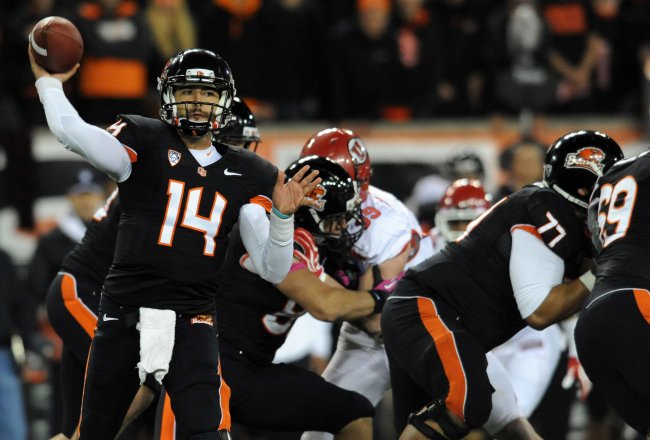 Steve Dykes/Getty Images
With Vaz thrust back into the starting lineup due to Mannion's ineffectiveness, all eyes will be focused on the junior quarterback on Saturday.
Though he's definitely inexperienced and slightly undersized, things have gone swimmingly for Vaz thus far behind center. He's yet to throw an interception in 69 attempts, oftentimes leading the Oregon State charge with far more efficiency than Mannion.
Nevertheless, Vaz is also noticeably less explosive than his younger counterpart.
That means a more conservative attack is likely against Arizona State this week. If Vaz can methodically lead the Beavers down the field and avoid turnovers, they should come out ahead.
On the other hand, if this turns into another turnover fest, Oregon State can kiss its BCS bowl dreams goodbye.
Key Matchup: Arizona State Secondary vs. WR Brandin Cooks
The more methodical the Beavers' play is, the less their big-play threat receiver, Brandin Cooks, can make a much-needed impact.
The sophomore speedster has consistently been the team's most explosive playmaker, averaging an astounding 18 yards per catch and seemingly creating 50-plus yard receptions at will.
However, Vaz and Cooks do not seem to connect as well as Mannion and Cooks. In fact, Cooks' only game with fewer than 80 yards receiving this season came in one of Vaz's two starts.
If the Sun Devils secondary is able to stifle that relationship again on Saturday, there is very little doubt that the underdog can send Oregon State to its second straight defeat.
Prediction
It took a cavalcade of turnovers last week for Oregon State to take its first loss, but with Vaz under center, I'm not expecting a repeat performance.
The game won't be easy and may come down to the last minute, but look for the Beavers to win on Saturday and keep their Pac-12 championship dreams alive.
Score Prediction: Oregon State 24, Arizona State 21