NFL Week 8: The Good, Bad and Ugly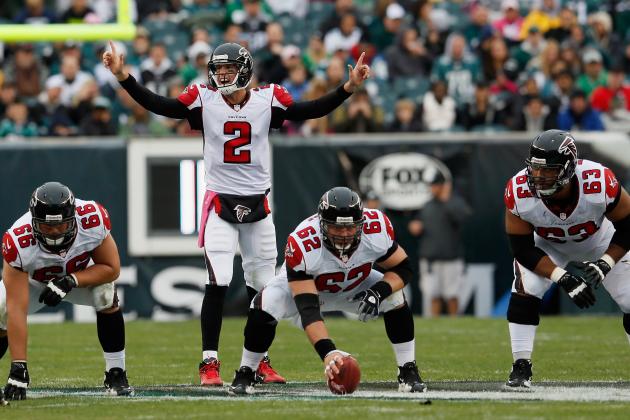 Rob Carr/Getty Images

Things are starting to settle down in the NFL. Week 8 proved that you can still pigeon-hole teams in the NFL as either "haves" or "have-nots". But that's why we love the game.
The Atlanta Falcons remain undefeated as they handed the Philadelphia Eagles their first loss in a game following a bye week.
The New England Patriots traveled to jolly ole England and put a royal whopping on the St. Louis Rams. No wonder Patriots owner Robert Kraft said (via ESPN) that London is ready to host an NFL franchise now.
So let's jump in and take a look at all the good, the bad and the ugly from Week 8.
Begin Slideshow

»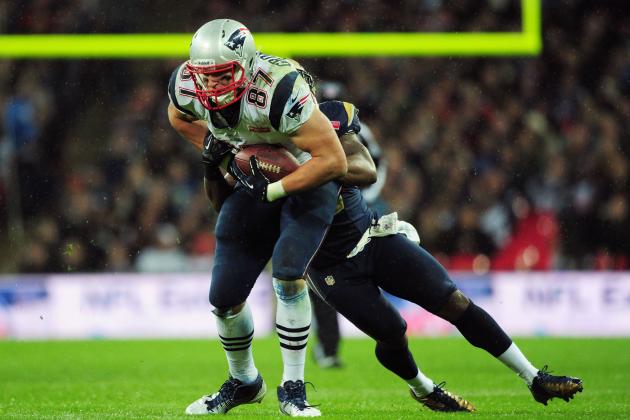 Jamie McDonald/Getty Images

New England Patriots tight end Rob Gronkowski had a real good time in England. One day after showing the fans in London his signature spike by destroying the microphone at the NFL Fan Rally at the historic Trafalgar Square, Gronkowski helped destroy the St. Louis Rams.
He was involved early and often in the Patriots' offensive game plan and the Rams had no answer for stopping him. Gronkowski finished the game with eight receptions for 146 yards and two touchdowns.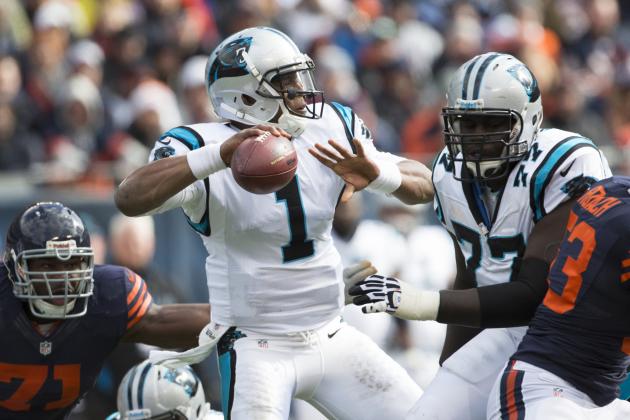 John Gress/Getty Images

Maybe it is time to start saying that Cam Newton is suffering through a sophomore slump. Although Newton threw for over 300 yards passing for the Carolina Panthers, his decision-making was questionable.
Newton finished the game with a 57.0 passer rating on 20-of-39 passing for 314 yards and no touchdowns. The killer? He had two interceptions with the Bears returning one for a touchdown of their own.
Newton may not want to call it a sophomore slump, but he is certainly having a bad year compared to last season.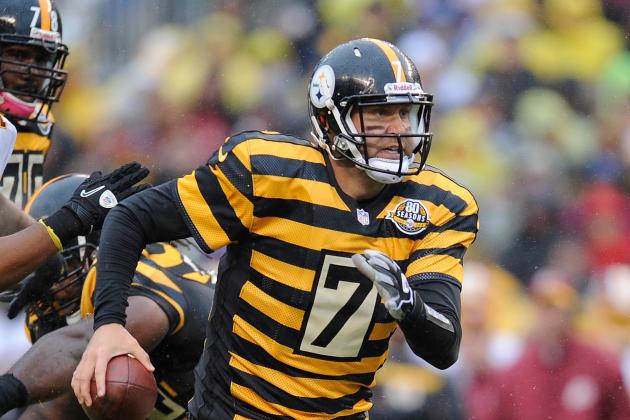 Joe Sargent/Getty Images

The Pittsburgh Steelers wore their alternate throwback uniforms honoring their team from 1934.
Did you see those things? They were hideous. They were so bad that even the Oregon Ducks passed on them. OK, bad example. Some of the Ducks uniforms are pretty stylish.
However, the Steelers uniform was anything but. It resembled a strange bumblebee, Waldo-esque prisoner costume. Why does the NFL continue to put out jerseys from eras when football was all about the game on the field and not about how many jerseys a franchise could sell?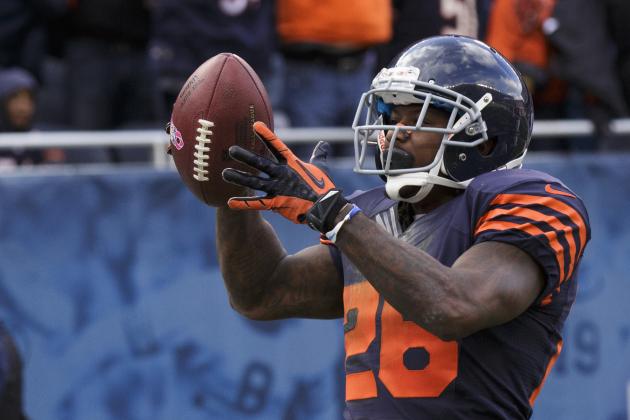 John Gress/Getty Images

Who needs an offense when your defense keeps scoring points? That is exactly what the Chicago Bears defense continues to do.
Midway through the fourth quarter, Tim Jennings returned a Cam Newton interception 25 yards for a touchdown to give the Bears a one-point lead. The Bears were all over the Carolina Panthers. Julius Peppers sacked Newton twice and had another two hits on the quarterback.
The Bears defense forced two interceptions and had eight tackles for a loss on the day.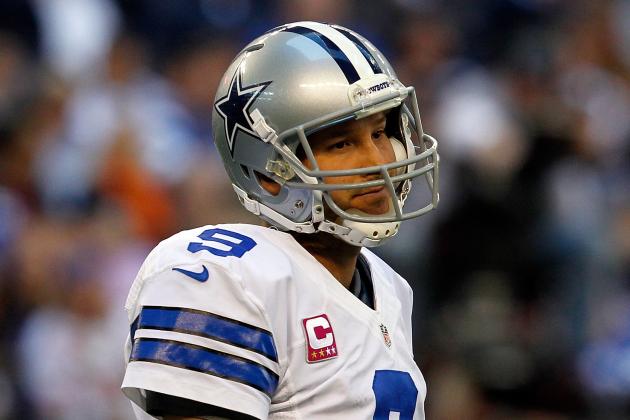 Tom Pennington/Getty Images

Just when you think you've seen the worst from the Dallas Cowboys, they put on a show like they did at home against the New York Giants.
Tony Romo threw four interceptions, Felix Jones fumbled the ball on at a critical stage in the game and Dez Bryant continues to run the wrong routes. Bryant also fumbled during a punt return and his would-be game-winning touchdown was overturned because he put his hand down two inches out of bounds at the end of the game.
You know Jerry Jones can't be happy right now.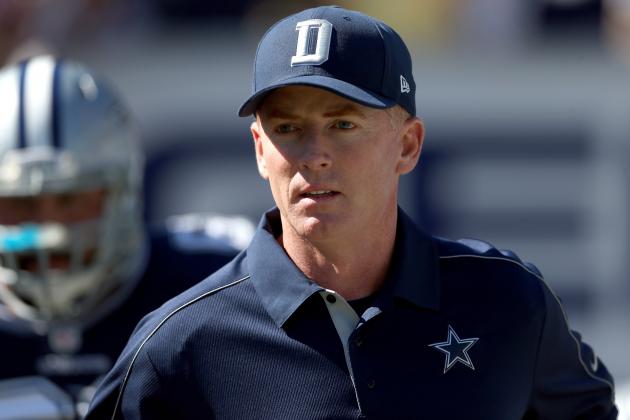 Streeter Lecka/Getty Images

Speaking of the Dallas Cowboys, let's toss head coach Jason Garrett in the bad.
Garrett does not seem to get the best from his players. No doubt the Cowboys have a talented bunch of players, but if their coach is not going to motivate them enough to play their best, then it does not matter.
Garrett's play calling has become stale and his inability to manage the clock late in games is laughable. Not running the ball on 2nd-and-1 is fine, but there is no excuse for not running the ball a single time on 3rd-and-1 and 4th-and-1.
Maybe time is running out on the Jason Garrett experiment.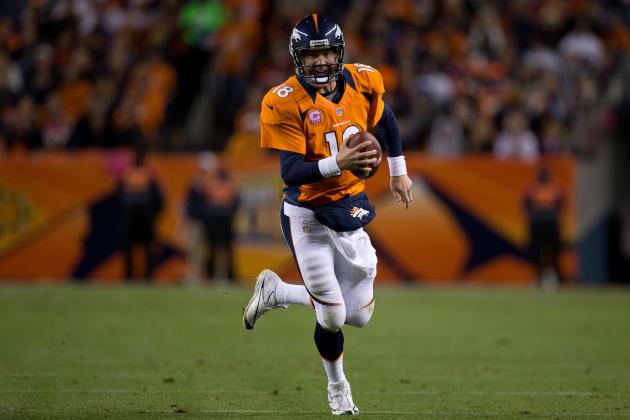 Justin Edmonds/Getty Images

Quarterback Peyton Manning certainly knows how to get the best from his wide receivers, and this year Demaryius Thomas is learning how true that statement is.
Manning was back to his old self against the New Orleans Saints. He finished the game with a 138.9 passer rating on 22-of-30 passing for 305 yards and three touchdowns with zero interceptions.
Thomas was on the receiving end for seven of the completions. He gained 137 yards and scored one touchdown and literally outclassed the Saints secondary.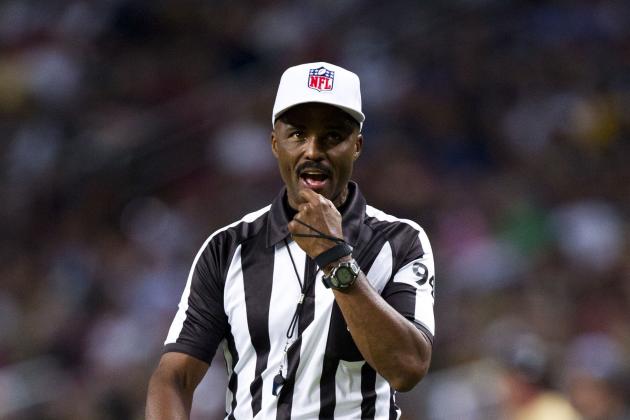 David Welker/Getty Images

Maybe it was the fact that they were playing a "home" game away in London outdoors at Wembley Stadium. Or maybe it was the rain and the fact that the majority of the fans inside Wembley Stadium was cheering for the New England Patriots.
Whatever the reason, the Rams were not focused in the NFL's sixth installment of the International Series. They finished the game with 12 penalties for 102 yards. After scoring on their opening possession they were never in the game, and the penalties were a big reason for their inability to make it a competitive game.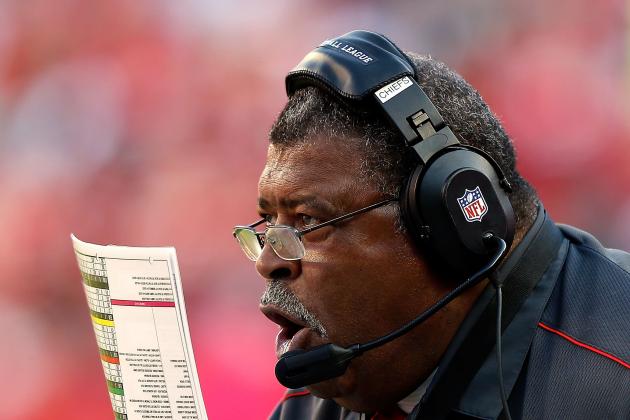 Jamie Squire/Getty Images

The Kansas City Chiefs are in a downward spiral after their 26-16 loss at home to the Oakland Raiders. What's worse is that head coach Romeo Crennel is not even sure what is going on with his team.
When Crennel was asked why star running back why Jamaal Charles only had five carries against the Raiders, Crennel responded by saying, "Now, that I'm not exactly sure either." (via AP Sportswriter Dave Skretta)
A head coach should know everything that is going on with his team at all times. The only thing worse than Crennel's lack of understanding the ins and outs of his football team is the team's lackluster performance itself.
Hannah Foslien/Getty Images

Little Doug Martin did not play so little against the Minnesota Vikings on Thursday Night Football. Martin even out-performed Vikings running back Adrian Peterson.
Martin scored two touchdowns in the second half as he helped Tampa Bay defeat Minnesota 36-17. Early in the third quarter, he took a short screen-pass 64 yards for a touchdown on a play that showed both Martin's elusive and tough running style.
He finished the game with 214 total yards by gaining 135 yards rushing on 29 carries and 79 yards on three receptions.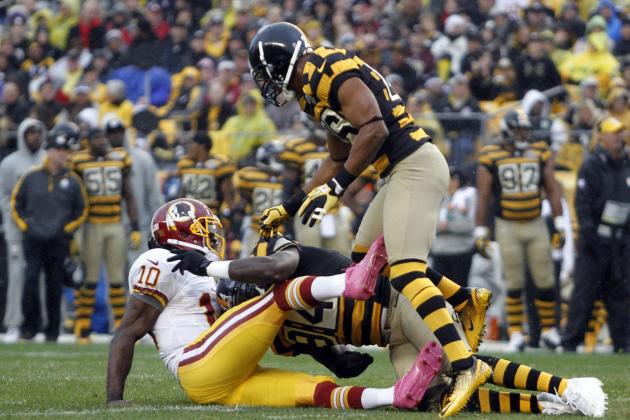 Justin K. Aller/Getty Images

Late in the first half, the Washington Redskins tried a bit of trickery on offense that had many scratching their heads. They had quarterback Robert Griffin III pitch the ball to Josh Morgan, then go out for a pass.
Morgan threw the ball back to Griffin and the ball fell incomplete. Not only did RG3 get called for offensive pass interference on the play, he got leveled by Steelers safety Ryan Clark. Probably not the best way to use your star quarterback.
We are glad to hear that head coach Mike Shanahan feels the same way. Shanahan told reporters Monday (via WJFK-FM's Grant Paulsen), "After looking at that play you feel like a complete dumbs---."
Couldn't agree more.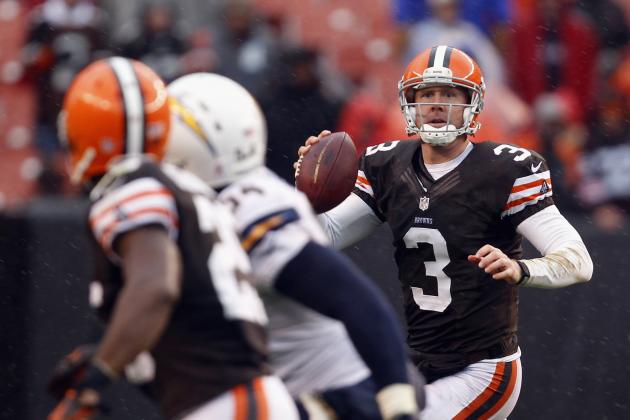 Matt Sullivan/Getty Images

Cleveland Browns quarterback Brandon Weeden looked out of sync against the San Diego Chargers. Weeden only managed to complete 47 percent of his passes going 11-of-27 for a meager 129 yards.
Weeden was also sacked twice, and although he did not throw any interceptions, he was wildly inaccurate throughout the game. He finished with a passer rating of 55.9 against a team that was not known for its pass defense.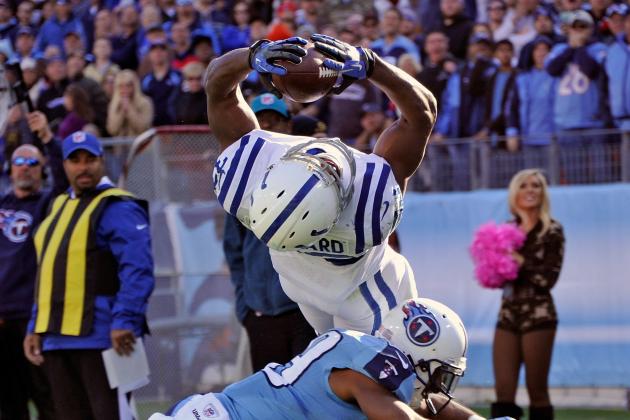 Frederick Breedon/Getty Images

Indianapolis Colts running back Vick Ballard willed himself into the end zone in overtime against the Tennessee Titans. Ballard took a short pass from quarterback Andrew Luck in overtime and scored the game-winning touchdown from 14 yards out.
On the play, Ballard turned the corner and ran up the sideline and used a combination of skill and toughness to get into the end zone for the score. He jumped from around the 3-yard line and twisted his body in between defenders to get to the pylon for the score.
Ballard finished the game with 71 total yards and the one score in OT.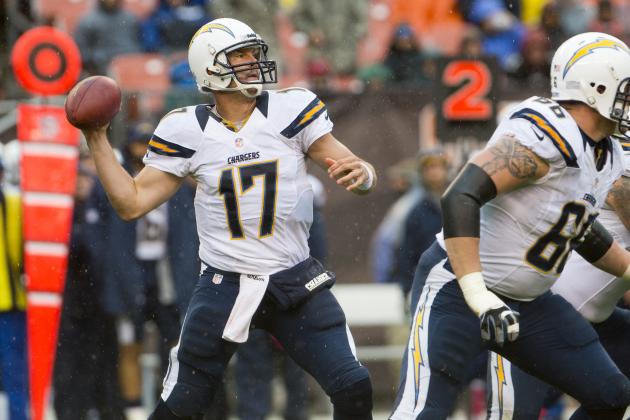 Jason Miller/Getty Images

Six points against the Cleveland Browns is not good!
Philip Rivers continues to struggle, and as Rivers goes, so do the San Diego Chargers. Rivers had a problem playing in Cleveland and the Chargers only managed to score six points against a team that was giving up about 26 points per game heading into Week 8.
Rivers was only able to gain 154 yard passing and finished with a passer rating of 65.1 on 18-of-34 passing. Either Rivers has regressed as a quarterback or he simply does not trust his new wide receivers.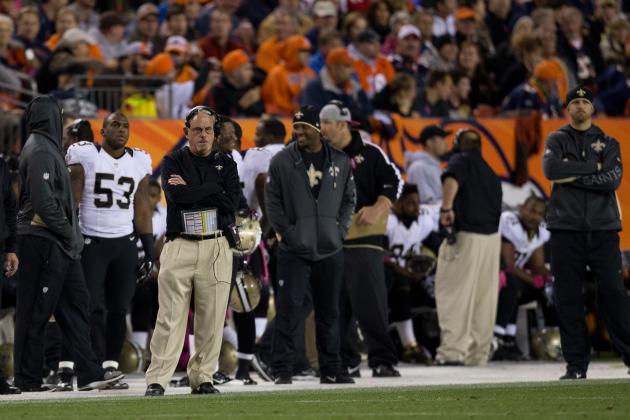 Justin Edmonds/Getty Images

The New Orleans Saints defense continues to struggle this season. This unit is not getting any better.
This week it was Peyton Manning's turn to throw all over them. Manning was flawless against the Saints. The Saints allowed the Denver Broncos quarterback to throw for over 300 yards, and the Broncos offense gained 530 yards on offense.
Not even Jonathan Vilma's return could help this team. It continues to sit at the bottom of the league allowing nearly 475 yards per game.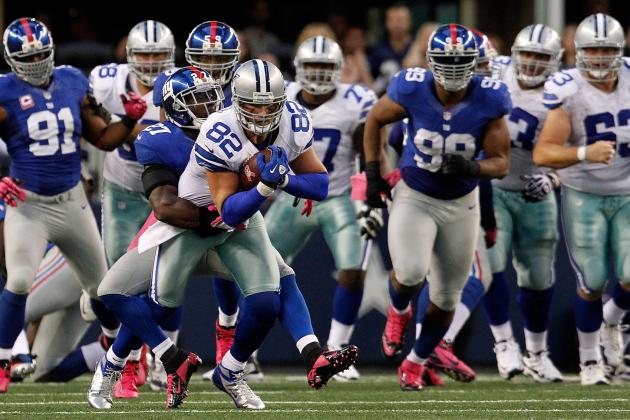 Tom Pennington/Getty Images

If only the Dallas Cowboys had five more players like Jason Witten on their roster. If only.
Witten was stellar and helped the Cowboys climb out of a 23-0 hole by posting a career-high 18 catches. He also posted another career-high, gaining 167 yards against the New York Giants. The Giants did not have an answer for Witten all night. As a matter of fact, Witten caught more passes than every Giants receiver combined (15).
Not only did Witten set a new franchise single-game record with his 18 receptions, but also it was good enough for a new NFL record for the number of receptions by a tight end in a single game. Unfortunately, that record became a footnote as the Cowboys fell to the Giants, 29-24.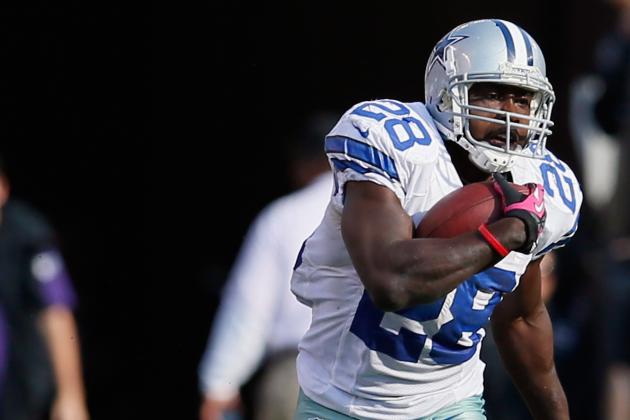 Rob Carr/Getty Images

It might be time for the Dallas Cowboys to part ways with their former No. 1 draft pick, running back Felix Jones. Since the start of the season, Jones has been a mystery. He showed up to training camp and failed a conditioning test, and his performance has been horrible through the first seven games of the season.
This week Jones was the starting running back in place of the injured DeMarco Murray. He gained a paltry 19 yards on 13 carries. He was also unable to haul in a single catch although he had three passes thrown his way.
The worst part, after the Cowboys had climbed back into the game by erasing a 23-0 deficit, Jones fumbled the ball in the fourth quarter to give the Giants a short field goal to extend their lead.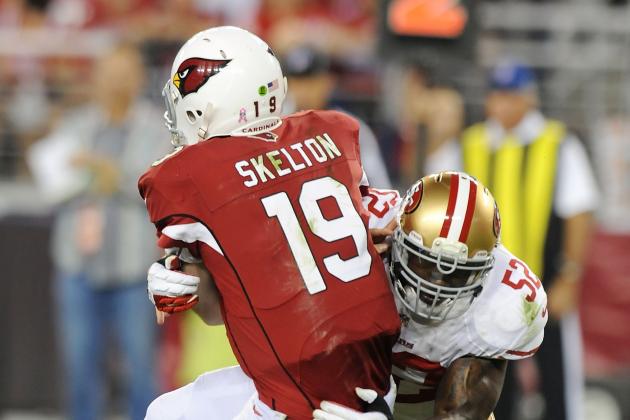 Norm Hall/Getty Images

Monday Night Football was difficult to watch as the Arizona Cardinals could not get going offensively against the San Francisco 49ers. The Cardinals could not move the ball against the 49ers and only managed to kick a field goal late in the second half.
Quarterback John Skelton was ineffective and the Cardinals rushing attack was absent. The Cardinals gained seven yards rushing. Seven!
Wasn't this team 4-0 at one point?