Complete NY Knicks Player Power Rankings for Start of 2012-13 NBA Season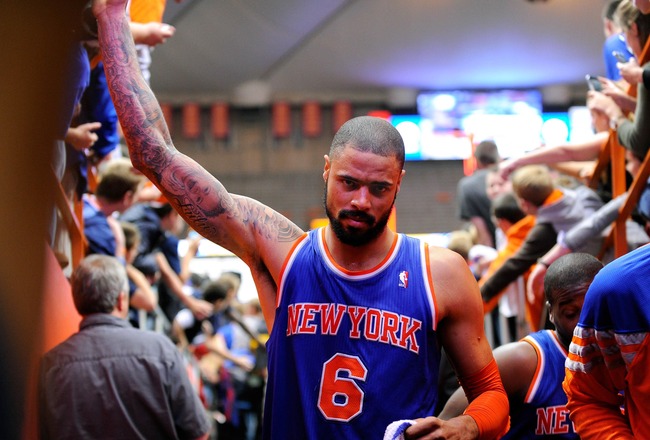 Rich Barnes-US PRESSWIRE
The New York Knicks revealed a lot in their exhibition season, both with their play and lack of it.
We saw great showings from some players like Raymond Felton, Chris Copeland and Pablo Prigioni. We didn't see some players at all due to injury, like Marcus Camby. And some players fought injuries despite impressing, namely Tyson Chandler, J.R. Smith and Ronnie Brewer.
Copeland battled his way from non-guaranteed camp invitee to 15th man, which was encouraging to see from a fan's perspective.
However, the Knicks faithful can't help but be discouraged after the abundance of injuries their seasoned squad is already suffering through.
Now that we've witnessed a small dose of this year's 'Bockers in action, we're ready to rank them individually just in time for the season tipoff versus the crosstown rival Brooklyn Nets on November 1.
These rankings may just be as unpredictable as this season could be for New York.
15. Rasheed Wallace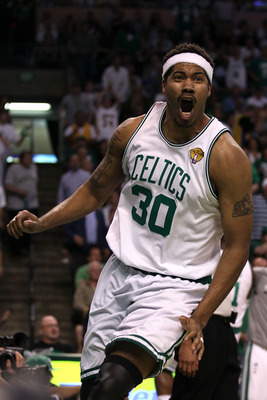 Rasheed Wallace's last appearance was in the NBA Finals with Boston, and even then his glory days were long gone.
Elsa/Getty Images
When the Knicks picked up Rasheed Wallace towards the end of the offseason, experts and fans were equally in shock.
'Sheed is still in the process of getting into basketball shape, and head coach Mike Woodson still hasn't set a date for Wallace to begin game-action.
Towards the tail end of the preseason, Wallace was present on the Knicks' bench, and appeared to be very vocal and encouraging to New York players.
This is a plus for the Knicks, but unfortunately, this is likely where Wallace's contributions will end. It's improbable that he'll play many, if any minutes in Knicks games this year, and will act more as an additional coach than weapon off the bench.
14. James White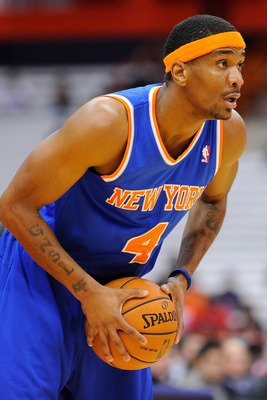 James White will attempt to revive his NBA career this season in New York.
Rich Barnes-US PRESSWIRE
James White was once a highly coveted prospect out of Cincinnati. Years have passed, and he's far from the rim-rocker he used to be, but White earned a guaranteed contract with the Knicks after several successful seasons overseas.
White averaged 17 points per game last season with Dinamo Sassari of Lega Basket Serie A, shooting 53 percent from the field.
This preseason, White started three games due to Knicks injury troubles. His six points per game on 39 percent shooting weren't pretty, but he shone on the defensive end of the floor, exemplified by a five-steal performance against Boston.
White may not play a significant role on this year's Knicks team, but as we've seen so far in this young season, injuries could be the devil for this season's squad.
Luckily for the Knicks, they have excellent depth, and White is part of it.
13. Chris Copeland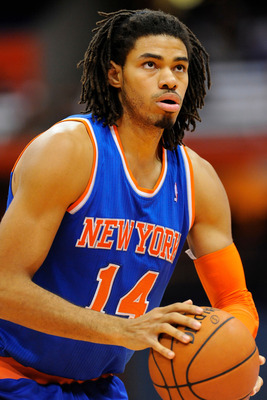 Chris Copeland battled his way onto the Knicks roster this preseason.
Rich Barnes-US PRESSWIRE
This summer, Chris Copeland was offered a non-guaranteed one-year deal with the Knicks. He was invited to training camp, where he turned heads immediately.
There was speculation early on (via MSG) that the Knicks may leave the roster at 14 men, which would mean waiving all non-guaranteed contracts following training camp. This would allow the Knicks roster flexibility if one of their aging contributors injured themselves midseason.
But Mike Woodson found his 15th man during the preseason. Copeland impressed by scoring 16 points per game on 52 percent shooting, highlighted by a 34-point showing against Boston in 37 minutes.
Copeland and point guard Pablo Prigioni developed into a dangerous pick-and-roll combination by the end of the exhibition season.
There are still plenty of holes in Copeland's game. His defense still needs to adjust to the speed of NBA games, and his 2.8 rebounds per game this preseason aren't acceptable for his 6'8", 225-pound frame.
Copeland just barely snuck onto the roster as the 15th player, but he may be able to play a role on the court this season with Amar'e Stoudemire out six to eight weeks and Tyson Chandler battling a knee bruise.
Even if he doesn't make an immediate impact early in the season, he provides more great depth for the Knicks should they encounter injury troubles in the frontcourt.
12. Kurt Thomas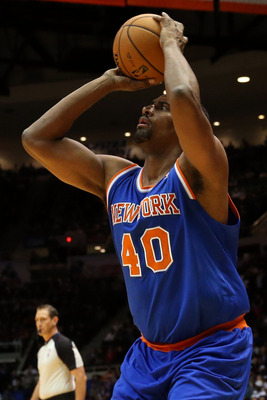 At 40 years old, Kurt Thomas is the oldest active NBA player.
Anthony Gruppuso-US PRESSWIRE
Kurt Thomas was the primary starter at power forward with Amar'e Stoudemire out most of the preseason, and is in contention to begin the season in that role with Stoudemire out for six to eight weeks.
Thomas' age has finally caught up with his jersey number. Thomas and Clipper Grant Hill make up the exclusive 40-and-over crew of the NBA.
After 17 seasons, Thomas isn't quite the force he was in his first stint with New York, which came to an end in 2005. However, he still brings size and defensive stability into the Knicks' post, and his mid-range jumper doesn't seem to have lost its charm.
Thomas will lead by example and be responsible for the dirty work in the absence of Stoudemire, and may have to play a few more minutes than he anticipated when being traded to the Knicks with Raymond Felton last July.
Thomas brings experience to the Knicks frontcourt, which is invaluable, even on an older New York team. His diminished skill, however, is responsible for his lower ranking among Knicks players.
Don't mistake that for unimportance, though. Thomas will be a vital piece to the team on the defensive end if they want to build on the impressive start Mike Woodson implemented on that side of the ball last season.
11. Steve Novak
Steve Novak contributes one skill to the Knicks, but he does it better than anyone in the league.
Rich Barnes-US PRESSWIRE
Last summer, Steve Novak was rewarded with a four-year contract for his miraculous 2011-12 performance when he transformed from career-long journeyman to three-point leader.
This year, Novak's role will be largely similar. He doesn't provide much talent outside of his long-range game, which explains his subpar positioning on this list.
Novak was benched by Mike Woodson for much of the final preseason game against the Brooklyn Nets after a failed defensive assignment.
His specialty has not been compromised, however. He opened the exhibition season with a 7-for-7 shooting exposition from beyond the arc against Washington. He finished the preseason at 49 percent from three-point range, or 19-for-39.
Also during the preseason, Novak attempted to display a slightly improved version of his game. There were a few instances where he tried pump fakes and up-and-under moves on defenders, but with so-so results.
As long as Novak keep shooting 48 percent from downtown, he can stay as one-dimensional as he likes.
10. Marcus Camby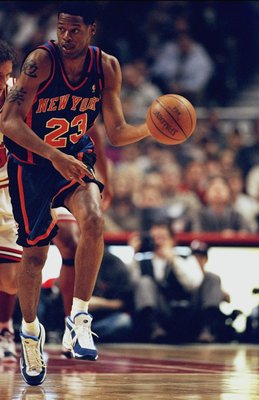 It's been a decade since Marcus Camby's last stint in New York.
Jonathan Daniel/Getty Images
Marcus Camby came to the Knicks this past offseason, and returned to the place he always wanted to play, according to The New York Times.
Early in training camp, however, Camby suffered a calf strain that was originally supposed to sideline the seven-footer for about a week (via Al Iannazzone of Newsday).
That one week has turned into four, but Camby is still holding out hope that he can start the season on time in Brooklyn Thursday.
With Tyson Chandler already among the walking wounded after suffering a bruised knee in the final preseason game against the Nets, Camby's absence would be that much more detrimental.
When he does return to the hardwood, Camby will be a tremendous asset for the team. The depth he'll provide behind reigning Defensive Player of the Year Chandler will be unlike any situation the NBA can currently sport.
Offensively, he's always been limited, but having top-notch defense coming off the bench is always beneficial.
However, Camby is 38 years old, and far from the exciting young athlete he was as a Knick 10 seasons ago. It's yet to be seen how Camby will hold up this season, but judging by his delayed rehabilitation from a strained calf, this season may not be Camby's most encouraging.
9. Jason Kidd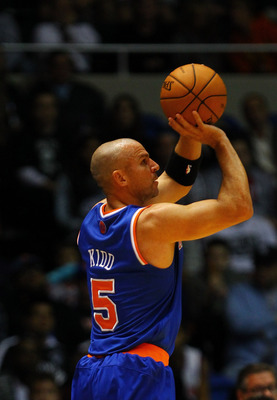 It's still questionable whether Jason Kidd can provide meaningful minutes for New York this year.
Al Bello/Getty Images
When the Knicks inked Jason Kidd to a three-year deal last July, many predicted that the 39-year-old would primarily act as a mentor to Jeremy Lin.
As we all know, that's now how things shook out.
Lin is collecting checks from the Houston Rockets, and Kidd is in the mix to start at the off-guard position for New York.
Considering the fact that he's under contract until age 42, Kidd didn't exactly start off on the right foot with Knicks fans, and his preseason performance didn't help.
In five games, Kidd took 22 shots and made six.
That equates to just 27 percent from the field, and 21 percent from three-point range.
He's coming off a season filled with career lows, and at 39, it's fair to wonder if Kidd has anything left in the tank.
8. Pablo Prigioni
Pablo Prigioni proved he can be a serviceable NBA point guard this preseason.
Rich Barnes-US PRESSWIRE
The Knicks finally corralled in the Argentinian point guard they'd been coveting for the past five years when they locked up Pablo Prigioni on a one-year deal last offseason (via ESPN New York).
At 35, he's the oldest NBA rookie in four decades. But don't let that number fool you. Prigioni appears to be in great shape and wowed Knicks fans all throughout the preseason.
Prigioni was the third point guard heading into camp, but has played his way into the conversation to be a main rotation player.
He's displayed elite passing ability, and has seemingly become very acquainted with his teammates in a short time, developing great chemistry. If you don't believe me, see for yourself.
Against Brooklyn in the preseason finale, he scored just five points, but added 11 assists and three steals in 33 minutes on the floor. The Knicks were plus-11 when he was checked in.
If preseason tendencies translate to the games that count, you can bet on Prigioni outplaying Jason Kidd for minutes in the backcourt.
7. Ronnie Brewer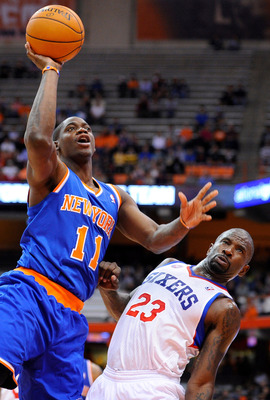 Ronnie Brewer got a late start to training camp, but will likely start for the Knicks to begin the season.
Rich Barnes-US PRESSWIRE
The Knicks acquired Ronnie Brewer on the cheap this offseason for the veteran's minimum salary on a one-year deal. It may have been the best under-the-radar move of the offseason for any NBA team.
Last season, Brewer was a catalyst on the defensive end for the top defense in the NBA with Chicago. He's appeared in two Conference Finals during his six-year career, one with Chicago and one with the Utah Jazz.
With the ball, Brewer tends to get a little out of control in the fast break, and isn't the most reliable shot on the court, but that isn't why Knicks general manager Glen Grunwald brought him to Madison Square Garden.
Brewer's defensive presence places him among the league's best at his position. He got off to a late start to the season after recovering from offseason knee surgery, but recovered in time for the final two exhibition matchups, including the contest against Brooklyn when he scored 12 and added three steals.
There's no question that J.R. Smith and Jason Kidd can provide more of an output on offense, but this year's Knicks team is structured around hard-nosed defense, and Brewer fits the bill.
6. J.R. Smith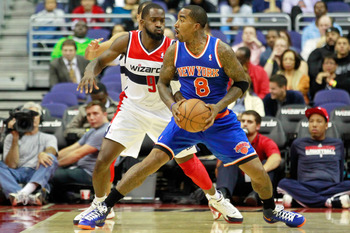 JR Smith may be the best offensive talent on any NBA bench.
Geoff Burke-US PRESSWIRE
J.R. Smith's offensive ability has no right to be questioned. His skill set on that end of the floor is comparable to many of the great scorers that play in the league today.
His defense isn't necessarily bad either. His effort on both ends of the floor exceed nearly every player's on the roster.
So what is it that has held J.R. Smith back?
His offensive game has always been mired by horrendous decision-making, and the same can be said about his defense. This year, however, Smith looks to change all of that.
"This year, I'm trying to be more conservative by not taking as many bad shots," he told The Wall Street Journal. "I know I can find my shot whenever I want to. But now I'm making sure we get the best shot for the team," he said.
Sure, words are just that, but this type of attitude is unprecedented from Smith.
He's fought an Achilles' injury throughout this preseason. In one exhibition game before going down with the ailment, Smith scored 20 points on uncharacteristic 8-of-11 shooting.
It would be nice to see J.R. have a season where he finally puts it all together on both ends of the floor. The ability has never been in question. If the discipline shows up, Smith might just be on the cusp of being a next-level NBA player.
If Smith can keep his head screwed on straight this season, he'll likely earn a long-term deal, if not from the Knicks, then from another team.
5. Iman Shumpert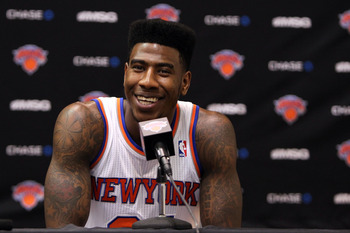 The Knicks can only hope that Iman Shumpert returns in the same form he was in last season.
Debby Wong-US PRESSWIRE
When Iman Shumpert went down in Game 1 of the playoffs last season for New York, the Knicks knew they lost more than just any rookie.
By season's end, Shumpert's explosive offensive game and tenacious defending earned him a spot in the starting lineup. His on-ball defense was good enough to compare to the best of the league, let alone rookies.
Shumpert's jump shot is the weakest part of his game at this point in his career. Last season in 59 games, Shump shot just 31 percent from beyond the arc.
If he regains full explosiveness in his injured knee, Shumpert has the athleticism to be recognized as one of the league's high-flyers.
With a likely return date set for January, the Knicks will warmly welcome the youth and stopping ability he brings to the table. He's the only Knick under the age of 27, and the best defending guard the team has had in decades.
Once Shumpert proves that he can fully recover from the injury to his knee, and improve his temperamental jumper, he will solidify his name as a future All-Star and DPOY-caliber player.
4. Raymond Felton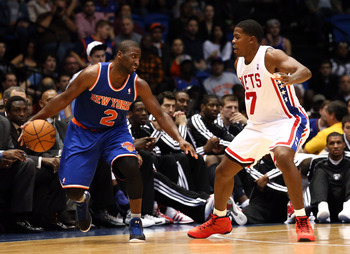 Ray Felton proved this exhibition season that he's in shape and ready to compete for a championship in 2012.
Anthony Gruppuso-US PRESSWIRE
Last season, Raymond Felton was admittedly out of shape entering the lockout-shortened season, and it showed in his numbers. Felton had to play his way into shape throughout the first half, and struggled.
Through last season's first 33 games, Felton shot just 38 percent from the field, 79 percent from the line and 25 percent from three-point range. He averaged 10 points and six assists in the first half with Portland.
By the season's second half, Felton was much more suited to perform up to his standards. After the All-Star break, Felton averaged 13 points per game and seven assists, and shot a much better 44 percent from the field, 38 percent from behind the arc and 83 percent from the stripe.
This year, Felton is exactly where he wants to be. He never wanted to leave New York in the deal that made Carmelo Anthony a Knick. After a half-season in Denver, however, and a season in the Pacific Northwest, Felton is back in the orange and blue.
This preseason, he appeared exceptionally slim. The way he carved apart defenses with improved ball-handling seemed different from the point guard the Knicks had in the first half of the 2010 season—he looked better.
In Felton's last two preseason appearances, he averaged 19 points and 4.5 assists on 51 percent shooting in 28.5 minutes.
Felton's 17-and-9 averages that he accumulated under Mike D'Antoni two seasons ago in New York might not be replicated under the slowed-down offensive schemes of Mike Woodson, but Felton appears to be even more ready than before to take control of orchestrating the Carmelo Anthony-centric offense.
3. Amar'e Stoudemire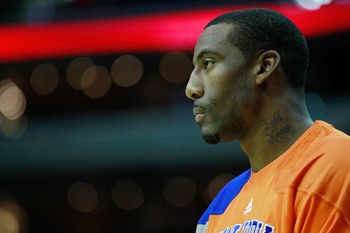 Amar'e Stoudemire's injury problems have caused his value to plummet and maybe his career to slowly come to an end.
Geoff Burke-US PRESSWIRE
This one hurts.
Amar'e Stoudemire's slow downfall from franchise savior to oft-injured, overpaid liability has been especially painful for Knicks fans to endure over the last year.
The player that once represented hope and promise to a franchise that so badly needed it in 2010 is now a shell of the player he was just two seasons ago.
The emasculation of Amar'e began with the addition of Carmelo Anthony. No longer was Stoudemire the King of New York, he was simply the sidekick to Melo's superhero. Next came the back injury that he suffered during the 2011 playoffs against Boston. That ailment led the former All-Star to believe that adding 20 pounds of muscle would help protect against future injury.
One thing is for certain, it didn't help his play one bit.
Stoudemire lost all his explosiveness and visibly lost a few steps on the court. His jump shot vanished.
It took until midseason for Amar'e to shed the added weight, but for a month-long stretch last season, he appeared to be the Stoudemire of old. That was until the back acted up again.
And we all know about the fire extinguisher fiasco.
2012 was supposed to be different, though. Ray Felton, his old partner-in-crime, was back for another go. Stoudemire was thought to be in better shape than ever before.
Until he and Chris Copeland banged knees in practice. That's when the misery started all over again.
It was supposed to be one day of rest. "If this was a regular season game he would play," Mike Woodson said, according to the New York Post.
The bruised knee turned into a cyst. Then Amar'e needed surgery. Now he's out for six to eight weeks, according to ESPN New York's Jared Zwerling.
The bad news just never stops becoming worse news when it comes to Stoudemire. Despite his glimpses of sporadic flashy dunks, the Knicks need to realize that STAT will never be the same player they signed to a $100 million deal three summers ago.
We're at a point where calling him the third best option on the Knicks may even be a stretch. However, you'd be hard-pressed to name a player that works harder than Stoudemire, so we'll give him the benefit of the doubt here.
Stoudemire made a bold move in choosing the Knicks before anybody else did. He started the basketball renaissance in Manhattan back in 2010. Unfortunately, it's time to somehow end this painful, expensive ride before it gets even uglier.
2. Tyson Chandler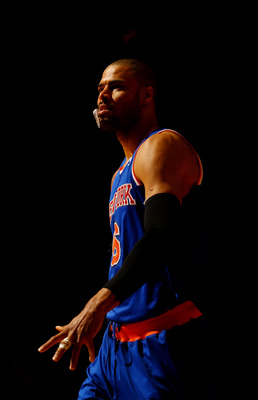 Tyson Chandler's health and continued stability will be crucial to the Knicks' success this year.
Al Bello/Getty Images
The Knicks took a chance when signing Tyson Chandler before the 2011-12 season. In order to afford him under the salary cap, they needed to use their one-time amnesty clause on point guard Chauncey Billups, and in doing so, waive their only stable option at point guard.
By now, I think it's safe to say Chandler was worth it.
Last season, Chandler was everything the Knicks hoped for and more. He initiated the culture change of filling the Garden floor with defense. He led the NBA in shooting percentage and was 0.1 rebounds away from averaging a double-double. Of course, he took home the Defensive Player of the Year trophy at season's end.
He was a warrior in every sense of the word. Chandler battled through injuries almost from wire-to-wire, and was the most consistent option for the team on both ends of the floor.
This year, the team will rely on him even more.
With Amar'e Stoudemire scrapped from the team's plans until some time in December, Chandler will have the post to himself, and will likely be the recipient of countless Raymond Felton, Jason Kidd and Pablo Prigioni lobs.
On defense, Chandler simply needs to continue leading with the same fire and intensity he did in his inaugural Knickerbocker season.
And there's no reason to believe he won't.
1. Carmelo Anthony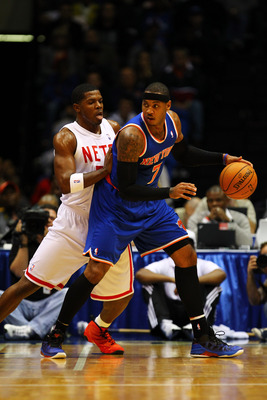 Carmelo Anthony may be the best scorer in the NBA.
Al Bello/Getty Images
For better or worse, Carmelo Anthony is the face of the New York Knicks.
An argument can be made for either, but let's focus on the positives. 'Melo's strength places him among the top scorers in the NBA today. In an off season last year, Anthony still managed to will the Knicks to key victories, like the thrilling overtime win over Chicago on Easter Sunday and the team's playoff victory over Miami last spring.
Coming into this season, Carmelo seems to have a brand new outlook on basketball.
"I'm done trying to score 30, 35, 40 points for us to win a basketball game," he said at the Knicks' Media Day. "I don't want that role anymore." (via NorthJersey.com)
After a summer spent with the best basketball players on the globe in London, Anthony realized that the key to a winning culture is trust in teammates. He shared the following with ESPN New York:
I think at the end of the day for all of us, if we can trust one another out there on the basketball court it will make things a lot easier. … In order for this team to be successful with the guys that we have we need a more well-rounded team.
It's usually unwise to judge a player strictly based on quotes, but these kinds of statements make you think Anthony is beginning to realize his flaws as a leader. In the past, very rarely did you hear Anthony speak about the players surrounding him, or suggest he do less.
Besides, after his scorching performance overseas during the Olympics, why wouldn't he want to bring that approach to the Garden floor? He shot 53.5 percent from the field in London while sinking 23 of 46 three-point attempts.
In theory, 'Melo should thrive early this season. With Amar'e Stoudemire out of the lineup through the first two months, Anthony may find himself filling in at the 4 spot frequently, where he feasted on opposing power forwards last season in Stoudemire's absence. Defensively, he has the size to match up with them on the opposite end as well.
Speaking of defense, it has never been a question of ability; the question has been whether Anthony has wanted to contribute that way. Under Mike Woodson late last season, we saw the best defense Carmelo has played in his career.
Carmelo also has three experienced point guards on the roster this season who will know how to feed him to ball and get him his fair share of looks.
All the stars seem to be aligned for Anthony to bring his game to the elite level in 2012, and it's up to 'Melo to get it there. The Knicks' success is entirely dependent on it.
Follow John Dorn on Twitter at @JSDorn6 for more Knicks talk.
Keep Reading

New York Knicks: Like this team?