Lakers vs. Blazers: How Does Portland Match Up in Its Season Opener?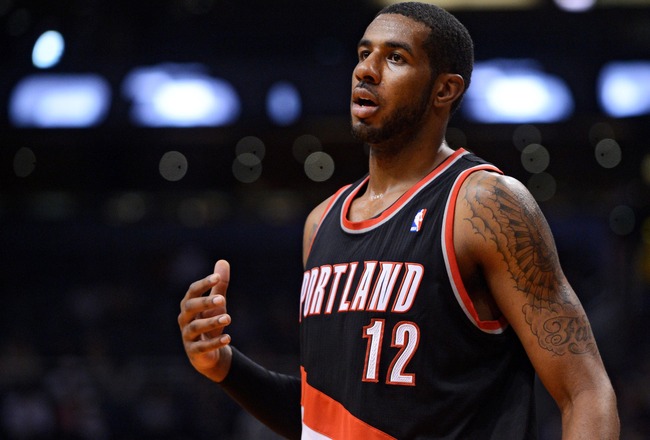 Jennifer Stewart-US PRESSWIRE
The Portland Trail Blazers host the Los Angeles Lakers on Wednesday at 7 p.m. PT at the Rose Garden.
Both franchises are at different stages in their progression toward an NBA championship. The Trail Blazers are back to a rebuilding period, while the Lakers have retooled once again for a chance at the title.
The Lakers have struggled in the Rose Garden since drafting Kobe Bryant in 1996, going 6-24 in Portland over the last 16 years (via Mike Bresnahan of the Los Angeles Times). They will also be coming off a back-to-back scenario after playing Dallas on Tuesday night at home.
Here is how the Blazers match up with the Lakers at each position.
Point Guard: Steve Nash vs. Damian Lillard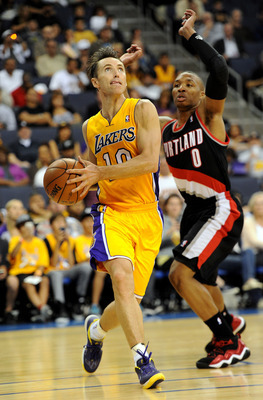 Two-time MVP Steve Nash (left) takes on Damian Lillard in Wednesday's season opener in Portland.
Jayne Kamin-Oncea-US PRESSWIRE
Advantage: Steve Nash, Lakers
Preseason numbers
Nash: 22.1 MPG, 5.8 PPG, 4.3 APG, 2.3 RPG, .487 FG%, .200 3P% (8 games)
Lillard: 31.5 MPG, 16.2 PPG, 5.8 APG, 2.5 RPG, .458 FG%, .364 3P% (6 games)
Lillard may be the future of the NBA, but right now, Nash is still one of the game's elite point guards at age 38.
The two squared off in the preseason opener, which saw Lillard score 15 points and dish five assists. Both players will struggle against each other defensively, as Lillard's youth and quickness should be an advantage when he has the ball.
Nash's savvy and experience that made him a two-time MVP, however, gives him the edge in this matchup.
Shooting Guard: Kobe Bryant vs. Wesley Matthews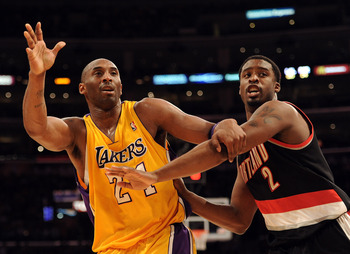 Harry How/Getty Images
Advantage: Kobe Bryant, Lakers
Preseason numbers
Kobe Bryant: 26.8 MPG, 20.4 PPG, 4.8 RPG, 3.4 APG, .500 FG%, .417 3P% (5 games)
Wesley Matthews: 26.6 MPG, 14.4 PPG, 2.1 RPG, 2.1 APG, .493 FG%, .385 3P% (7 games)
Kobe Bryant's availability is in question to begin the season with a strained and bruised foot (via Dave McMenamin of ESPN Los Angeles). If he plays, however, the future Hall of Famer obviously has the advantage.
Wesley Matthews enters this season with a lot to prove now that he is one of the Blazers' building blocks (via Jason Quick of The Oregonian). He is a much better player at home than on the road, averaging 15.5 points at the Rose Garden last season compared to 11.9 on the road.
Matthews shot seven percent better from the field at home (44.6 percent vs. 37.6 percent). He is also one of the streakiest players in the game. His work ethic is unmatched, but Bryant certainly has the advantage in all areas.
Small Forward: Metta World Peace vs. Nicolas Batum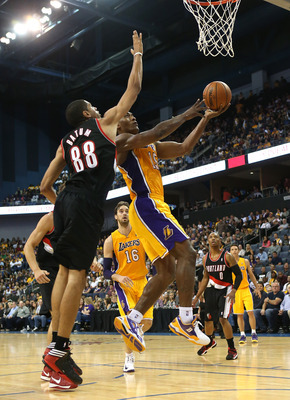 Stephen Dunn/Getty Images
Advantage: Nicolas Batum, Trail Blazers
Preseason numbers
World Peace: 26.6 MPG, 10.0 PPG, 4.0 RPG, 1.9 APG, .384 FG%, .342 3P% (8 games)
Batum: 28.9 MPG, 14.6 PPG, 4.1 RPG, 2.3 APG, .416 FG%, .342 3P% (7 games)
Nicolas Batum is on the upswing of his career after signing a long-term deal with Portland this past offseason.
Under head coach Terry Stotts, Batum's offensive game has expanded. He has shown the versatility offensively that Blazer fans have wanted to see for awhile.
With Metta World Peace, you never know what to expect. He will be a nice complement to the Lakers' All-Star cast in the starting lineup, but Batum will be relied upon to do a lot more this season.
Power Forward: Pau Gasol vs. LaMarcus Aldridge
Harry How/Getty Images
Advantage: LaMarcus Aldridge, Trail Blazers
Preseason numbers
Pau Gasol: 29.9 MPG, 12.3 PPG, 5.7 RPG, 2.3 APG, .465 FG%, 1.1 BPG (7 games)
LaMarcus Aldridge: 26.5 MPG, 15.3 PPG, 7.0 RPG, 1.5 APG, .456 FG%, 1.5 BPG (6 games)
LaMarcus Aldridge is the last one standing for the Trail Blazers when the franchise had a hopeful future of him, Brandon Roy and Greg Oden.
He has certainly stepped up to the bill, earning his first All-Star nod last season. He was ranked No. 20 on ESPN's top 500 players for the upcoming 2012-13 season.
Aldridge is entering his prime at 27 years old, while Pau Gasol has a few good years left in him at age 32. Gasol is still one of the top international players in the NBA, but Aldridge is the Blazers' No. 1 guy and arguably has the advantage in this matchup.
Center: Dwight Howard vs. JJ Hickson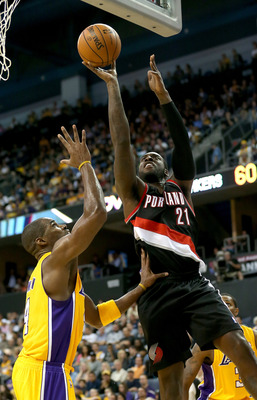 Stephen Dunn/Getty Images
Advantage: Dwight Howard, Lakers
Preseason numbers
Dwight Howard: 28.5 MPG, 14.0 PPG, 10.0 RPG, 1.5 APG, .647 FG%, 3.9 BPG (2 games)
JJ Hickson: 21.5 MPG, 9.0 PPG, 5.5 RPG, 1.3 APG, .667 FG%, 1.2 BPG (6 games)
This matchup is a huge advantage for Los Angeles.
Dwight Howard is back just in time, having played two preseason games following back surgery that kept him out nearly six months. But Howard is confident and ready for the regular season to start (via Eric Pincus of the Los Angeles Times).
"I'm not worried about my back. I think my back is strong enough, but it's not about strength at this point. It's more about endurance, how long the muscles in my back last without getting fatigued," Howard told Pincus via the LA Times.
The key for JJ Hickson will be whether he can hit the outside jumpers to pull Howard away from the rim, allowing LaMarcus Aldridge to work inside. Hickson has a huge task ahead of him, but Howard is undoubtedly one of, if not, the top center in the game.
Bench Play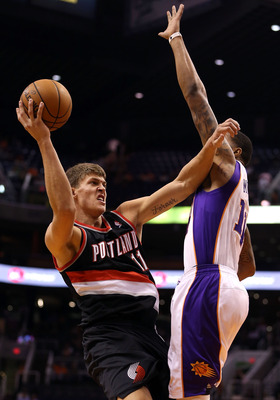 Christian Petersen/Getty Images
Advantage: Lakers
Lakers' top reserves: Jordan Hill, Antawn Jamison, Jodie Meeks, Steve Blake
Blazers' top reserves: Meyers Leonard, Joel Freeland, Ronnie Price, Jared Jeffries
The Lakers' bench is far superior than the Blazers, even though they are still a work in progress (via Serena Winters of Lakers Nation).
Los Angeles may not have quite the depth like Miami, Oklahoma City or Boston have, but Jordan Hill and Antawn Jamison are solid reserves on any ballclub up front.
The Blazers will rely on a ton of inexperienced players, including first-round draft pick Meyers Leonard. Portland will need its bench to hang with the LA's if it wants any chance to win on Wednesday.
Coaching: Mike Brown vs. Terry Stotts
Jonathan Daniel/Getty Images
Advantage: Mike Brown, Lakers
Mike Brown has the experience, entering year two with the Lakers. Expectations are high, the team is full of veterans and Brown knows he needs to juggle how much practice time his team needs and when to give his players a day off (via Ramona Shelburne of ESPN Los Angeles).
Terry Stotts enters his first season with the Blazers and is still feeling things out. He finally gave a glimpse into his regular-season rotation in the preseason finale against Utah (via Joe Freeman of The Oregonian), but there will certainly still be an adjustment period to begin the year.
Brown knows his team a little better after last season and has the edge in the coaching matchup.
Prediction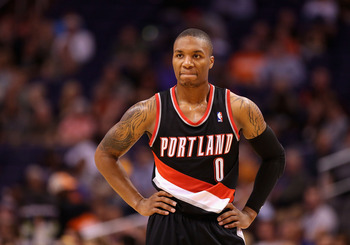 Christian Petersen/Getty Images
The Lakers' preseason didn't go all that well, finishing with an 0-8 record.
They traditionally struggle in Portland, no matter how talented they are or how severely outmatched the Blazers are.
Again, LA is 6-24 in the Rose Garden since Kobe Bryant was drafted in 1996.
The Lakers are also coming off a back-to-back as they host the Dallas Mavericks in their season opener on Tuesday at the Staples Center.
However, in the end, this Lakers squad is stacked. Nash, Bryant, Gasol and Howard on the same team? It's essentially an All-Star team. The Blazers' depth and inexperience will catch up to them. Certainly, there will be some bright spots this season, but there will be a lot of ups and downs.
The Blazers will put up an entertaining fight in front what should be a raucous fanbase at the Rose Garden, but the Lakers have just way too many weapons.
What are your predictions for the Blazers' season opener?
My prediction: Lakers 95, Trail Blazers 93
Keep Reading

Portland Trail Blazers: Like this team?