5 Carolina Hurricanes Who Better Be Training Like Crazy During Lockout
Jamie Sabau/Getty Images
Jordan Staal was traded from the Penguins to the Hurricanes during the 2012 NHL Entry Draft.
From newcomers like Jordan Staal to mainstays such as Cam Ward, the Carolina Hurricanes have plenty of players that need to work hard during the NHL lockout if the 'Canes are to become major players in the NHL.
The 'Canes had a great offseason. In addition to reuniting captain Eric Staal with his younger brother Jordan, they signed Alexander Semin from the free agency. Combine their offseason moves with the already talented group of players on the roster and the Hurricanes look like the real deal.
There's work to do to for them to reach the next level, though.
Here are five Hurricanes players that need to train like crazy during the lockout.
Begin Slideshow

»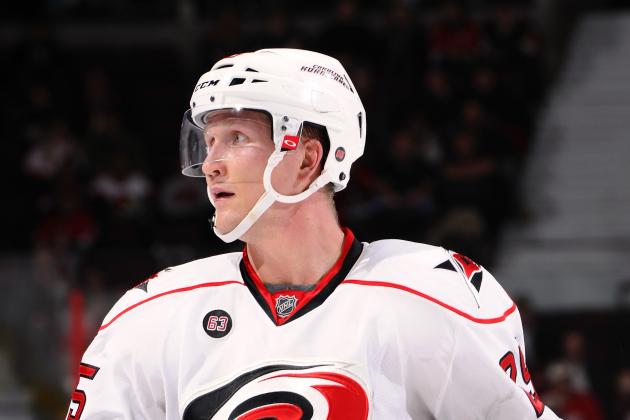 Phillip MacCallum/Getty Images
Joni Pitkanen in a November game against the Ottawa Senators.
The Carolina Hurricanes are relatively limited when it comes to offensive production from the blue line. As one of the Hurricanes' top offensive defensemen, Joni Pitkanen has the responsibility to contribute offensively.
Pitkanen missed a good chunk of the 2011-12 season due to injury. He only played 30 games this past season but still tallied five goals and 12 assists for 17 points. Pitkanen could sign with SM-Liiga, giving him the opportunity to get back on the ice and make sure he's in good condition when the season resumes.
Pitkanen has other reasons to be training like crazy. He has other responsibilities to the Hurricanes. As a top-notch offensive defenseman, he has the duty of nurturing Carolina's up-and-coming offensive defensemen.
Bobby Sanguinetti, currently playing for the AHL's Charlotte Checkers, is among those offensively-geared defense prospects. He could benefit greatly from a player with the NHL experience that Pitkanen has.
Pitkanen needs to be training like crazy during the work stoppage not only to continue scoring, but to help mold future defenseman to add scoring depth to the blue line.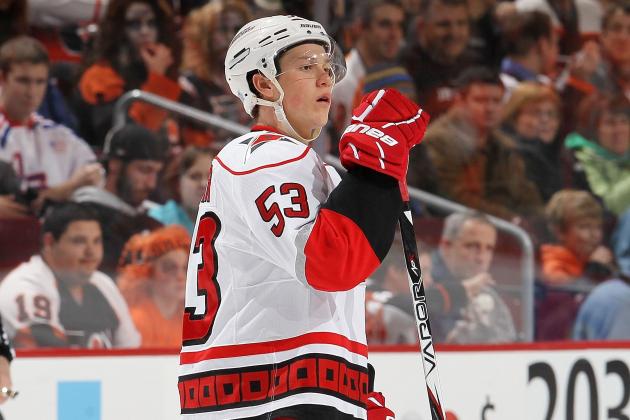 Jim McIsaac/Getty Images
Jeff Skinner taking a break during an October game versus the Philadelphia Flyers.
As the youngest rookie in the 2010-11 class, Jeff Skinner created quite a buzz. He scored 31 goals and assisted on 32 goals for a total of 63 points in his rookie season.
Not surprisingly, his numbers dropped off during his sophomore season. He only tallied 44 points. Granted, he only played 64 games due to a concussion he suffered in a December game against the Edmonton Oilers.
The 2010-11 Calder Trophy winner has certainly proved to be a valuable asset for the 'Canes. Even so, he still has plenty of room to grow as a player.
Skinner's best bet would be to sign overseas. He has the option to play for the Charlotte Checkers in the AHL but he would probably be more challenged in a European league like SM-Liiga or even the KHL.
That said, Skinner just needs to play somewhere. If he chooses to stay in the country and play in the AHL, it will definitely be a better choice than sitting at home. Skinner is at a crucial point in his career where he needs to keep training to continue to grow into the great player he's destined to be.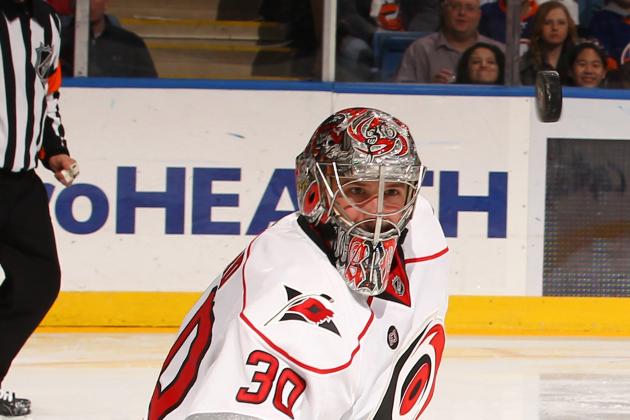 Al Bello/Getty Images
Cam Ward won the Stanley Cup with the Hurricanes in 2006
Cam Ward had one of his best seasons in 2010-11. He played all but eight games during the season and finished with an impressive 2.56 goals against average and .923 save percentage.
He regressed last season, though. He lost more games than he won and his GAA and save percentage suffered.
Ward needs to train hard during the lockout to get back on track.
Like Skinner, Ward should look into playing for one of the top-tier European leagues. Having a different crop of talent firing pucks at him could prove to be beneficial.
If Ward doesn't train like crazy during the lockout, he may lose more and more time in the crease to his veteran backup Brian Boucher.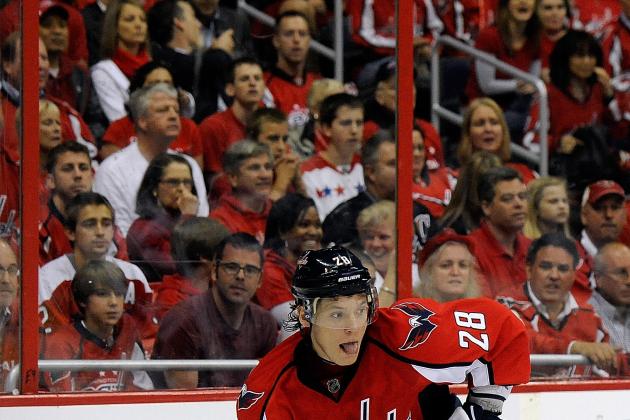 Patrick McDermott/Getty Images
Alexander Semin during the Capitals' Stanley Cup series against the New York Rangers.
Alexander Semin is going to be Carolina's biggest wild card. Due to his relatively inconsistent nature as a player, he could either be a game-changing player or a phantom on the ice.
Over six seasons with the Washington Capitals, Semin was recognized as one of the team's best forwards. However, his offensive production has dropped over the last two seasons and he got a reputation for being inconsistent.
The fact that the 'Canes only signed him to a one-year deal makes it obvious that they're not sure if Semin can play as consistently as they need him to. Perhaps a change of scenery is all he needs to get back to scoring 70-plus points a season.
Playing in the KHL, thus returning to his Russian roots, should help Semin get back on track. Semin has four points in his first three games with Nizhny Novgorod Torpedo.
He needs to keep training like crazy, though. Playing the KHL style and scoring a lot should help Semin re-discover his passion for the game. He's been criticized for "going through the motions." If he can return to form, Semin could help lead the 'Canes to greatness.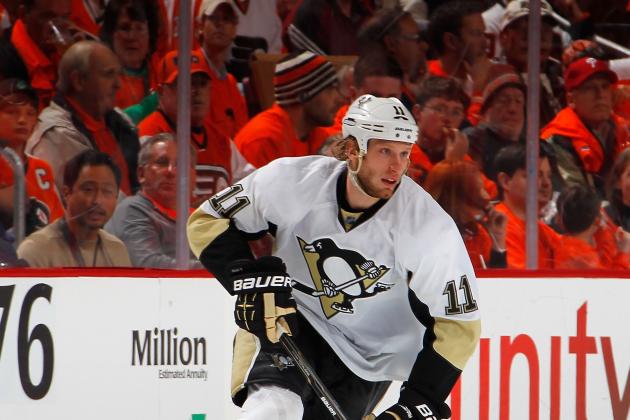 Paul Bereswill/Getty Images
Eric Staal isn't the only Staal to win a Stanley Cup. Jordan has won it with the Penguins.
The 'Canes welcomed Jordan Staal to the team during the 2012 NHL Entry Draft. In return, the Pittsburgh Penguins received Brandon Sutter, Brian Dumoulin and a first-round pick.
Jordan Staal must train like crazy to prove that he was worth the trade.
In 62 games with the Penguins last season, Staal recorded a career-high 50 points. The fact that Staal is on an upward slope is a good sign for the Hurricanes. It's going to be hard for him to maintain that momentum without the offensive talent the Penguins have, though.
That's why Staal needs to train like crazy during the lockout. He needs to fine tune his play on both ends of the ice to become the superstar that the 'Canes need.
At risk of sounding like a broken record, Staal might find it favorable to play for a KHL team during the work stoppage. The experience with a different style of hockey with different players challenging him will make him a better player.
With some effort, Jordan Staal can return after the lockout and, with the help of his older brother and the rest of the Hurricanes, dominate the competition
Michael Prunka is a Bleacher Report Featured Columnist and Sports Writing Intern. Stay up to date with him by liking his Facebook page and following him on Twitter.