Washington Redskins: Ranking the Games of the Second-Half Schedule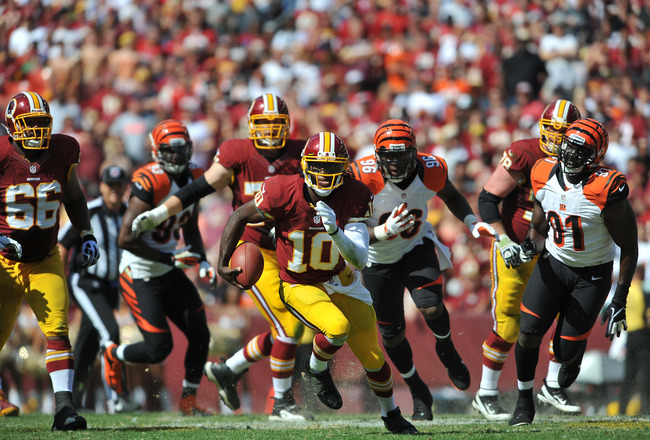 Larry French/Getty Images
As it sits, the Redskins are on pace to finish just one game better than their 5-11 season in 2011. Still, the improvements have been eye-meltingly visible. Well, at least on the offense.
With half of the games down, there are obviously eight games left in the season. There are some that you are definitely more excited about than others. I'm certainly excited about those same games, so here's a look at the biggest games on tap for the home stretch in the Redskins' season.
8. Week 15 at Cleveland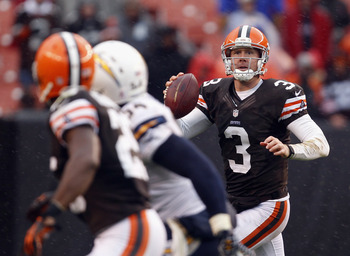 Matt Sullivan/Getty Images
The Cleveland Browns don't exactly ooze excitement. At least not this century.
Brandon Weeden and the Browns have won just two games this season, including their absolute snoozer this past Sunday against a struggling San Diego Chargers team by a final score of 7-6.
This game is on the road, so all of you season ticket holders in the D.C. area won't even get to see this one live. And if you are a season ticket holder and still ordered NFL Sunday Ticket, this probably isn't the No. 1 reason.
The only thing this game has going is the rookie backfields for both teams (Weeden and Trent Richardson for the Browns, Robert Griffin III and Alfred Morris for the Redskins).
Who knows, though. Maybe the Browns will have a dazzling late-season shootout like they did with Detroit when Brady Quinn was leading the charge.
7. Week 9 vs. Carolina
John Gress/Getty Images
This is a game that many Redskins fans had circled on their calendars before the season. The reigning Rookie of the Year and Heisman winner in Cam Newton against the most recent Heisman winner and hands-down favorite for this season's top rookie title.
So far, things haven't panned out for the Panthers in terms of Newton's development the way they had hoped. The Panthers now sit at 1-6 and in the cellar of the NFC South. Now, the Redskins have fallen to 3-5 and are in the cellar of the NFC East. Those records won't change before the game either since it happens this week.
Now it just feels like another cross-divisional game for the Redskins and the last one they will have with the NFC South this season. The good news is they have won two out of the other three with the only loss being against the undefeated Atlanta Falcons.
This should still be a pretty good shootout, though. And it's at home. This is why it hasn't fallen to last place.
6. Week 16 at Philadelphia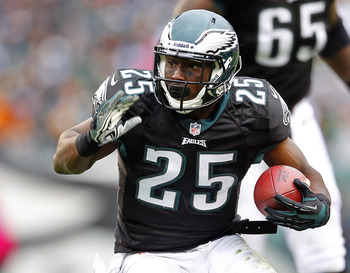 Rich Schultz/Getty Images
Both the Redskins and Eagles are sharing positions as teams that are falling fast behind the New York Giants. By the time this game rolls around, it may unfortunately not mean much, but hopefully that will change.
We may also see Nick Foles at quarterback at that juncture if he hasn't already replaced Michael Vick by the two teams' first meeting in Week 11 (more on that later). It would be a shame if we didn't get to see a Vick-RGIII showdown.
I'm always wary of games at Lincoln Financial Field late in the season. It seems to be an ongoing nightmare for the Redskins. In terms of the five divisional games left, this one carries the least amount of buzz. We'll see if that turns around, though.
5. Week 17 vs. Dallas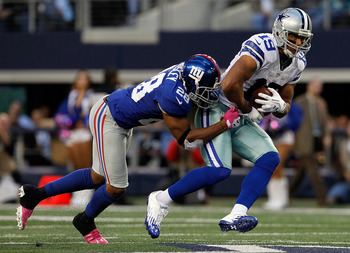 Tom Pennington/Getty Images
It may be ranked No. 5 right now, but that could certainly change if the Redskins can rattle some wins in the next few weeks.
The way it is now, though, it may just be for pride. With that said, a lot of people may be upset with the fact that I didn't make both Cowboys contests left this year No. 1 and No. 2, but hopefully I can make that up to you.
Although, if both are out of playoff contention in the last week, it would be an awful lot of fun to see the Redskins kick Tony Romo while he's down. And even sweeter if the Cowboys are in a must-win situation for a playoff berth.
On the reverse side, if the Redskins needed a win to get into the playoffs and the Cowboys played spoiler, that would leave fans bitter for an entire lifetime.
4. Week 11 vs. Philadelphia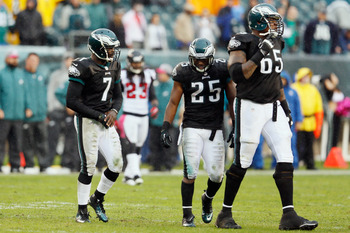 Rob Carr/Getty Images
I touched on the Eagles quite a bit earlier, but I'm looking forward to this contest more since it is more likely that Michael Vick will be playing.
That's what we've been waiting to see since Robert Griffin III was drafted back in April. Two dynamic playmakers going head-to-head, one on the down part of his career while the other is just now bursting onto the scene.
If Nick Foles does become the Eagles' starting QB by the time the teams take the field, it will take a little bit away from this game. Even if it is a divisional game at home.
3. Week 14 vs. Baltimore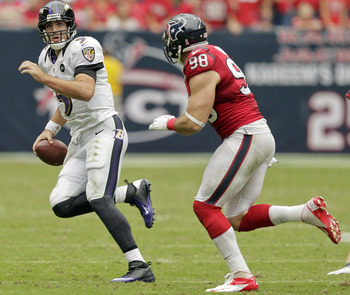 Bob Levey/Getty Images
The general disdain between Redskins and Ravens fans will reach a boiling point in Week 14 when the two face off at FedEx Field.
It's always something to see when these two get together; it's an in-state rivalry, and this year it should be heated. Both defenses do have a knack for chirping (even if the Ravens actually back it up).
We'll also see who's ready to wear the ever irrelevant "Elite" crown between Joe Flacco and RGIII. Flacco seems to think he's the best quarterback in the league, and Redskins fans will surely let him know that he isn't if he starts to struggle.
There won't be any Ray Lewis in this game, but the Ravens are still a solid team and AFC title contender. This will be a huge measuring stick for the in-season development of the beloved Robert Griffin.
2. Week 13 vs. New York (N)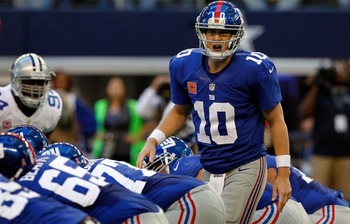 Tom Pennington/Getty Images
If you're like me, you've been waiting for the Redskins to get a mulligan from their first tilt with the defending world champions.
The game belonged to the Redskins, but the secondary let Victor Cruz slip by for a wide open touchdown of over 70 yards. I'm sure we all want a do over.
This time around, the Giants will come to Landover in front of a national audience on Monday Night Football. The Redskins haven't found a lot of success on Monday Night Football in recent years, but it's hard to not get excited about the only primetime game of the season.
If by some chance the Redskins win their next three games, this could prove to be a deciding moment in the NFC East race, too.
1. Week 12 at Dallas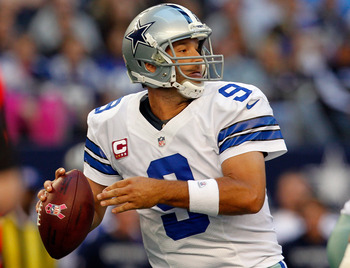 Tom Pennington/Getty Images
Redskins vs. Cowboys in "Jerry's World" on Thanksgiving. Enough said.
Keep Reading

Washington Redskins: Like this team?