Ranking the 10 Best Under Age-20 MLB Prospects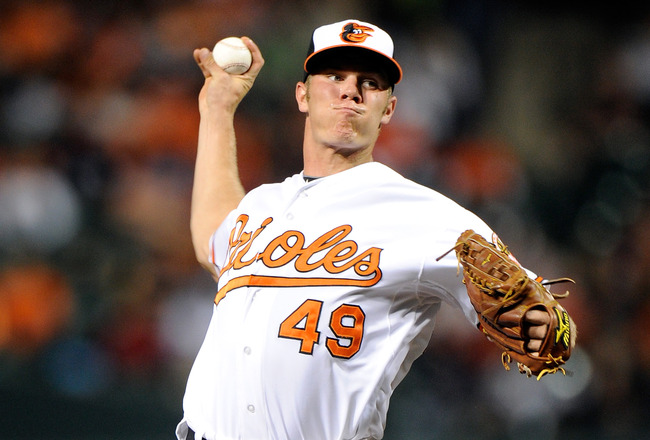 Dylan Bundy
Greg Fiume/Getty Images
As we've now begun the dreaded offseason, I thought that I'd kick things off with a look at the elite teenage prospects. For the sake of clarification, I only considered prospects who are under 20 years old as of this day. So, even though Xander Bogaerts had a tremendous age-19 season last year, the fact that he turned 20 on Oct. 1 disqualifies him from this specific ranking.
Here's a look at the top teenage prospects headed into the offseason.
10. Addison Russell, SS, Oakland Athletics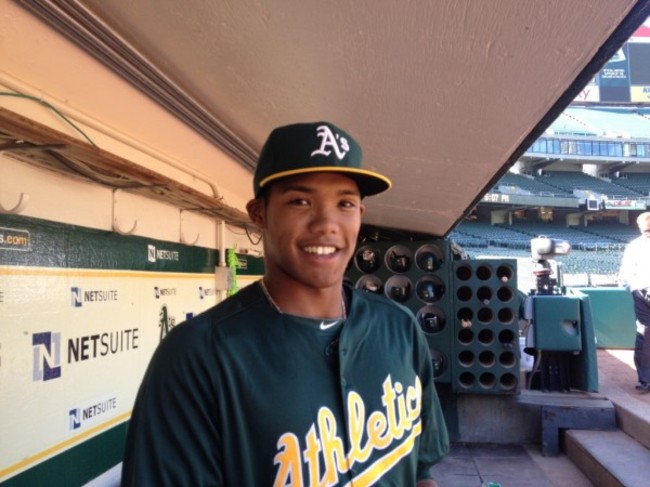 Courtesy of sfgate.com

Age: 18
2012 Stats (Rk, SS, A-): .369/.432/.594, 26 XBH (7 HR), 45 RBI, 16 SB, 48/23 K/BB (55 G)
The 11th overall draft pick in 2012, Russell enjoyed a tremendous professional debut that saw him finish the season at Low-A Burlington. The 6'0", 185-pounder possesses the instincts, hands, range and strong arm ideal for the position, and should be able to stick there as he develops.
At the plate, the right-handed hitter has plus bat speed with makings of above-average power to all fields. Currently, most of his power is to his pull side. Considering that he hit at three different stops this season, Russell has a chance to move quickly in 2013 with no one blocking his immediate path.
9. Trevor Story, SS, Colorado Rockies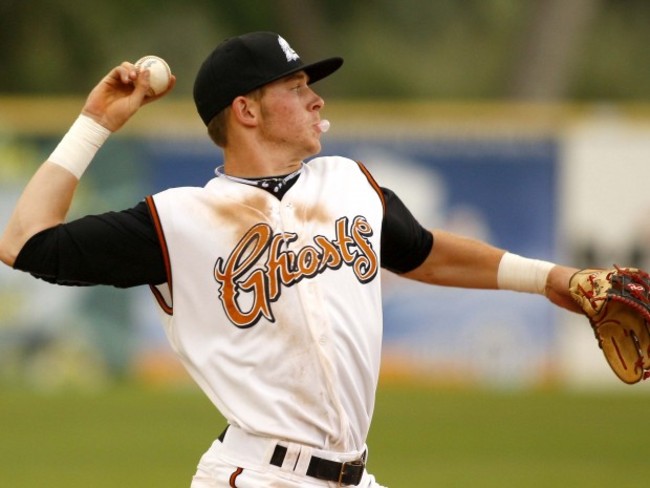 Courtesy of MiLB.com

Age: 19
2012 Stats (A-): .277/.367/.505, 67 XBH (18 HR), 63 RBI, 15 SB, 121/60 K/BB (122 G)
One of my favorite prospects in the game, Story possesses at least above-average tools across the board and a 6'1", 175-pound frame that should allow him to both add strength and remain at the position.
Even though he struck out 121 times this past season at Low-A, his approach is advanced relative to his age and he is adept to working counts. A right-handed hitter, Story drives to ball to all fields, with a majority of his raw power directed to right-center. He's not a burner by any means, though his instincts causes his speed to play up a grade at all times.
8. Gary Sanchez, C, New York Yankees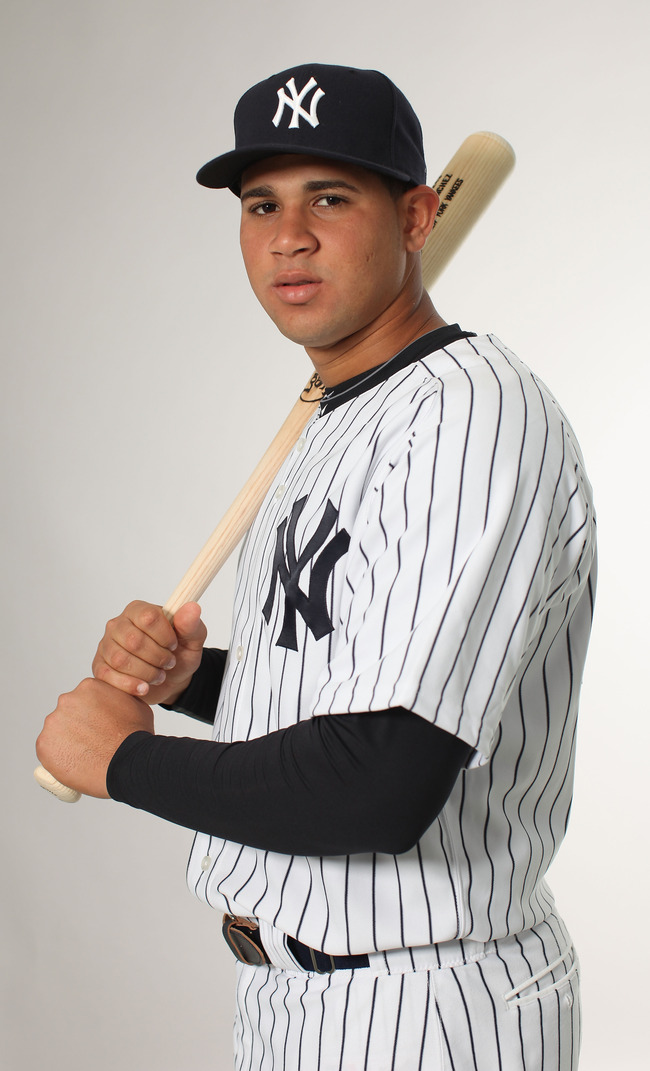 Nick Laham/Getty Images
Age: 19
2012 Stats (A-, A+): .290/.344/.485, 48 XBH (18 HR), 85 RBI, 15 SB, 106/32 K/BB (116 G)
Even though Sanchez's defense has continued to be fringy at best, the 19-year-old's bat continues to develop in the face of advanced competition. He possesses a true plus arm behind the plate, but his receiving, blocking and game-calling abilities are still incredibly raw.
After posting an .820 OPS last season as an 18-year-old at Low-A, the 6'2", 220-pound right-handed hitter improved the mark to .829 this past season while splitting time between Low and High-A. His plate discipline was impacted by the jump to High-A, as he posted a 41/10 K/BB in 48 games.
While he's still a raw overall prospect, it's difficult to contest the notion that Sanchez ranks as one of the top catching prospects in the game. He'll likely begin the 2013 season back at High-A Tampa.
7. Byron Buxton, OF, Minnesota Twins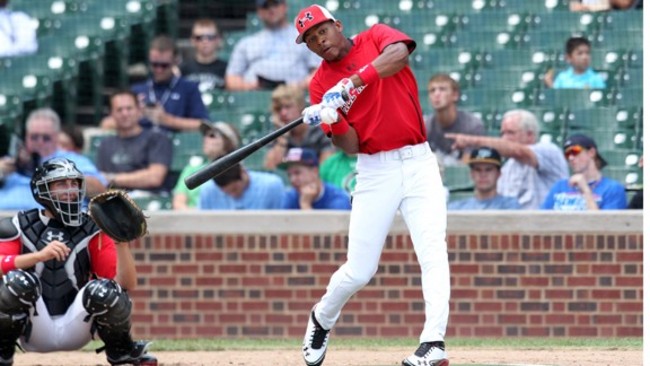 Courtesy of ESPN.com

Age: 18
2012 Stats (Rk): .248/.344/.448, 19 XBH, 20 RBI, 11 SB, 41/11 K/BB (48 G)
The second-overall draft pick in this past June, Buxton has the athleticism and baseball skills to become an elite big league outfielder. As of now, the 18-year-old's best tools are his plus speed, defensive range and arm. However, by the time he reaches the major leagues, both his hit and power tools should be at least above average.
He made impressive adjustments over the course of his professional debut between two rookie levels, and could be poised for an impressive follow-up campaign in 2013.
6. Carlos Correa, SS, Houston Astros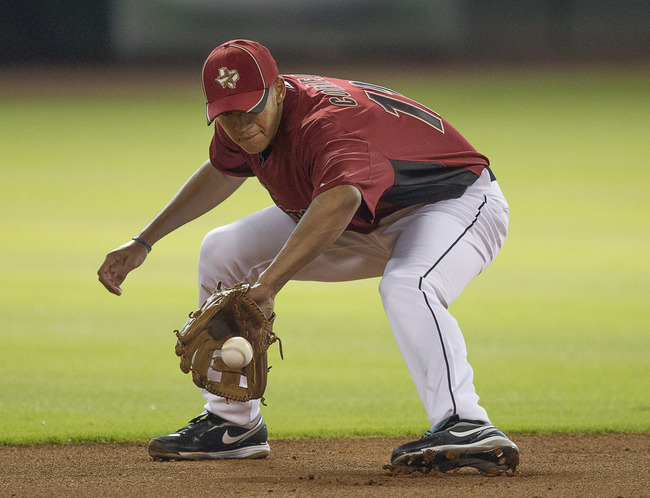 Bob Levey/Getty Images
Age: 18
2012 Stats (Rk): .258/.305/.400, 19 XBH, 44/12 K/BB (50 G)
The 6'4", 190-pound shortstop didn't even turn 18 until September, but that didn't prevent him from enjoying a strong professional debut between two rookie-level stops. A plus defender across the board, Correa has the makings of a perennial All-Star at shortstop.
Furthermore, his bat should develop over the upcoming years and grade as at least above-average on both the batting and power fronts.
5. Javier Baez, SS, Chicago Cubs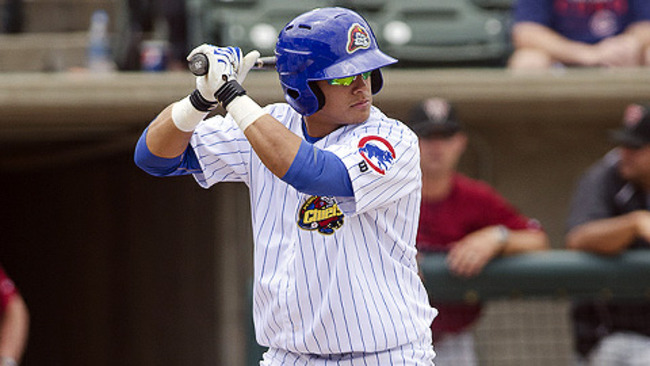 Courtesy of MiLB.com

Age: 19
2012 Stats (A-, A+): .294/.346/.543, 35 XBH (16 HR), 24 SB, 69/14 K/BB (80 G)
The ninth-overall draft pick in 2011, Baez possesses tremendous bat speed and hand-eye coordination that should allow him to hit for both a solid average and above-average power as a big leaguer. An over-aggressive hitter, his ability to barrel the ball can also be a detriment at times, and he'll need to draw more walks as he moves through the Cubs' system.
At 6'1", 205 pounds, the 19-year-old has the defensive skill set to remain at shortstop. But given the thickness of his lower-half, there's a good chance he ultimately lands at third base as he continues to gain physical strength.
4. Miguel Sano, 3B, Minnesota Twins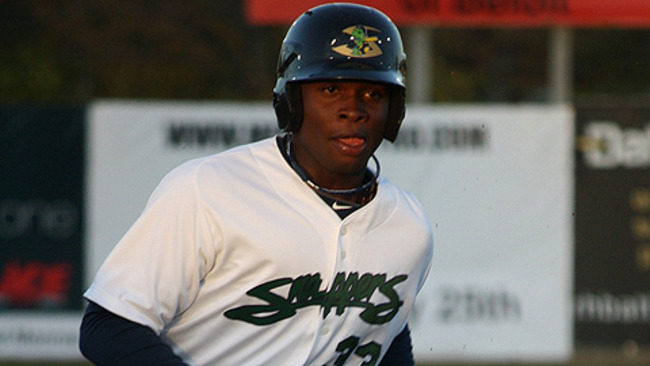 Courtesy of MiLB.com

Age: 19
2012 Stats (A-): .258/.373/.521, 60 XBH (28 HR), 100 RBI, 144/80 K/BB (129 G)
After posting a .988 OPS with 20 home runs and a 77/23 K/BB in the rookie-level Appalachian League in 2011, 19-year-old Miguel Sano impressed in his full-season debut this past season at Low-A Beloit.
Even though he'll be forced to cut down on the amount and frequency of strikeouts in future seasons, his 80 walks in 129 games this year was definitely a step in the right direction—especially in relation to his improved power.
However, Sano's defense presents a serious concern in itself, as he committed 42 errors in 125 games at the hot corner this past season. With reports of an overall indifference to defense, it's likely that the 6'3", 195-pounder will be forced to shift to either first base or right field as he moves through the Twins' system.
3. Francisco Lindor, SS, Cleveland Indians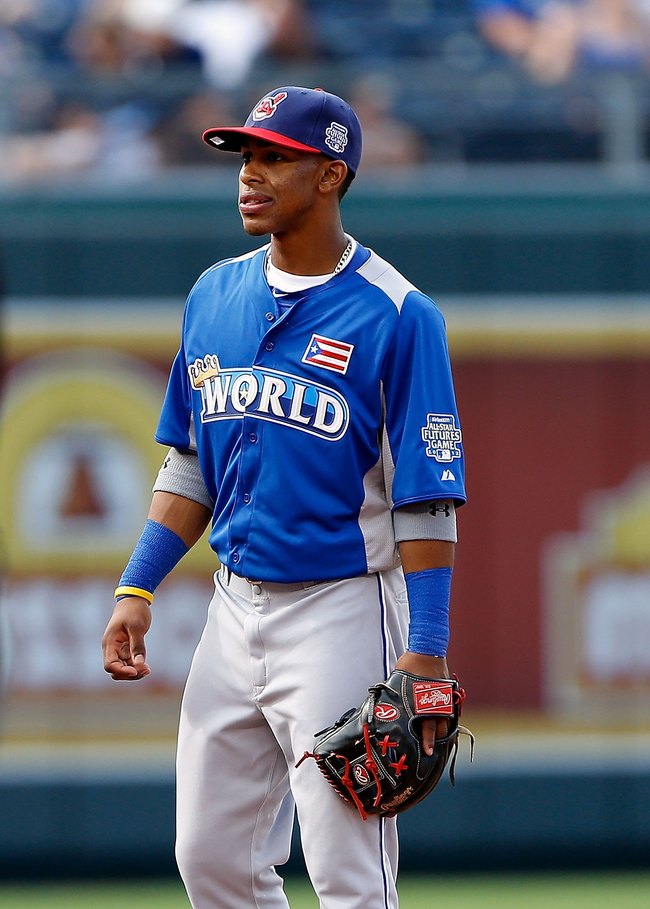 Jamie Squire/Getty Images
Age: 18
2012 Stats (A-): .257/.352/.355, 33 XBH, 27 SB, 78/61 K/BB (122 G)
As one of the younger players in the Midwest League (Low-A), Lindor was beyond impressive in his full-season debut, both at the plate and as an everyday shortstop.
Possessing the most defensive upside as any shortstop prospect in the minor leagues, Lindor received rave reviews from everyone who saw him play this past season, as he handled the position with creativity and comfort well beyond his years.
The switch hitter also demonstrated an advanced approach from both sides of the plate, using his on-base skills to utilize his base-stealing ability while exhibiting a knack for shooting gaps with consistency.
2. Dylan Bundy, RHP, Baltimore Orioles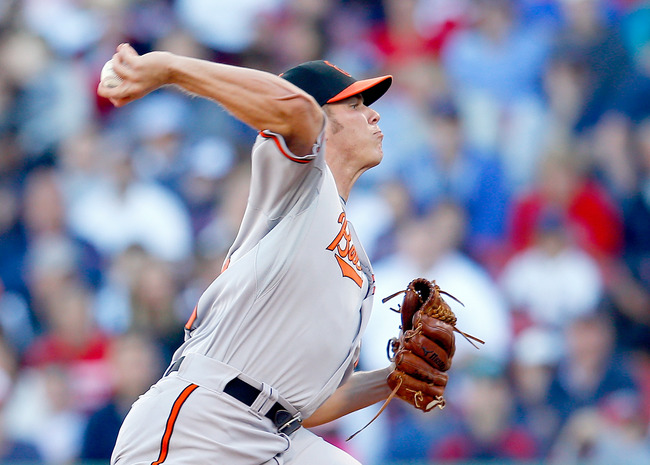 Jim Rogash/Getty Images
Age: 19
2012 Stats (A-, A+, AA): 9-3, 103.2 IP, 2.08 ERA, 0.92 WHIP, .186 BAA, 119/28 K/BB (23 GS)
MLB Stats: 1.2 IP, 0 ER (2 G)
The fourth-overall draft pick in 2011, Bundy enjoyed a meteoric rise to the major leagues this season after beginning the year at Low-A Delmarva. But after 30 scoreless frames and allowing five hits and two walks while recording 40 strikeouts, the right-hander was promoted to High-A Frederick.
He didn't dominate in the same manner at the new level, but was still bumped to Double-A to conclude his professional debut. However, an exhausted big league bullpen ultimately led to his call-up in late September, as Bundy appeared as a reliever in two games.
Jurickson Profar, SS, Texas Rangers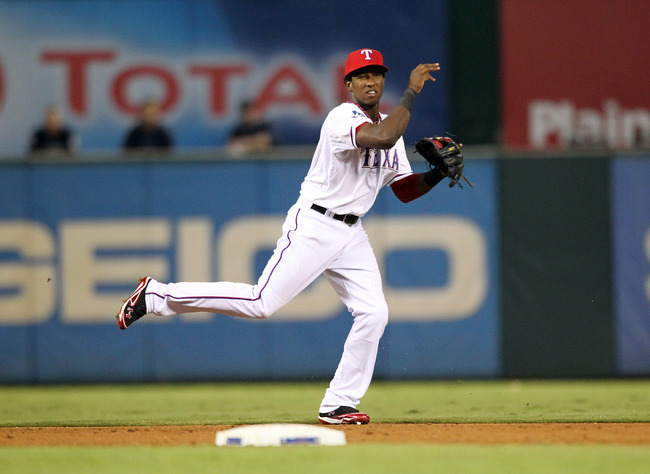 Layne Murdoch/Getty Images
Age: 19
2012 Stats (AA): .281/.368/.452, 47 XBH (14 HR), 62 RBI, 16 SB, 79/66 K/BB (126 G)
MLB Stats: .176/.176/.471, 3 XBH, 2 RBI, 4/0 K/BB (9 G)
Making the jump to Double-A after excelling at Low-A as an 18-year-old in 2011, Profar once again thrived in the face of advanced competition, improving in each facet of the game.
A switch hitter, he possesses an excellent hit tool from both sides of the plate as well as surprising power for his size—largely a product of his plus bat speed and direct path to the baseball.
Defensively, Profar is an outstanding defensive shortstop with an excellent first step, plus range and a strong, accurate arm. Still only 19 years old, he has all the tools and natural ability to be an elite big leaguer. Now it's just a matter of where the Rangers will play him.
Keep Reading