Dion Jordan and the Seven Biggest Athletic Freaks in the 2013 NFL Draft
Jim Z. Rider-US PRESSWIRE

Freak is defined by Websters Dictionary as "oddly different from what is usual or normal; aberration"
We in the football world were first introduced to the superlative in reference to defensive end Jevon Kearse who was "The Freak." The term in essence describes, in an athletic sense, players whose blend of size and athleticism is an "aberration" compared to what is normal for typical athletes.
The term has been overused, and loosely attributed in recent years, but each year, there are a select few, who truly earn the definition of "Freak." Let's see the seven so far to earn that delegation in the 2013 NFL draft.
Begin Slideshow

»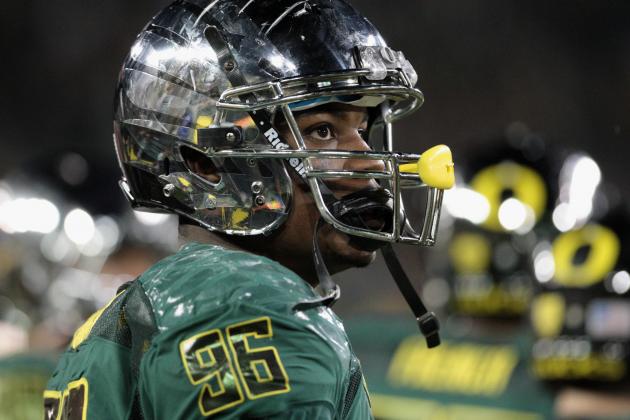 Scott Olmos-US PRESSWIRE

Let's start with our headliner here. Going back to the definition of "freak," usually you are left with the thought of "People that big, aren't supposed to be that athletic!" Which is certainly the case with Oregon's Dion Jordan.
Standing 6'7", 245 lbs, Jordan came to school as a highly-regarded tight end prospect, but Oregon quickly saw the potential in him as a pass-rusher.
Possessing an explosive first step, he is a terror around the edge of the pocket, with the ability to use his pure speed to run right past his blocker. He's not just speed though, as he effectively uses his 6'7" frame to overwhelm defenders with his size and uses his long arms to knock down the hands of offensive lineman.
His size and athleticism makes him extremely versatile, and a fit in a 4-3 or 3-4 defense appealing to any team looking for a pass-rusher in the second half of Round 1.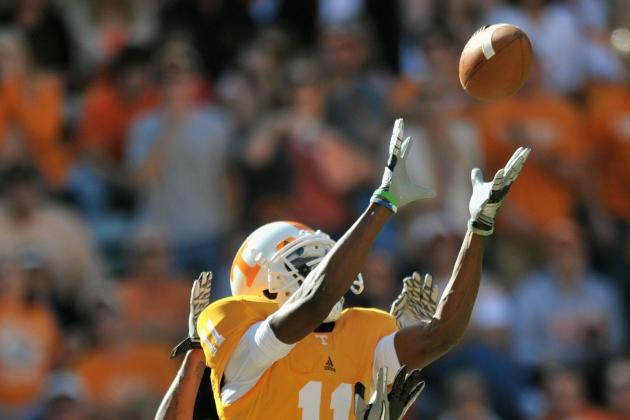 Jim Brown-US PRESSWIRE

Justin Hunter is destined to be on an episode of ESPN's Sports Science one day.
Standing 6'4" already, Justin Hunter is a world class long-jumper, who was preparing for the 2012 London Olympic Games before an injury last year. He was a track and field star in high school and also starred on the basketball court. Flat out, this kid can jump out of the gym.
He's extremely difficult to defend, as he not only has the leaping ability, but the hands, route-running ability and speed to be a complete receiver. He's in the discussion to be the first receiver off the board come draft day.
Kirby Lee-US PRESSWIRE

"Freak." "Beast." "Monster." All these superlatives and the like apply to the All-American defensive tackle out of Utah.
Conjuring up thoughts of Ndamukong Suh and Haloti Ngata, Star Lotulelei has been that type of player in college, and he has the ability to make a similar type of impact at the next level.
He's almost 330 lbs, but is an explosive athlete who immediately knocks his blocker back off the ball. He uses brute strength to power his way into the backfield, but also has outstanding lateral quickness to blow by his man.
Lotulelei will be a top five pick in the 2013 NFL draft.

People who weigh 325 lb are not supposed to be as athletic as Johnathan Hankins is.
Despite his massive 6'3" 335-pound frame, he's not pigeonholed as a 3-4 nose tackle, as Hankins displays outstanding overall quickness and athleticism, which allows him to play in any defensive scheme, as he's not only a run stuffer, but also as a guy who can make plays behind the line.
He uses his hands very effectively with his rip and swim moves, while also showing good speed and effort to get off his blocks, and make plays down the line on the ball-carrier.
In nine out of 10 years, Hankins is the top defensive tackle prospect in the draft, but with Star Lotulelei, he gets bumped just a bit. He's still a lock for the top 15.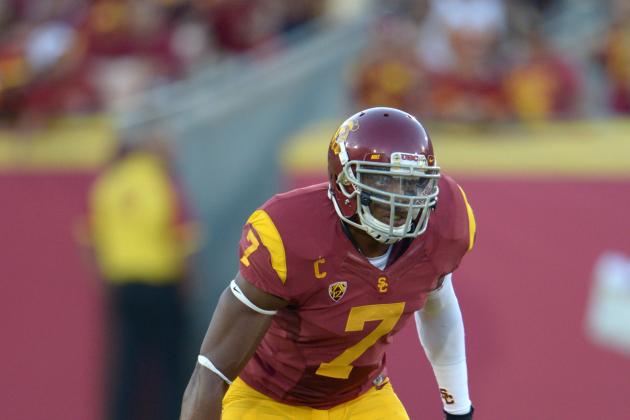 Kirby Lee-US PRESSWIRE

Built like a linebacker, but runs like a cornerback. T.J McDonald is physically imposing in stature, standing 6'3" and 210 lbs, but has sideline-to-sideline range, allowing him to make plays all over the field.
McDonald plays at 100 MPH and is arguably the hardest hitter in college football. He plays like a missile on the field, flying around, sniffing out the football, whether on the ground or in the air.
Unlike former USC "Freak" Safety Taylor Mays, T.J McDonald has a much higher football IQ and does very well for himself in coverage, which has T.J slotted as a mid-to-late first-round pick.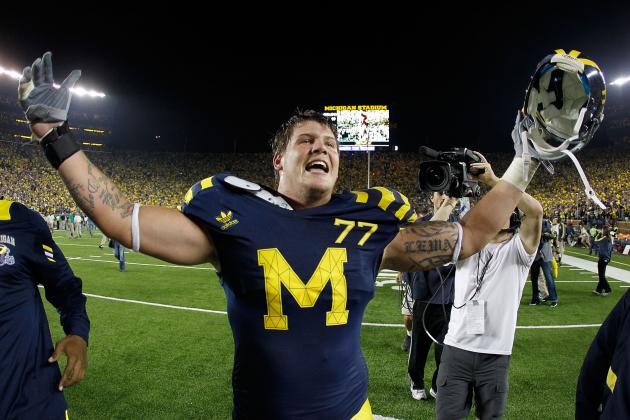 Gregory Shamus/Getty Images

Standing a listed 6'8", Taylor Lewan is among the tallest offensive tackle prospects you will ever see.
We see it often with a lot of these "Freaks." They often rely very heavily on their athleticism and not as much on their physicality, which is the case with Lewan
An outsanding athlete, Lewan has lightning-quick feet with great lateral movement, enabling him to effectively mirror his defender and excel in pass protection. He doesn't currently use his size as well as you'd like, when it comes to physicality and run-blocking.
But with his combination of size and athleticism, with the room for improvement he has, Lewan will be heavily sought after on draft day.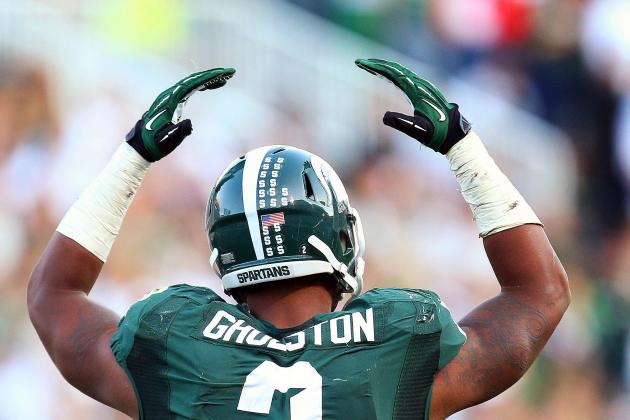 Mike Carter-US PRESSWIRE

If you could build the perfect athlete to be a pass-rusher, the prototype would look extremely similar to what William Gholston already is as a junior.
At 6'6" 275 with power, explosion, speed and nastiness, William Gholston has the potential to be a 15-plus sack, All-Pro player in the NFL.
Right now, it's a lot of potential for Gholston, as he has yet to consistently put all the tools together just yet. Whether he should enter the 2013 NFL draft is up for debate, but with the athletic ability that he has, whenever Gholston comes out, he will have scouts and GMs drooling over his "Freakish" ability.
Nolan Vasan: NFL Draft Geek