San Francisco 49ers vs. Arizona Cardinals: Live Score, Highlights and Analysis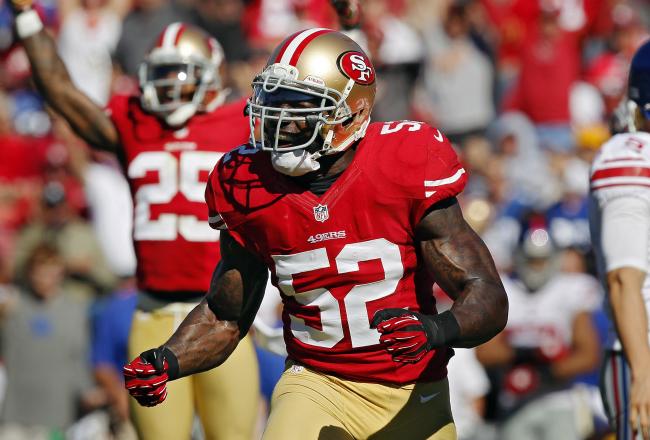 Brian Bahr/Getty Images
Tonight's Monday Night Football contest includes two teams headed in opposite directions.
The Arizona Cardinals are badly in need of a win. They've already lost three in a row, and the skid could easily extend to six. Luckily for Arizona, John Skelton and his undefeated (6-0) home record will be under center.
Meanwhile, the San Francisco 49ers are on a different path. They've been one of the league's steadiest teams and are looking to put the division in a stranglehold after the events of the weekend (both Seattle and St. Louis lost).
As the storm rages in the Northeast, let's get this desert battle started.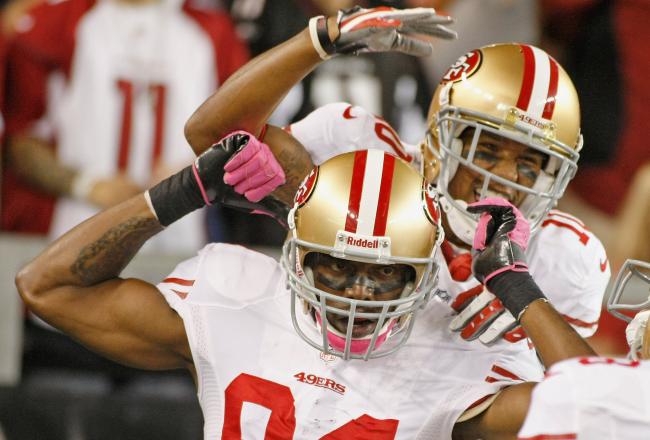 Well, the Cardinals almost scored a touchdown. I mean, that's pretty good, right?
Larry Fitzgerald got stuffed at the one with under 50 seconds left. Like I said, they were so close!
Moral victories aside, the Niners manhandled Arizona and Skelton's undefeated home record has now been blemished.
If you need to know how far apart these two teams are, the above mention of Fitzgerald is the only time I typed his name until now.
It's all over in Glendale, AZ as San Francisco will board the plane with a dominating 24-3 victory.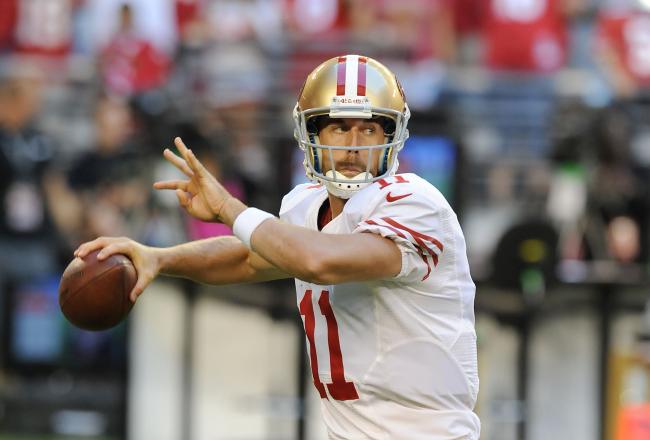 I would have posted in the last 20 minutes, but I fell asleep. All that's happened is both teams look like they're trying to kill the clock and get out of here.
A stat update seems in order: Alex Smith has completed 18 of 19 passes for 224 yards and three touchdowns. Insanity peppers.
And Tirico just said that if he completes one more pass, he will record the highest completion percentage in a single game in NFL history.
Alex freaking Smith. Wow.
Early Doucet just walked off the field under his own power. If you saw that hit by Dashon Goldson, you understand why that's impressive.
Presumably, Doucet has a loop of Jason Pierre-Paul doing it Gangnam Style going on in his head. I assume that's what happens when you get rocked like that.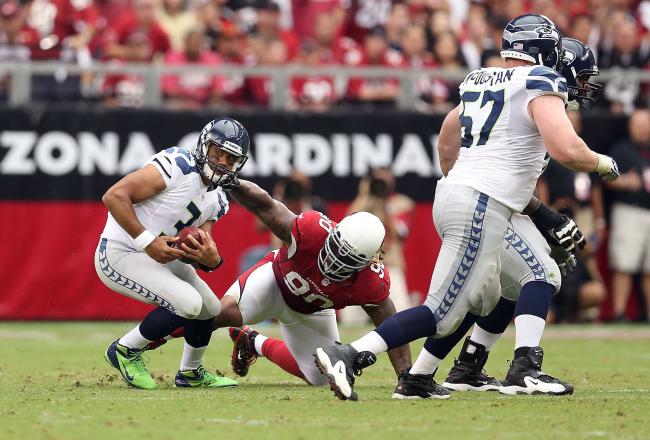 The Cardinals are showing signs of life.
After the offense notched their first three points, the defense came out with an energy. The unit stuffed Gore on first down and sacked Smith on second.
However, Arizona was still outscored 7-3 in the third quarter and there are only 15 minutes left. It's probably too little, too late.
Niners 24, Cards 3.
Start of the fourth quarter.
I didn't want to jinx it. So I waited until Jay Feely attempted his field goal before I mentioned that the Cardinals were driving.
They even converted a fourth down.
I'm not exactly ready to call this a ball game, but it won't be a shut out!
So there's that.
Skelton didn't really look much better on the drive. However, he got the job done.
Niners 24, Cards 3.
0:57 left in the third quarter.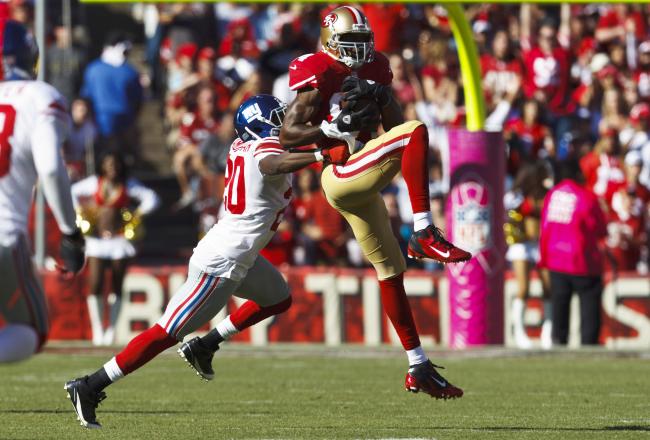 Was that? No, it couldn't be.
Wow.
Randy Moss just scored a 47-yard touchdown. He caught a five-yard out and took it the rest of the way.
The most impressive part was that he cut back inside and made moves to break free. He wasn't scared at all. Not a good sign for the Cards.
He also picked up a key block from Vernon Davis. Looks like Davis remembers that team lesson pretty well.
Niners 24, Cards 0.
7:27, 3rd quarter.
Arizona has physically moved the football into the end zone!
"What? What do you mean? Oh."
Sorry folks, apparently when you punt the ball there, it just means the other team gets it at the 20. False alarm.
Niners 17, Cards 0.
10:59 left in the third quarter.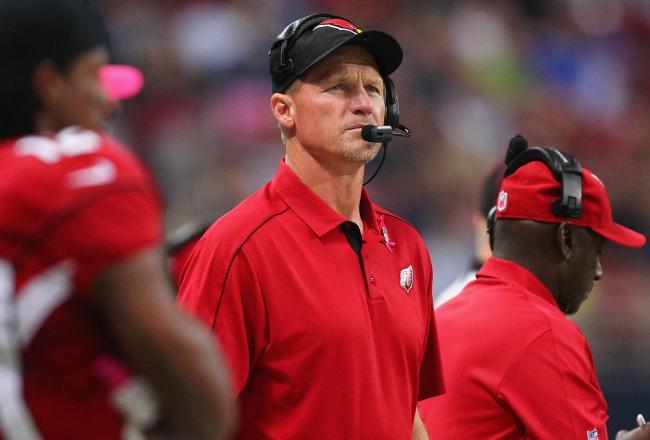 Ken Whisenhunt is no fool. He follows the Bleacher Report liveblogs as evidenced by the Cards moving the ball into San Francisco territory.
Smartly, Arizona has been using quick throws and very few runs.
The Cardinals will start the second half with the ball. It's still unknown if they're aware that it's okay to keep it for a few minutes.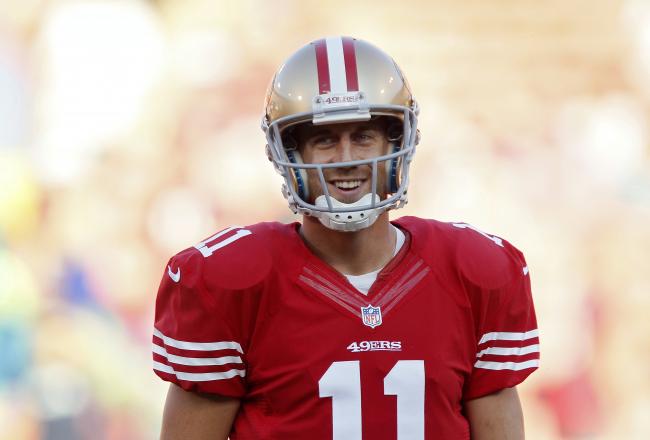 The good news for the Cards? It's halftime. They can enjoy their orange slices in peace without these mean men from San Francisco stealing them.
The Niners are doing whatever they want offensively. Alex Smith has completed 14 of his 15 throws for 146 yards and two touchdowns.
There isn't even a single typo in that sentence.
Skelton hasn't quite been so lucky.
Fittingly, he was picked off on his Hail Mary attempt and he finished the half with a quarterback rating of 33.2. He's actually averaging less yards per attempt (4.8) than the Niners are rushing the ball (5.0).
<blockquote class="twitter-tweet">
Crabtree owns Patrick Peterson. Period. #MNF #49ers
— Jesse Reed (@JesseReed78) October 30, 2012
At least it's warm and dry in Phoenix. Go out and have some fun Cards fans! Just stay away from a television.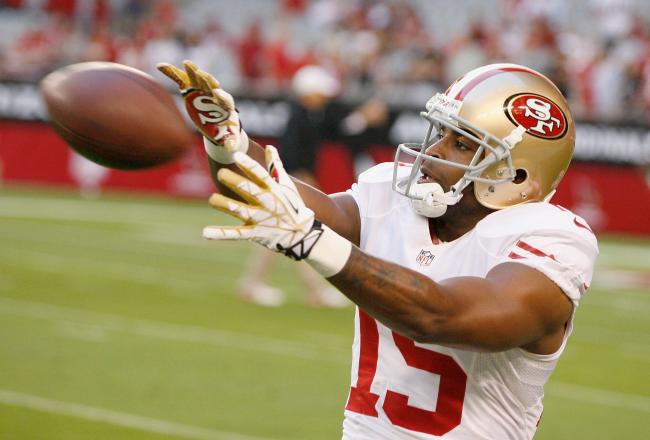 I hope you're not going against Crabtree in fantasy football tonight. He just hauled in his second touchdown pass.
He caught the ball around the eight-yard line, turned, and split the defense.
This is starting to get a bit out of hand.
Niners 17, Cards 0.
1:41 left in the second quarter.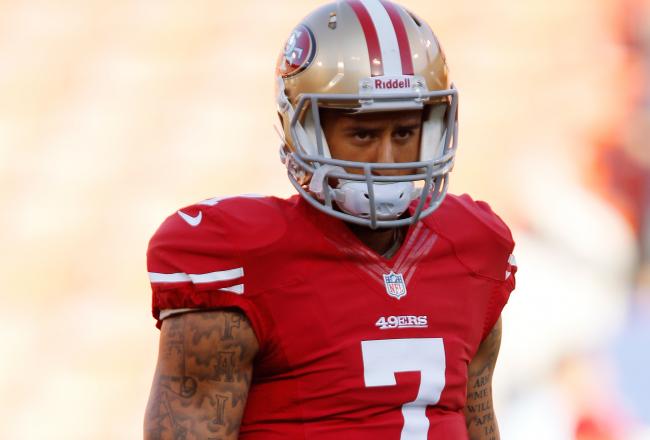 The cameras just showed a sideline shot of Colin Kaepernick. That dude has two full sleeves worth of tattoos.
This is not an indictment of tats, but has any severely tatted-up quarterback succeeded? I can't think of one that had a bunch of ink blazing as he tossed the ball.
In actual game action, the Niners are driving again.
The Cards tipped a pass and it fell straight into the hands of Delanie Walker. Par for the course tonight.
At the two-minute warning, San Francisco has a first down inside the red zone thanks to a Vernon Davis reception.
Arizona needs a turnover, or to hold San Fran to a field goal.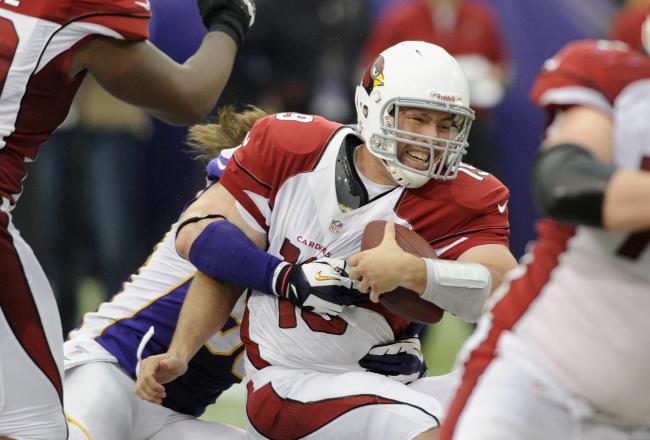 ESPN just popsted a graphic and had Mike Tirico explain that Kevin Kolb and John Skelton haven't been able to do the things that Kurt Warner did.
Thanks.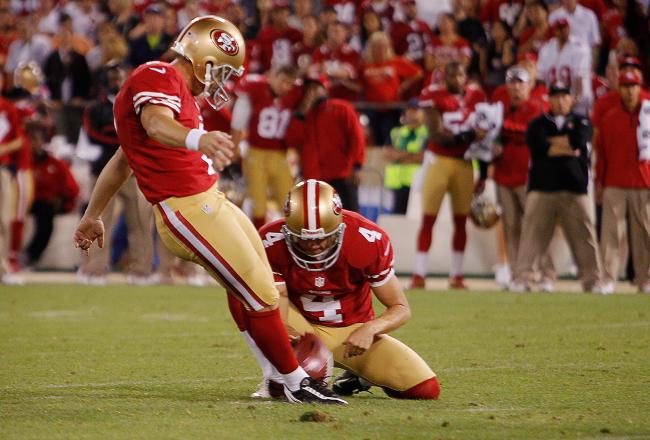 San Francisco didn't quite get the 23 yards needed for the first down, but Crabtree did pick up 22 of them.
David Akers then connected on the 43-yard field goal.
Niners 10, Cards 0.
5:58 2nd quarter.
The Niners are currently facing a third down and forever, but the rushing stats are a good indicator of how this game has gone: Niners 76, Cards -2.
Yup.
<blockquote class="twitter-tweet">
Ted Ginn Jr. just ducked out of bounds to avoid a hit by the punter. lol #MNF
— Mike Hoag Jr. (@BigHoagowski) October 30, 2012
And I still want my hoagie and drink back. This is not cool.
Ginn, Jr. must be following this blog. He took exception to the comments regarding Peterson's returning prowess.
He just busted off about a 73-yard return that only actually gained 30 yards or so. There were some great moves on that return. I actually fell off my couch and I wasn't even trying to tackle him.
And he stole my hoagie.
Where's my drink?!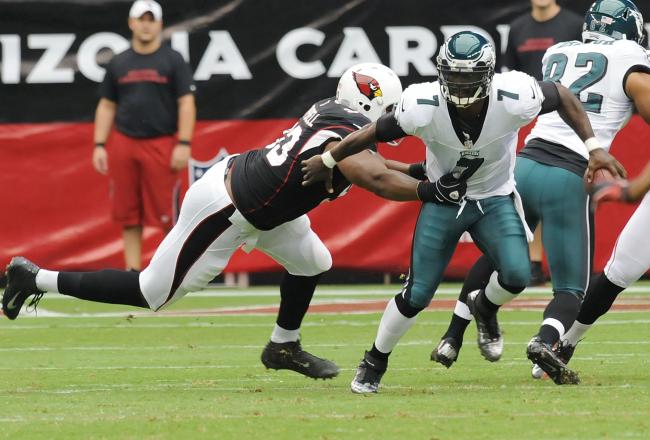 The Cards have life! They made a stop! All by themselves!
And Calais Campbell was beastly on the stop. He's the lynchpin for this defense. If he gets going, the rest of the boys will fall in line.
This game has been all San Francisco after one quarter.
Sorry, Joe Buck temporarily hijacked my computer and infected it with his blandness.
The Niners are the only ones doing anything in this game. They've moved the ball and stopped both offenses.
The defense stopped the Cards with tackling. The offense stopped itself with penalties.
7-0 San Francisco at the quarter mark.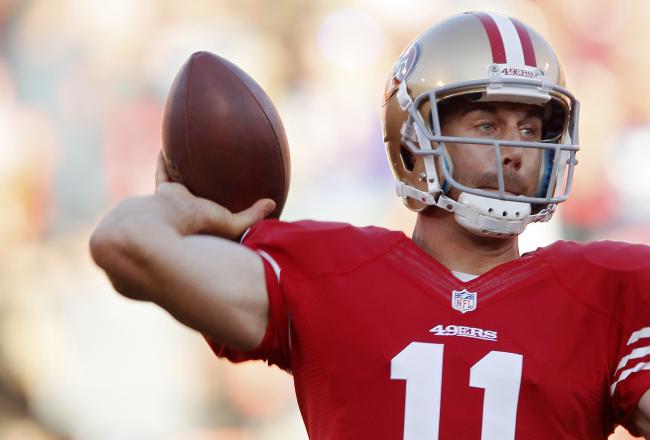 Touchdown San Francisco.
With all the attention I've paid the rushing offense so far, Alex Smith had a nice drive. He completed short passes, and then displayed nice touch on an intermediate pass. At the goal line, he threw a semi-outside-shoulder pass to Michael Crabtree for the score.
If not for the penalties, this could easily be 10 or 14 to zero. The Cards offense must respond.
The offensive philosophies for both of these teams is going to be completely different.
The Niners are going straight at the Cards and picking up yards. Whenever they've gotten cute (misdirections or outside runs), San Fran has either committed penalties or had otherwise negative plays.
The Cards need to get outside and not challenge the middle of the Niners defense. It worked for the first few plays and then Arizona was stuffed up the middle for two straight plays. They need to stay outside.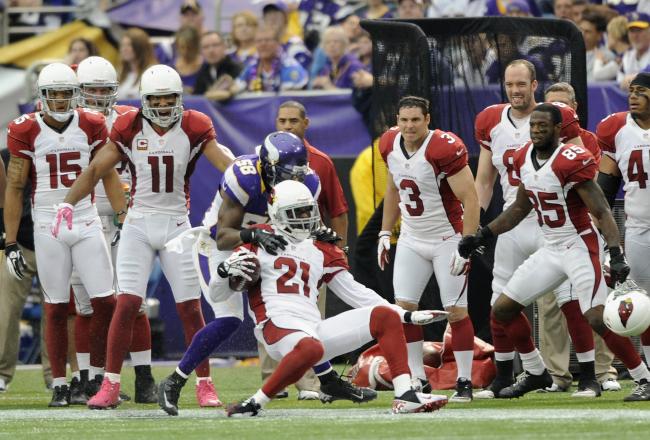 At what point does Patrick Peterson reach Devin Hester kick-it-away-from-him level? Dude returned four kicks for touchdowns last season.
And I understand how difficult it is, but giving up yardage, especially with the Cards current offense, seems the better play.
On a different note, the Niners have already committed three penalties for 35 yards. They stalled out their own drive (and they were moving the rock) and gave the Cards decent field position instead of being pinned deep.
How long until Jim Harbaugh's head explodes? Shouldn't the NFL hand out 3D glasses just in case?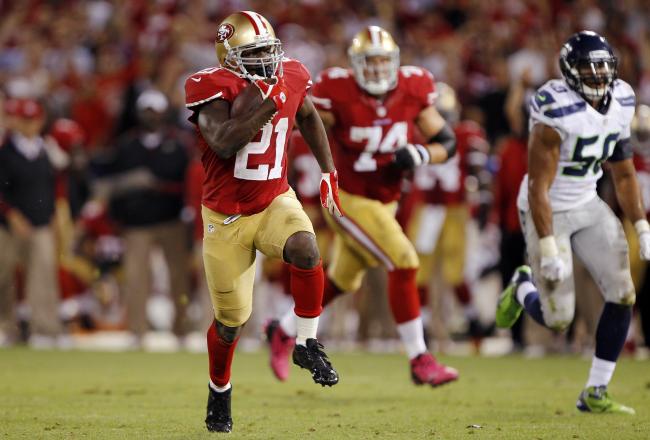 Usually, a defense comes out pumped up and ready to knock people out. That's exactly what the Cards needed.
Instead, the Niners have come out and shoved the ball down Arizona's throat with smash-mouth runs and short passes.
But a facemask on the Niners offensive line just negated a first down pickup. The Cards need to make a stand and keep this crowd in it.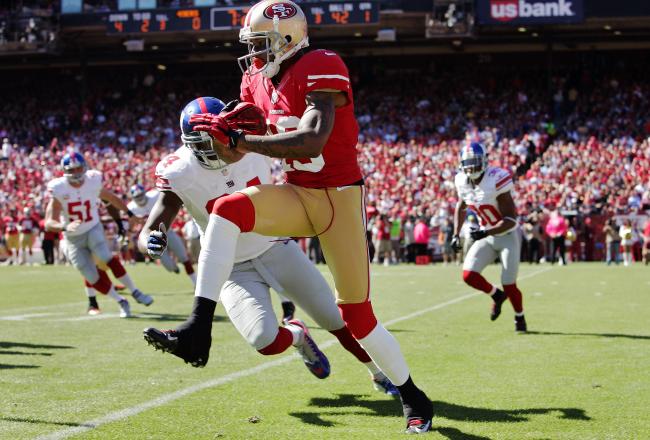 We have kickoff!
The Cards kicked deep and Ted Ginn, Jr. returned the rock to the San Fran 25.
This article is
What is the duplicate article?
Why is this article offensive?
Where is this article plagiarized from?
Why is this article poorly edited?