NFL: Predicting Every Division Champion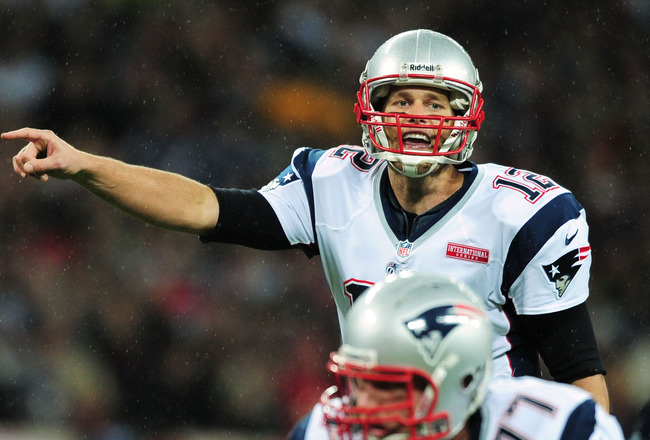 Jamie McDonald/Getty Images
We've reached the midway point of the NFL season. Most teams have played eight games and every team has played at least seven.
What we've learned is that parity has reached its peak. There's no obvious Super Bowl contender, and there are plenty of surprises.
With a lot of great division battles going on right now, which teams will hold on? Is the Patriots' run in the AFC East in jeopardy?
Here's who will come out on top in each division.
AFC East: New England Patriots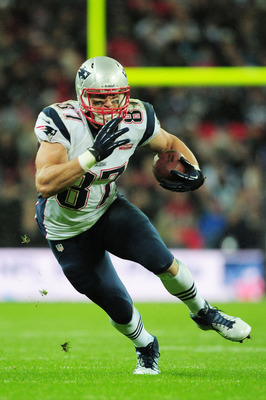 Jamie McDonald/Getty Images
Current Record: 5-3
Prediction: 11-5
This may not be a bold pick, but it's the right one. With a schedule that features only two more tough games against the Houston Texans and San Francisco 49ers, the Patriots should roll to the AFC East crown despite a somewhat slow start.
After shockingly starting 4-3, New England whipped the St. Louis Rams, 45-7, in London on Sunday.
With a bye this week, perhaps that'll halt some of their momentum. What will help them, though, is playing the Buffalo Bills, Indianapolis Colts and New York Jets in their next three games.
If the Patriots can clean up their 28th ranked pass defense and Tom Brady doesn't suffer a serious injury, there's no reason to believe the Patriots won't win the division easily.
Look for the Dolphins to finish at 8-8.
AFC North: Pittsburgh Steelers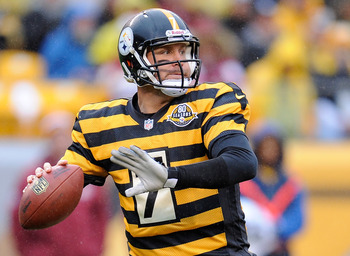 Joe Sargent/Getty Images
Current Record: 4-3
Prediction: 10-6
For whatever reason, some people have been down on the Pittsburgh Steelers this season. Some have said their defense is old, and they're an 8-8 team. That's an inaccurate take.
Pittsburgh is ranked second in pass defense and eighth in run defense. Now, it's true that the Steelers have been way better statistically at stopping the run, but there's nothing wrong about their defense.
They limited the Robert Griffin III-led Washington Redskins to only 12 points on Sunday and have a very easy remaining schedule.
They should be able to beat the Chiefs, Browns (twice), Chargers, Cowboys and Bengals. If they do, they'd win the AFC North since the Ravens have a more difficult schedule.
AFC South: Houston Texans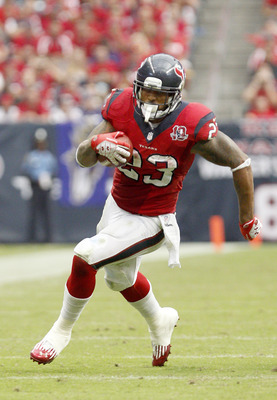 Thomas B. Shea/Getty Images
Current Record: 6-1
Prediction: 14-2
Expect the Houston Texans to lose one game for the rest of the season. That would be at Soldier Field against the Chicago Bears in a Sunday night game on November 11. Other than that, the Texans should run away with the AFC South.
Although the Indianapolis Colts have certainly been a surprise, winning with rookie quarterback Andrew Luck, they aren't making up two games on Houston.
The Texans are an all-around great team. They have a good quarterback, great run game, awesome offensive weapons and a stellar defense.
After suffering their only loss so far this season to the Green Bay Packers, they turned around and crushed a solid Baltimore Ravens team by 30.
The Texans aren't only winning the AFC South. They're winning the AFC championship as well.
AFC West: Denver Broncos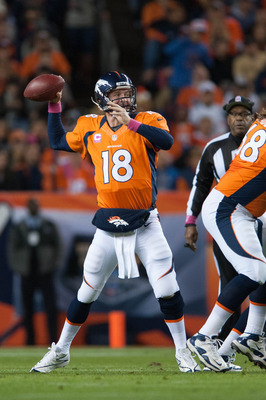 Dustin Bradford/Getty Images
Current Record: 4-3
Prediction: 12-4
It's as simple as this with the Denver Broncos: If they can win a division with Tim Tebow at quarterback, they can definitely win one with Peyton Manning. That's exactly what they'll do.
The AFC West is by far the worst division in the NFL. The Broncos' only competition entering Week 8 was the San Diego Chargers. After watching the Chargers lose 7-6 to the Cleveland Browns, how can you pick them to go anywhere?
The last two wins for the Broncos came against Philip Rivers and Drew Brees. Peyton seems to be fine in his return from neck surgery, putting up great passing numbers yet again.
All of that combined with an easy remaining schedule should lead the Broncos to the division crown.
NFC East: New York Giants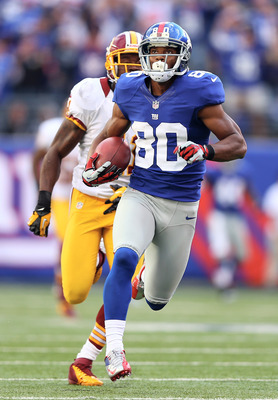 Elsa/Getty Images
Current Record: 6-2
Prediction: 12-4
The defending Super Bowl champions may not be the favorite to repeat, but they are going to win the NFC East again.
Their win over the Dallas Cowboys has been downplayed because of a near touchdown catch by Dez Bryant, but that doesn't mean anything. By NFL rules, Bryant had a finger out of bounds meaning he didn't catch the ball. Therefore, the Giants earned a nice divisional road win.
Eli Manning has become an elite regular-season quarterback this year, as he entered Week 8 with the most passing yards in the NFL.
The Philadelphia Eagles are a complete mess, and the Washington Redskins aren't quite ready for prime time.
The Giants will have a chance to defend their Super Bowl in January.
NFC North: Green Bay Packers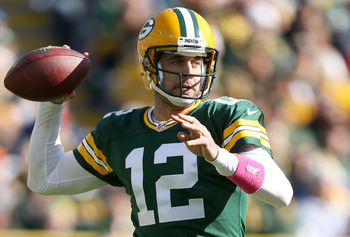 Andy Lyons/Getty Images
Current Record: 5-3
Prediction: 12-4
If you want proof that parity is going on in the NFL, look no further than the Green Bay Packers. They started 2-3, which was really strange as they have arguably the best quarterback in football.
No worries, though, as Aaron Rodgers and Co. have won three straight to get back into the NFC North mix.
The Chicago Bears have been a terrific story this season, but the Packers have beaten them already and will beat them again in Chicago in Week 15.
If you want reasons for why the Packers are getting really scary, take a look at this nugget: Aaron Rodgers has thrown 11 touchdown passes and zero interceptions during the three-game winning streak.
It all started with an extremely impressive win at Houston on a nationally televised Sunday night game. Entering that game, the Texans were undefeated.
Whatever happened in the first five games, forget about it. The Packers will keep rolling and take over the Bears for the division title.
NFC South: Atlanta Falcons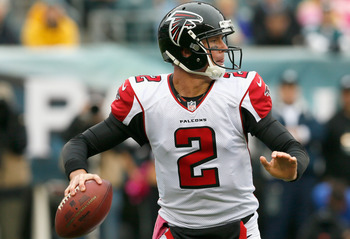 Rob Carr/Getty Images
Current Record: 7-0
Prediction: 14-2
If you had been asked of the 32 NFL teams, which would be the lone undefeated at the halfway point of the season, who would you have chosen? The Packers? Maybe the Patriots?
One team you wouldn't have picked is the Atlanta Falcons. They've been the most surprising team in a long time, as they've seen their young quarterback Matt Ryan turn into an early MVP candidate.
With a mixture of everything led by the offensive trio of Ryan, Michael Turner and Roddy White, the Falcons are as dangerous as any team in football.
They're already running away with the NFC South, as they're the only team in the division with a record above .500.
The real disappointment has been New Orleans. Even with "Bountygate" and the season-long suspension of head coach Sean Payton, you'd figure a team with Drew Brees at quarterback would be better than 2-5.
With their demise, the Falcons are coasting to a division crown.
NFC West: San Francisco 49ers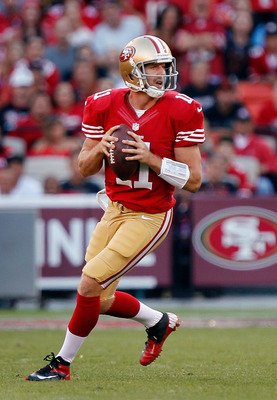 Brian Bahr/Getty Images
Current Record: 5-2
Prediction: 12-4
San Francisco is in an extremely tight battle in the NFC West with the Arizona Cardinals and Seattle Seahawks. That's really unexpected.
If you consider just how close they came last season to beating the Giants en route to the Super Bowl, you'd think they would've been 7-0 by now.
A stunning loss in Minnesota in Week 3 ruined that opportunity, and an NFC title game rematch loss at home to the Giants has made the 49ers vulnerable.
If they lose on Monday night to the Cardinals, Arizona would be in first place thanks to head-to-head record.
The 49ers will come out on top in tonight's game, but they should still win the division even if they were to lose. They have the most talent of any team, with the top-ranked rushing attack and top-ranked pass defense in the league.
It might be the tightest division race of the season, but San Francisco will repeat in the NFC West.
Keep Reading