Interview with the Pioneer of MMA Artistry, Evan Shoman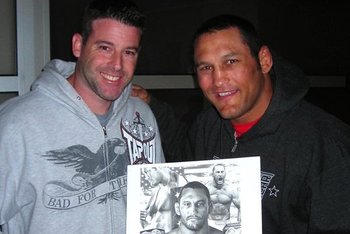 It is quite simple for one to recognize the extraordinary artistry skills of Evan Shoman. Armed with a only a set of pencils, Evan is able to turn a blank sheet of paper into an absolute masterpiece.
Evan started drawing MMA pieces back in 2005 while producing over 100 portraits of fighters to date. Evan also produces various types of pieces for other professional sports, WWE and movies.
Each individual piece takes Evan approximately 40-60 hours to complete start to finish, so there is a lot of hard work that goes into what he does. His work is appreciated by many, including the fighters who seek him out for a chance to be immortalized by the greatest MMA artist in the world.
Evan doesn't spend all of his time drawing, as he also is a proud father and host on Tapout Radio, which you can also catch at http://www.tapoutlive.com/.
The following is an exclusive Q&A interview session with Evan Shoman accompanied by a display of his artwork on each slide.
Enjoy!

Movie Superheroes by Evan Shoman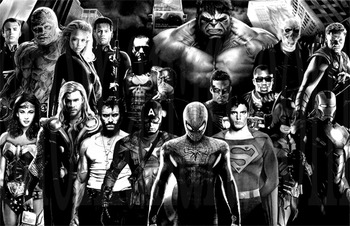 Movie Superheroes by Evan Shoman
Kevin: First, I'd like to begin by thanking you, Evan, for taking the time to do this. Since our last interview was over a year ago, is there anything new you have been working on?
Evan Shoman: Still doing my usual MMA pieces. I recently turned in my man card though and have been doing a Twilight piece. I have no idea about what Twilight is except it's a movie for tweeners who enjoy werewolves and vampires being romantic.
I did the piece because a friend of mine owns a Twilight fan site and I need to pay my mortgage. I did a Sons of Anarchy piece as well as a 'Movie Superheroes' piece. All my non-MMA pieces actually sell.
Cain Velasquez by Evan Shoman
Cain Velasquez: courtesy of http://www.shomanart.com/
Kevin: Starting off with a common question here, what caused you to take up drawing and did anyone influence you to become an artist and what is it about art that you enjoy the most?
Evan Shoman: I've always drawn and always wanted to draw realistic things. In my 20s, I was collecting sports cards religiously and bought a lot of Beckett Magazine sports guides. They put fan art on the covers and one of the artists I loved is named Andy Yelenak. He is the main reason I began doing sports portraiture.
I've contacted him and in a nutshell told him he was my hero. He is the artist I want to be. He has nine twitter followers but gets commissioned to do all kinds of work. I have over 5,000 followers and no one pays me to do anything, but they sure think I'm witty.
Nate and Nick Diaz by Evan Shoman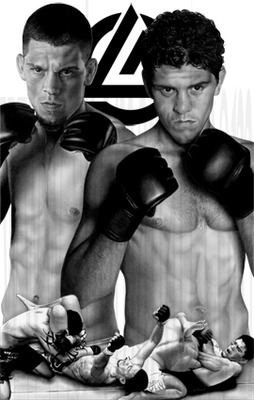 Diaz Brothers: courtesy of http://www.shomanart.com/
Kevin: Does anyone ever come to you seeking advice on artistry or do you teach art yourself?
Evan Shoman: All the time. Mainly guys want to know how they can break into MMA. MMA is a brutal unforgiving business and no one should have to go through what myself and other MMA artists go through. But as far as artistic tips…most artists have too big of an ego to ask another artist what they can do to improve their skills.
The ones that do ask me for art tips are the actual FIGHTERS. I've had discussions with Tyson Griffin, Rashad Evans, Gerald Harris and Rory MacDonald about how to improve their technical artistic skill. That's when it's really fun for me. Someone who comes to me that is genuinely interested at getting better makes me happy.
Georges St. Pierre by Evan Shoman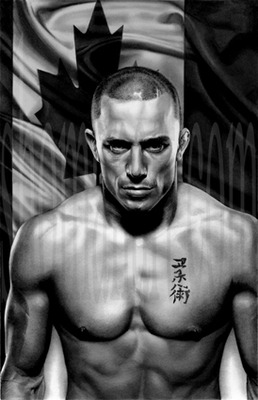 Georges St Pierre: courtesy of http://www.shomanart.com/
Kevin: Are there any fights that you have an interest of or would like to see sometime in the near future?
Evan Shoman: GSP vs. Nick Diaz needs to happen. Jon Jones vs. Anderson needs to happen. I am very excited for Benson Henderson vs. Nate Diaz.
Donald Cerrone by Evan Shoman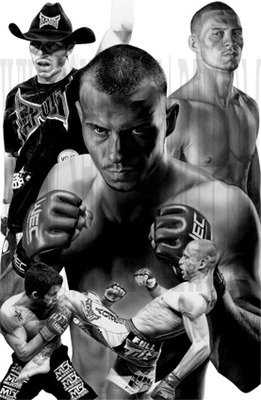 Donald Cerrone: courtesy of http://www.shomanart.com/
Kevin: You have worked with Shane Carwin recently, can you explain more about that and do you think this is something that will take place again with different fighters?
Evan Shoman: Worst experience of my life working with that jerk and his stack of bananas that he calls hands. Shane is great. His manager organized this whole thing raising money to donate to the charity of Shane's choice. My prints are not usually limited edition but since we made them only to 100 it makes it more special and enticing to fans.
I would love to do this same thing for other fighters but what they don't tell you behind the scenes is that behind every lazy, unmotivated fighter is an even lazier, unmotivated manager.
Getting anything done in this sport with any fighter is next to impossible. It's crazy too, because you hear about fighters complaining about pay and how much they don't make. Yet whenever I offer them the chance to make an easy dollar, they just *poof* vanish.
Dan Henderson by Evan Shoman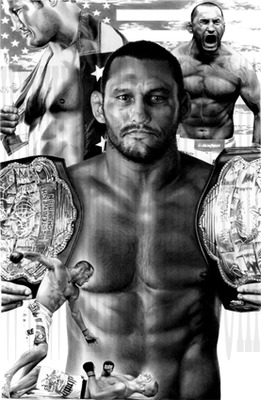 Dan Henderson: courtesy of http://www.shomanart.com/
Kevin: Who are the current top five fighters in your opinion that are not competing under the Zuffa banner?
Evan Shoman: Knowing the atomic weight of sulfur would be an easier question to answer. Nick Newell, Eddie Alvarez, Michael Chandler, Daniel Straus and King Mo.

Jose Aldo by Evan Shoman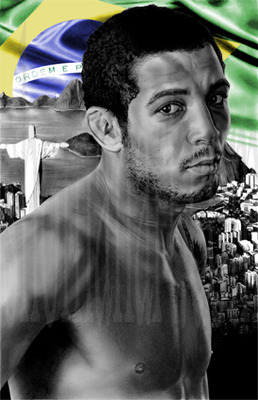 Jose Aldo: courtesy of http://www.shomanart.com/
Kevin: Any fighters that you currently are noticing that can be considered up-and-comers?
Evan Shoman: I've been saying Cub Swanson is the next up-and-comer for the past six years. Vinny Magalhaes, Daniel Straus, Bubba Jenkins, Dominique Robinson, Rory MacDonald, James Chaney and Nick Newell. I think all those guys have very bright futures.
Felice Herrig by Evan Shoman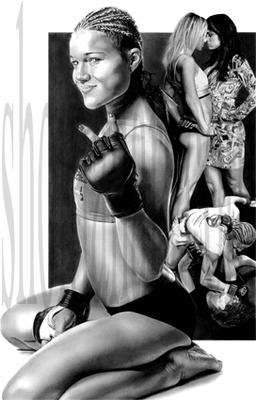 Felice Herrig: courtesy of http://www.shomanart.com/
Kevin: How do you think a women's division would fare if one is created by the UFC?
Evan Shoman: I like women's MMA and they are finally getting a platform to perform thanks to Shannon Knapp at Invicta. If Dana created a women's division right now, he would create one for Ronda Rousey and that is it.
I almost think that having 20 or so women on the UFC roster would be more detrimental to them because they'd get lost in the shuffle in an already oversaturated market of MMA.
If Ronda Rousey and Cris Cyborg went to Invicta they could grow the organization around them. I'd rather see all women in one promotion than have them scattered around MMA with only the top three women getting any mainstream exposure.
Benson Henderson by Evan Shoman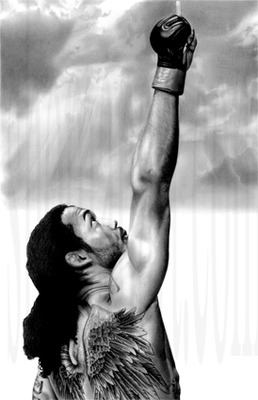 Benson Henderson: courtesy of http://www.shomanart.com/
Kevin: Who do think can defeat or are the biggest threat to current crop of UFC divisional champions?
Evan Shoman: In the heavyweight division I think a few guys could beat Junior on any given day like Cain, Mir, Reem, Cormier, Werdum, or Barnett. Light heavyweight division I don't see anyone beating Jon Jones any time soon.
The middleweight division is kind of a joke. You have Anderson as the top dog and arguably the best pound-for-pound active fighter. Then the No. 2-ranked middleweight fighter is Michael Bisping with only one win over a top 10 opponent EVER. Anderson is the best fighter in the worst division in MMA. No one will challenge him for a while.
At welterweight there's Nick Diaz, Carlos Condit, Rory MacDonald, Johny Hendricks, Jake Ellenberger, Ben Askren and Jon Fitch all stylistically pose a threat to GSP.
Lightweight is the best division in MMA as far as well-rounded talent. Ben Henderson is the man right now and he showed it after he beat Edgar in Frank's zillionth rematch in a row.
The division has Cowboy, Pettis, Guida, Maynard, Nate Diaz, Jim Miller, hopefully Eddie Alvarez, and Gilbert Melendez. I think all of these guys could beat each other.
Chuck Liddell vs. Wanderlei Silva by Evan Shoman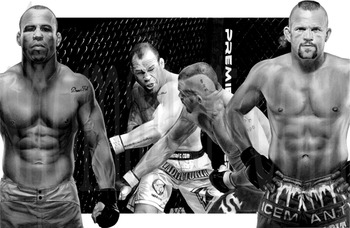 Chuck vs. Wand: courtesy of http://www.shomanart.com/
Kevin: Any chance that we see a Junior dos Santos, Chael Sonnen, or new Frank Mir piece in the future? (Huge Mir fan here, so I had to ask). Anything new that you're working on currently?
Evan Shoman: Yes to all three you named. Currently, I am finishing up a new Chuck Liddell piece though.
CM Punk by Evan Shoman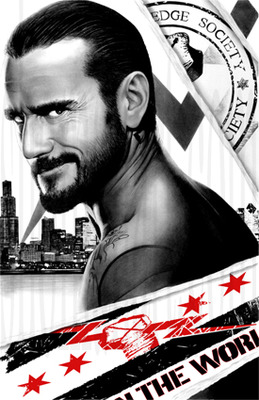 CM Punk by Evan Shoman
Kevin: It seems you have been drawing some WWE superstars more frequently. What superstars do you think have the ability to pull a make a move into MMA and is there any matches you would like to see if that happened such as Chael Sonnen vs. CM Punk?
Evan Shoman: Dolph Ziggler was a high school wrestling teammate of Gray Maynard's. I think those kind of guys with a legitimate amateur wrestling background are the guys who could really make it in MMA. I'm thinking Ziggler could do a 195 catchweight vs. Chael Sonnen.
Chael punches as hard as my 10-year-old and I see him having a hard time getting Ziggler down. Ziggler takes chair shots to the head, so I am certain he can take a punch from Chael. Chael can't outstrike him and he certainly can't out-heel him. Ziggler by Zig Zag KO!
John Cena by Evan Shoman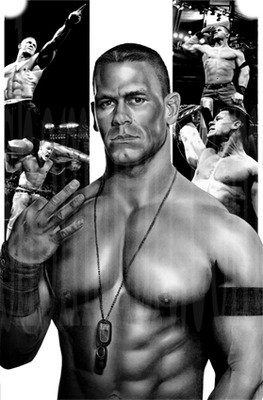 John Cena by Evan Shoman
Kevin: Same question but vice versa, which MMA fighters do you think could pull a Ken Shamrock and be successful at professional wrestling and why?
Evan Shoman: WWE guys are enormous so mainly the big boys would succeed. Maybe you could do a Hornswoggle vs. Demetrius Johnson because they are the same height.
I think Overeem, Mir, Barnett (already a pro wrestler), Bigfoot Silva, Ryan Bader, Andrei Arlovski, Rashad Evans, Cris Cyborg and Michael Bisping could all find success in wrestling.
Jon Jones by Evan Shoman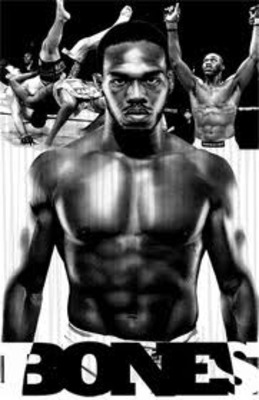 Jon Jones: courtesy of http://www.shomanart.com/
Kevin: I recently went to the movies to see Kevin James star in "Here Comes the Boom" and realized that there has been a lot of movies produced recently with an MMA theme.
Which of those movies have you enjoyed either by yourself or with your family and do you see any MMA stars with a possible future in acting?
Evan Shoman: I haven't seen 'Here Comes the Boom' but I imagine it was a lot like 'Paul Blart: Zookeeper.' I guess Rampage could be a Hollywood star with all of his range. He could play an angry guy with an attitude or the opposite side of the spectrum as an angry guy with an attitude.
Randy Couture by Evan Shoman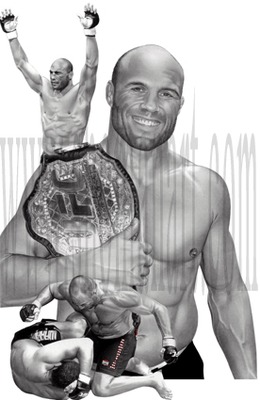 Randy Couture: courtesy of http://www.shomanart.com/
Kevin: In a more out of the ordinary question, who do you think wins a match pitting former WWE superstar Dave Batista vs. Jason David Frank, more commonly known as the Green Ranger?
Evan Shoman: I may have to go with Frank on this one. After Bautista's debut almost getting KO'd I think he gets hit with a combo by the smaller and faster Green Ranger before he even knows he's in a fight. I see Bautista getting up half KO'd like the Afro Ninja and exiting stage left.
Rick Slaton by Evan Shoman
Rick Slaton: courtesy of http://www.shomanart.com/
Kevin: If ESPN were to approach you to do a story of your life such as they do on "Outside the Lines" or E:60, how do you think that would play out?
Evan: It would fail miserably because no one wants to watch me talk about why everything sucks for a full hour.
Brian Stann by Evan Shoman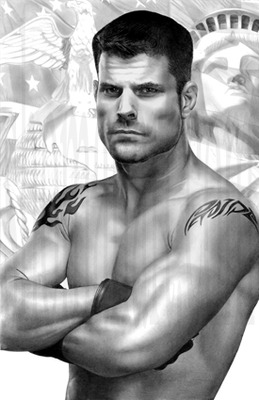 Brian Stann: courtesy of http://www.shomanart.com/
Kevin: I currently have 13 pieces of your work hanging on my wall, are there any pieces that you display in your home and which ones are you most proud of?
Evan: None of my pieces are displayed in my home. All of my originals (about 300) are sitting in a pile in my closet. I like to see my work in OTHER people's homes. As soon as I finish a piece, I put it away and never look at it again.
Chuck Liddell by Evan Shoman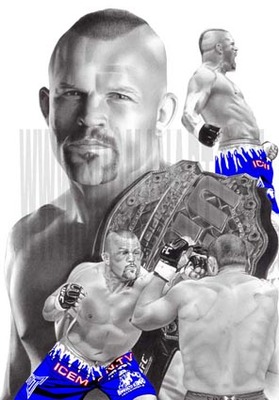 Chuck Liddell: courtesy of http://www.shomanart.com/
Kevin: Any fight or fights that you would like to see if you match up any two guys in their prime that we have never seen?
Evan Shoman: Nick Diaz vs. GSP before he got KO'd by Matt Serra. I would love to see a prime Pele vs. Anderson Silva.
Anderson Silva by Evan Shoman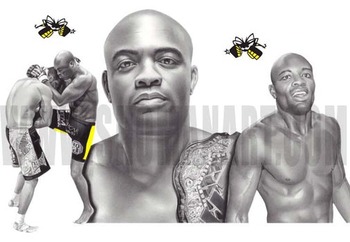 Anderson Silva by Evan Shoman
Kevin: Who is the best pound-for-pound fighter out there today and can you give us your personal top 5?
Evan Shoman: Fedor as pound-for-pound all time. Actively fighting… Anderson's competition is nowhere near the level of guys that Dan Henderson, GSP or Jon Jones has been fighting. On paper Jones, Hendo, and GSP have so many more fights and wins over top-tier guys than Anderson it's mind blowing.
I'll just say that currently Anderson is the most skilled fighter. My personal top five in no particular order: Nick Diaz, Dan Henderson, Vitor Belfort, Cowboy Cerrone, Robbie Lawler.
Kenny Florian by Evan Shoman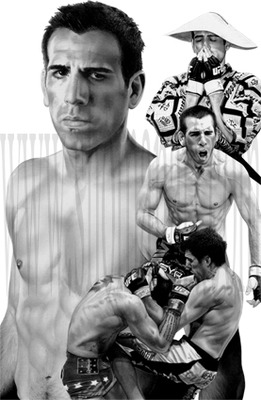 Kenny Florian: courtesy of http://www.shomanart.com/
Kevin: Which fighters have been the some of the best interviews for you on your radio show and why?
Evan Shoman: The easiest interviews are Stephen Quadros, Joe Rogan, Mike Goldberg, Michael Schiavello, Mauro Ranallo, Jens Pulver and Bas Rutten. You ask any of those guys what they ate for lunch and they will answer every question about MMA you didn't ask going back to 1996.
Kendall Grove, Renzo Gracie, Wanderlei Silva, Christiano Marcelo, Matt Serra, Joey Beltran, Gerald Harris and Ray Sefo will just come on the show any time and give great interviews because they are all great people. A lot of fighters are introverts and they have a very hard time speaking to the public so our show (Tapout Radio airs at 6 p.m. PST every Monday and Thursday at tapoutradio.com) can be very difficult to do.
Hence, why I love when a hater listens for five minutes and says we suck. I dare any of them to attempt to get a fighter who is cutting weight to come on their puny podcast and answer questions in a lively fashion. They can't and that's why Crooklyn and I have been doing this successfully for seven years.
Frank Mir by Evan Shoman
Frank Mir: courtesy of http://www.shomanart.com/
Kevin: Well, that is all I have for you today, Evan. Again, I would like to thank you for taking the time to do this and sharing your amazing skills with us. Anything else you would like to add that we didn't cover or you would like to give a shout out to?

Evan Shoman: Thank you of course to you Kevin Hess for writing this and the 6 people who may read it (all of whom I am probably related to). Go to my site at shomanart.com and get autographs of your favorite MMA fighters as well as prints of all kinds of fun stuff. Twitter.com/shomanart. Facebook.com/evanshoman.
I do not want to thank Ryan Loco at RyanLoco.com. Not Jason Genet from Ingrained Media. Definitely not Crooklyn, my co-host at Tapout Radio.
I guess I'd like to shout out my kid for being awesome due to his genetic link to myself and my dog for being the only thing with a heartbeat to show me any kind of consistent love and affection.
Kevin: Thank you, Evan, your interviews are always inspirational!? Check out Evan's site where you can find a great holiday gift or something for yourself!
Keep Reading