Heisman Trophy 2012: Week 9's Best and Worst Showings in Heisman Hunt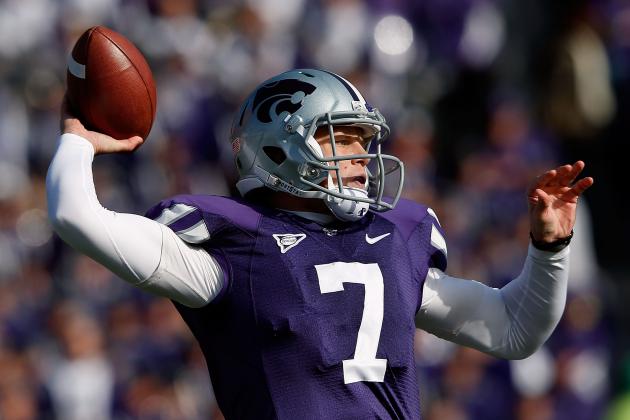 Jamie Squire/Getty Images

Week 9 of the 2012-2013 college football campaign tightened the Heisman race, but there is still one player who clearly stands above the rest.
While just about every prime Heisman contender had a good performance in Week 9, Kansas State senior quarterback Collin Klein has still not missed a beat and has the Wildcats ranked No. 2 in the BCS standings.
As we hit the home stretch this season, here's a look at the best and worst performances from Heisman contenders in Week 9. (Note: There weren't a lot of poor performances this time around.)
Begin Slideshow

»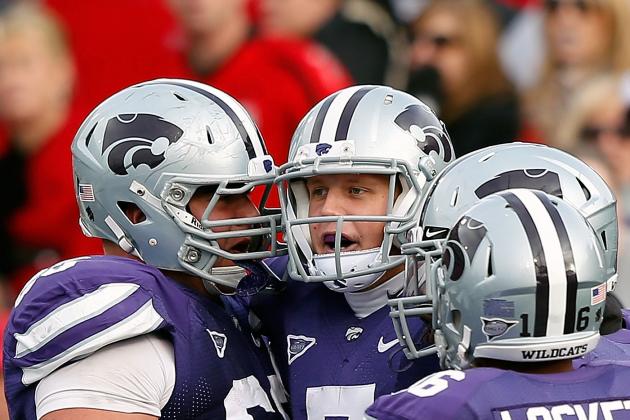 Jamie Squire/Getty Images

Collin Klein should be everybody's Heisman favorite at this point, and it shouldn't even be close.
Against then-No. 14 Texas Tech in Week 9, Klein went 19-of-26 for 233 yards and two touchdowns while rushing for 83 yards and two touchdowns on 12 carries.
Klein is a big reason why Kansas State is 8-0 and No. 2 in the BCS standings, and his electric performance in the Wildcats' 55-24 victory over Texas Tech was further proof.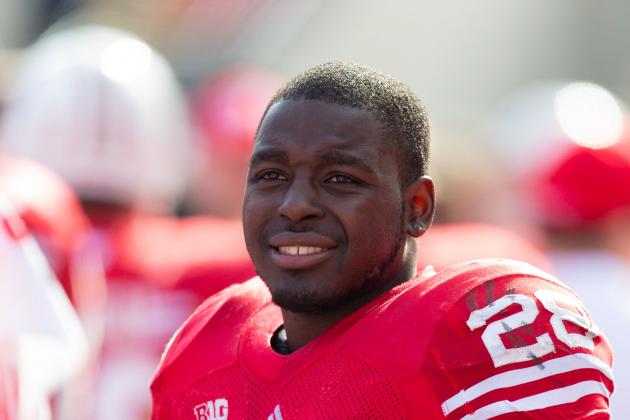 Jeff Hanisch-US PRESSWIRE

Montee Ball had re-entered the Heisman discussion after three straight weeks of brilliance leading up to the matchup against Michigan State in Week 9, but his momentum was stopped cold by the Spartans.
Ball rushed for just 46 yards on 22 carries against the Michigan State defense and it was a big reason why the Spartans were able to escape with a 16-13 overtime victory in Madison.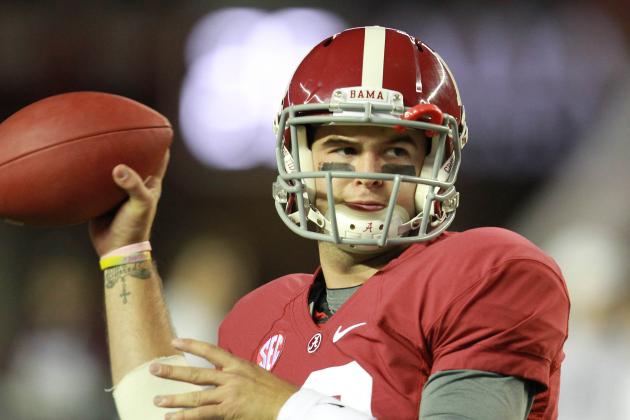 Marvin Gentry-US PRESSWIRE

An efficient leader who doesn't make mistakes.
Sounds like the starting quarterback of No. 1 Alabama, Mr. A.J. McCarron.
After going 16-of-23 for 208 yards and two touchdowns against then-No. 11 Mississippi State, McCarron has now tossed 18 touchdowns to zero interceptions this season. That's frankly remarkable, especially considering he plays in the big and bad SEC.
McCarron is now averaging 9.5 yards per pass attempt, tied for fourth in the nation.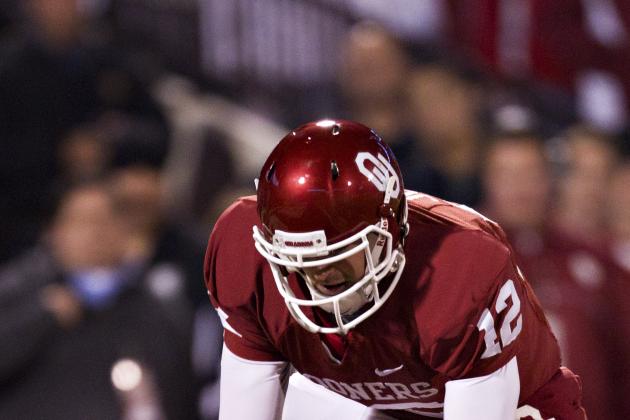 Wesley Hitt/Getty Images

Landry Jones was just outside of my Top 10 last week, but his performance against Notre Dame surely dropped him out of the picture entirely for me.
While Jones passed for 356 yards, he also averaged a mediocre 6.98 yards per pass attempt and threw an interception in the 30-13 loss in Norman.
The book on Jones coming into the contest was that he can be forced into turnovers given enough pressure, and Notre Dame's fantastic front seven proved that point.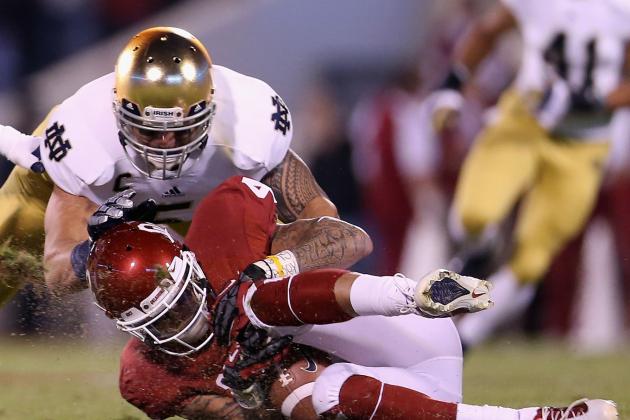 Ronald Martinez/Getty Images

Speaking of Notre Dame...
Manti Te'o continues to be No. 2 in the Heisman rankings for me after notching 11 tackles, one sack, two tackles for loss and his fifth interception of the season against Oklahoma in Norman.
He is now tied for second in the nation with five interceptions...and he's a linebacker.
One slip-up from Klein and Te'o jumps ahead of him in my book.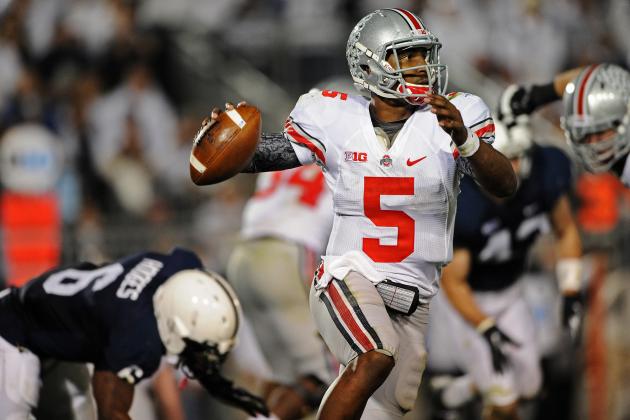 Patrick Smith/Getty Images

OK, so Braxton Miller's passing numbers were nothing to write home about against Penn State (7-of-19, 143 yards, one touchdown, one interception), but he did rush for 134 yards and two touchdowns against the Nittany Lions...so there's that.
With Penn State trailing 14-10 in with just under 10 minutes to play in the third quarter, Miller led the Buckeyes to two straight touchdowns, capped off by his rushing touchdowns. Penn State was never able to recover in Ohio State's 35-23 victory.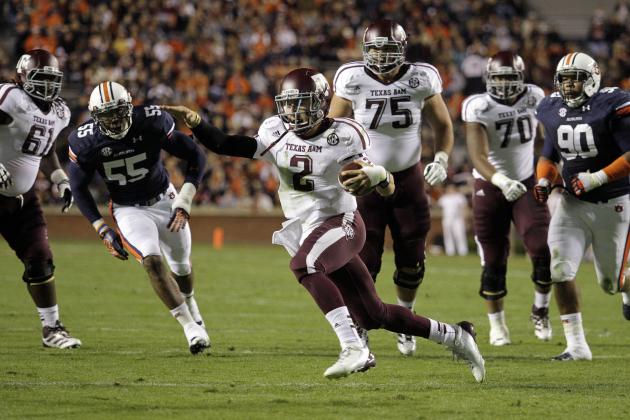 John Reed-US PRESSWIRE

Johnny Manziel's inexperience showed in Week 8 against LSU, but he bounced back in a big way against Auburn.
The freshman sensation went 16-of-23 for 260 yards and two touchdowns while rushing for 90 yards and three touchdowns in the 63-21 blowout victory in Auburn.
Manziel has now accounted for over 3,000 total yards and 29 touchdowns while tossing six interceptions.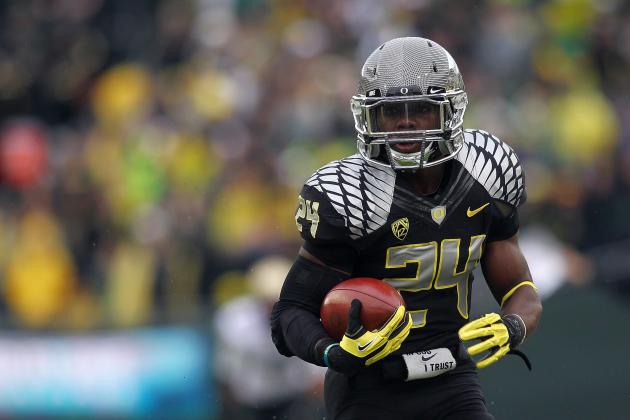 Jonathan Ferrey/Getty Images

In the 70-14 destruction of Colorado in Week 9, Kenjon Barner rushed for 104 yards and two touchdowns on just nine carries.
The senior also added two catches for 47 yards.
Talk about making the most of your opportunities.
Barner has now rushed for 974 yards this season (tied for 12th in the nation) on 141 carries. Everybody with more rushing yards than him has more carries.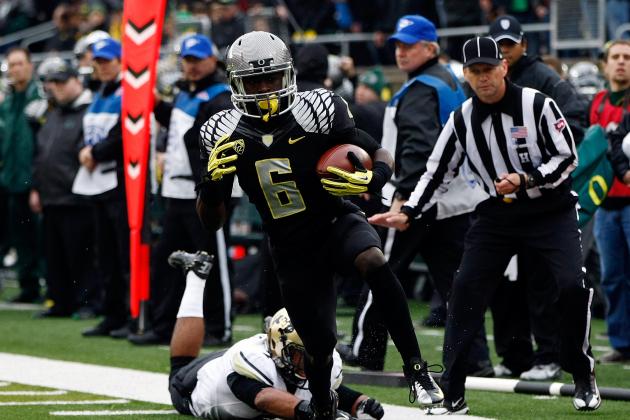 Jonathan Ferrey/Getty Images

Ah, there you are, De'Anthony Thomas.
I was worried about you; you had struggled for one whole game.
After getting shut down by Arizona State in Week 8, Thomas exploded back into the spotlight against Colorado, rushing for 97 yards and a touchdown on five carries.
Oh yeah, and Thomas also ran back a punt 73 yards for another score.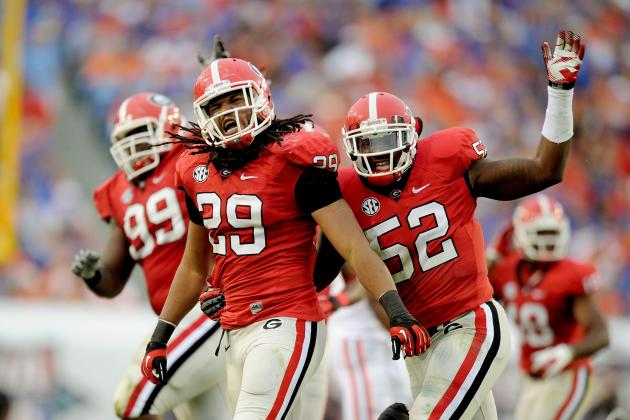 Kevin Liles-US PRESSWIRE

Jarvis Jones officially entered the Heisman discussion after his performance in a pivotal SEC matchup against Florida in Week 9.
Jones amassed 12 tackles, two sacks, 4.5 tackles for loss and two forced fumbles in the 17-9 victory that lifted Georgia to No. 6 in the nation.
Jones has 49 tackles in the six games he's played in this season—14 of those were tackles for loss (including 7.5 sacks).
That's frankly astonishing.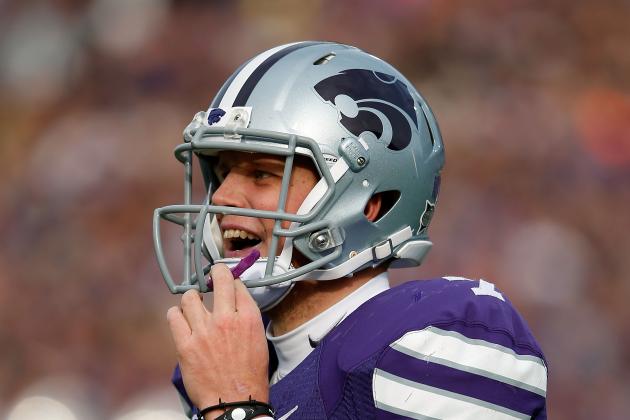 Jamie Squire/Getty Images

1. Collin Klein, QB, Kansas State
After an explosive performance against Texas Tech, Klein faces No. 24 Oklahoma State next, a program that has appeared to improve on defense as the season has progressed.
2. Manti Te'o, LB, Notre Dame
After the show Te'o put on against Oklahoma, he's very close to surpassing Klein for the Heisman. The No. 3 Fighting Irish face 4-4 Pittsburgh next.
3. A.J. McCarron, QB, Alabama
Eighteen touchdowns to zero interceptions. Need I say more? McCarron and the Crimson Tide face a formidable challenge in LSU next.
4. Braxton Miller, QB, Ohio State
A big rushing day against Penn State sees Braxton Miller move up a spot this week. The Buckeyes face a forgiving Illinois defense next.
5. Johnny Manziel, QB, Texas A&M
Manziel hit a speed bump against LSU, but he's been magnificent for most of the season, especially for a freshman. Texas A&M faces No. 15 Mississippi State next.
6. Geno Smith, QB, West Virginia
Hard for me to put Smith ahead of Miller and Manziel at this point. On the other hand, he faces a TCU defense next that has allowed a combined 92 points against Texas Tech and Oklahoma State the past two weeks (although the Texas Tech game did go to triple overtime).
7. Kenjon Barner, RB, Oregon
While De'Anthony Thomas is certainly a force, Barner gets more opportunities to deliver, which he usually does. His workload keeps him ahead of his teammate at this point. Oregon faces No. 17 USC next.
8. Jarvis Jones, LB, Georgia
What Jarvis Jones has done in just six games has been remarkable. Not only that, but he's also stepped up in Georgia's biggest games of the season against Florida and South Carolina. The Bulldogs face Ole Miss next.
9. De'Anthony Thomas, RB, Oregon
What Thomas does with a limited amount of touches shows how much of a playmaker he truly is. But until his workload increases, it's hard to give him serious consideration for the Heisman.
10. Jadeveon Clowney, DE, South Carolina
With 8.5 sacks and 15 tackles for loss on the season, Jadeveon Clowney has been an absolute beast for the Gamecocks. He had a sack against Georgia and Florida. The Gamecocks face Arkansas in two weeks.