Teams That Should Take a Chance on Delonte West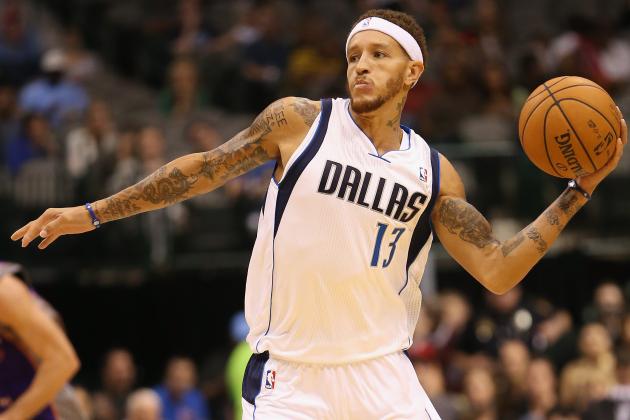 Ronald Martinez/Getty Images

Over the past month, the Dallas Mavericks have suspended Delonte West on two separate occassions (via ESPN Dallas). The second offense was classified as conduct "detrimental to the team," which caused some to question the guard's future with the team.
Just days later, Marc J. Spears of Yahoo! Sports reported that the Dallas Mavericks have opted to part ways with West.
Mavs waive guard Delonte West.

— Marc J. Spears (@SpearsNBAYahoo) October 29, 2012
West is now in jeopardy of finding himself unemployed for the first time in his eight-year career. In the spirit of new beginnings, however, the best route to take would be to evaluate NBA franchises and decide upon who could benefit from West's arrival most.
As the following slides will show, there are quite a few teams that fit the bill.
Begin Slideshow

»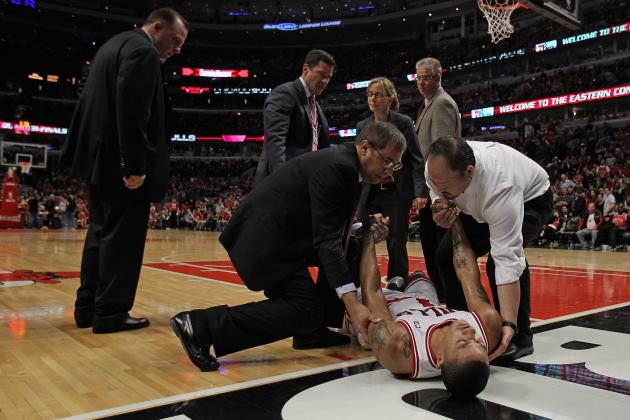 Jonathan Daniel/Getty Images
Have the Bulls done enough to compensate for D-Rose's absence?
2011-12 W-L Record: 50-16
Position of Need: Point Guard and Shooting Guard
Key Injuries: Derrick Rose, torn ACL; Kirk Hinrich, strained groin
Entering the 2012-13 NBA season, the biggest question in Chicago was when Derrick Rose will be returning. As the regular season approaches, however, the true question is who will step up to temporarily fill his void.
Although no one individual can, a combination of players could solidify the Bulls' backcourt. Unfortunately, there is nothing but uncertainty at either guard position.
Bulls fans will jump to the defense of their current group of players. Kirk Hinrich and Nate Robinson are crafty veterans, while Marquis Teague has extreme upside at the point guard position.
Marco Belinelli and Richard Hamilton, meanwhile, are two sharpshooters who could be what the Bulls have long needed at the 2. The five players listed could also be acknowledged for what they are without a biased eye.
Risky.
Robinson is just 5'9", while Hinrich has had injuries throughout his career and already fell victim to a strained right groin during the preseason (via ESPN Chicago). Teague, meanwhile, is a rookie, which suggests that trusting him based off draft position is irrational.
Belinelli, meanwhile, has a smooth stroke from beyond the arc but struggles from everywhere else on the floor. His career 42.4 percent shooting from the field is almost as concerning as Richard Hamilton's 116 missed games over the past four years.
With West having established himself as a reliable ball handler and playmaker, it would behoove the Bulls to take a chance on his abilities. If nothing else, they'll bring further depth to a backcourt that offers nothing short of uncertainty.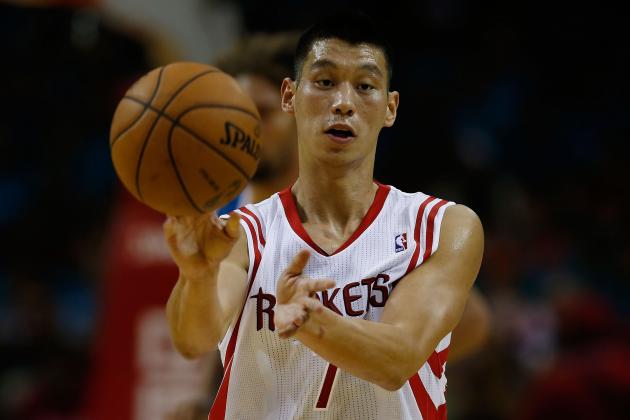 Scott Halleran/Getty Images
Jeremy Lin could use a viable backup in Houston.
2011-12 W-L Record: 34-32
Position of Need: Point Guard
Key Injuries: N/A
With the acquisition of James Harden, the Houston Rockets officially established themselves as a young team to watch (via ESPN). What the Rockets are set to discover, however, is that top-tier talent means nothing without depth to maintain their pace.
And no, Rockets fans, a plethora of rookies and sub-24 players does not qualify in this topic of conversation.
The most important position to have depth at is point guard. For the Rockets, their support for Jeremy Lin includes Toney Douglas, Shaun Livingston, Courtney Fortson and undrafted rookie Scott Machado.
No matter how badly basketball purists want to sing Machado's praises, there is no way to justify an undrafted rookie being a key component of a contender's second unit.
With the signing of Delonte West, the Rockets would create a backcourt that could continue to produce points in bundles. West fits the dynamic nature of a Lin and Harden, as his size and ball handling ability enables him to penetrate at virtual will.
West's mid-range shooting is yet another weapon in his arsenal to create matchup problems for whomever he is paired against.
What works best for the former St. Joseph's Hawk is the fact that he is used to playing in rotations with two off-guards. He and Jason Terry made it work in Dallas, as West's quickness and athleticism enable him to rotate well on defense.
On offense, West will facilitate and slash. Regardless of which he opts to do, West is a better option than any currently on the Rockets' second unit.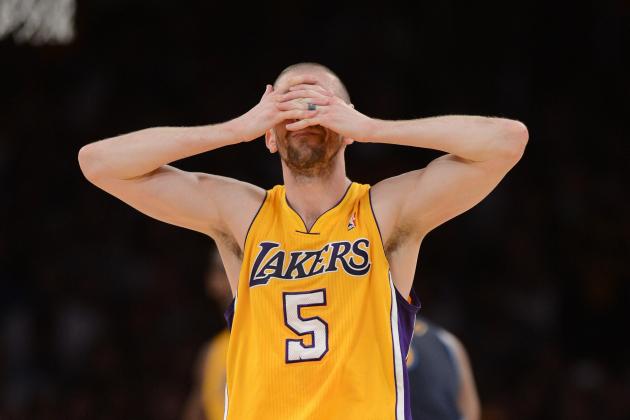 Harry How/Getty Images

2011-12 W-L Record: 41-25
Position of Need: Point Guard
Key Injuries: N/A
The Los Angeles Lakers took a major step in the right direction when they signed Steve Nash to handle the point guard duties. The two-time MVP has questionable support on the second unit, however, as Steve Blake and Chris Duhon both have offered reasons to doubt their respective abilities.
If nothing else, the duo leaves room for a third name to enter the conversation of who should take over as the second unit lead guard.
Delonte West is the perfect fit for the said role in Los Angeles. West has spent the past two seasons playing the point with elite shooters at the off-guard, as Ray Allen and Jason Terry were in Boston and Dallas.
Playing alongside a quality shooter in Jodie Meeks fits into what West has experience in doing.
West has the athleticism and court vision necessary to facilitate an offense. He's also one of the most dynamic playmakers in the NBA due to his uncanny ability to overcome his opponent with the use of his left-handed dribble.
Although he's not Steve Nash, West is a versatile veteran who has played in every postseason since 2008.
Signing West also creates the opportunity to feel comfortable on nights that Kobe Bryant may miss time due to injury. Meeks and West working off one another is certainly more appealing than Meeks and an unproven Andrew Goudelock.
To solidify this backcourt as strong enough to fight off injuries or foul trouble, signing Delonte West should be at the top of the Lakers' to-do list.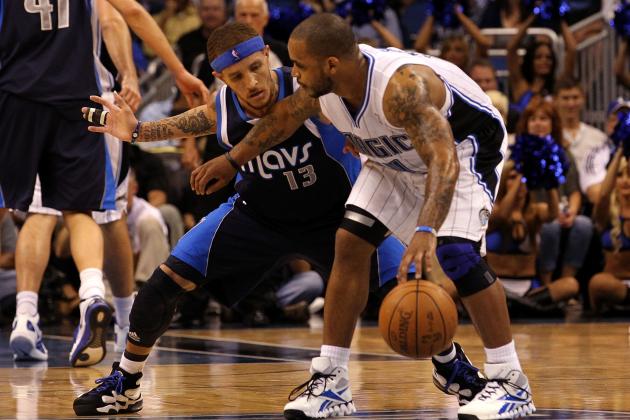 Sam Greenwood/Getty Images
Could college teammates Jameer Nelson and Delonte West reunite in Orlando?
2011-12 W-L Record: 37-29
Position of Need: Point Guard
Key Injuries: N/A
For those college basketball buffs out there, how about this for a reunion?
Back in 2004, Jameer Nelson and Delonte West led the Saint Joseph's Hawks to an improbable 27-0 regular season record. The team ended up losing in the final seconds for an Elite Eight showdown against Oklahoma State, but Nelson was eventually named National Player of the Year.
Since then, both Nelson and West have gone on to play quality careers at the NBA level. Nelson is an eight-year veteran of the Orlando Magic, while West has contributed to five separate franchises in the same span.
Regardless of which path you'd like to evaluate, there's no way around this simple fact. Should the duo reunite in Orlando, the lost art of chemistry in a Magic backcourt could finally be rediscovered.
Although the Magic are not considered to be a threat for the postseason, they could go a long way towards developing their younger players by bringing in a veteran like West. He could play both guard positions and provide depth with Nelson, Arron Afflalo and J.J. Redick.
West could also bring a respectable pick-and-roll artist to facilitate the scoring of Glen Davis, Gustavo Ayon, Andrew Nicholson and Nikola Vucevic.
With the names on that list, you can see why it is imperative for the team to have as many facilitators as possible. With Al Harrington in the lineup, it becomes even more important for the team to have a commanding presence at the ball-handling positions.
Delonte West can be that player.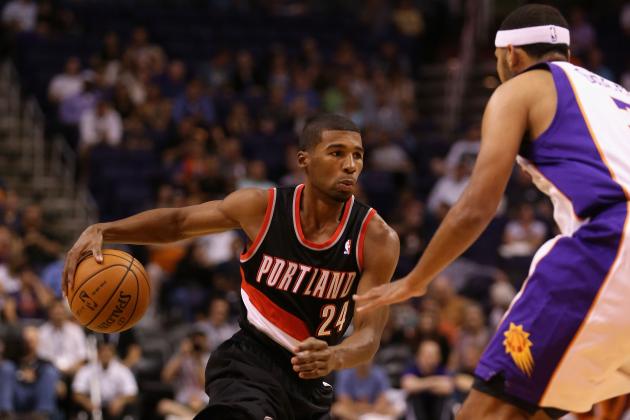 Christian Petersen/Getty Images

2011-12 W-L Record: 28-38
Position of Need: Point Guard and Shooting Guard
Key Injuries: N/A
The Portland Trail Blazers are a young team with rather high expectations. Despite the youth on their roster, the team has the type of talent that suggests the Blazers could potentially compete for a late seed in the West.
With All-Star LaMarcus Aldridge at power forward and Rookie of the Year candidate Damian Lillard at point guard, the team has star power. With the upside of young players such as Nicolas Batum, J.J. Hickson and Wesley Matthews' potential realized in 2013, the Blazers could win big.
With the team's perimeter depth lacking, however, there is a chance that the Blazers fall short of their lofty aspirations.
The second unit perimeter is currently set to be made up of any combination of Ronnie Price, Nolan Smith, Will Barton and Sasha Pavlovic. Although Price is one of the more underrated players in the game, Barton and Smith are young and unproven.
Pavlovic, meanwhile, has underachieved since his lone quality season in 2007.
With West on the roster, the Blazers would possess a veteran that is capable of taking over at both the lead and off-guard positions. Although West would be primarily utilized as a second unit weapon, he'd offer a change of pace from the likes of Lillard and Matthews.
He'd also keep the likes of Aldridge and Hickson flowing due to his uncanny ability to drive-and-dish.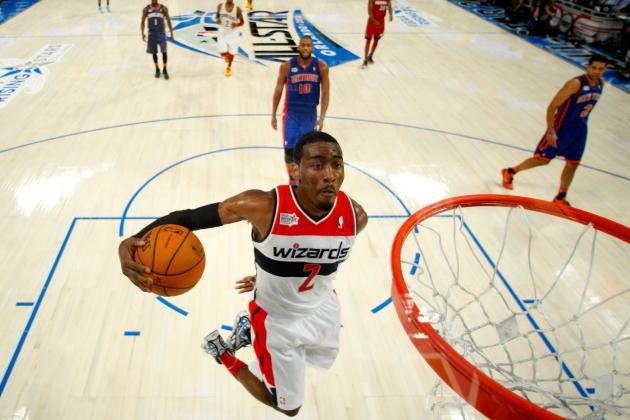 Pool/Getty Images

2011-12 W-L Record: 20-46
Position of Need: Point Guard
Key Injuries: John Wall, stress injury
Due to a non-traumatic stress injury in John Wall's right knee, the Washington Wizards could be without their star point guard for the first month of the regular season. In that time, the team will turn to either A.J. Price or Jannero Pargo to take over as lead guard.
Price and Pargo have combined for 21 career starts. Delonte West has started 258 games on his own.
It should be noted that Price has had a stellar preseason. No matter how impressive he has been, though, there is no way to predict a sufficient enough output from the former Connecticut Husky.
Keep in mind, the Wizards' dream of remaining in the postseason race hinge upon a strong enough start to keep pace with the postseason contenders.
Although West is not necessarily a star, he has proven capable of running a backcourt with an elite shooter at the 2. Bradley Beal fits into the said category, which suggests that West could keep the Wizards around .500 until Wall returns from injury.
If nothing else, the former St. Joseph's star is a strong enough player to keep the Wizards competitive in the early goings of the regular season. Establishing that competitive edge may be enough to establish the chemistry necessary to thrive in Wall's glorious return.
Otherwise, the Wizards will not find themselves in the postseason picture as they'd come to expect.