Doc Rivers' Perfect Blueprint to Bring Boston Celtics Back to Glory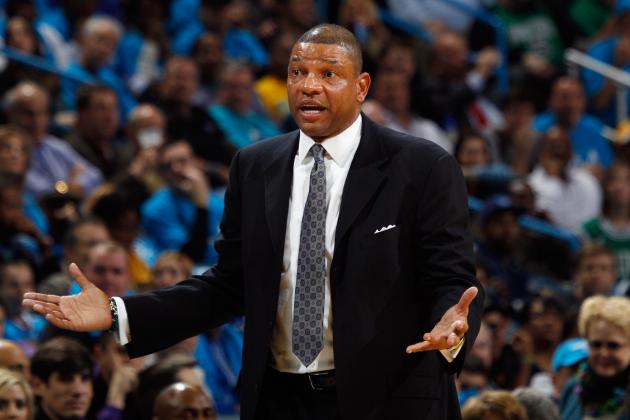 Chris Graythen/Getty Images

One of the Boston Celtics' greatest advantages over the other teams in the Eastern Conference hasn't donned an NBA jersey in 16 years.
Doc Rivers has slowly worked himself into the discussion of the best coaches in the NBA. Over the past eight seasons with the Celtics, he has amassed a regular-season record of 375-265 (.585), including a .580 winning percentage in the postseason.
According to a survey of general managers taken by the NBA, 13.3 percent of the vote for best head coach went to him. A seemingly low number, but second highest to only Gregg Popovich. Rivers was also the second-highest voted manager or motivator of people, earning 40 percent of the vote.
Rivers, who has a healthy resume as both a player and coach, called in to talk with Michael Felger and Tony Massarotti of 98.5 The Sports Hub in Boston on Oct. 26. While the conversation was littered with the Ray Allen nonsense, there are some valuable nuggets as to how the coach is approaching the 2012-13 season.
He knows his players better than almost any coach in the league, and that in itself is a massive advantage that the Celtics will take advantage of.
Begin Slideshow

»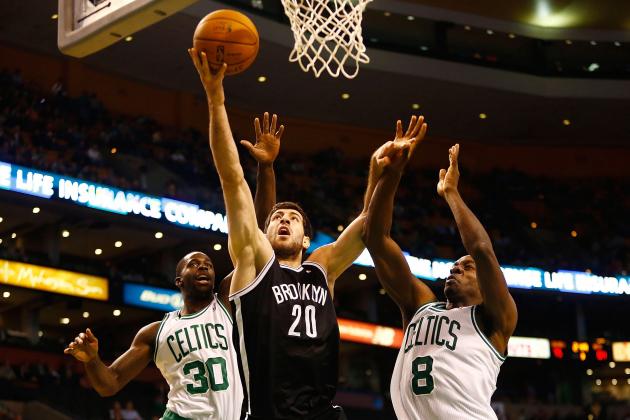 Jared Wickerham/Getty Images

The biggest takeaway from Doc Rivers' conversation with the Felger & Mazz program was his view on the starting lineup.
It has been something of much debate among fans, especially here at Bleacher Report, as to who will start at power forward. While Rivers didn't necessarily end the debate, he did offer a definitive answer.
All three power forwards on the roster will earn starting gigs throughout the season, according to the Celtics' head coach. Boston will employ three different starting units regardless of injuries in 2012-13—something Rivers hasn't done during his Celtics tenure.
That means Jared Sullinger will start games as a rookie, but Brandon Bass will also start games at power forward. Jeff Green will also earn starts during the season, playing with Rajon Rondo, Courtney Lee, Paul Pierce and Kevin Garnett. This decision is somewhat confusing, but very intriguing.
He feels comfortable enough with all three of these players meshing with the other four, so much so that he will make them interchangeable in accordance with specific matchups. This not only helps the Celtics pinpoint opponents' weaknesses and exploit them from the get-go, it also makes Boston more difficult to game-plan for.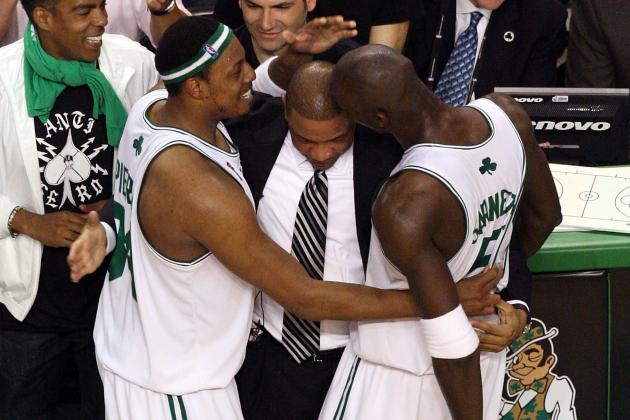 Kevin C. Cox/Getty Images

One major point Doc Rivers made in the interview with 98.5 The Sports Hub was that there will be a concerted effort to scale back not only Kevin Garnett's minutes, but those of Paul Pierce as well.
While Rivers may run into some resistance from these veteran players, he has earned their respect and they will hear him out.
Garnett averaged 31 minutes per game in the regular season. That is roughly the same number he has been playing at since joining the Celtics in 2007-08. Ideally, Rivers wants to get that number under 30.
He made a great point about finding the sweet spot where a player knows how long they'll be on the court and how to be productive in that window. He certainly doesn't want to cut Garnett's window too short and affect his production, but at the same time knocking time off his minutes per game could help.
Getting Garnett to 28 minutes per game and saving him about three minutes a night means about 246 minutes of extra rest. Over an 82-game season, that is the equivalent of nearly nine games played.
Nine more games of a fresh Kevin Garnett that can be applied in the postseason? Rivers will take that any day.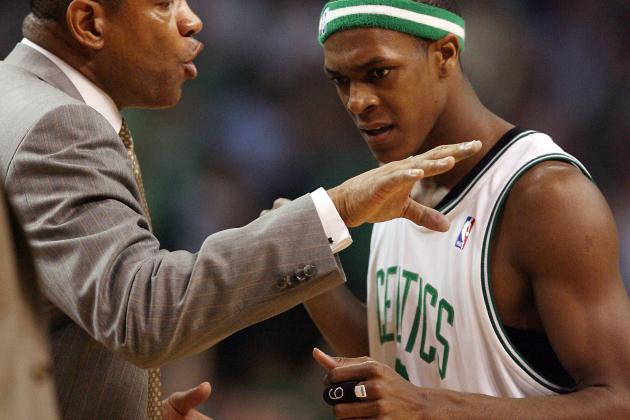 Elsa/Getty Images

Doc Rivers knows that the Celtics can only run with the NBA's elite if Rajon Rondo is in control of the game plan.
That being said, Rivers also knows better than anyone that Rondo can be the Celtics' worst enemy. This is where Doc's experience as an NBA point guard comes into play most of all. He has been through these battles both on the court and the bench. His plan is to increase Rondo's leadership role—something he has been molding in his point guard over the last three or four years.
When the media and fans get a hold of a story sounding the malice alarm, they understandably run with it and fabricate incorrect conclusions. Quite the contrary, when Rondo and Rivers go at it in practice or a game, it is not detrimental to Boston's chances.
Rivers and Rondo are two brilliant basketball minds who happen to share a wealth of experience playing the same position. Rivers sees one thing and thinks about how it should be done, or how he would do it were it 1986. Rondo may offer a differing opinion, because he sees something else or knows his capacity better than his coach.
Either way, the clashing of these two minds will more often than not yield the best possible result or course of action.
Doc Rivers is a smart head coach. After six years teaching Rondo, he knows just how to utilize him and when to push what buttons.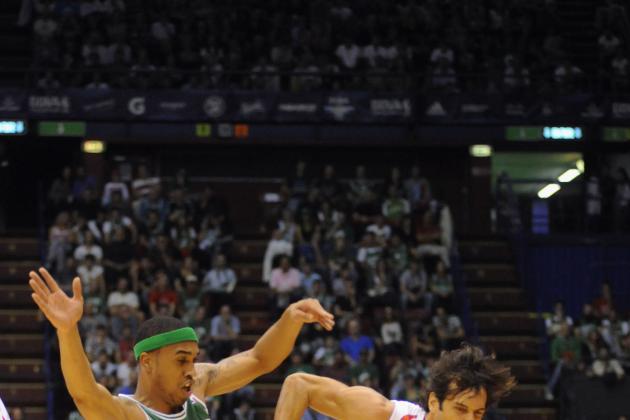 Roberto Serra/Iguana Press/Getty Images

Doc Rivers has made a definitive decision to insert Courtney Lee into the starting shooting guard position. This swift move ends any and all speculation of Jason Terry trying to start and gives hope for Avery Bradley's eventual return as a starter.
One thing the Ray Allen situation proved was that when he wants to, Doc can tune out emotion and make a tough decision. In the interview with 98.5 The Sports Hub, Rivers alluded to the idea of bringing Allen off the bench prior to the 2011-12 season. When Avery Bradley emerged and won the job outright, Rivers didn't want to harm his team constantly flip-flopping, until Bradley's injuries started appearing.
The decision to start Lee at the outset of 2012-13 is the right move for many obvious reasons. What it means for a month or so down the road will be the most interesting thing, though. When Bradley returns to full strength, does he automatically earn his starting gig or does he have to find a new role off the bench?
Either way, it is a benefit to the Celtics that they have a coach willing and able to make those tough decisions and make them final. Leaving shades of doubt in either of those players can create a rift, like we saw with Allen. Rivers now has the cache to lay down the law.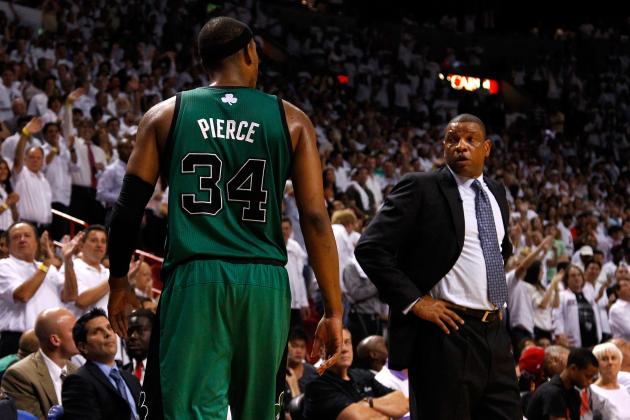 Mike Ehrmann/Getty Images

Paul Pierce played 34 minutes per game last season, a number that Doc wants to cut as well as that of Kevin Garnett.
The captain showed serious signs of fatigue and nagging injury during the 2011-12 postseason. He became a liability at points of the Eastern Conference Finals, and cutting his regular-season minutes could improve upon that.
The 34 minutes is already a considerable drop off from where Pierce was in his peak years; however it still may be too much. Pierce was run ragged last season and with Ray Allen out for a lot of it, he had to carry too much offensive responsibility. The 35-year-old is going to once again have to lead Boston in scoring, but he will have better help in 2012-13.
For the first time in a while, it appears Pierce has a legitimate backup at the small forward position. In 2007-08, James Posey played 24 minutes a night, including a decent amount behind Pierce. This season it appears Jeff Green can take over that spot and then some. If Green is able to score better than Posey's 7.5 points per game and be passable on defense, then Pierce's minutes can take a necessary hit.
As Boston's offense looks to diversify in 2012-13, with much better bench contributions and hopefully a higher-scoring Rajon Rondo, there is time for Pierce to rest. The difference between a healthy Pierce and a hampered one in a series against a LeBron James or a Carmelo Anthony is immense.
Trimming his regular-season minutes gives the Celtics the best chance come playoff time.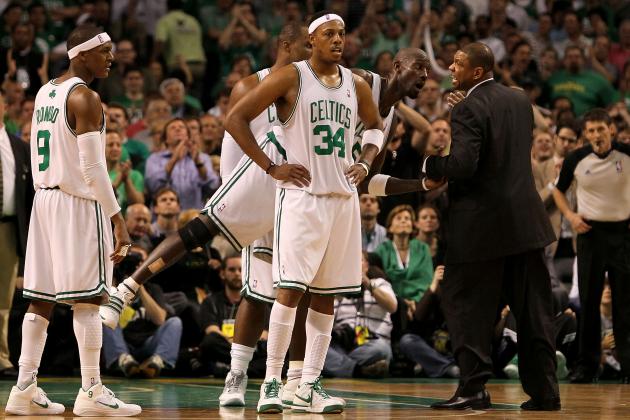 Jim Rogash/Getty Images

Of the 15 coaches working in the Eastern Conference, only Doc Rivers has been with his team for more than four full seasons.
In fact, Rivers has doubled the service time of his two closest competitors, Erik Spoelstra in Miami and Scott Skiles in Milwaukee. Rivers has been with the Celtics for eight seasons and will be managing his ninth with the franchise in 2012-13.
That grants the Celtics a distinct advantage over the rest of the conference. Their coach knows them better than any other coach they will battle prior to the NBA Finals. The core players on the Celtics, as well as many of the newcomers, have such an immense respect for him as a man and coach that he has complete control.
Rivers knows who his players are as more than basketball talents. He manages personalities and unique traits as well as anyone in the league.
For a coach to seriously win in the NBA, he needs the respect and undivided attention of his team. That is the biggest reason for the constant turnover of coaches in the league. The East features 12 coaches with less than three years of roots in their current team.
In a conference like that and in a game where the players so often control everything, Rivers finds a way to be successful and consistent. Since 2007-08, the Celtics have not been eliminated before the Eastern Conference semifinals. Rivers is a big a part of that longevity as any player.