Where and When LeBron James Became the Most Unstoppable Star Ever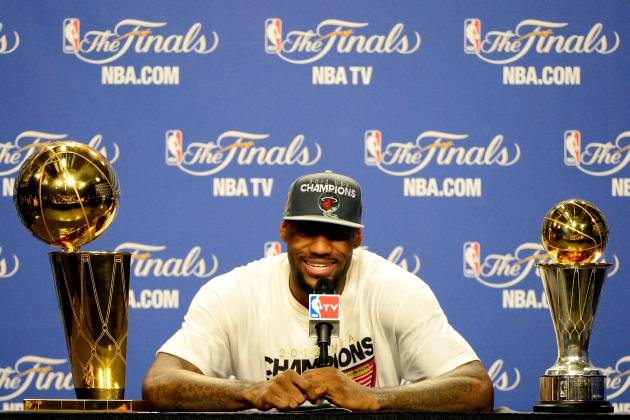 Ronald Martinez/Getty Images

LeBron James sat behind a podium as he spoke to the media gathered in Miami on June 21st, 2012.
He had been the focal point of press conferences before. But this time it was different.
James first met the basketball world as a high school prodigy from Akron, Ohio. He'd enter a press conference soon after as the top selection in the NBA draft.
He'd speak again as the consensus Rookie of the year in 2004. Then an All-Star in 2005, an Eastern Conference champion in 2007 and a league MVP in 2009.
James would be named to seven more All-Star teams along the way. Two more MVPs would follow, along with a scoring title, defensive honors and every other award in between.
He has been the most gifted basketball star on the planet since defeating the Detroit Pistons in the 2007 NBA playoffs.
It wasn't until this past season, however, that he finally became something more.
As he took the stage this past June, LeBron did so on the heels of becoming the most unstoppable star the NBA has ever seen.
It would be the first press conference he conducted since truly embracing that role.
The end result of a two-year odyssey that left pundits wondering if he'd ever actually arrive.
Begin Slideshow

»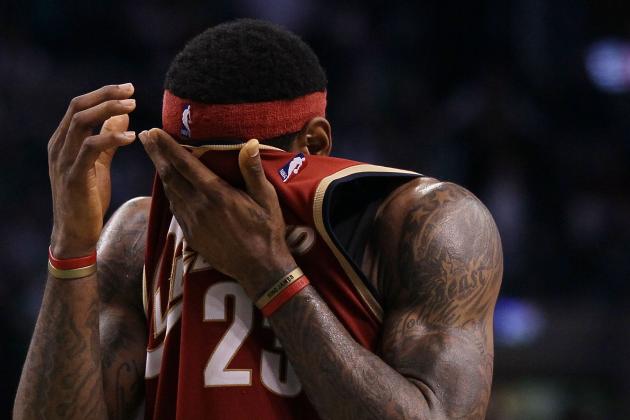 Elsa/Getty Images

Prior to May 2010, LeBron James had exceeded just about every expectation for what we thought he could become as a basketball player.
Heading into the Eastern Conference semifinals with the Boston Celtics that year, there was only one expectation left.
After leading his Cavaliers' team to an NBA-best regular season record, James would eventually lose in those playoffs to a team he was expected to beat.
He turned the ball over nine times in the deciding game. He'd allow Rajon Rondo to assume the role of best-player-on-the-court throughout the night, if not the series.
Following that loss to the Celtics, his last game as a Cleveland Cavalier, James would address the media after truly having failed for the first time in his basketball life.
He'd step backwards in all aspects of his career as a result.
Following his demise in Cleveland, James starred in a television show infamously named "The Decision".
He then joined superstars Dwyane Wade and Chris Bosh in Miami. He was booed mercilessly for 12 months because of all that.
He appeared so desperate to win an NBA championship that he didn't care who he engaged to help him.
It seemed then that James would never become the primary reason why his team would ever win an NBA title.
All the way up until he eventually was.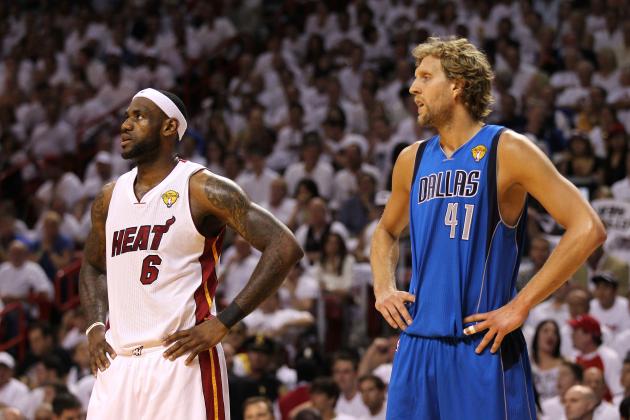 Mike Ehrmann/Getty Images

LeBron was never booed before the 2011 NBA season. Never in his life.
Or at least, never as consistently and violently as he was throughout that year.
In response to the negative feedback he received everywhere he went that season, LeBron attempted to become something he's not.
He was cast in the role of NBA villain and began to embrace the idea that he could thrive as such.
Only he couldn't. His game would inevitably suffer because of it.
During the 2011 NBA finals, LeBron played the worst collection of basketball in his life. The moment appeared too big for him. Again.
His overall performance on the NBA's biggest stage was embarrassing.
This time it was LeBron himself who lost. Mo Williams, Delonte West and Mike Brown could no longer be blamed. Based on their respective performances, neither could Wade or Bosh.
In the weeks that followed the 2011 Finals, LeBron would take his biggest steps toward becoming the player he is now.
In a dark room somewhere, during that time, he accepted the fact that he failed in Cleveland. And then he failed again against Dallas.
He stopped blaming coaches and teammates around him. He stopped trying to be something he wasn't. In an ESPN interview with Rachel Nichols, he'd reveal as much.
He owned his mistakes in those weeks that followed his loss to the Mavericks. The next year, he'd emerge as the most unstoppable star on the planet because of it.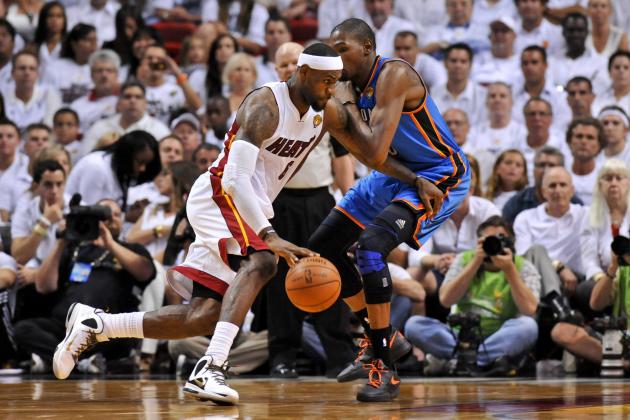 Derick E. Hingle-US PRESSWIRE

LeBron rededicated himself to playing the game in a way he was always supposed to play it last season.
Fun. Loose. Dominant.
He won his third MVP award in the process. There wasn't anything it seemed he could not do.
James finished with 27.1 points, 7.9 rebounds and 6.2 assists per game to lead his team in all three categories last year.
The validation provided by an NBA title was all he needed.
Just like it first was way back in 2010.
Unlike the finals series with Mavericks though, or the Boston series before it, LeBron was different last year against the Oklahoma City Thunder.
When the moment became the biggest, LeBron James responded accordingly.
Trailing 1-0 in the series, James totaled a team-high 32 points to tie things up in Game 2.
It was at that moment, on June 14, 2012, when we knew that LeBron had finally become the most unstoppable star we've ever seen.
By unstoppable I mean that he averaged 27 points, 11.3 rebounds and 9.3 assists to close out the Thunder 4-1 during those next three games.
He finished with a double/double in Game's 3 and 4 along with a triple/double in Game 5.
There wasn't anything the Thunder could do to stop him.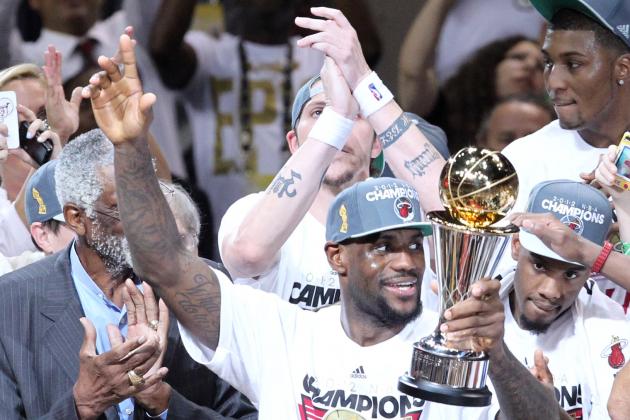 Derick E. Hingle-US PRESSWIRE

Following that moment in Game 2 against the Thunder, it became clear that LeBron had become the most unstoppable basketball star we've ever seen.
He approached the podium as such on June 21.
He was seated at the pinnacle of his sport that night in Miami.
The individual accolades had translated into a collective success. LeBron had believed in his talent when he needed to most.
He used his basketball gifts as a strength and no longer viewed those championship expectations as a curse.
Make no mistake, LeBron did more to rewrite his legacy on June 14 than any other night in his entire career.
Losing three times in three years would've been a trend he might not have responded from.
Only he did respond. In the biggest way possible.
He finally won that title and now the floodgates have opened.
LeBron is now going to win unlike anything we've ever seen before over the next five years. He is currently the most unstoppable star we've ever seen on the basketball court.
His true reign of dominance is only now just beginning.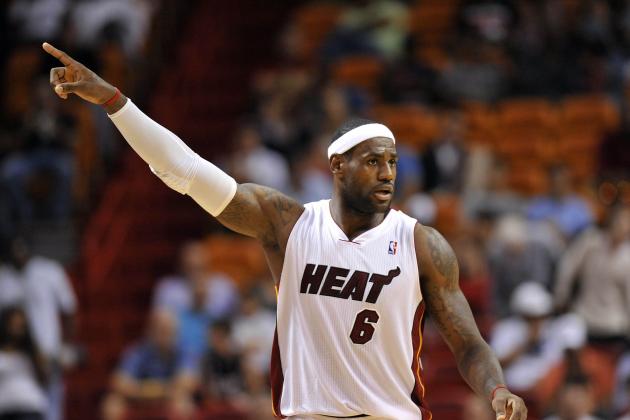 Steve Mitchell-US PRESSWIRE

LeBron James has just now reached the prime of his NBA career for the first time.
Debate that point all you want.
The next five years will prove not only that true, but also the fact that he actually is the most unstoppable star we've ever seen in the NBA.
Assuming you don't believe that already.
We didn't just see LeBron win last June, or even arrive at that place in his career for the first time. We saw LeBron James break through.
Whatever it was that held him back from performing at a level he is capable of before is now over.
He became invincible last season. There's reason to believe he will continue to perform like that for the next five seasons.
When he does, he'll provide the historical evidence to support the claim that is true already.
LeBron is the most unstoppable star we've ever seen. He truly became that player last June in Miami.
There's no turning back for him now, either.